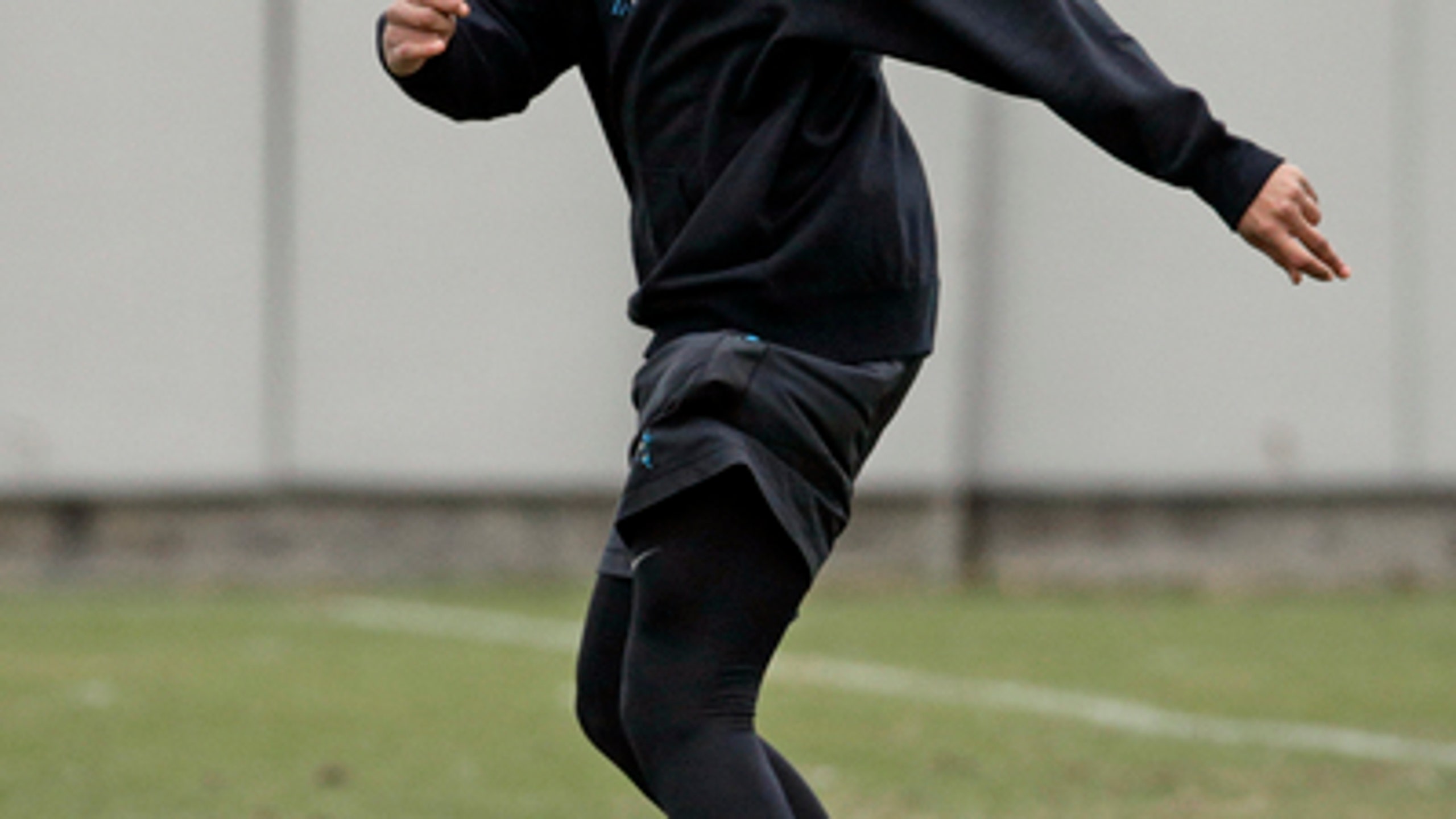 Injured Panthers WR Benjamin enduring bittersweet season
BY foxsports • January 15, 2016
CHARLOTTE, N.C. (AP) Injured Carolina Panthers wide receiver Kelvin Benjamin said it has been a bittersweet season.
He's thrilled for his Carolina teammates that they finished 15-1 and have a shot at winning the Super Bowl, but on the other extremely disappointed he can only watch from the sideline.
''It's been really tough,'' Benjamin said. ''I want to be out there on the field so bad.''
After a stellar season in 2014 in which he set franchise rookie records with 73 receptions for 1,008 yards and nine touchdowns, Benjamin tore the ACL in his left knee in a non-contact drill in training camp last summer- ending his season before it had a chance to begin.
Even then, Benjamin sensed big things were ahead for the Panthers.
''There was just that vibe - you could just tell,'' Benjamin said.
The Panthers have thrived without Benjamin and despite not having any big-name wide receivers, finishing first in the league in scoring offense behind the play of MVP candidate Cam Newton.
Carolina ranks 24th in the league in passing, but wide receivers Ted Ginn Jr., Jerricho Cotchery, Philly Brown and rookie Devin Funchess have seemingly made big catches when the Panthers needed them the most.
''We might not have a lot of guys that the outside world gives much credit to, or have a lot of guys that have flashy numbers,'' tight end Greg Olsen said. ''But that's not what this is all about. We are trying to be a productive, efficient offense. It's not always about numbers. It's not fantasy football. Each guy has a role and he fits into the offense in a particular manner and whatever plays come your way, you need to take advantage of it.''
The Panthers could miss the 6-foot-5, 245-pound Benjamin this week more than ever against Seattle.
His height presented a mismatch for the Seahawks defensive backs last season. The 24-year-old Benjamin caught a team-high seven passes for 75 yards and two touchdowns in Carolina's 31-17 divisional playoff loss to Seattle last season. He also had four catches for 94 yards in the regular season matchup.
''Kelvin was coming into his own and was just starting to excel,'' offensive coordinator Mike Shula said. ''It was a tough loss for us, but guys have done a great job of filling in.''
Benjamin said he tries to be as supportive as possible around his teammates.
He's spent time on the sideline during some home games. He watches the away games from his living room, often playing the game out in his mind, visualizing himself running a route on third down, working to get open and making a catch to move the chains.
Benjamin is in a good place now mentally, and views himself as a ''coach'' to the team's other wide receivers. He feels invested, and is eager to see them win the Super Bowl.
''Hey, I get a ring too,'' he said with a laugh. ''And I want a ring.''
There was a time went Benjamin wasn't so jovial though.
He said he felt disconnected from the team after the injury, which isn't uncommon among players who are placed on IR.
Even as Newton and backup quarterback Joe Webb would come visit him at home after surgery, often hanging out to play video games, he said he just didn't feel like a part of the team.
He said that began to change when he got off his crutches and began to notice that he was making progress in his rehab. He started really looking forward to next season. He's running again now, although he hasn't been cleared to do any cutting.
''Once I got off the crutches I was like, `OK, I can do this. I'm going to be all right,''' Benjamin said.
Benjamin thinks a lot about 2016 these days and what the Panthers offense will be like when he returns. There is certainly room for improvement, as the Panthers rank 24th in the league in passing.
''Next season is going to be crazy,'' Benjamin said, his eyes lighting up like a kid at Christmas. ''I saw it back in camp. We were moving the ball pretty well and scoring in the red zone. Man, I just can't wait to get back out there with those guys.''
---
Online:
AP NFL website: http://www.pro32.ap.org and AP NFL Twitter feed: http://www.twitter.com/AP-NFL
---
---