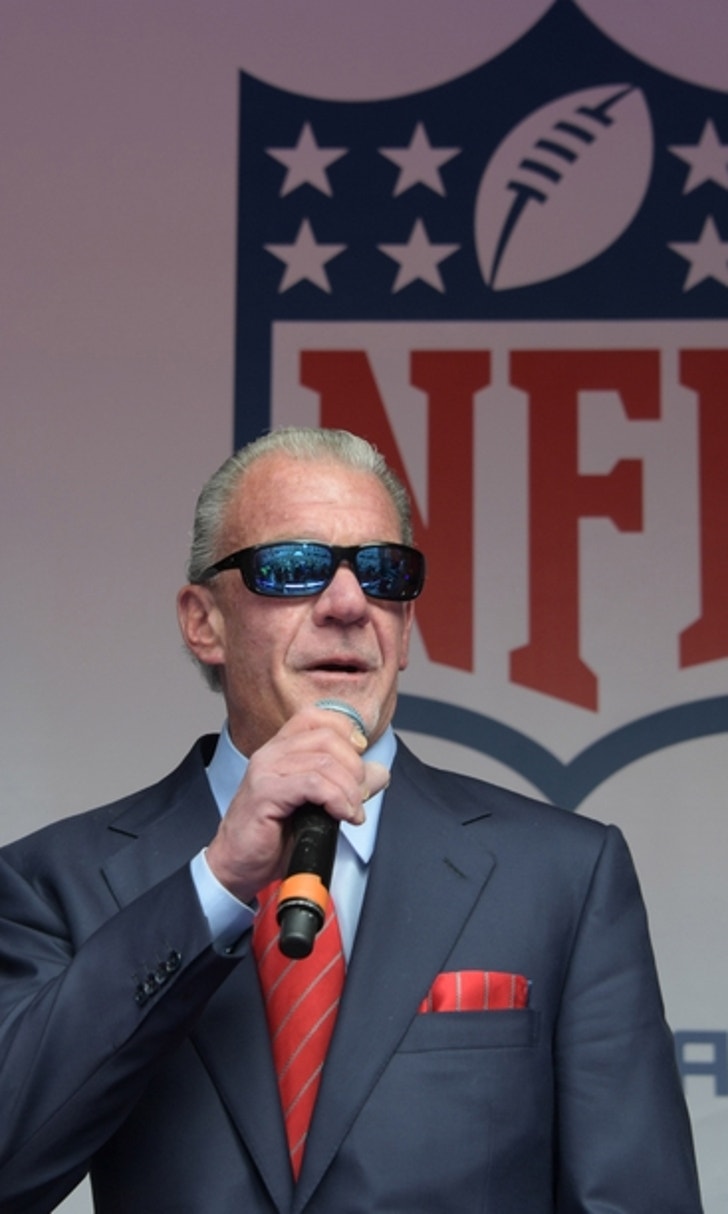 Indianapolis Colts must factor in highs and lows of team management
BY Fansided and Evan Reller/FanSided via Horseshoe Heroes • December 15, 2016
Oct 1, 2016; London, United Kingdom; Indianapolis Colts owner Jim Irsay on the main stage during NFL on Regent Street prior to the International Series game against the Jacksonville Jaguars. Mandatory Credit: Kirby Lee-USA TODAY Sports
The Indianapolis Colts are in a precarious position as the season gets closer to the end. The front office and coaching combination has not produced the desired results after five years, and ownership faces a difficult decision: continue forward or reboot the franchise.
Reboots are all the rage in the entertainment industry. We've recently seen a successful film franchise like Star Wars be taken to new heights under better leadership, and it is leading others to do the same. Jim Irsay and the Indianapolis Colts should do the same thing and reboot this franchise.
They'll keep certain elements in the new regime like Andrew Luck, T.Y. Hilton and plenty of others (there are some salvageable pieces on this roster) but the front office staff (producers) and coach (director) have to go. The combination of GM Ryan Grigson and head coach Chuck Pagano have proven time and again that they simply don't have what it takes to build and sustain a successful franchise.
They coasted for three years on the strength of a garbage AFC South that at one point gifted them 16 division wins in a row. But since that 16th game, the Colts are 3-6 against the AFC South as the three other teams have improved over the past two years.
We'll look at the highs and lows of both Pagano and Grigson, but the simple fact of the matter is that neither know how to sustain success. Grigson has failed at talent evaluation and Pagano fails to understand what it takes to win in the modern NFL.
Fan apathy is at an all time high, and it wouldn't be surprising if their final home game of the season on January 1st features a half empty stadium. The worst thing that can happen for a franchise is for the fans to not care, and that goes double for a moderate market like Indianapolis.
Irsay should have made a change in direction last January, but now that he's had another season to evaluate the two it is clear they can't get it done. It is past time that the Colts get the right people in charge of the franchise.
Oct 23, 2016; Nashville, TN, USA; Indianapolis Colts general manager Ryan Grigson prior to the Colts game against the Tennessee Titans at Nissan Stadium. Mandatory Credit: Christopher Hanewinckel-USA TODAY Sports
Ryan Grigson's Hit List
Drafting
Let's get this out of the way right now: Grigson doesn't get credit for drafting Andrew Luck. That pick was made by Irsay. This wasn't the tough decision between Ryan Leaf and Peyton Manning that Bill Polian ultimately made, it was a much easier choice between Robert Griffin III and Luck. Luck was always the better player with a higher ceiling and was considering the next Manning for years before his senior year. Griffin merely had one great season in college and they his durability concerns became a real problem in the NFL.
Alright, aside from the Grigson's 2012 draft was very good. It won him GM of the Year (likely with an assist from Bruce Arians who took over while Pagano was battling leukemia). Outside of Luck, he snagged a Pro Bowler in T.Y. Hilton who is now among the best wide receivers in the NFL. They also have Dwayne Allen still on the roster who has the potential to be a dynamic top tier tight end.
Two other players, Vick Ballard and Coby Fleener, were important pieces of the team in 2012 and weren't exactly misses either. That draft had a number of other pieces that failed to pan out due to off field issues (like LaVon Brazill).
In 2014, Grigson picked up Jack Mewhort who has been the team's best lineman and Donte Moncrief who is a dangerous red zone receiver (they just have to figure out how to use him better between the 20s).
2015 was a mixed bag, but did feature three great pick ups in a row in Henry Anderson, Clayton Geathers, and David Parry. Those are solid building blocks on defense going forward but the first two have been battling injuries that are slowing their development. Denzelle Good has started on the offensive line at times but whether or not he's a good player remains to be seen.
Really it is too early to say whether or not the 2015 and 2016 players will pan out. Center Ryan Kelly seems like a good player, as does Hassan Ridegeway from this years draft but it really is too early to tell.
Free Agency
The free agent hits have been few and far between, but that is common of free agents. The best thing Grigson has done is not put the Colts in a huge hole with any free agent contract and given the team an easy out after a year or two.
But some of his hits include Erik Walden, who has steadily gotten better and currently leads the team in sacks, and Mike Adams, who was a desperation pick that fits Pagano's scheme very well and led the NFL in takeaways in 2014. Frank Gore would also qualify as a success as he has been consistent despite poor blocking and a roller coaster at QB for much of his time in Indy.
Tight end Jack Doyle also qualifies as a success story for Grigson and has been one of the most reliable targets for Luck this season. Were he able to stay healthy, we could include Ahmad Bradshaw on this list too. We'll give Grigson partial credit here.
Kendall Langford proved to be a solid pick up last season as well. Injuries have kept him off the field this year, but he was the most productive lineman on the roster in 2015.
Jerrell Freeman was a four year starter as well as an undrafted free agent, and failing to re-sign him this offseason might be one of Grigson's bigger mistakes (although he was suspended for PEDs this year).
Feb 25, 2016; Indianapolis, IN, USA; Indianapolis Colts general manager Ryan Grigson speaks to the media during the 2016 NFL Scouting Combine at Lucas Oil Stadium. Mandatory Credit: Trevor Ruszkowski-USA TODAY Sports
Ryan Grigson's Biggest Misses
We'll break down the draft and free agency, but let's get the big one out of the way first. Ryan Grigson traded a first round pick for Trent Richardson.
That move was an unbelievable failure but was compounded by the fact that Grigson forced Pagano to keep him in the starting lineup. The Colts donated plays and possessions to opponents every time he trotted onto the field, which might have been his fastest speed. It was a horrid move, and massive overreaction to losing Ballard, that made it clear in 2013 that Grigson had no idea what he was doing. Grigson effectively got fleeced by the Browns. Let that sink in.
Drafting
Grigson has had 37 draft picks while in Indy (38 counting the one he blew on T-Rich). 16 of those players are still on the roster. Far less than half.
While the 2013 draft class was mediocre across the league, the Colts don't have a single player on their roster still from that year. You can't whiff on seven picks like that and build a successful franchise. The Colts lacking depth has been a huge problem which is only magnified by the plethora of injuries they seem to suffer from annually.
We're not going to pick on every single bad player Grigson has drafted, but it is clear he whiffs far more often than hits and that seems to go double for top picks.
Free Agency
Where to start? Maybe with the annual bad wide receiver pick up? Donnie Avery, Darrius Heyward-Bey, Hakeem Nicks, and Andre Johnson kept up a four year streak of awful WR pickups for the Colts.
There was the Todd Herremans signing last season, picking up a player who Grigson had affinity for from his Philadelphia days. Same goes for Trent Cole who has barely produced while in a Colts uniform.
D'Qwell Jackson hasn't given the team much either. He bounces between being mediocre and a liability, but the players behind him on the depth chart are even worse. And with a PED suspension, it just adds to the Colts list of problems. He's not that dissimilar from safety LaRon Landry.
Greg Toler was a disaster at corner and lasted on the roster much longer than he should have. Patrick Robinson has bounced between serviceable and too injury prone in 2016 to make a determination on the success of this move.
The biggest failing of Grigson, a former offensive lineman, is his inability to protect Luck. He's spent 10 draft picks and signed multiple free agents to keep Luck upright and he is still among the most sacked and hit quarterbacks in the NFL. It led to him missing most of last season and is a bigger concern now that Luck demands so much of the cap space.
Jan 3, 2016; Indianapolis, IN, USA; Indianapolis Colts coach Chuck Pagano salutes the fans as he walks off the field after the game against the Tennessee Titans at Lucas Oil Stadium. Indianapolis defeats Tennessee 30-24. Mandatory Credit: Brian Spurlock-USA TODAY Sports
Chuck Pagano's Greatest Strengths
The one thing you can say about Pagano is that his team rarely quits. The players love him and he genuinely seems like a good guy. His cliches get old, but he is an inspirational figure in the community.
He's managed to coach his team into games that looked well on their way to a blowout only to come away with a last second win. We've seen a few of those games in 2016. The Colts victory over the Chiefs in the 2013 playoffs is a prime example.
We've also seen his staff come up with some rock solid game plans to defeat superior opponents. The Colts mercilessly attacked the Jets secondary just two weeks ago, knowing it was the soft spot of the defense and it paid off. Back in 2014, the Colts upset the Broncos by forcing an ailing Manning to throw deep against them, something he was unable to do at the time due to a thigh injury. The repeated that move in 2015 against the Broncos as well.
It is really easy to like Pagano, the man, but much more difficult to like him as a coach.
Oct 16, 2016; Houston, TX, USA; Indianapolis Colts head coach Chuck Pagano on the sideline during the second quarter against the Houston Texans at NRG Stadium. Mandatory Credit: Troy Taormina-USA TODAY Sports
Chuck Pagano's Biggest Flaws
There are, unfortunately, a lot to choose from. Honestly it is tough to figure out where to start. Let's go from least to most important.
First, his overuse of cliches and positive thinking. Fans and players alike have to be tired of "wood chopping" and "iron sharpening iron." It has led to recurring segments on radio shows pointing out all the cliches in his press conferences. He gave players poker chips last year to signify them being "all-in" on the season. Frankly, these are the motivational techniques you should be using with professionals. This is suited more to a high school team, or maybe a lower tier college program.
Next, his inability to develop talent. This falls to the coaching staff as a whole, but it doesn't feel as if the Colts understand how to effectively utilize certain players. This has become more pronounced with Rob Chudzinski taking over as offensive coordinator, who was hand picked by Pagano. At the same time, we've also seen a lot of Colts failures flame out of the NFL which makes it a combo problem between Pagano and Grigson.
Third, his seemingly utter lack of game planning. Far far too often the Colts have been blowout during Pagano's tenure. There are so many examples of games where the team got onto the field and just looked completely lost. No plan, no energy, and sloppy execution. The have looked like the least prepared team in the NFL far too often and only seem to exploit opponent's flaws when they are obvious to even a casual fan.
Fourth, his philosophy on football is antiquated and shows no awareness about where the NFL is right now. In his first press conference with the Colts, Pagano talked about "running the ball, and stopping the run." It was alarming, but seemed to be more of a euphemism for being a tougher team. Well he meant just that.
Despite having the best QB prospect in a decade, Pagano wanted a ground and pound offense with a defense that wouldn't give up yards to the run. He's done neither of those things while in Indy. This goes beyond personnel too as Pagano would rather line up in an I-formation and pound the ball  for a yard than spread an opposing defense out and get bigger chunks of yardage.
He doesn't grasp the strengths of his team or the trends of the NFL. The Colts are at their best in a spread formation, running an up-tempo offense. They can run very effectively like this too and it helps keep the ball in Luck's hands. Pagano likes to point to a defense like the Broncos that won a Super Bowl, but overlooks the fact that they did so with a great secondary and an epic pass rush, and not because they could shut down the run (although that helped).
The Colts only implore their offensive strengths when they have to, down multiple scores after a slow start to the game due to a bad opening plan. Pagano would rather play not to lose than play to win. There are plenty of games that should have resulted in a double-digit victory but turned into a slugfest due to his overly conservative game planning.
The biggest issue isn't just that these problems exist, it is that they are the exact same problems we've been watching for the past five seasons. The definition of insanity is doing the same thing over and over while expecting different results. Pagano never changes, he just keeps doing the same thing hoping that with slightly better execution they can be a great team but it just doesn't happen.
Irsay said that the Colts could easily be 10-3 this year if the ball bounced a little differently, but they could just as easily be 3-10. Pagano and Grigson have become the definition of mediocrity and owe Luck for their moderate level of success.
But those two are holding Luck and the franchise back. If Irsay keeps them, the Colts will more than likely suffer through another mediocre season and waste yet another year of this talented quarterbacks career. Irsay needs to make a change now, before Luck decides he wants out of Indianapolis.
More from Horseshoe Heroes
This article originally appeared on
---
---