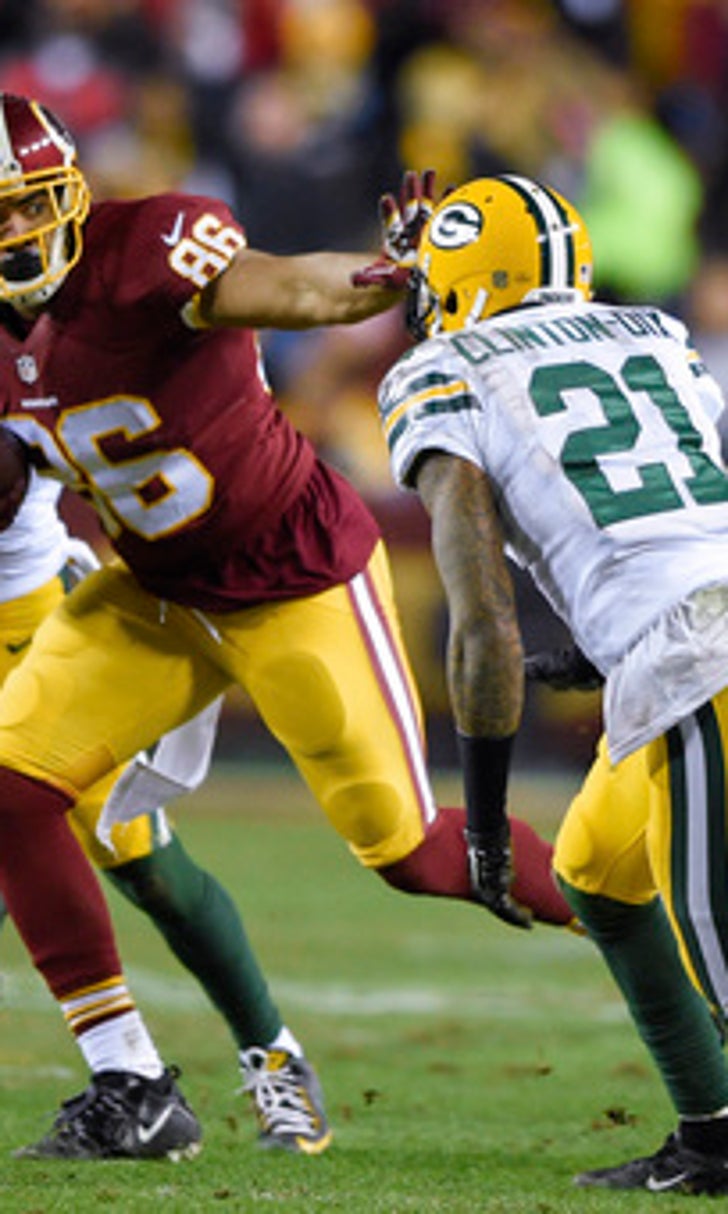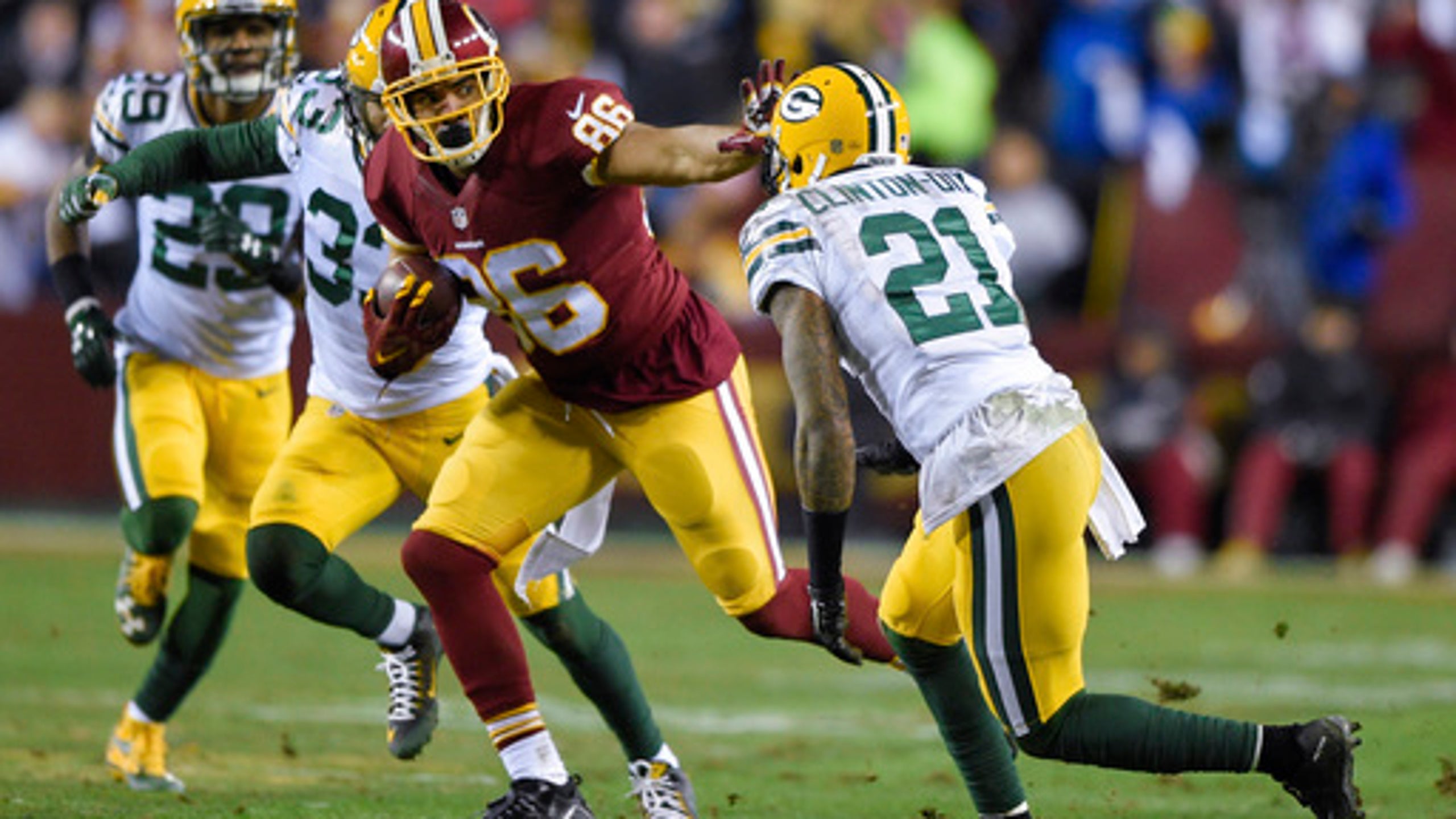 In playoff mode, Aaron Rodgers, Packers beat Redskins 35-18
BY foxsports • January 11, 2016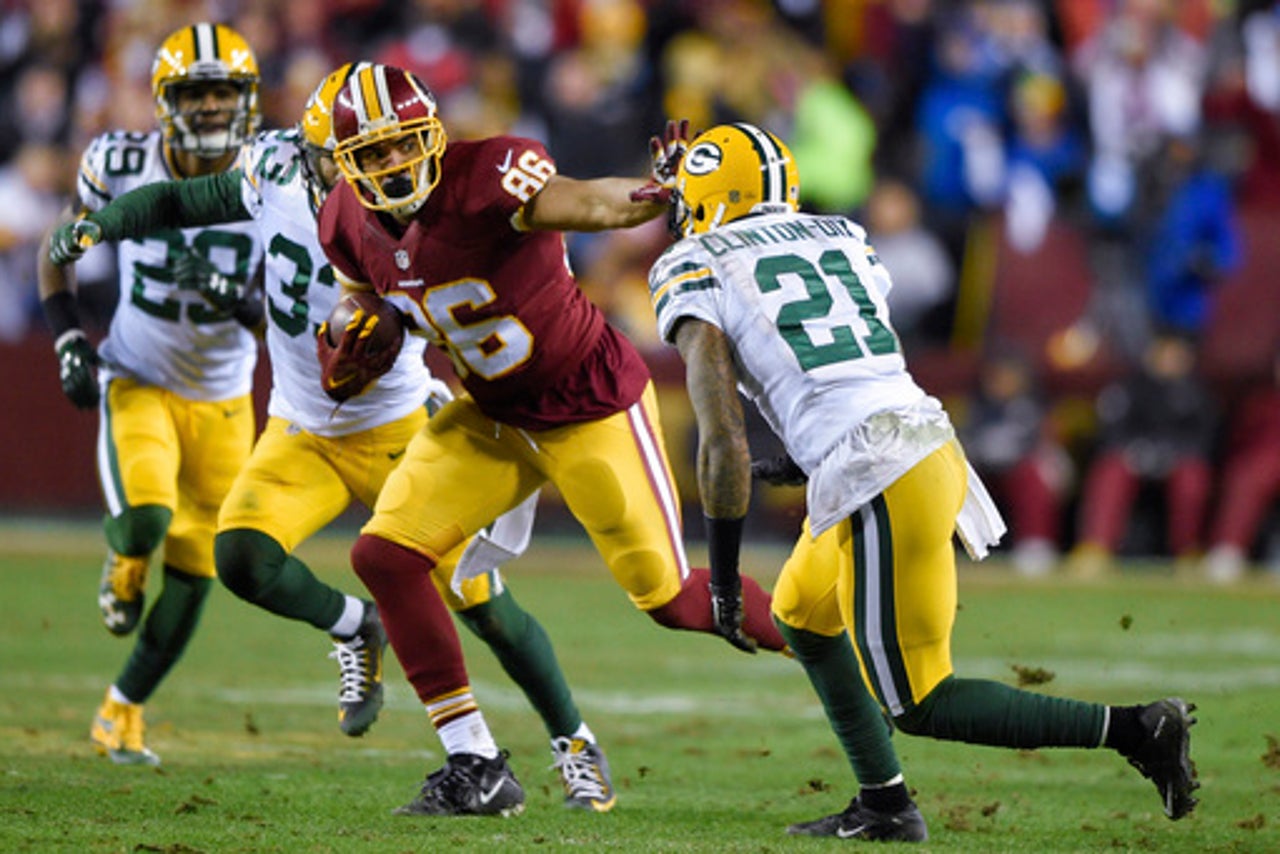 LANDOVER, Md. (AP) Green Bay Packers coach Mike McCarthy doesn't want to hear any more about his team's two losses to end the regular season - or the anemic offense that caused them.
After the Packers beat the Washington Redskins 35-18 Sunday to reach the divisional round, McCarthy and his players were quick to put all their recent struggles in the rearview mirror.
''You don't have to talk about the regular season no more,'' McCarthy said. ''The playoffs are different.''
It looked like the same old problems early against Washington when the Packers fell behind 11-0 and couldn't move the ball. Then Aaron Rodgers found his groove.
After starting 1 for 8 for 11 yards with a safety, Rodgers was 20 for 28 for 199 yards and two TDs the rest of the way and had the passing game clicking so well that the Redskins couldn't keep up. Rodgers said getting the offense going was a huge mental boost, and it showed.
''We scored 35 points and we moved the ball a little bit better,'' Rodgers said. ''The playoffs bring that out of all of us. It's a one-and-done mentality. The focus goes up and the intensity goes up.''
Green Bay set up a rematch with the NFC West champion Arizona Cardinals on Saturday night.
Green Bay lost 38-8 at Arizona in Week 16, so this is a chance for some redemption.
''There's not too many times you have an opportunity to go back and have a redo,'' McCarthy said.
Left guard Josh Sitton wants to re-watch the film before he explains how the Packers can improve. That will be part of the preparation, but McCarthy has his players well-versed on not looking back.
''You get in the postseason, everybody has an equal opportunity,'' receiver James Jones said. ''Everybody is 0-0.''
Here are other things to know about Sunday's game:
COUSINS' DAY: Nearly three hours before kickoff, folks gathered outside a stadium tunnel to greet Redskins players - and when QB Kirk Cousins got off the team bus, a chant arose: ''You like that! You like that!'' That's the catch phrase coined by Cousins after a comeback victory earlier this season, and he heard it again, loudly, after scoring on a draw from 3 yards out early in the third quarter of his first playoff start, putting Washington ahead 18-17. Washington wouldn't score again. Now Cousins - surprisingly superb in his first season as a starter - can become a free agent.
''You want to be where you're wanted and play for people who believe in you. It hasn't been discussed at all,'' said Cousins, 29 for 46 for 329 yards with one throwing TD and one lost fumble. ''This process is new to me. We'll see how it goes.''
REDSKINS TASTE PLAYOFFS: After finishing last in six of the past seven seasons, the Redskins put a positive spin on making the postseason by winning the NFC East in Jay Gruden's second year as coach. ''We're headed in the right direction,'' defensive end Chris Baker said. ''This is just a taste.''
PACKERS RUN GAME: A balanced offense always makes things easier, and after nine carries for 17 yards in the first half, Green Bay ran 23 times for 124 yards in the second. Eddie Lacy gained 63 yards with a TD; James Starks rushed for 53 and a TD; and Randall Cobb added 24 yards.
''Eventually,'' Sitton said, ''those 2- and 3-yard runs turn into 4 and 5 and 6 yards.''
And more: On consecutive plays in the third quarter, Lacy ran for 11 yards on fourth-and-1, then 30 yards. That was part of a stretch in which Green Bay ran on 13 of 15 plays.
TRETTER AT TACKLE: J.C. Tretter had only made three NFL starts before Sunday - and all at center - but started at left tackle in place of the injured David Bakhtiari. Tretter gave up a sack for a safety in the first quarter but made no noticeable mistakes after that.
''He had the early sack there and he rebounded, man, and played awesome,'' Sitton said. ''A lot of guys would let that get in their head the rest of the game. He responded.''
McCarthy said Bakhtiari, who missed his third straight game with a left ankle injury, was ''getting better.''
REED OPTION: The Packers knew all about Redskins tight end Jordan Reed, but they still couldn't stop him: He had nine catches for 120 yards and a score.
''He's obviously going to be a big-time player for us for a lot of years,'' Gruden said. ''We've just got to keep working with him, and he's going to be a very special player. He already is.''
---
Online:
AP NFL website: www.pro32.ap.org and AP NFL Twitter feed: www.twitter.com/AP-NFL
---
Follow Stephen Whyno on Twitter at http://twitter.com/SWhyno
---
---