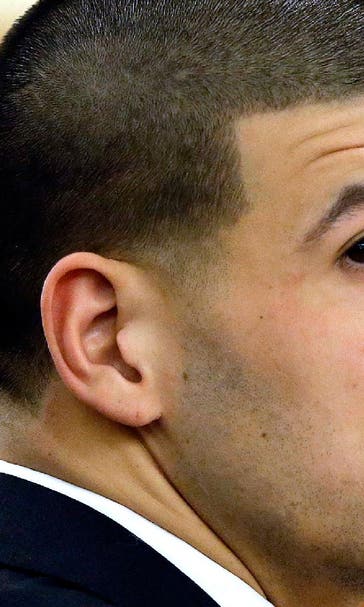 Hernandez's attorneys attack prosecution's DNA evidence
March 6, 2015

FALL RIVER, Mass. — Aaron Hernandez's attorneys launched a multi-pronged attack Friday on the competence of police investigators, showing that they never bothered to obtain a DNA sample from an alleged accomplice and never tested a piece of chewed bubble gum that was stuck to a shell casing linked to the death of Odin Lloyd.
The gum, a forensic scientist acknowledged under cross-examination by one of Hernandez's attorneys, had likely "contaminated" the shell casing by transferring Hernandez's DNA to it.
The scientist, Diane Fife Biagiotti, was called to testify in the 21st day of Hernandez's murder trial about her work to compare genetic samples from key pieces of evidence in the case to several of those allegedly involved. But defense attorney James Sultan took advantage of his turn to question her to push the central theme of the defense's case: that police were sloppy and rushed to pin Lloyd's murder on Hernandez.
First, she acknowledged that nobody ever obtained a DNA sample from Ernest Wallace Jr., one of two men alleged to have been with Hernandez when Lloyd was killed.
And she acknowledged that when she tested a shell casing and found DNA on it from the former New England Patriots star she did not know that a piece of chewed bubble gum had previously been stuck to it.
Sultan first got Biagiotti, a DNA technician for the Massachusetts State Police crime lab, to acknowledge that chewing gum can contain DNA. Then he asked her to assume that the shell casing and the gum were once touching each other, while at the same time displaying a photograph of them stuck together.
"Would you agree with me, Miss Biagiotti, that there is a high likelihood that the DNA contained in the saliva on the chewed blue chewing gum would be transferred to that shell casing that is attached to it?" Sultan asked.
Prosecutor William McCauley rose and objected to the question, but Judge E. Susan Garsh quickly overruled him.
"Yes," Biaggioti said, "I would agree with that."
Prosecutors have asserted that shell casing, which was recovered from a car rented to Hernandez, was fired by the same .45-caliber pistol that killed the 27-year-old semi-pro football player. An Enterprise Rent-A-Car employee removed the shell casing, along with a wad of chewed gum, a piece of paper and a Vitamin Water bottle, from the Nissan Altima when she cleaned it out after Hernandez returned it.
Investigators later located the four items in a dumpster, with the gum stuck to the shell casing. And in his opening statement, prosecutor Patrick Bomberg heralded the DNA on the shell casing as proof of Hernandez's involvement.
The prosecution alleges that Hernandez "orchestrated" Lloyd's murder, arranging to meet him and at the same time summoning two associates, Wallace and Carlos Ortiz, from Bristol, Connecticut, to his home in North Attleboro, Massachusetts, late the night of June 16, 2013. From there, the trio allegedly made the roughly hour-long drive to Boston, where they picked up Lloyd, and then returned to North Attleboro.
Lloyd was killed in a gravel pit less than a mile from Hernandez's home. Prosecutors have put the time of death sometime between 3:23 and 3:27 a.m. on June 17, 2013.
Hernandez faces one count of murder and two firearms charges in the slaying of Lloyd, who was dating Shaneah Jenkins, the sister of Hernandez's fiancee.
Prosecutors have not said who they believe fired the fatal shots, and Ortiz and Wallace have also been charged with murder and will be tried separately. Under a Massachusetts law known as "joint venture," a person can be convicted of murder even if someone else carried out the actual killing. To prove that, prosecutors would have to convince the jury that Hernandez knowingly participated in the killing and did so with intent.
DNA was the theme of the day Friday as two forensic scientists gave jurors a primer on DNA evidence before Biagiotti took the stand.
Biagiotti first detailed a number of items on which either no DNA was found or the samples were too small or incomplete to allow for comparisons. Those included five shell casings and a white towel found near Lloyd's body and a hair found on that towel.
She also testified that only Lloyd's DNA was found on fingernail clippings taken from him after his death and that genetic material on a pair of jeans and a pair of sweatpants found in a car parked in Hernandez's garage contained genetic material from him and a second person. However, the second DNA sample could not yield a profile substantial enough to identify the person it belonged to.
But despite the mileage Biagiotti provided the defense, she did give the prosecution something else: the finding that DNA from both Lloyd and Hernandez was discovered on a rolling paper from a marijuana cigarette found near the body.
In Hernandez's case, the DNA match was determined to be extremely strong, Biagiotti testified. For instance, she found that the odds that it could have come from someone else to be one in 5.797 quadrillion of the Caucasian population, one in 9.560 quadrillion of the Asian population, one in 425.2 quadrillion of African American population and one in 36.94 quadrillion of the Hispanic population.
McCauley asked her how many zeroes are in a quadrillion.
"A quadrillion is one with 15 zeroes after it," Biagiotti said.
That's equal to a million times a billion, she noted.
Biagiotti is scheduled to return to the stand on Monday, where Sultan is expected to continue questioning her.
Hernandez has separately been indicted on multiple murder and assault charges in a July 16, 2012 shooting in South Boston that left two men dead and another wounded.
In the Boston killings, prosecutors have alleged that Hernandez became enraged after a man bumped him on a nightclub dance floor, spilling his drink, and failed to apologize. They alleged that Hernandez later followed the man and his friends as they drove away from the club, then pulled up next to their car at a stoplight and opened fire with a .38-caliber revolver, killing Daniel De Abreu, 29, and Safiro Furtado, 28, and wounding another man.
That trial originally was scheduled to begin May 28, but the judge there indicated recently he would push it back given the anticipated length of the trial in the Lloyd case. No new trial date has been set.
---
---