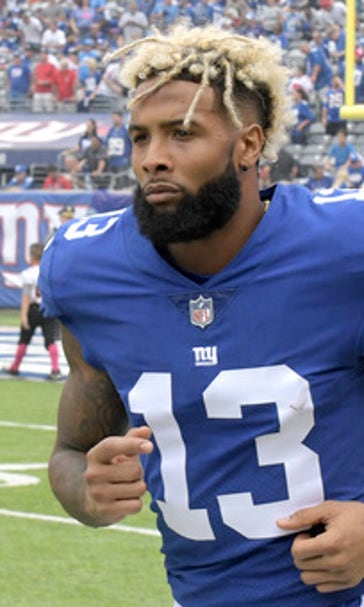 Giants open OTAs with Odell Beckham Jr. in the building
April 9, 2018
EAST RUTHERFORD, N.J. (AP) The New York Giants have opened their first organized team activities under new coach Pat Shurmur with star receiver Odell Beckham Jr. in the building.
Speaking on a conference call Monday, Shurmur said he hadn't yet talked to Beckham, whose name has been mentioned in trade speculation in recent months.
The coach didn't know how many of the voluntary activities Beckham planned to attend or the condition of his left ankle. The ankle was broken in the fifth game of a 3-13 season that led to the firing of coach Ben McAdoo and general manager Jerry Reese .
Shurmur said he previously spoke with Beckham about a video that surfaced online showing the 25-year-old who wants to be the NFL's highest paid player on a bed holding what appeared to be a hand-rolled cigarette. A woman next to him had unidentified white powder on a nearby table.
Shurmur didn't reveal what he said to Beckham. He also is not worried whether the player will be affected by the recent hype surrounding the video and trade rumors.
''I really believe that Odell is a professional and he wants to be great,'' said Shurmur, who expects to know more about Beckham's ankle by the end of the week. ''He understands the importance of the offseason and he's a competitive guy and, again, we had already started communicating before all that information kind of got out there and was talked about a great deal. He's a professional and I'm glad he's here today.''
When healthy, Beckham is a game-breaker. The three-time Pro Bowler has played in 47 games in his first four seasons, catching 313 passes for 4,424 yards and 38 touchdowns. He has averaged 94.1 yards. However, he can be a distraction when his emotions get the best of him on the field and when he does foolish things off the field, like taking a trip to Florida in the week leading up to a playoff game after the 2016 regular season.
Quarterback Eli Manning thought it was important for everyone to attend the OTAs with a new offense being installed. He said he didn't talk to Beckham either after the trade rumors surfaced or the video appeared on the internet. He declined to offer any advice.
''Odell, he's got to do what is best for him in getting ready to play this upcoming season,'' Manning said in a conference call. ''I'll talk to him and give my two cents on everything, but he's got to do what he feels is best for him to get ready and play at a high level.''
While Beckham's situation dominated the 15-minute conference call, Shurmur made clear that the OTAs would be used to lay the groundwork for 2018.
''For the most part, we're trying to get things started, take advantage of the extra time we have and we want to grow away from basically what happened a year ago, the 3-13 season,'' the former Minnesota Vikings offensive coordinator said. ''We want to grow away from that and try to grow into a team that's competing to win a division, compete in the playoffs, and then hopefully hold up that fifth Lombardi trophy.''
Shurmur plans to make some changes in the way the Giants do things.
''I just think it's very important that we're very professional, we communicate well together and then there is going to be a transfer of information,'' he said. ''I think we as coaches need to listen to the players, but also teach what we want them to know and then let them tell us what they're seeing so that we know how we have to teach it further.''
The Giants announced that offensive lineman Brett Jones, who started the final 12 games at center and 13 overall, signed his contract tender for next season worth roughly $3 million. New York also signed tight end Ryan O'Malley, who played in one game last season.
---
For more NFL coverage: http://www.pro32.ap.org and http://www.twitter.com/AP-NFL
---
---