New York Giants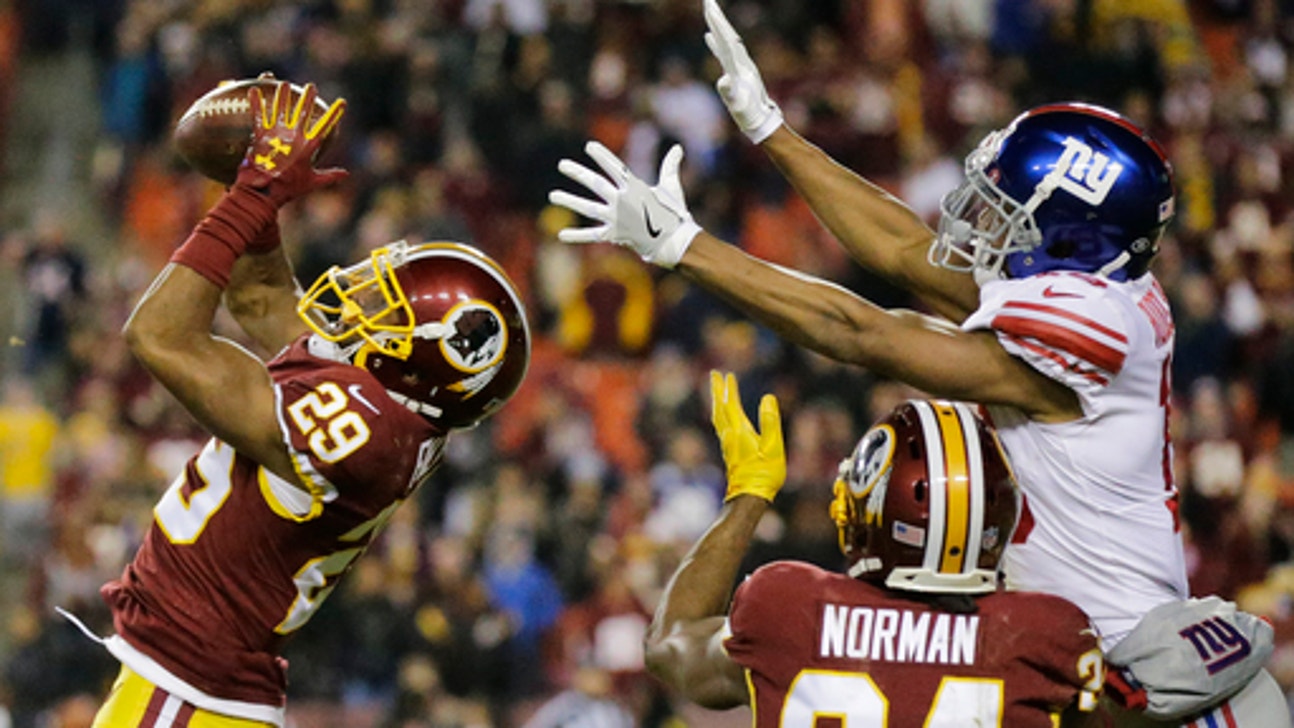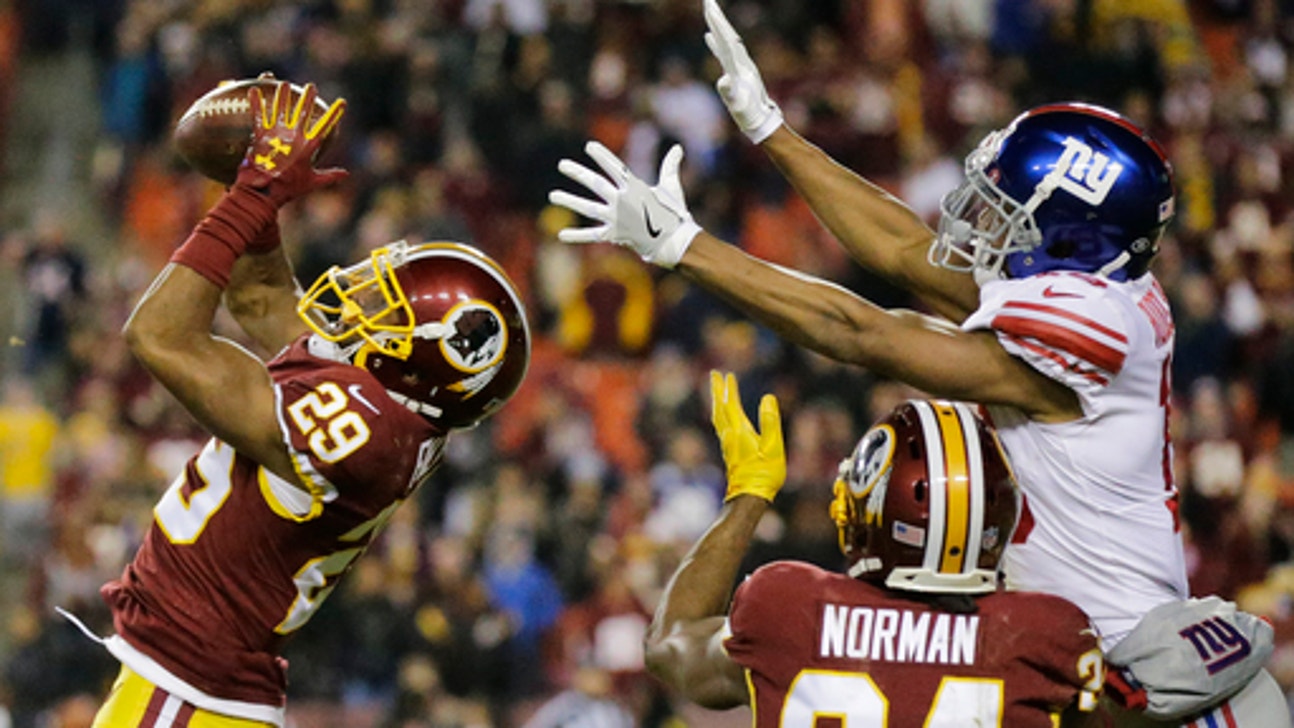 New York Giants
Giants falter in Thanksgiving showdown with Redskins
Updated
Mar. 4, 2020 6:06 p.m. ET

EAST RUTHERFORD, N.J. (AP) Just when you thought things couldn't get worse for the New York Giants, they delivered a holiday flop.
The Giants were once again disappointing, especially on offense, in the 20-10 Thanksgiving night loss to the Washington Redskins, dropping their record to 2-9, making the final five games of the season virtually worthless.
''I'm disappointed in the way the offense looked,'' said beleaguered coach Ben McAdoo in a conference call Friday. ''We had a lot of unforced errors and that's how usually it goes. We played a lot of younger players on a short week and they played like it. We need to be better and we will attack this last month head on.''
The Giants managed three points offensively, had one first down in the second half, and saw quarterback Eli Manning complete 13 of 27 passes for 113 yards, no touchdowns and one interception.
''It's definitely been a frustrating year,'' Manning said. ''Our defense is keeping us in games, but we're not able to move the ball. Yeah, it's frustrating. It's not the style of football that I'm used to playing. It's frustrating and it's tough. We have to find out why we're not doing things. We had some drops. I missed some throws. Everyone is contributing to our lack of success.''
It was Manning's lowest passing production in almost 10 years, since he threw for 111 yards in Buffalo on Dec. 23, 2007. However, 36 of Manning's passing yards came on the final drive with the outcome no longer in question. The Giants had 86 net yards passing, their lowest total since Oct. 28, 2007.
The Giants didn't do much with their rushing attack, gaining 84 yards on 24 attempts (3.5 yards per carry). They converted on 2-of-14 third-down chances (14 percent).
Manning admitted the Giants have very little to play for now.
''It's been a tough year,'' Manning said. ''But we have five games left. It's about pride now.''
Manning isn't about to give up right now.
''We could be effective and it can work,'' Manning said. ''We just have to find a way. We're not doing our part. We have to score more points.''
Part of the problem is the team's inability to catch Manning's passes on a regular basis. Thursday night, the biggest culprit was promising rookie tight end Evan Engram, who had only three catches for 18 yards and dropped three passes.
''I thought Evan was pressing a bit, especially after he dropped the first one,'' McAdoo said. ''He didn't have good fundamentals. He doesn't have a lot of experience playing in that kind of weather.''
If there was one positive to the Giants' performance, it was their defensive effort. They had six sacks and a 53-yard interception return for a touchdown by cornerback Janoris Jenkins, who left the game with an ankle injury that McAdoo hinted might keep him out of action for an extended period.
''The effort is there on the defensive side of the ball,'' linebacker Devon Kennard said. ''If we could eliminate some of the big plays, we would be in better shape. We still have a lot to play for. We know we can be better than what our record shows. I'm looking forward to doing good things over the next five weeks.''
Kennard, who had one of the Giants' six sacks on Kirk Cousins, didn't want to place the blame for the loss solely on the poor play of the offense.
''I think there are some things that we could have done defensively to put us in an even better spot,'' Kennard said. ''If we played better in the second half, then maybe things would have panned out differently. So I think we got to look at ourselves and figure out what we should do on the defensive side of the ball to put ourselves in a better position. We see the offense didn't score a lot of points, so we got to get more turnovers. We have to make sure we eliminate the big plays and keep them out of field goal range. You can't worry about the other side of the ball.''
The Giants will now get three days off.
''We will let the bodies rest and recover,'' Manning said. ''We need to get away for a few days and get rejuvenated for the last five games. We have to make sure we put a better product on the field.''
It could very be the final five games in McAdoo's head coaching tenure with the Giants.
''We have a lot of young players who need to step up,'' McAdoo said. ''We need those younger guys to grow up. We don't have time. It has to be now.''
NOTES: Linebacker Curtis Grant (knee) and cornerback Donte Deayon (fractured forearm) appear lost for the season after suffering injuries Thursday night. Linebacker Deontae Skinner hurt his hamstring, and his status moving forward is questionable.
---
For more NFL coverage: http://www.pro32.ap.org and http://www.twitter.com/AP-NFL
---
---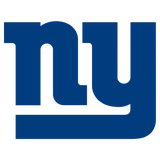 Get more from New York Giants
Follow your favorites to get information about games, news and more
---