Game of the week breakdown: Eagles could expose Cardinals
BY foxsports • October 23, 2014
When NFL coaches break down game tape to prepare for an upcoming matchup, they study the opponent's last three or four games. What they see there strongly influences how they'll plan their attack.
Chip Kelly may have dug a bit deeper into Arizona's 2014 archive since he had a bye week to prepare, but there's really no need to look any further than the Cardinals' last three games to find the pressure points within their defense.
On their way to a 5-1 record, the Cardinals' run defense has been impenetrable, like the Wall in Game of Thrones. Try to run on them if you want to, but Arizona has left opposing rushers battered and bruised like wildlings licking their wounds. Attacking Arizona through the air is the way to go. While the Cardinals have the NFL's best run defense -- allowing only 72.5 yards per game on the ground -- they're trying to figure things out when it comes to defending the pass. They're allowing 285 yards per game through the air – second-most in the NFL.
In the Cardinals' last three games, the defense gave up 479 yards through the air to Peyton Manning and the Broncos, 354 yards passing to Redskins QB Kirk Cousins -- KIRK COUSINS -- and against the Raiders, errr, let's just forget about the Raiders.
The quick analysis and takeaways from each of those games:
Broncos receivers -- especially Demaryius Thomas, who had 226 yards and a 60-plus-yard reception that was called back -- went bonkers on the Cardinals' defensive backs in man-to-man coverage. Antonio Cromartie struggled in press coverage all game. Arizona safeties -- Rashad Johnson and rookie Deone Bucannon -- are liabilities in one-on-one coverage.
The Redskins slaughtered the Cardinals' pass defense with shallow crossing routes and the screen game -- with about 100 passing yards coming on wide receiver and running back screens in the second quarter alone.
The NFL is a copycat league. When a team puts something bad on tape, the upcoming opponent will press those pressure points until they prove they've corrected the vulnerability.
Here's a look at some of the issues the Cardinals' pass defense has had the past few weeks and what Nick Foles and the Eagles will certainly be looking to exploit this Sunday.
Undisciplined defenders take the bait
In both the Denver and Washington games, Arizona's defense had simple mental errors in their zone coverage. Every underneath zone defender is taught to play their area "deep to short," taking away the routes that can hurt you most and letting the quarterback dump the ball off to receivers running shorter routes.
The Cardinals haven't been disciplined in their zones, and they've been jumping the short routes.
Take a look at how zone drops should look in this simple Cover 3 defense. Notice that the four underneath zone defenders should get depth within their coverage areas and play the zone from deep-to-short: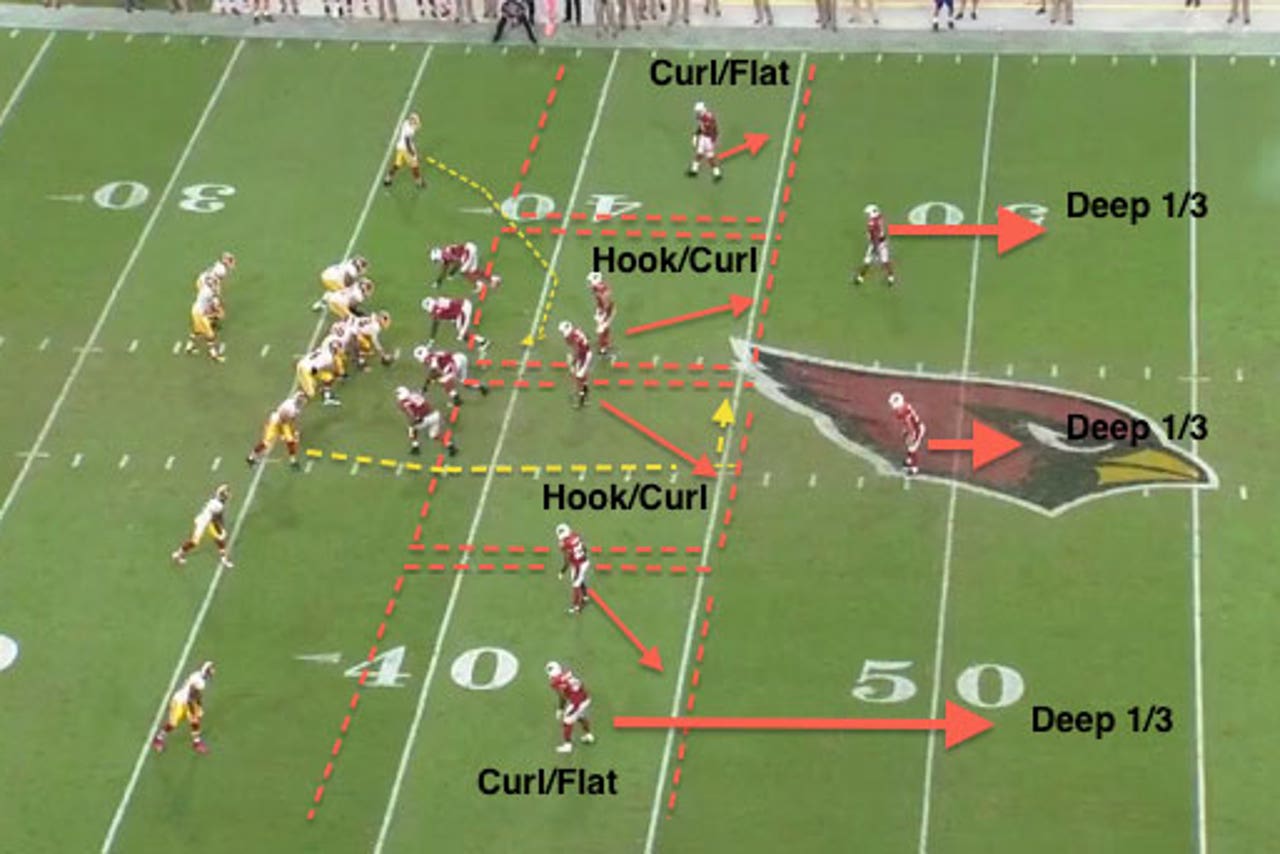 Now look at what happened when one Cardinal defender had a mental error and didn't play his zone coverage responsibility correctly: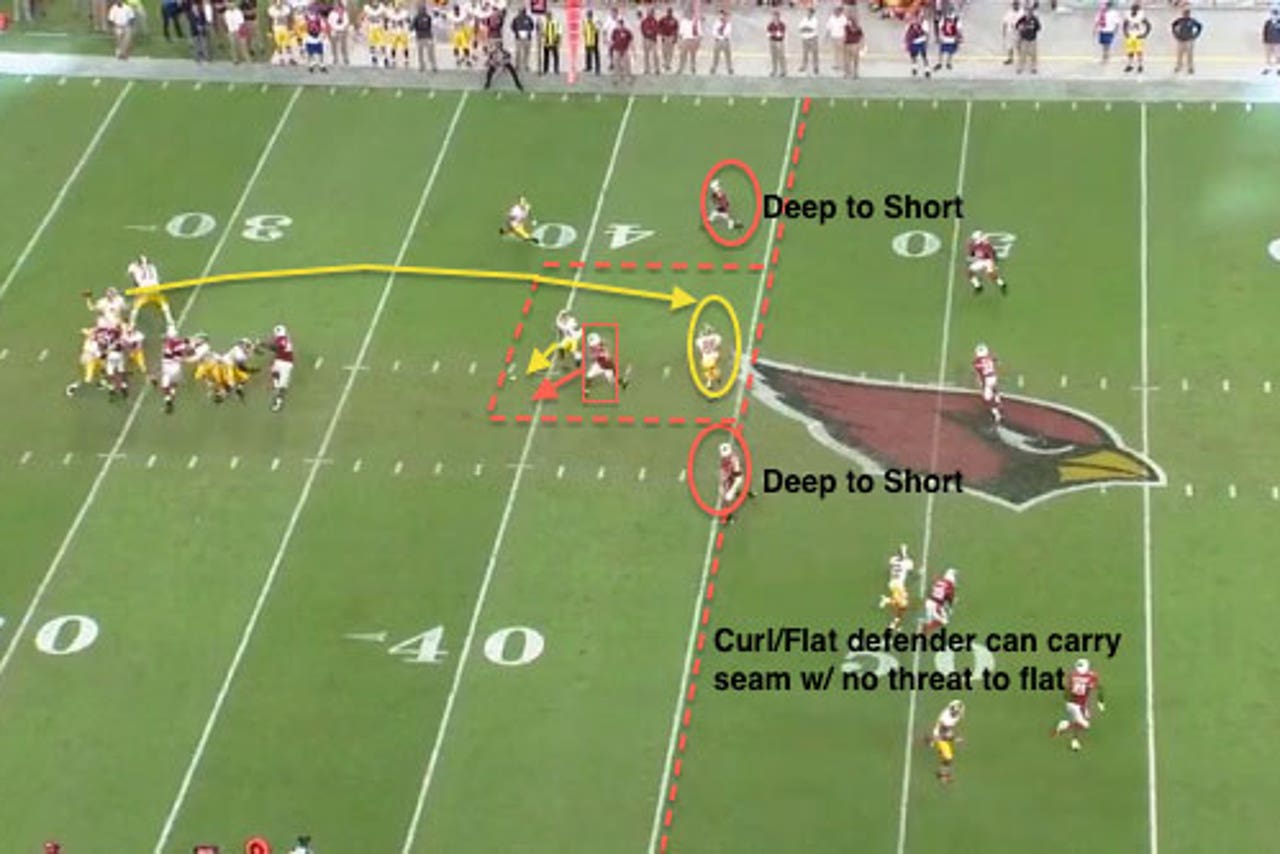 The zone defender at the point of attack (red square) of the high-low route concept took the bait. He drove the shorter route, leaving the deeper route behind him wide open. Instead of this play being stopped for a four-yard gain, it went for 14. This happened in the Denver game as well, which is probably why the Redskins also ran these concepts.
Man-to-man coverage struggles
The Cardinals' defensive backs have struggled with one-on-one coverage this season, and it's a major part of why the defense ranks 26th in the NFL in allowing pass plays of 20-plus yards (24). They've given up the deep ball on numerous occasions, but many of the big gains have come on shorter receptions with long runs after the catch.
Opposing offensive coordinators have found success using rub routes and crossing patterns to pick Arizona defenders. The Cardinals must make changes in their man-to-man coverages, or offenses will continue to drop big-hitting plays on them.
Here's a look at Arizona before the snap of a man-to-man coverage call in their game against the Broncos: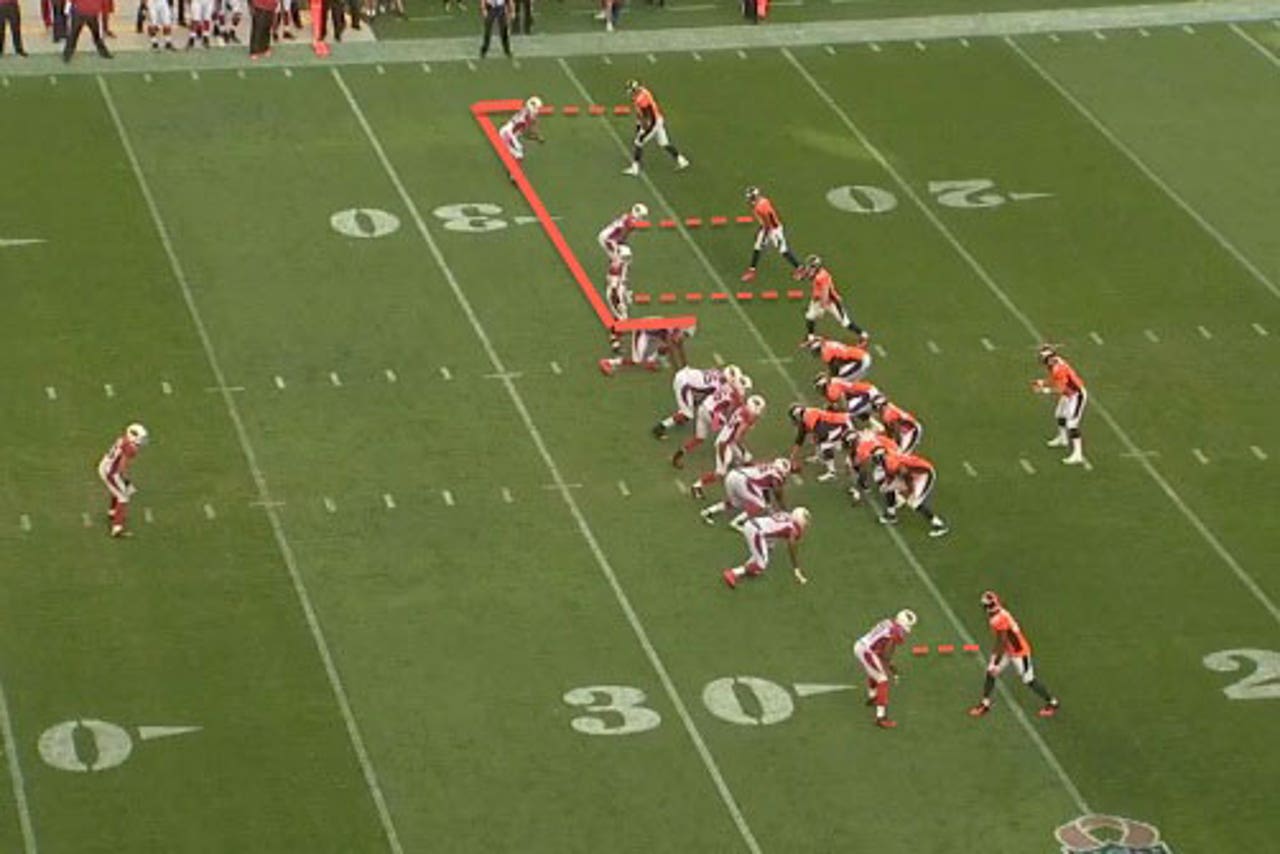 Notice how everyone is in press coverage. That can't happen.
In man-to-man coverage, defenders have to be on different "levels" to decrease the chances of getting picked when the receivers run rub routes. If you listen for it the next time you watch a game on TV, you'll hear the good defenses screaming "levels" before the snap when they're playing man-to-man and there's a possibility of getting picked. The Cardinals get picked more than any other defense I've studied on tape, and they'd benefit by making slight adjustments.
Ideally, they'd look something like this instead: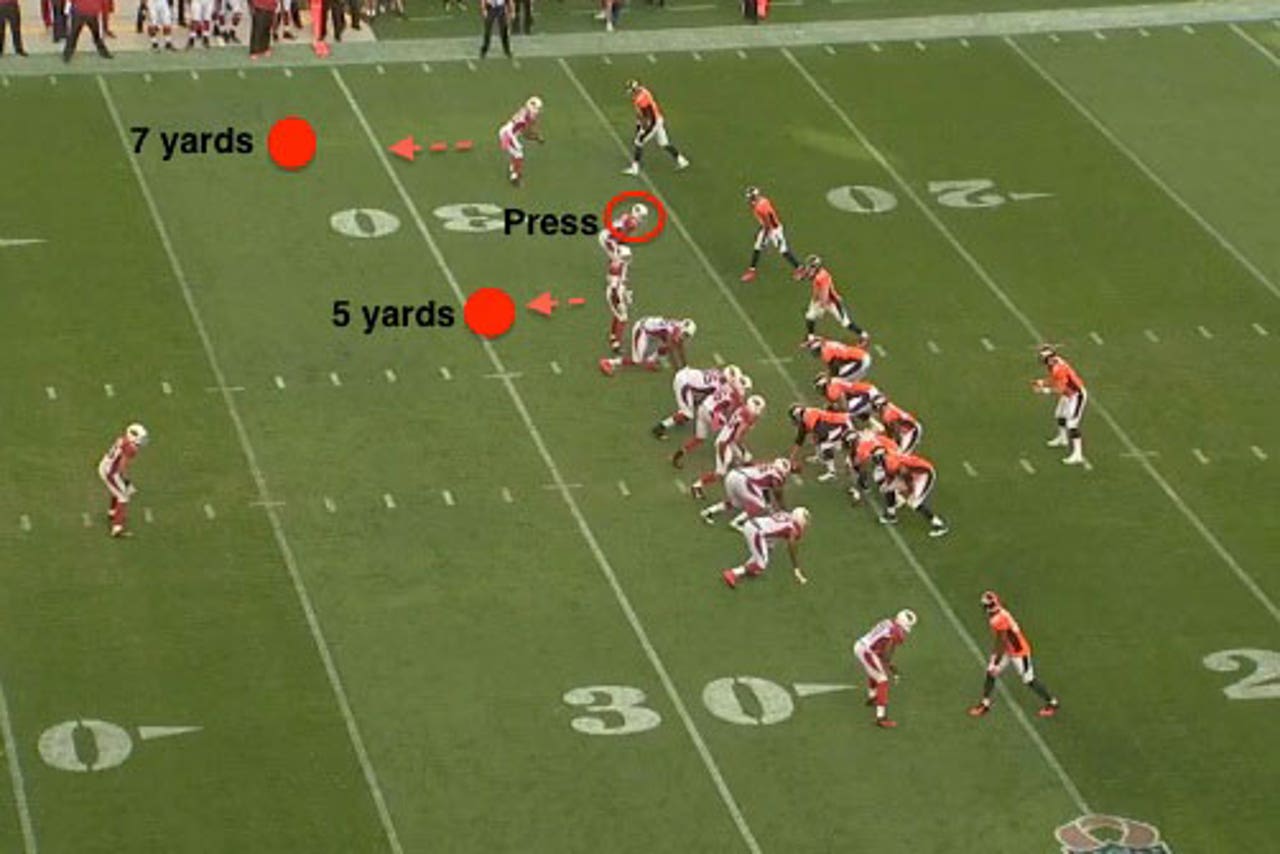 The other adaptation they could make in their man-to-man coverage schemes -- to reduce the possibility of being picked on rub routes and crossing patterns -- is to start utilizing a Rover.
That would mean they'd have to rush the quarterback with only five players instead of six, which would equate to less pressure on the quarterback, right? Technically yes, but the Cardinals have been rushing with six all season and there are only two teams (Oakland and St. Louis) with fewer sacks than Arizona's seven in 2014. So would that really matter?
Arizona's best bet against man-to-man coverage moving forward would be to use a low-hole Rover, which would look like this: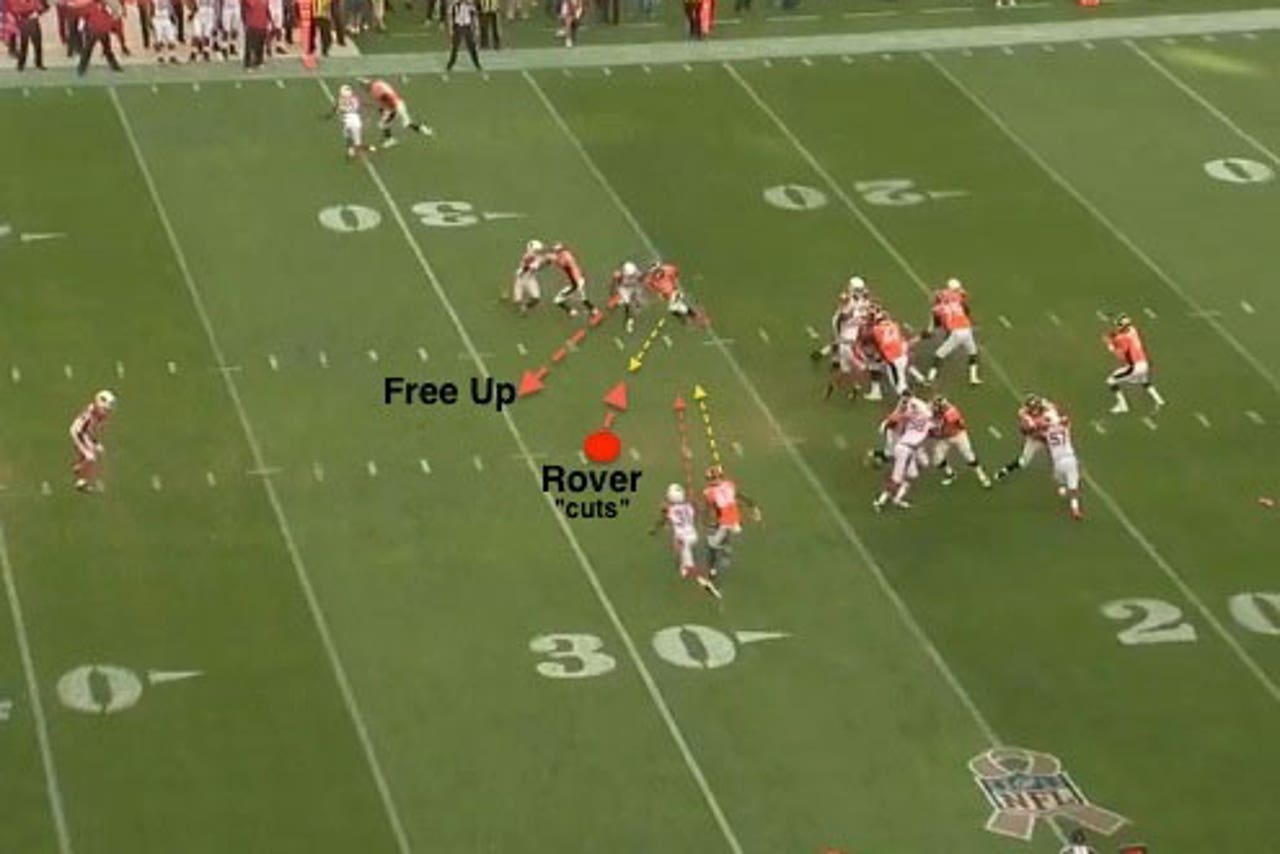 The Rover is a free defender who sits in the middle of the defense and makes a "cut" call to the first crosser from the receiving strength of the formation (top of the screen). He does this to help any player who could potentially get picked and lose his man in coverage -- which happens to Cardinal defenders often.
When the Rover cuts -- or takes responsibility for -- that receiver, the defender who was guarding him initially can "free up" and look to help elsewhere as the play progresses and "cut" to another receiver. In theory, there will always be a free defender looking for work -- helping any defender chasing a crossing pattern -- as more than one cut can happen on one play.
Since the Cardinals didn't have a Rover to help on the crossing routes on this play, Cromartie ended up losing his man in coverage. He got picked, and it should go without saying that it's almost inevitable someone gets picked when players are not playing on different levels and don't have a Rover to help.
Here's the result – a 28-yard explosive: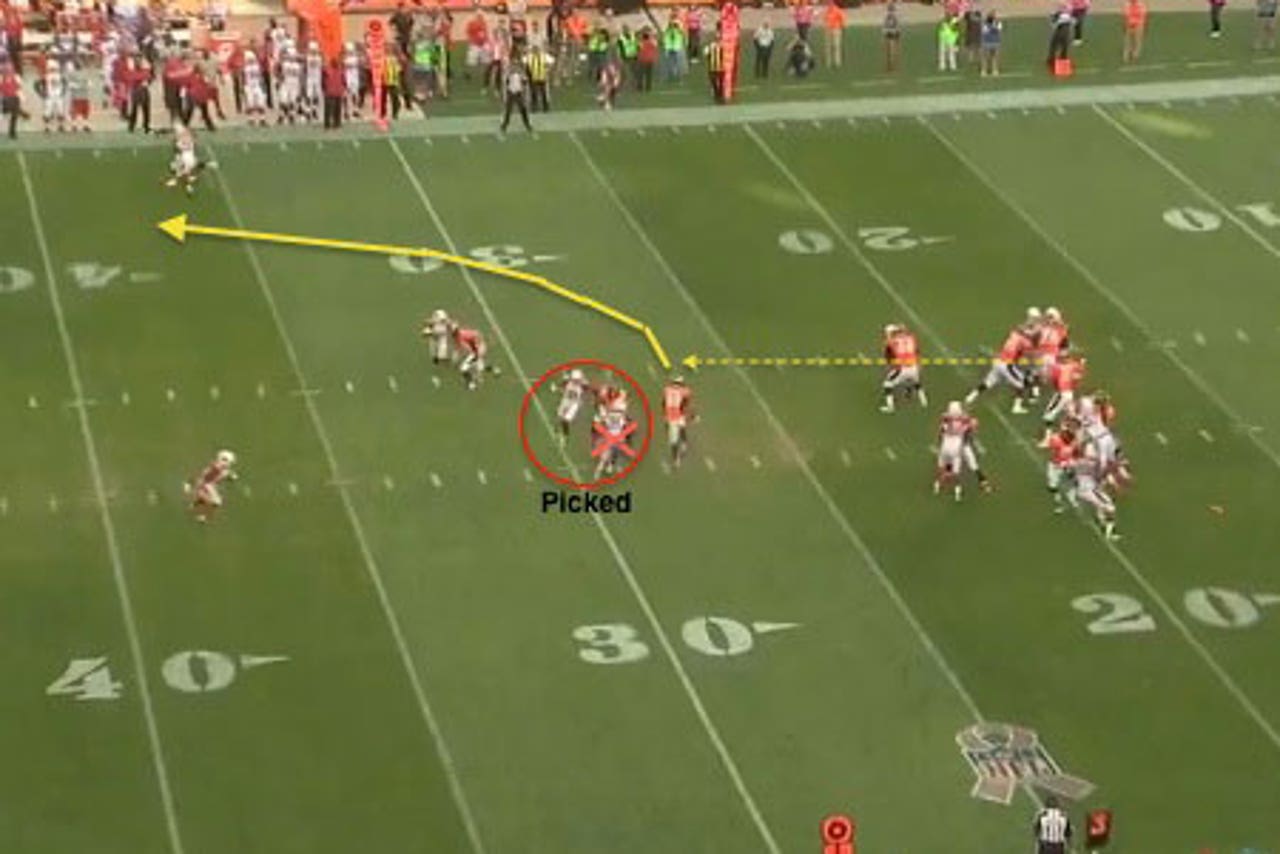 It's unlikely that Philadelphia will be able beat Arizona running the ball -- the Cardinals are the best rush defense in the NFL and Philly's been less than 100 percent along the offensive line. That's OK. Without question, the Eagles have seen what we just saw on tape.
Nick Foles and his fleet of receivers and running backs are salivating as they watch tape of Arizona's pass defense. They're going to attack Arizona's defense with a slew of screens, high-low concepts, crossing routes and rub routes to see if they've made any adjustments.
If the Cardinals made proper adaptations to their schemes, they will be the team that continues on with only one loss. But if they haven't, the Eagles' explosive offense will put up huge numbers through the air and expose one of the NFC's biggest surprises.
---
---