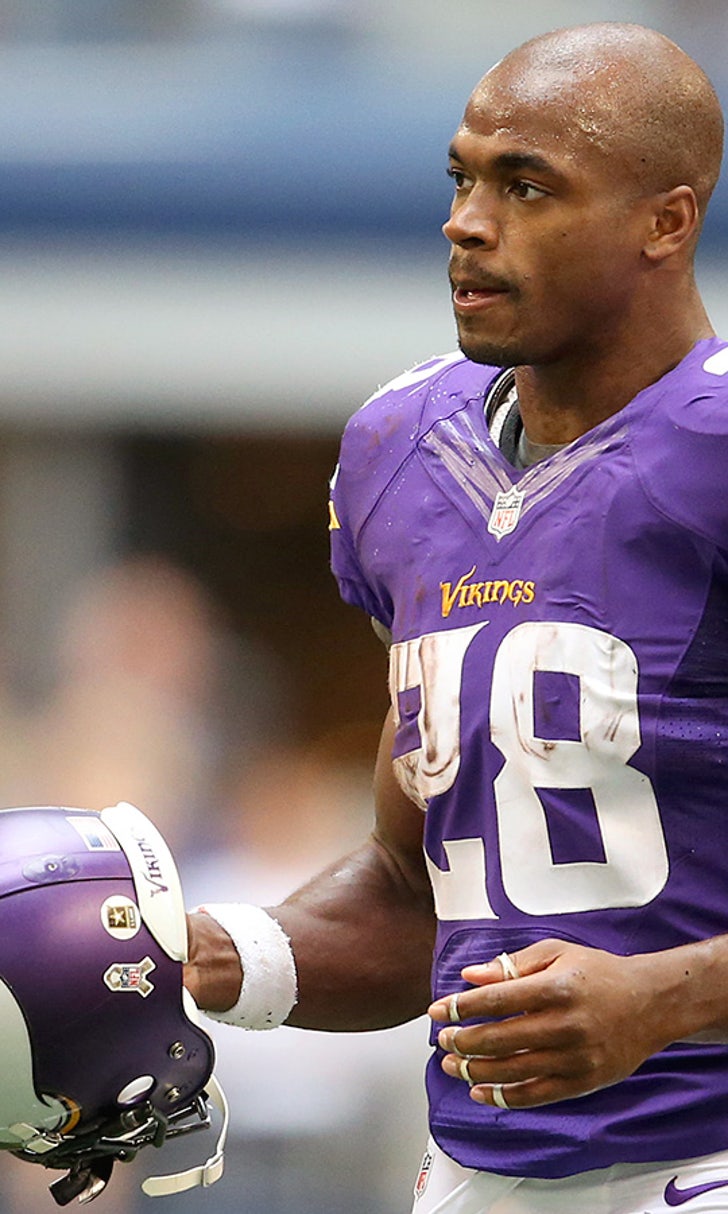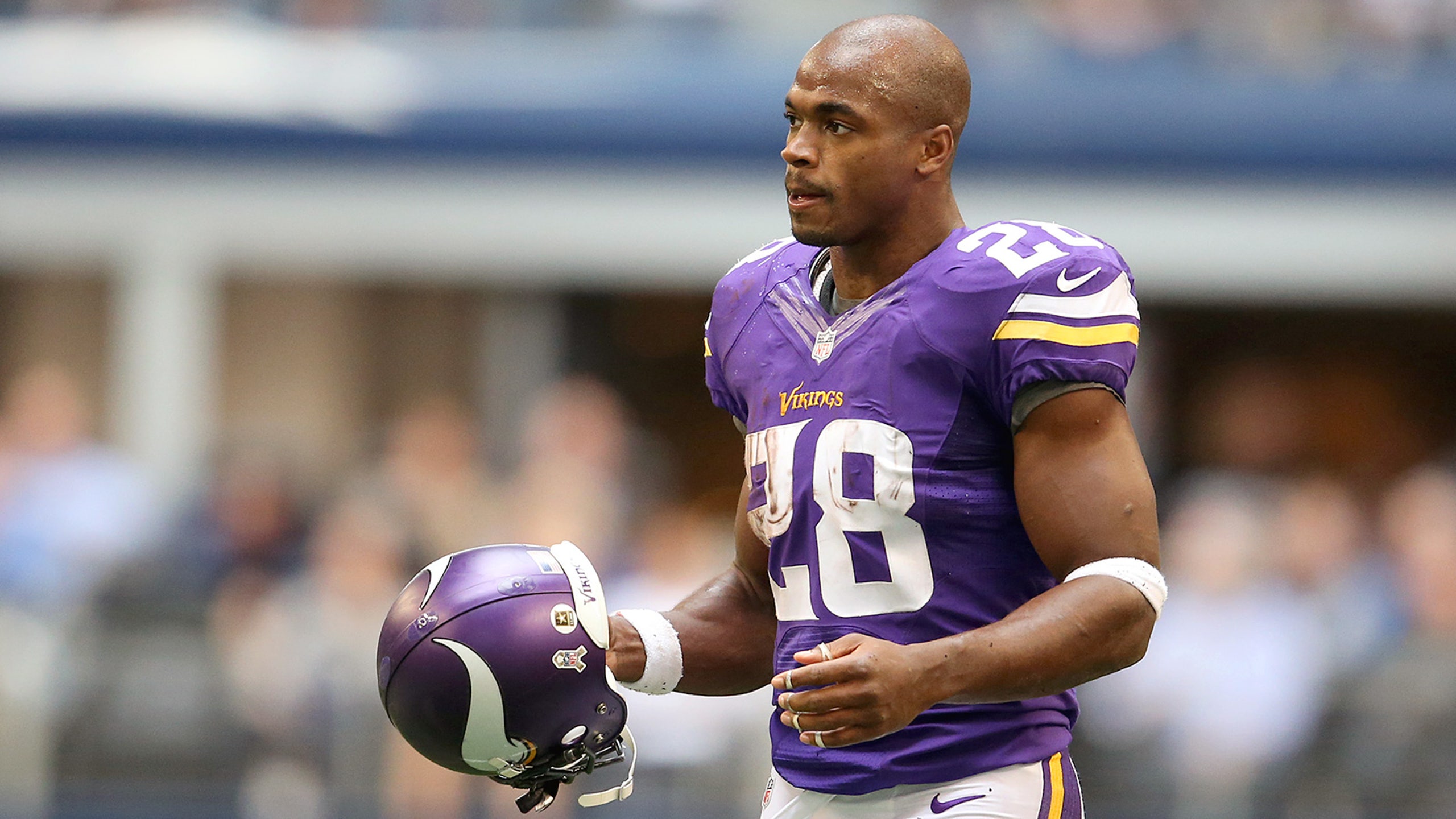 FOX Sports exclusive with AP: NFL babies QBs, Brees hit no penalty
BY foxsports • November 20, 2013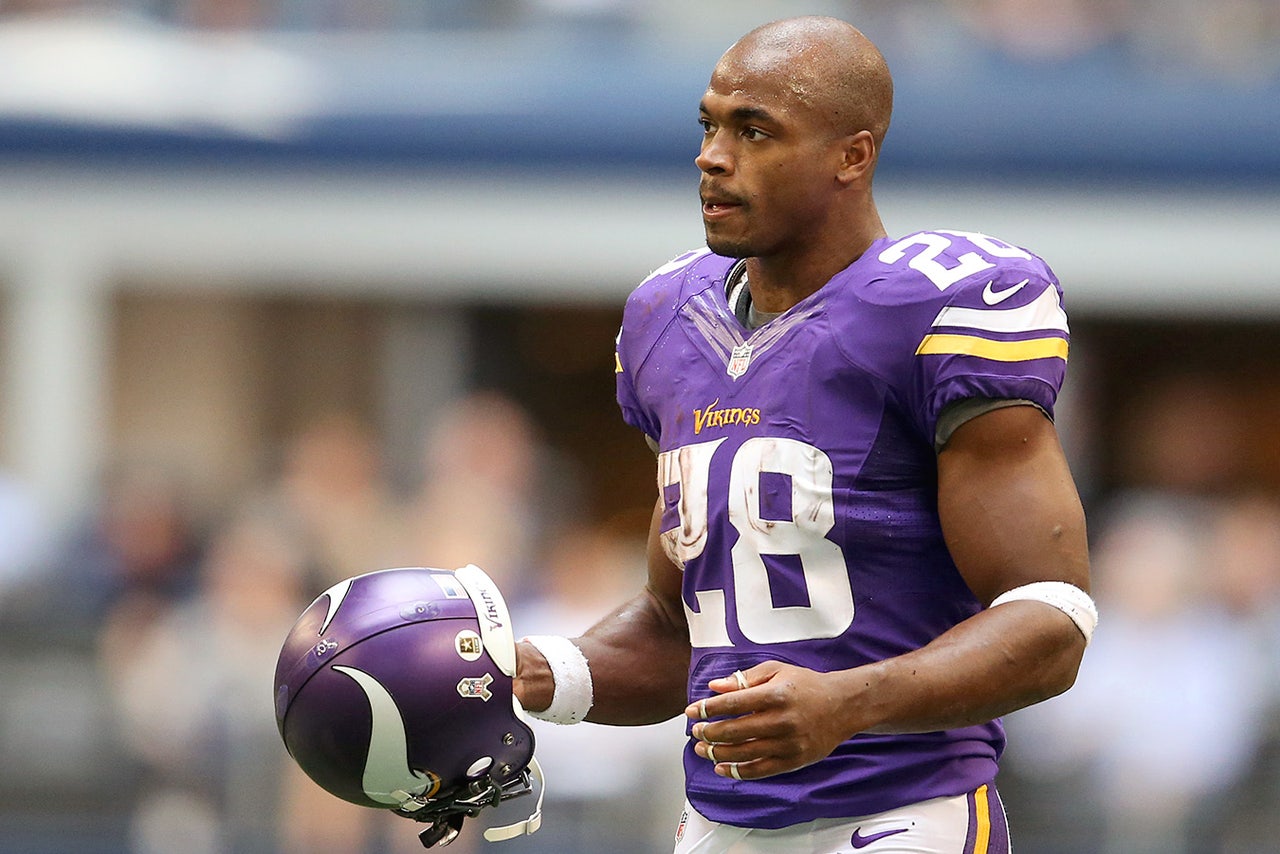 FOXSports.com had a telephone interview with Minnesota Vikings running back Adrian Peterson on Tuesday. Topics covered included his thoughts on the rules designed to protect quarterbacks, confidence in Christian Ponder and Leslie Frazier, if Mack Brown should retain his job at the University of Texas, and his Heisman Trophy vote.
FOX Sports: What is your opinion of the rules designed to protect the quarterback?
Adrian Peterson: You think about Drew Brees and the hit he took (against the 49ers). I love Drew Brees. He's one of my favorite guys to watch, but that hit he took wasn't a penalty. So they kind of baby the quarterbacks, but the running back we're like every other player. We get hit and that's what it is.
FS: Eric Dickerson said Monday that you need a quarterback and€" that the situation in Minnesota is "terrible."€ He said it's hard to watch and extremely tough for you. What's your response?
AP: I would say that offensively we have struggled and it's not a secret that our quarterback position has been up and down or whatnot. I actually have confidence in Christian Ponder and what he can bring to our team. It's all about being consistent and that's with every player, with myself as well. I don't feel like last week I was as consistent as I needed to be, but it doesn't show up as much because I'm not throwing the ball 30 times. When you're inconsistent at quarterback and you get it picked off that stuff gets highlighted. As a running back, when you miss a hole it gets overlooked at times. I'm not as critical of the quarterback position because I know how much comes with it and I know how much scrutiny comes with it and how they are viewed in the public eye.
FS: If all three quarterbacks were healthy, who gives the Vikings the best chance to win?
AP: I would say Christian because he's been in our system the longest. He's able to go out there and run our system with the knowledge he has of it and the talent with what he's been able to do.
FS: Do you think the trade with Josh Freeman messed with his head at all?
AP: I don't know. I don't know. I can put myself in his position and say that if they were to trade for Marshawn Lynch, then I would sit there and say; "€œHey, I might have to step up my game a little bit" or something. He responded well, I think he did. You can't base it off of last game, you would probably say that but I think he responded well when he came back and helped us get a win against Washington. He went out in that game with a dislocated shoulder and I'm on the sideline like, "hey man, shoot pop it in and get back in there." Guys were trying to get him back in there. It's one of those thing like when you're doing good everyone is with you and when you're doing bad they're against you. That's just how it goes, unfortunately.
FS: Do you think Leslie Frazier still has the confidence of the locker room?
AP: Yes, I think he does man. One thing that hasn't been lost is the will to win. That's something that even though we don't have a lot of W's, guys are out there and we're playing football. We're out there competing and we believe in what coach Frazier has to say.
FS: Your college rival is Texas. You played your high school ball in Texas. With what's going on, do you think Mack Brown should be brought back for another season?
AP: I've been hearing the talk because Texas is such big university and Mack Brown has been there for a long time, but I don't know. That's something that they're going to have to figure out. If it was OU then I would probably have more insight to that, but I'm going to leave Texas and who their head coach should be alone.
FS: Who gets your vote for the Heisman Trophy?
AP: I don't really know, I haven't watched too much college football but the quarterback from Florida State. I remember watching him play two games and he's very impressive. Yeah, he's been showing some good stuff. He's a talented kid.
FS: So, you'd take Jameis Winston over Johnny Manziel?
AP: At this point, yeah.
 
---
---