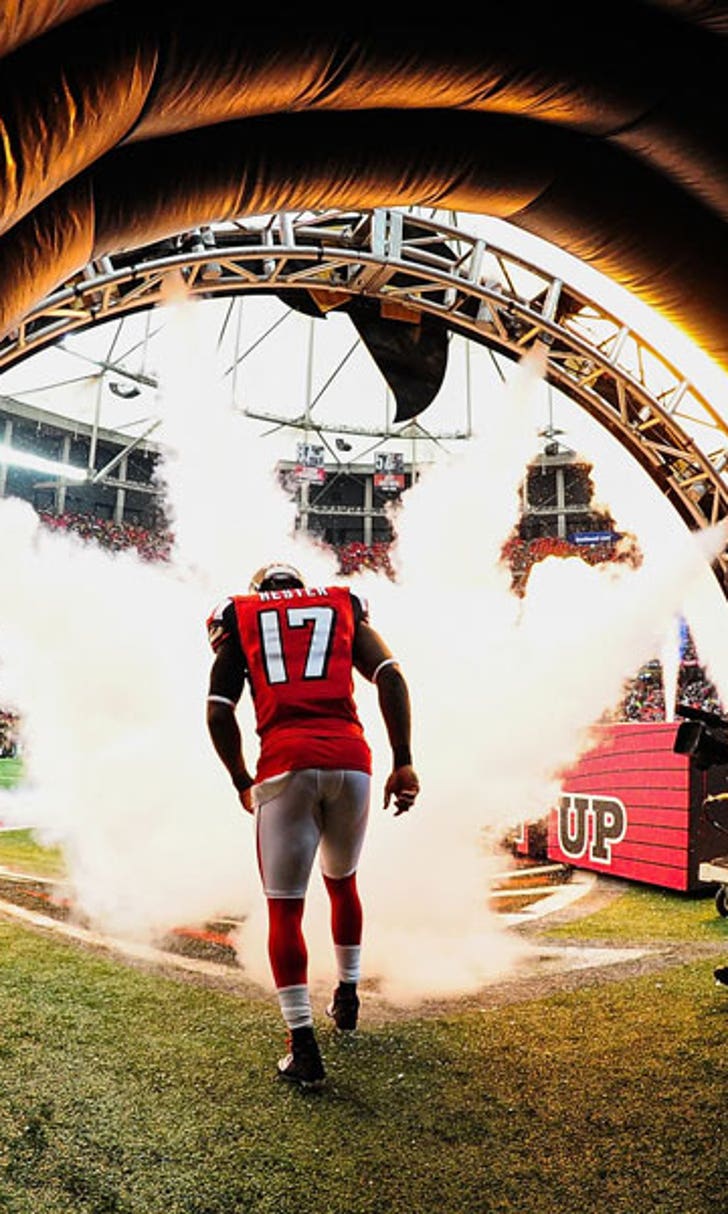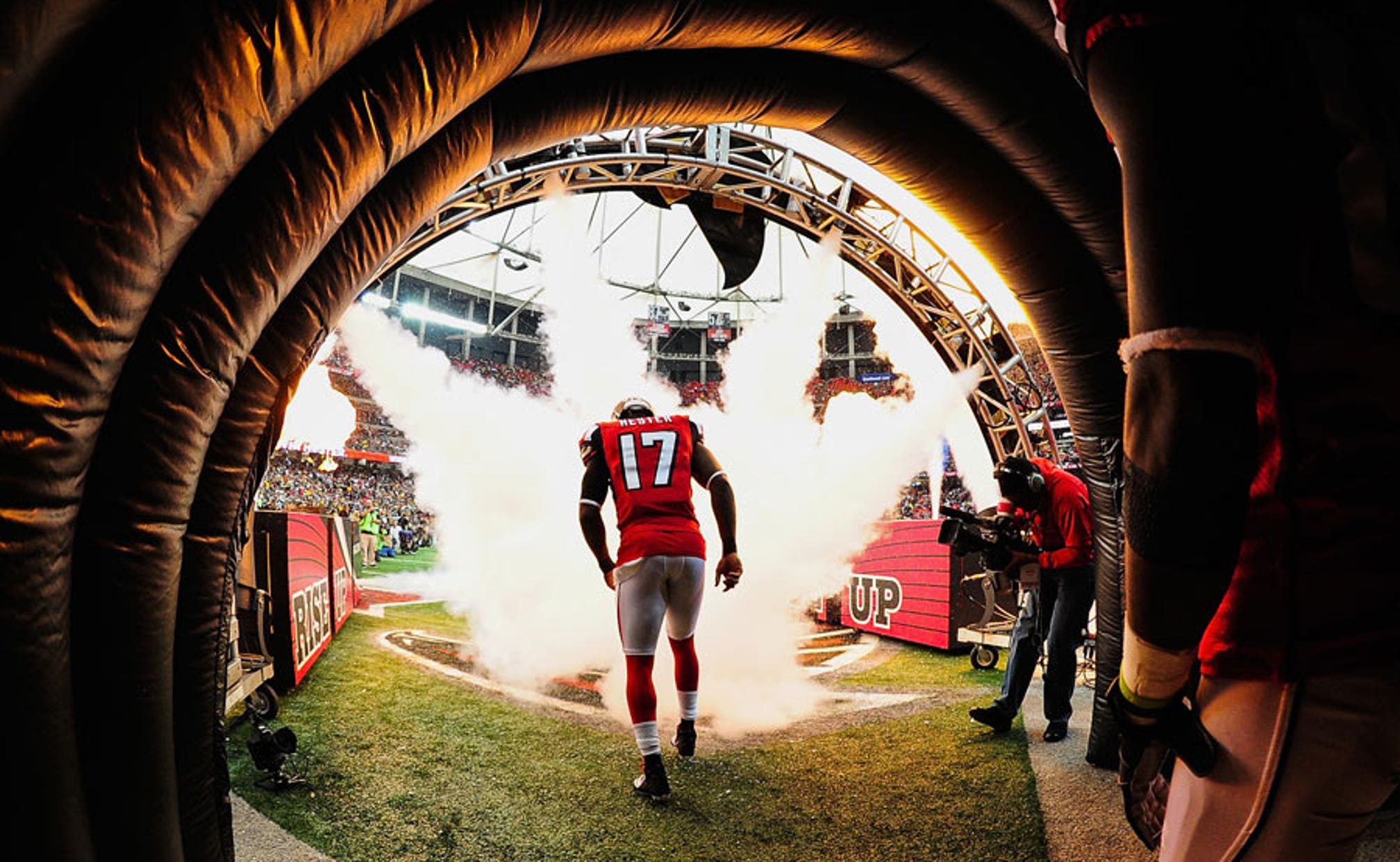 For Devin Hester, it's been a career of many happy returns
BY Sam Gardner • September 15, 2015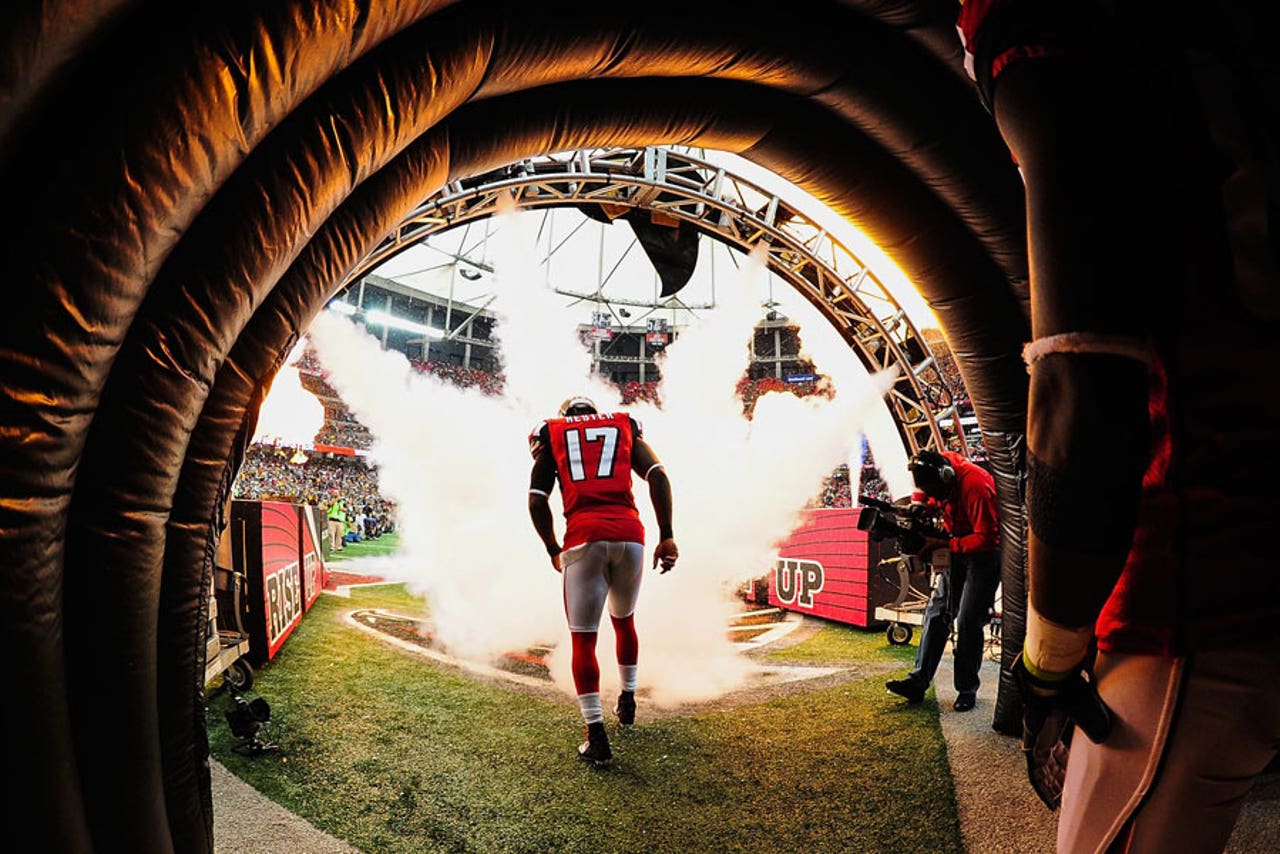 There's a growing sense that the return game is a dying art, with special teams pushed further and further from the forefront as player safety becomes more of a priority across all levels of football.
As a result, there's a case to be made that Devin Hester, who is expected to open his 10th season Sunday against the Bucs after spending the first three months of the season on IR with a turf toe injury, could not only be the best, but the last of his kind.
"He changed the game," said Kansas City Chiefs special teams coordinator Dave Toub, Hester's special teams coach during his first seven seasons in Chicago. "People talk about how guys who are in the Hall of Fame are guys who have changed the game of football, and he's done that. They were talking about changing the rules on punt because of him, and now everybody has a returner, everybody knows how important it is. He opened up the door for returners."
One of the people who opened the lanes for Hester concurs.
"The art of special teams is all about changing field position and scoring points and being aggressive, and that's going to be a long lost art soon," said former Bears linebacker Brendon Ayanbadejo, part of Chicago's elite special teams unit during Hester's first two years in the NFL. "There's not going to be an opportunity for anybody to chase the records that Devin has.
"He's the last of a dying breed," Ayanbadejo continued. "And someday, when you look back on an era of special teams when it really was one-third of the game and see who was the best at it while it was, that'll be Devin Hester."
Growing up in the Riviera Beach, Fla., Hester knew he had a penchant for the incredible when it came to the return game, even when the former prep All-American wasn't showing it on the field.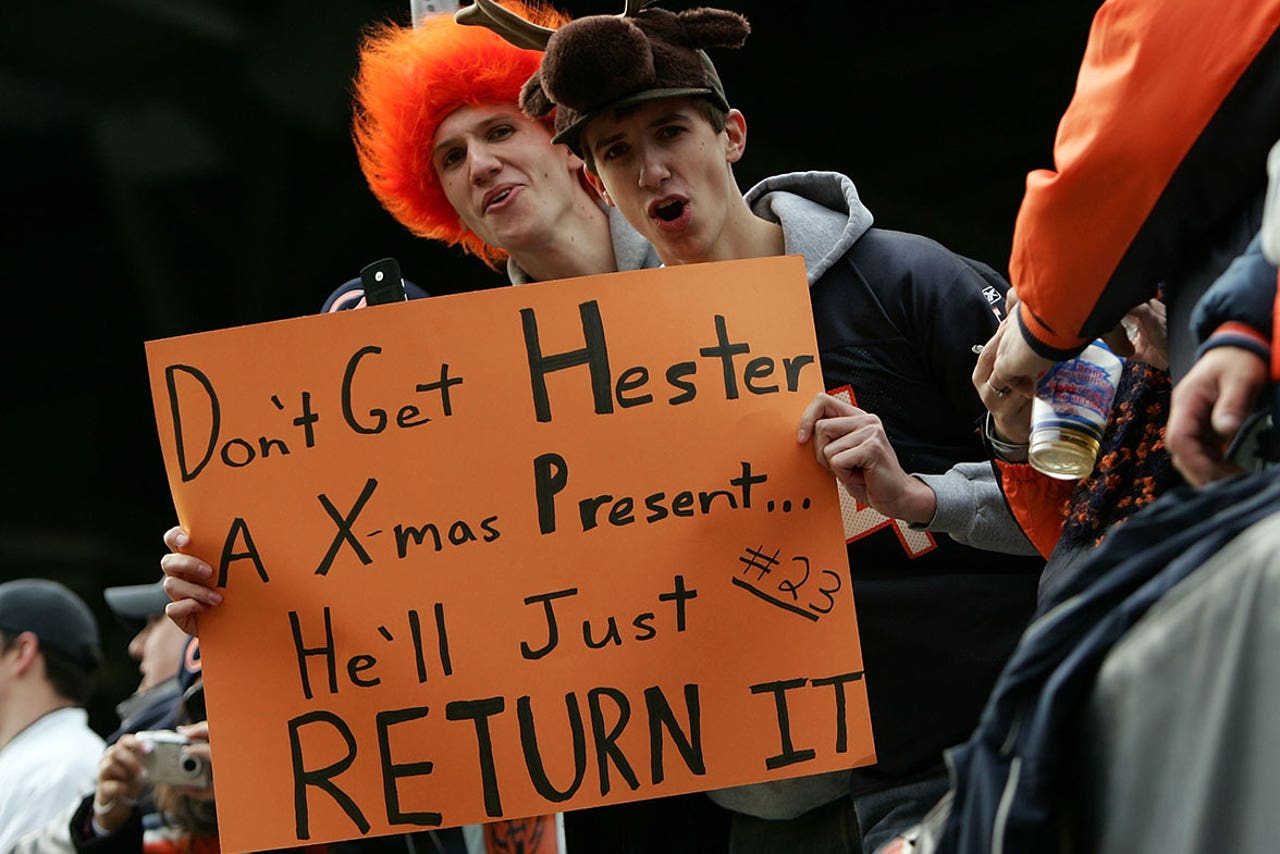 The sign says it all about Devin Hester's ability to take returns the distance.
As a senior at Suncoast High School, Hester virtually did it all for the Chargers -- more than 1,000 yards both rushing and receiving in addition to five touchdown passes and more than 150 tackles and a handful of sacks, picks and forced fumbles on D -- with return prowess seemingly the one unchecked box on his resume.
However, Hester, perhaps the nation's top two-way player in the high school class of 2002, was never concerned that he couldn't or wouldn't develop into a special teams ace as well, in part because, away from the field -- where pads and referees were nowhere to be found and speed and elusiveness are tantamount to superstardom -- he already had.
"I knew I was good when I started playing street football," Hester said of his early tendency to break the big return. "We would play in the street or the fields, and you know how you'd do throwoffs instead of kickoffs? I'd be the one back catching the throwoffs, and probably five out of seven times I would take it back. I think that's when I really started getting a knack for it and getting good at it.
"In high school I didn't return any kicks," the Falcons' record-setting return man continued. "I never took any kicks or punts back for touchdowns, and the first one I did was in a high school all-star game, my last high school game. Before that I didn't even house one of them, so that was the crazy thing. But I always knew that I had the ability to do it."
With the benefit of hindsight, it's tough to conceive that Hester, the NFL's all-time leader in combined return touchdowns and non-offensive touchdowns, was anything less than a sure bet when it came to game-changing returns. Throughout his career, fans have seen him rattle them off so frequently and with such ease that one would almost assume that special teams were always his primary function, if only because it's the role he was so clearly born to play.
But for Hester, a resolute worker and devout student of the game, every accolade he's achieved has been earned, his hunger to prove those who doubt him wrong driving him to a career that could one day put him in the Hall of Fame.
When Hester first stepped foot on campus at the University of Miami, about 80 miles south of his hometown, then-Hurricanes coach Larry Coker knew he had something special in the five-star recruit, but Coker didn't initially realize how much talent he had to work with.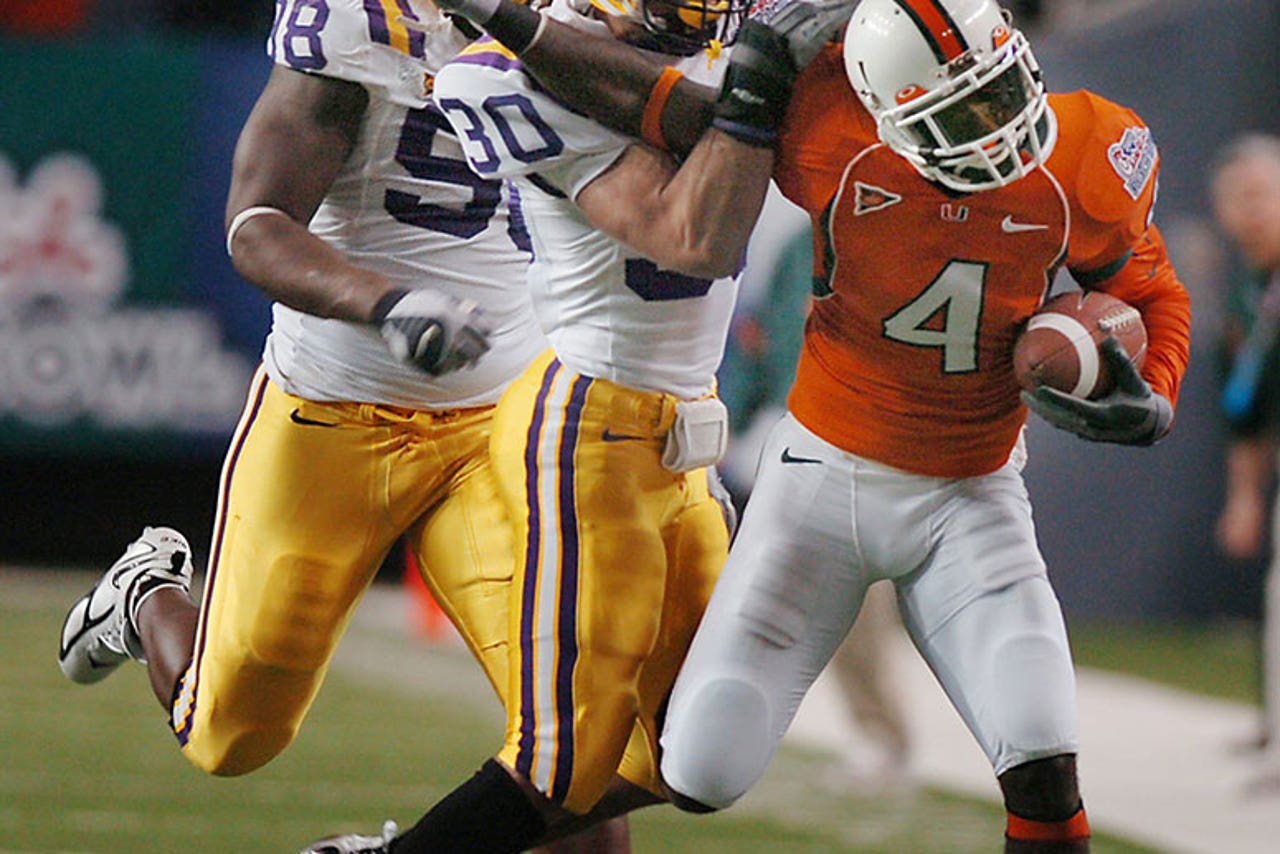 Devin Hester was a force at Miami.
Hester's debut at UM was delayed a season due to low SAT scores, but once he joined the team in 2003, it didn't take long for him to get his coach up to speed -- something opponents, today, still struggle to do -- as Hester returned the second kickoff of his college career 53 yards to set up a touchdown against Louisiana Tech. The following week, Hester picked up his first career kick return touchdown from 97 yards out in a win over Florida.
Despite missing three games later in the year to injury, Hester finished his freshman season sixth nationally in kick return average at 28.7 yards, and though Hester had still not gotten a chance to flash his potential on Miami's punt return unit -- a spot still held down at that point by Roscoe Parrish and Antrel Rolle -- it was obvious he'd soon get that opportunity.
"The big thing is he had vision, and with Devin he has great speed -- I think he was a 4.23 guy -- and he had outstanding acceleration," said Coker, now the head coach at UT-San Antonio. "When he sees a crease, he can hit it and go. He knew the field was spread, he had a lot of room, and he had tremendous confidence that he was a threat to take it all the way."
The following year, Coker moved Hester from offense to defense, freeing Hester, the team leader in interceptions in 2004, to contribute more on special teams. That offseason, Hester began to form a bond with Parrish -- later a longtime Buffalo Bills return man who Hester says could "make guys miss in a phone booth" -- and his improvement in every facet of the return game was unmistakable, starting with two punt return touchdowns in another dismantling of Louisiana Tech.
Coker recalled one particular return against North Carolina State later during Hester's sophomore season as an especially noteworthy highlight. In that game, Hester took the opening kickoff out from the back half of the end zone and stunned the Wolfpack crowd with a touchdown before some fans had found their seats. The week before, he had effortlessly ripped off what amounted to a game-winning punt return against Louisville, and from that point on, Hester -- whose second punt return TD against Louisiana Tech was fielded inside his own 10 -- had been given the proverbial green light from Coker and his staff.
"I said, 'No, no, no, no, no,' but then as he started to come out, it turned into, 'Go, go, go, go, go,'" Coker said of the NC State touchdown. "It wasn't a good decision to take it out, and I thought he should have taken a knee, but he took it 106 yards for a touchdown. Devin could do that and when he did, I was always on board with it."
By Hester's junior season, his abilities were well documented and teams finally began to respond accordingly, making a point to kick it to anyone else -- even if that meant kicking it to nobody at all -- when Hester got in position for a return, a strategy that would eventually become commonplace in the NFL, as well. As a result, Hester's overall numbers saw a dip in his final season at UM, but the man they called "Anytime" (an improvement upon his previous moniker, "Sugar Foot") was by no means less feared.
Perhaps no play exemplified Hester's sorcery of opposing punt coverage teams than his all-time great return against Duke (one that was ultimately called back by a penalty, negating the score but not the amazement), and after the 2005 season, Hester set his sights on the pros. Still, there were doubts that his domination of the Big East and ACC would translate in the NFL.
"Coming out of college, the talk was that the things I did in college were impossible to do once I got in the league," Hester said. "That was the big question with me. It was, 'Yeah he had some great kickoff and punt returns for touchdowns, but in the league that's not regular or ordinary.' So I came in with a chip on my shoulder that I'm going to prove the critics out there wrong."
No team burns a second-round pick on a player who isn't expected to contribute and do so soon, so it was evident the Bears had big plans for Hester when they took him 57th overall in the 2006 draft.
The previous fall, Chicago released starting punt returner Bobby Wade after 10 games and the kick return team was in the bottom five in the league in yards per attempt for the '05 season as a whole. So there were voids to be filled, and it soon became apparent that Hester was the man for both jobs.
"He came in and he was a player that didn't really have a position," said Toub, who took over the Bears special teams unit in 2004. "He might have been an offensive guy, might have been a defensive guy, but one great thing about him was that when he got the ball in his hands, he was just unbelievable. His burst and his vision, his anticipation of blocks, the way he sets up -- he just did a lot of things naturally, instinctively. It wasn't like I did some unbelievable coaching job with this guy. He was just a natural."
Part of what made Hester so immediately successful, Toub said, was his willingness to learn. It would be easy for a player with Hester's reputation to come in with the approach that he's too good to be coached, but that was never an issue in the Bears meeting rooms, where Hester quickly established himself as a leader, even among his more seasoned teammates.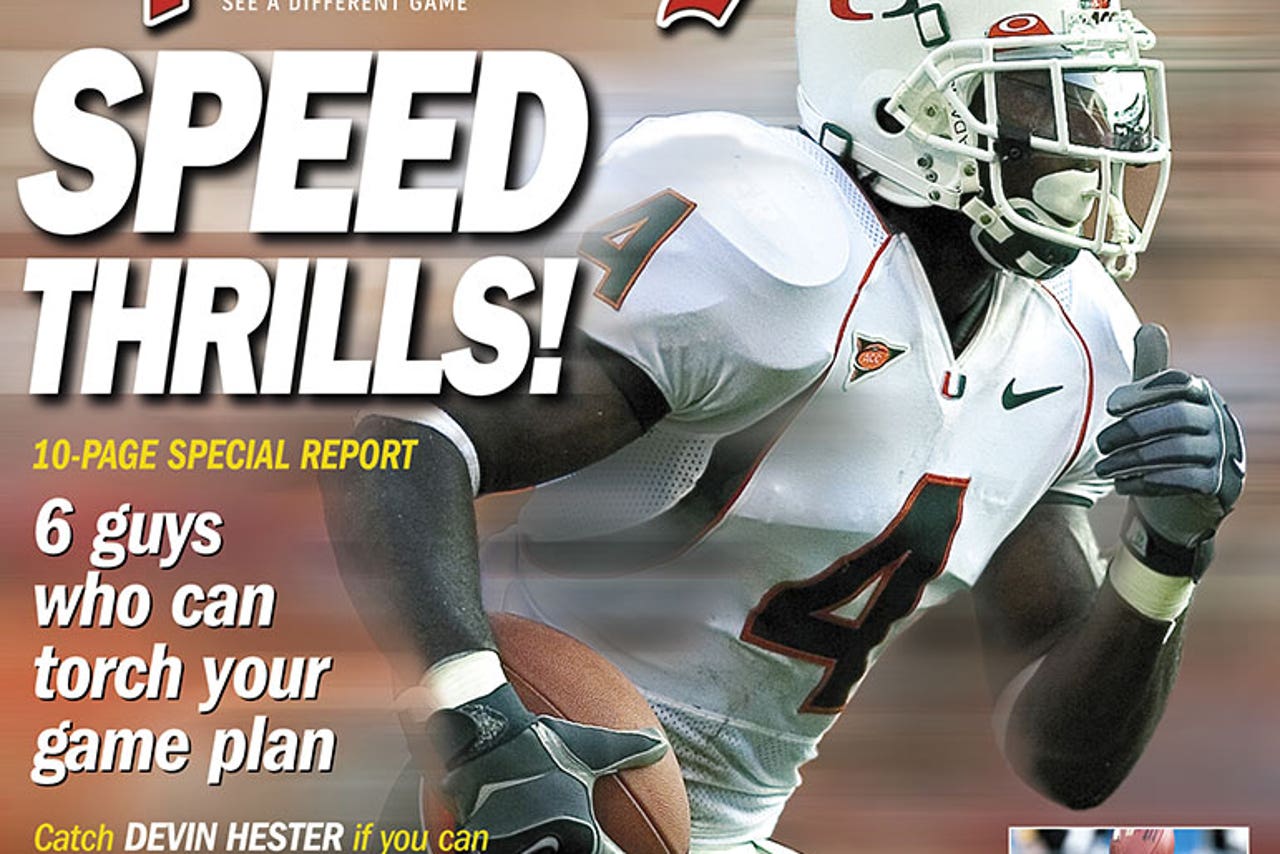 Devin Hester's speed has always gained notice.
"He was always in the front row of every meeting," Toub said. "He was always taking part, always into it, always humble, no matter how many accolades he got. He was always the same guy, and that's why the players and everybody loved him so much. He always gave credit to the blockers, always, and he's still the same.
"He embraced it," Toub added of Hester's role with the team. "He just wanted to help the football team any way he could. He knew we did a real good job on special teams as far as blocking people, and a guy with his talent really, really made us explosive and dangerous. We were impacting games. We were scoring touchdowns when, a lot of times, we weren't getting much going on offense. We were creating offense on special teams, and it helped us, particularly early on."
In his first regular season NFL game, Hester took a Green Bay punt 84 yards to paydirt. Five weeks later, his 83-yard return gave the Bears the lead with less than three minutes left in a Monday night win over the Cardinals -- a play Hester still lists alongside his kickoff return touchdown to open that season's Super Bowl as one of his career highlights.
That November, Hester duped the entire Giants special teams unit and took a missed field goal 108 yards for a score, and after a punt return touchdown against Minnesota and a pair of kick return scores against St. Louis, Hester held the NFL record for non-offensive touchdowns in a season (a mark he'd match again the following year).
"The key was that we had to get the gunners blocked so we gave him a chance," Toub said. "You couldn't put him in a situation where he had guys in his face as a punt returner, so we had to get the gunners blocked and block the most dangerous men in coverage, because once he got the ball in his hands, there's nobody like him. There's nobody who even comes close."
More important, however, was the way Hester almost single-handedly changed the collective attitude of the Bears' special teams unit. Once considered to be a relegation of sorts, blocking for the Bears and creating lanes for Hester became an honor.
"It was special to play special teams for Dave Toub and it was special to block for Devin Hester," Ayanbadejo said. "You wanted to be on the field. We had guys who would volunteer on particular returns that they wanted to stay on the field -- and they were starters, defensive ends like Israel Idonije or Adewale Ogunleye -- so they could be on the field when Devin Hester scored a touchdown. He flipped the mentality in Chicago."
"Lovie (Smith) did a good job of emphasizing special teams, and with Devin, guys wanted to be on that unit, no question," Toub added. "Every time we had a return, the whole bench got up and watched because they knew something great was getting ready to happen. Every time he was out on the field the whole team was up there because if they couldn't be on the field with him, they wanted to be able to see it."
Hester's rookie season culminated with a loss to the Colts in Super Bowl XLI despite his return touchdown. He was also named to the All-Pro team, and the affection the Bears' special teams unit had for Hester was mutual, as Hester says he saw it as a privilege to be able to run for his blockers.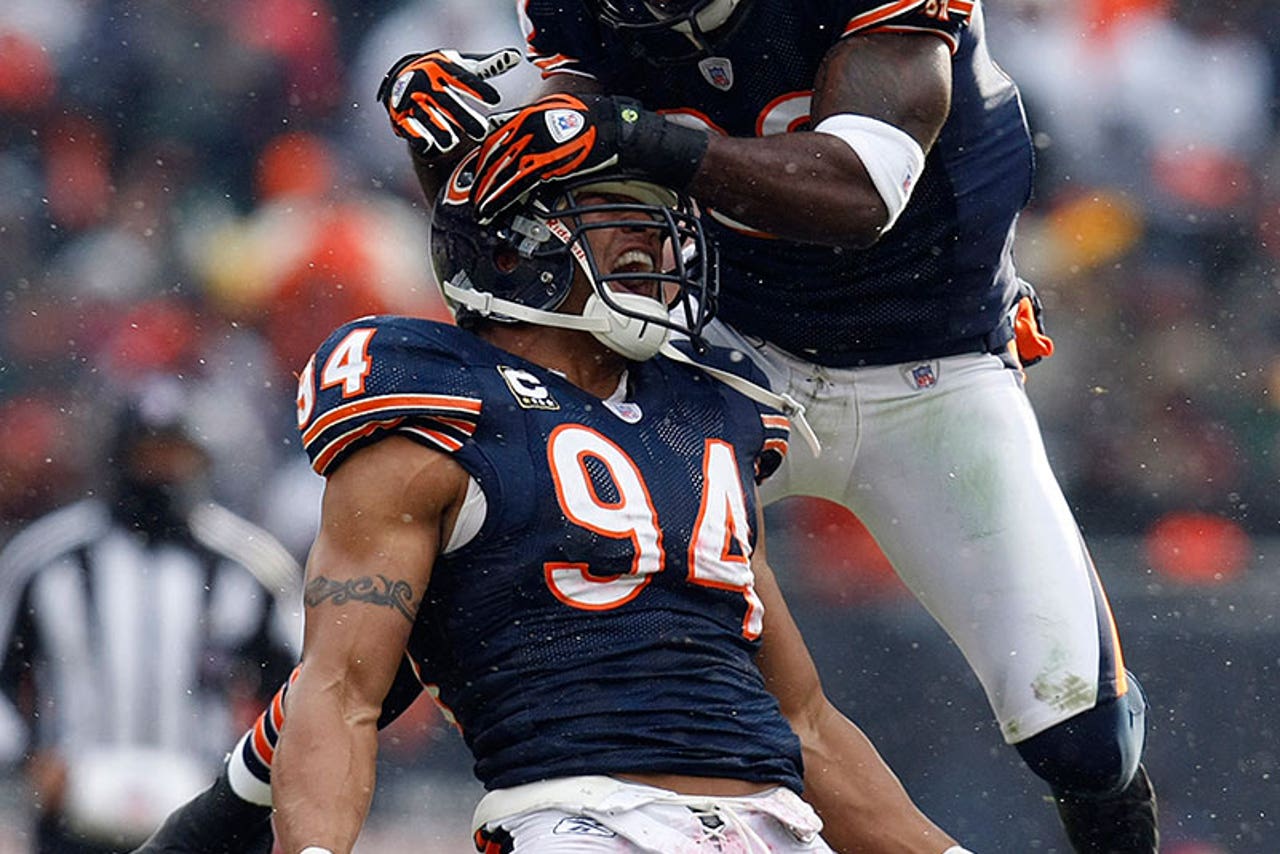 Brendon Ayanbadejo loved blocking for Devin Hester.
"My first year opened my eyes (to the fact) that special teams can win ballgames and that special teams is just as important as the offense," Hester said. "My rookie year, I think we were No. 1 in pretty much all the categories, and that year I saw how special teams can change the momentum of a game and win a ballgame. It opened my eyes to seeing how important special teams really is."
If Hester's rookie season was the appetizer, then his 2007 campaign was his main course, as Hester brought back six more returns for scores -- four on punts and two on kickoffs, including four that either tied the game or gave the Bears the lead as Chicago struggled through a 7-9 campaign.
However, during that season, Hester also began to show his chops as a receiver, too -- a blessing and a curse for the 5-foot-10, 185-pounder -- with 20 catches for 299 yards and two scores, including an 81-yarder against the Vikings.
As a result, Hester grew to become both Kyle Orton's and Jay Cutler's prime target in the receiving game over the next two years. That combined with the NFL's collective hesitance to give Hester the chance to make plays on special teams led to a sharp decline in Hester's numbers. But even as his stats sagged, there was never any doubt who the most feared returner in the league still was.
"Anyone who has ever been challenged to tackle Devin Hester respects him, and I mean that in the sense that any special teams coach going against him has sat in the meeting room and said, 'Guys, you know who this is, and we've got to respect him and get everybody to the ball,'" said former Tennessee Titans special teams star Tim Shaw, Hester's teammate in Chicago in 2009.
"So not only is it an emphasis, but you watch him on tape for two minutes and you go, 'Oh yeah, remember when he took it 78 yards against so-and-so?' You've got to respect him, and if you don't, you're going to be made to look bad."
In 2010, as Chicago shifted its offensive emphasis more toward Matt Forte, Johnny Knox and Earl Bennett, Hester returned to his previous form, collecting three more punt return touchdowns as the Bears reached the playoffs for the first time since Hester's rookie season. Then 2011 saw Hester lead the league in yards per punt return for a second straight year, tacking three more punt returns and a 98-yard kickoff return touchdown to his ever-growing total.
Those two efforts cemented Hester's place among the all-time great returners -- although he might have already been there, regardless -- as he broke Brian Mitchell's record for combined kick and punt return touchdowns in 2010, then broke Eric Metcalf's record for punt return touchdowns in 2011. And Hester has only added to his totals from there, with a punt return score in 2013, his final season with the Bears, and another in 2014, his first with the Falcons.
The latter broke a non-offensive touchdown record held by Hester's mentor, Deion Sanders -- the two shared a memorable and emotional exchange on NFL Network after Hester broke the record -- and to hear some of the other league greats tell it, they, too, are ready to put Hester in a class of his own.
"People, especially in my profession, may overuse words like 'explosive' and 'dangerous' as far as describing certain players, but it's very fitting when you apply it to Devin Hester," said Heisman Trophy winner and Super Bowl XXXI MVP Desmond Howard, now a college football analyst at ESPN. "Because he's a guy who, any time he touches the ball -- as a punt returner, a kick returner, or even when they find a way to get it in his hands on offense -- you know you've got a problem.
"He has that Barry Sanders factor," Howard continued, "where every time he touches the ball, you're holding your breath in anticipation of something special happening."
Former Detroit Lions return man Mel Gray agrees.
"What I see from Devin is a lot of good, instinctive running," said Gray, one of four players in NFL history with more than 13,000 combined kick and punt return yards -- a mark Hester is still nearly 3,000 yards shy of eclipsing.
"The guy has a great vision for the game, and he knows exactly how to position himself to be in a situation to make the big play, which is very rare. I look at him and think, 'Man, this guy's got a lot of me in him,' and it makes me feel good to see someone else who has that same vision, who knows how to turn it on and turn it off to make the big play. It's exciting to see someone who's a return man who is so effective at it that he doesn't have to do anything else."
Now the question is just whether Hester will be good enough for long enough to surpass those few remaining benchmarks, as well -- and whether anyone will have a chance to reach them again after Hester is finished.
Regardless of what he has already done or what he still may do on a football field, even a specimen like Hester is not immune to the effects of aging. The veteran turned 33 last month, and historically, that's about the time even the best return men start to lose a step and hit their decline, debilitating toe injuries notwithstanding.
On the kick return side, the data isn't much more encouraging, as only five players Hester's age have matched Hester's 45 returns from last season -- though, to be fair, he was the league leader in the category each of the last two years -- with three players also boasting a kick return touchdown at Hester's age or older.
The numbers don't necessarily bode well for Hester's productivity as he finally takes the field in the second year of a three-year deal with Atlanta, and with only five regular season games remaining on the schedule, Hester won't have nearly as many chances to make an impact as the team expected. But when he does get the ball in his hands he'll still leave opposing coaches holding their breath. After all, this is Hester we're talking about, a player seemingly impervious to regression.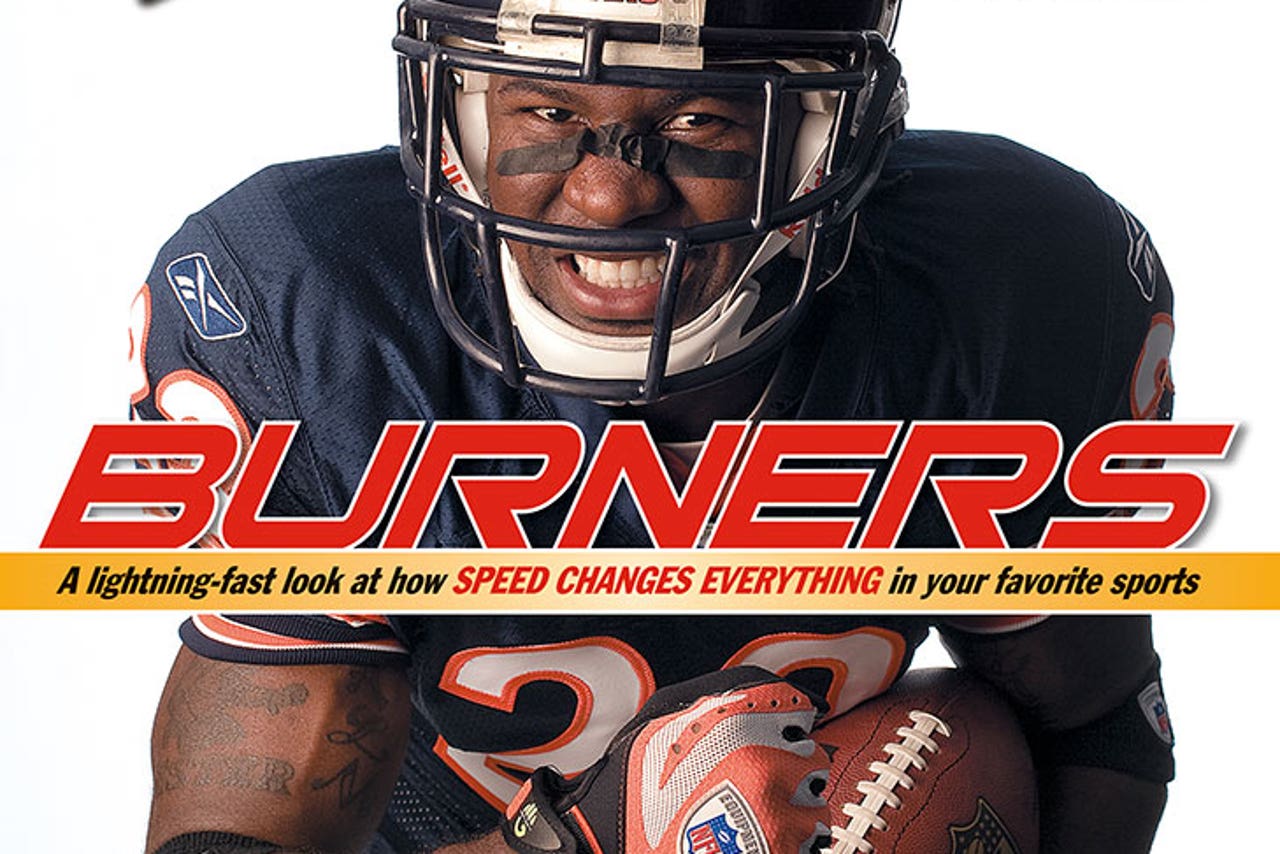 Devin Hester is a burner.

"He was at such a high level in 2006 and 2007, it was sick how good he was, and even as he's gotten older, he's still better than probably 85 percent of the returners in the league," Toub said. "He was so far advanced back then when he was younger, but he still has it. There's no question. He'd be a starter on most teams, still."
Hester, unsurprisingly, hasn't lost a shred of confidence in his abilities, and says that he still expects every return he takes to end with him in the opposing end zone.
"Every single one," he said. "There's no doubt in my mind. Every time I'm back there and I get out, I think I'm going to take this one to the house, and if you don't have that mentality, then you don't need to be back there."
It remains to be seen what Hester will look like post-injury as the Falcons try to end their recent 1-5 slide and stay in the NFC playoff hunt, but Hester did have a 59-yard preseason punt return against the Jets, so maybe he has a reason to be so self-assured.
"If a guy takes care of himself and he's not shy of hits and not afraid to get hurt, and if he still trusts his blockers, he can be even more effective (at Hester's age)," said Gray, who had three kickoff return touchdowns, including a 102-yarder, in his age 33 season in 1994. "When you get to be 32, 33 years old, you know the game and you have a feel for the game, and if your body's not torn up, that can be your prime. That's when you can have your best years."
Ayanbadejo said Hester's skill set should allow him to remain dominant even as he gets older.
"Sure, he typically is the fastest guy on the field, but more important than his speed is his vision and his ability to be evasive," Ayanbadejo said. "Not only does Devin have that world-class speed, but he has world-class vision. He can see the field and he makes that one cut, he's going north-south better than anybody else in the game.
"With those two elements, even if he does slow down, he still has the vision and that aggressiveness, that ability to dissect the field and see a straight line, a path of least resistance from where he catches the ball to the end zone. So he's going to be able to do it for as long as he wants to do it."
According to Hester he won't stop until he feels he's no longer the same player he's always been.
"The moment that I feel like I'm useless and I can't do the things I did is the day I'm going to hang up my cleats," Hester said. "But until then, as long as I still feel explosive, I still feel myself running away from guys, I'm going to continue to play.
"I don't really look at stats," he continued. "I look at how opponents look at me. Do they feel that I'm dangerous? Do I get put in the category of, 'This is a player we have to watch out for?' and at the end of the day, if every coach that plays me says the same thing, then I'm happy with that."
And when Hester finally does quit, the question shouldn't be one of whether he gets into the Hall of Fame, but when.
There are already great returners in the Hall in Sanders and Gale Sayers, though they both had an equally measurable impact away from special teams. And just last year, more than two decades after kicker Jan Stenerud got in, punter Ray Guy was inducted as well, seemingly indicating that voters are coming around on the idea of more specialized players earning a bust in Canton.
Still, there's a lingering sense among some traditionalists that return men don't play enough or make enough of a difference to earn a place in the Hall, a concept that Hester has made increasingly hard to defend.
"To shun a return man, to say that we don't put returners in the Hall of Fame, that's the craziest thing I've ever heard of in my life," Gray said. "We're a big part of the game. I know when I played, my stats were equal if not better than the receivers. A receiver may catch a 50 or 60 yard pass for a touchdown, but he may not do it as consistently as the returner who makes the big play or the big score. It's basically the same, so why would you say a return man can't get in?
"It's part of the game, so it doesn't make sense," Gray continued. "Devin Hester has done such a tremendous job at the return game, there's no reason he shouldn't be selected into the Hall. They've got to give us more reason than just saying returners can't get into the Hall of Fame just because they're not on the field enough."
Billy 'White Shoes' Johnson, a legendary returner for the Oilers and Falcons during his 14-year NFL career, said the most important aspect to consider is how a player changed the complexion of games.
"To me it's about, 'How feared are they?' What have they done? Have they made certain coverages or the way the kicker or punter punt the ball change? Does he make people change their approach to the game?'" Johnson said. "And if guys can do that consistently, then I say why not?
"The thing people don't understand is that a guy like Devin Hester, he makes it look easy," Johnson added. "If you ask anybody who's done it, it ain't easy. He just makes it seem that way, and that's work, buddy."
Meanwhile, Hester, for all his bravado, tends to shy away from that particular discussion, but it's obvious that the honor would be significant to him, even if he won't come out and say he deserves it.
"There are a lot of great guys out there who could have been in the Hall of Fame," Hester said. "At the end of the day, when it's all said and done, hopefully my name will be mentioned. Hopefully I've opened enough eyes where they'll say I have a chance of making it. I've been playing for 10 years and in my first year in the league I sparked rumors about how if I kept up this way I'd be in the Hall of Fame. So I've been hearing the same thing since my rookie year, and I would love to get in."
With that in mind, it seems impossible that Hester wouldn't one day wind up in Canton, but if he somehow doesn't, one can't help but wonder if we'll ever see another return man who will.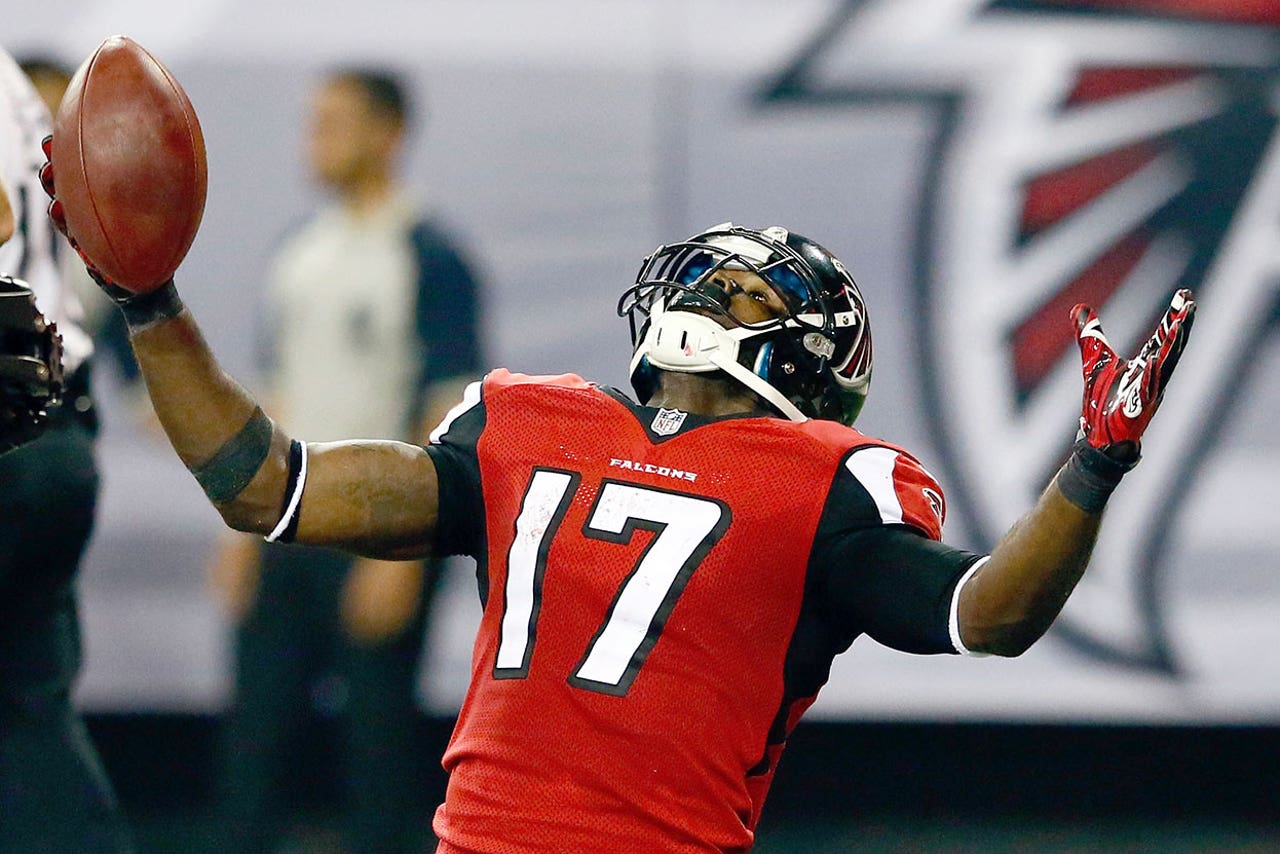 Devin Hester, nobody does it better.
"He makes a very strong case in a time, in an era where we're kind of going away from special teams and you're looking at high-powered offenses and all the different things that are going on with the game," Ayanbadejo said. "So the timing may not be the best when it comes time to vote, but I think it'll be one of those things where you're not going to see a novelty player like him anymore. Initially we might not look at it and appreciate it as much, but when we go into the future and wonder why we're seeing less and less points being scored on special teams, then we'll appreciate and realize exactly what Devin did for the game."
You can follow Sam Gardner on Twitter or email him at samgardnerfox@gmail.com.
---
---