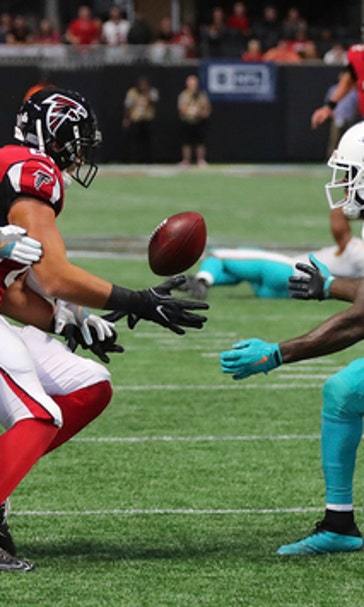 Falcons still hurt by blown leads as they brace for rematch
October 16, 2017

FLOWERY BRANCH, Ga. (AP) Through OTAs, minicamp and training camp, Dan Quinn did his best to deflect questions about the big collapse.
This week, there's no avoiding the painful memories for the coach and his Falcons. Atlanta will visit the Patriots on Sunday in a game that brings up old questions about the biggest meltdown in Super Bowl history.
''We're not facing any demons here this week,'' Quinn said Monday. ''It's the 2017 version of us and them. We don't get to replay that one. How it ended was a bummer.''
Quinn says the 28-3 blown lead in the 34-28 overtime loss to New England is in his team's ''rear-view mirror.'' That may be because the Falcons (3-2) have similarly painful new concerns, including losing first-half leads in losses to Buffalo and Miami in their last two games.
Atlanta led the Dolphins 17-0 at halftime before losing 20-17 on Sunday . The Falcons have scored only seven second-half points in the two losses.
''We were just flat, that's all,'' running back Tevin Coleman said Monday. ''We didn't have any juice coming into the second half.''
The Super Bowl rematch would be enough to rekindle talk about the Falcons' inability to finish out a win. Now, just in time for the visit to New England, that problem has carried over to the 2017 season.
''The scars are definitely deeper when you have it and you let it up than when it goes back and forth, back and forth,'' Quinn said. ''Those are the ones that ... leave a deeper mark.''
The Falcons have struggled to repeat the offense which powered them to last season's Super Bowl. The Falcons rank only 11th in the NFL with 24.2 points per game, almost 10 points below last season's league-leading average. Atlanta was held below 20 points in each of its losses.
The biggest drop in production is at quarterback. Matt Ryan, last season's NFL MVP, has a troubling balance of six touchdown passes and six interceptions, including two in the loss to the Bills . He threw 38 TD passes with seven interceptions last season.
Ryan's numbers have been hurt by at least three dropped passes that were intercepted. The biggest play of the loss to the Dolphins came when the Falcons already were in position to attempt a tying field goal and Ryan's pass for tight end Austin Hooper was deflected by Cordrea Tanker and intercepted by Reshad Jones .
Quinn said a review of the play showed Hooper should have tried harder to go for the ball.
''For us the lesson is you always go aggressively to go catch it,'' Quinn said. ''Don't wait for it, you go aggressive to go get it.''
Quinn assigned some blame for the recent decline in scoring to his run defense. Poor tackling has led to longer drives for opponents.
There could be no better way for the Falcons to snap their two-game losing string than to win at New England.
But it wouldn't avenge the Super Bowl collapse.
''You don't get to go replay it,'' Quinn said. ''Yeah, there's a part that's motivation for sure, but it wasn't a driving force for us because for us only to be in the present moment we couldn't keep looking back in the rear-view mirror.
''We wanted to make sure we could be the best version of us we could be. We couldn't do that if we kept replaying a game we can't change.''
NOTES: Quinn said he hopes WR Mohamed Sanu (hamstring) and DE Courtney Upshaw (ankle, knee) will return to practice this week. Taylor Gabriel started for Sanu against Miami and had four catches for 39 yards. There were no new significant injuries reported from the Miami game.
---
For more NFL coverage: http://www.pro32.ap.org and http://www.twitter.com/AP-NFL
---
---