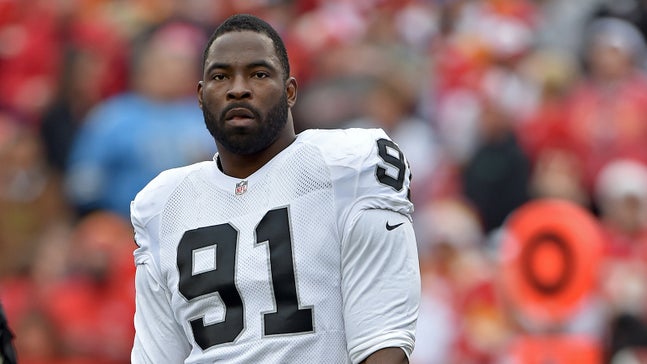 Exclusive: Justin Tuck is retiring after 11 seasons with Giants, Raiders
Published
Feb. 1, 2016 4:00 p.m. ET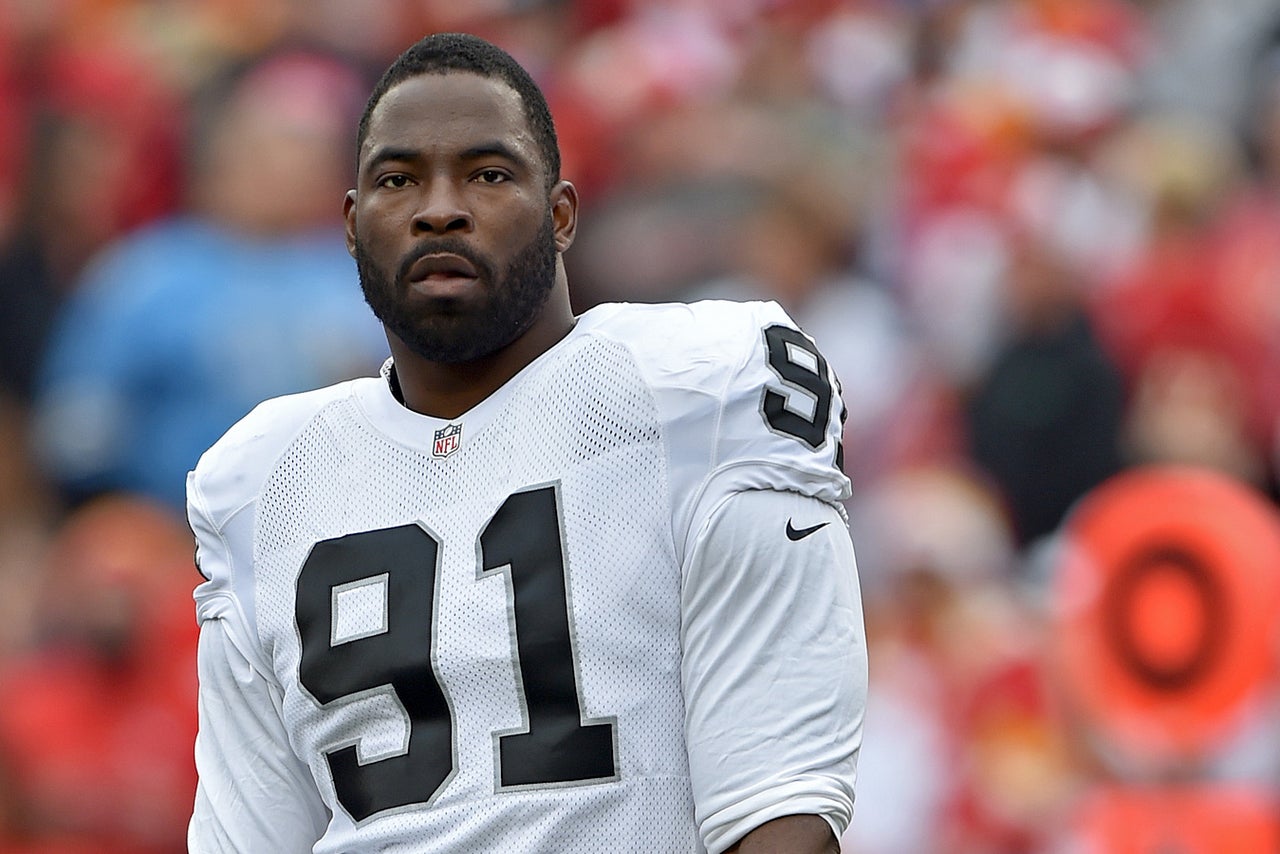 The room was dark and there was a table in front of him. That much Justin Tuck remembers about his dream. That and what was written on the sheet of paper that slid in front of him.
Tuck's dreams are usually nonsensical. This one, though, was poignant and perhaps an answer to his prayers for guidance. Though he's not sure who passed him the note, he's perfectly clear about what was written on it.
Retire.
And so he will. At age 32, after 11 NFL seasons, the two-time Pro Bowl selection, two-time almost-Super Bowl MVP, versatile defensive lineman and noted locker-room leader is calling it a career.
"It's been like a tug of war, and finally the rope broke," Tuck told FOX Sports last week during an interview at his North Jersey home, "and where I fell was retirement."
Unbeknownst to many, this tussle began for Tuck in February 2012, following the second Super Bowl victory of his career but also after a difficult few months that included a nagging neck injury and a run of deaths in the family -- his grandfather and two uncles -- that left him constantly grieving.
Tuck, who is very close with his family in Kellyton, Ala., (dubbed "Tuckville" because of how many of his relatives live there), admitted he thought a few times about shutting it down for the season, though he never publicly disclosed he'd considered calling it quits for good, too. His family talked him back into playing by reminding him his deceased relatives loved watching him, so he returned for an eighth season with the New York Giants, and then for a ninth.
Now, after two years with the Oakland Raiders -- the second of which ended with a pectoral injury after five games -- he can't imagine mustering up the mental strength to do it all again. With the younger of his two sons about to start school and his wife Lauran eager to work again, Tuck feels it's time to walk away.
"When I came into this league, I remember telling 'Stray' (Michael Strahan), 'If I get to 10 (years), I'm never coming back,' " Tuck said. "He was like, 'Bro, listen, I said the same thing.' And sure enough, when I got to 10, I thought, 'I ain't done yet.'
"Physically, I feel like I can play with the best of them. It's hilarious I got hurt on the most fluky play ever, but it's part of it and maybe that was God trying to tell me something. I'm looking forward to being able to do something else."
****
Tuck doesn't like the "R" word because he expects to be involved in football in some capacity. He did well as a guest analyst for NFL Network this past season, and he will be in San Francisco this week to do some more TV work in advance of Super Bowl 50. Tuck is also intrigued by a career in private equity and real estate, and he's made many connections in those fields. He will continue pushing his R.U.S.H for Literacy charity in New York and the Bay Area. So it's not like he'll be sitting on a rocking chair in Alabama. (Not all the time, anyway.)
But his playing days are over.
"I was surprised, but I wasn't. I've seen him enough the last few offseasons to know he was wearing down a little bit, getting a little tired," Strahan said by phone last week. "Everybody plays for different reasons, everybody gets fed up at different times. For him, this was it. And I understand. It's so hard to play if you're not 100 percent committed. You're not doing yourself any good.
"He's played well, he's played hard, he's respected. That's the biggest thing when you leave the game, you want respect and he has that from everybody."
In the NFL, many players don't retire. They get retired. Announcements they're walking away from the game are often ceremonial.
Tuck's situation is different. Though he wasn't one of the top impending free agents this year, the expectation is he would get a short-term deal for a few million bucks per season. The Raiders already told him and his agents they'd want to re-sign him, and a few teams, including the Giants, are in need of pass rushers and leaders.
"It tugs at me now because people don't even know the Raiders offered Lauran a job. They really are top-notch," he said, referring to his wife's desire to use her degrees from Notre Dame and Penn to work in the fields of community relations, corporate social responsibility and cause-related marketing. "As great as it was to be a Giant for nine years, they made it easier to not be a Giant. ... I know I'm sure (of retirement) because I would have a chance to make a push at it, maybe for two years.
"But it doesn't even tickle my fancy right now."
Asked if the possibility of interest from the Giants would change his mind, Tuck paused and smiled.
"If Coach (Tom) Coughlin would've come back another year, I probably would've (considered) coming back," Tuck said. "I didn't even venture down that road. I think I would've given a lot of consideration to it."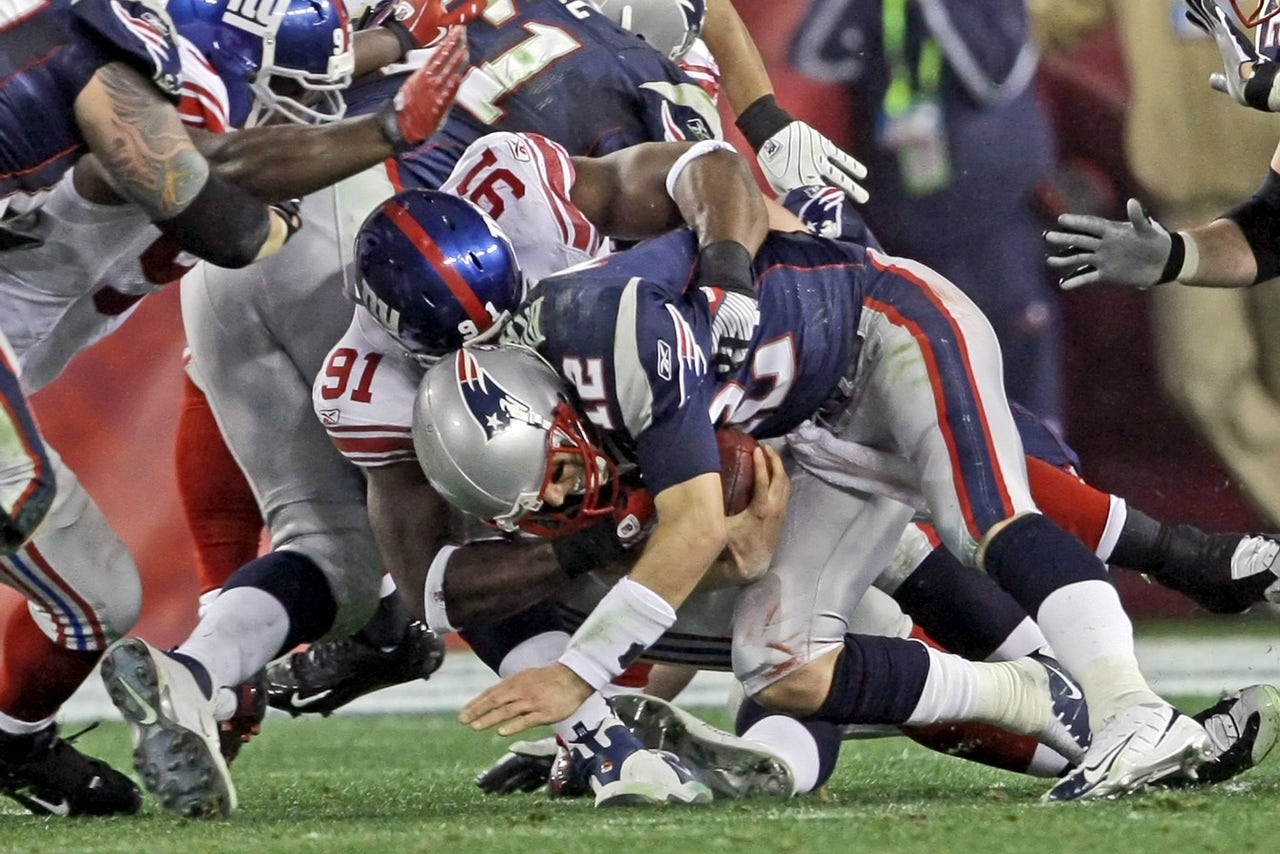 Tuck couldn't wait to go after Tom Brady in Super Bowl XLII.

******
Before the Giants left Jersey for Arizona and Super Bowl XLII, a New York Post reporter waiting outside of old Giants Stadium asked Plaxico Burress for a prediction. The team's top receiver replied, "21-17."
"We're only going to score 17 points? Ha ha ha. OK," Tom Brady said at Media Day.
Tuck can't remember why exactly, but the Giants' defensive players were all together when they saw that clip for the first time.
"I scanned the room like, 'Am I the only one that heard that?' " he recalled. "Everybody's eyes were on the TV. No one said anything.
"It literally became a hatred for Tom Brady."
By halftime, Tuck had two sacks, a forced fumble and two tackles for a loss. He and his pass-rushing buddies were making Brady eat his words and the University of Phoenix stadium grass. They continued to harass Brady until the end of the Giants' 17-14 victory.
Tuck's performance is even more impressive considering his nerves caught up to him at halftime, causing him to throw up until he was dry heaving. He needed an IV before the second half began.
"I love and respect what they do at the Super Bowl, but the MVP of Super Bowl XLII was Justin Tuck," Strahan said. "Not to take anything away from Eli (Manning) because without him we don't win, but what Tuck did was absolutely amazing."
Four years later, Tuck and the Giants did it again. In Super Bowl XLVI, he had two more sacks of Brady, which put him only a half-sack behind Charles Haley for the career Super Bowl record. But perhaps Tuck's biggest play that night was one on which he didn't get credited for a sack. It was a pressure of Brady to force a pass deep down the field with no one around. The officials flagged the quarterback for intentional grounding in the end zone. Safety, 2-0 Giants. 
In the third quarter, Tuck sacked Brady so hard that Brian Hoyer started to warm up on the sideline. Tuck added one more sack on the Patriots' final drive.
Those two Super Bowl performances sealed Tuck's legacy with the Giants, one that began on draft day in 2005. During the third round, co-owner Wellington Mara heard the conversations in the draft room regarding a number of players. One of them was Tuck, whom the team had discussed taking in the second round before ultimately choosing cornerback Corey Webster. Mara found a unique way of making it clear he wanted Tuck, who had slipped because of concerns about his knee.
"My father had a habit of walking up to the board when there was a name sticking out above the rest, such as a player who was graded higher. He would do this if we were starting to discuss selecting someone else," John Mara recalled. "He got up, walked to the board and just looked at Tuck's name. Didn't have to say anything. And the rest, as they say, is history."
Tuck arrived at rookie camp angry he'd been a third-round pick. He was mad at everybody, including Manning for costing the Giants the 2005 first-round pick they traded to San Diego to get him the year before.
Six months later, Wellington Mara passed away. Via the tributes to "The Duke," Tuck came to realize who Mara was, what he meant to the NFL and how special it was that he was Mara's last pick.
"Mr. (John) Mara liked me a little bit more because of that maybe. I don't know," Tuck said. "But it evened it out because he's a Boston College guy and I'm Notre Dame.
"But yeah, that's strong. That's great for me."
******
I walked off the field with Tuck after Super Bowl XLVI. He was the last player to make his way to the locker room. He told me I'd better ask a good question because he was tired of answering bad ones.
I panicked and asked him what he was feeling right then. Horrible question.
"Come up with something better, boss," he replied.
Uhhhh, OK. What went through your mind after that second sack? Also a bad question, but ...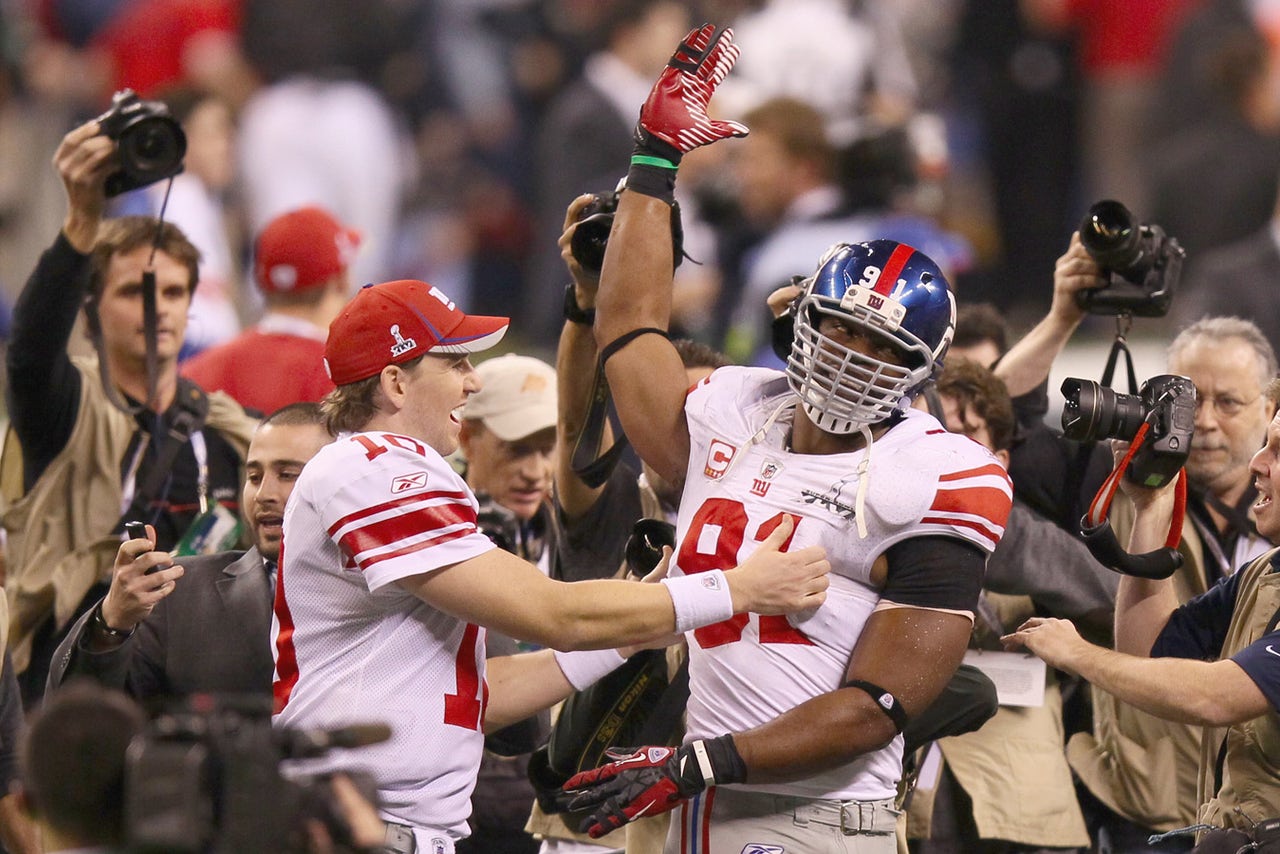 Tuck was worried Eli Manning might steal his MVP award in Super Bowl XVI, and he was right.

"Eli's going to steal my MVP again," Tuck shot back.
I reminded him of that exchange last week. He laughed and said, "If I ever gave a truthful answer, that was it."
Except Tuck doesn't seem to be holding on to accolades and awards right now. They've never been his thing, really. Google "Justin Tuck Super Bowl trophy" and you won't find a picture of him holding it on the field after either game.
"If I told you where my rings are right now ..." he said before looking toward a chair near the spiral staircase in the foyer of his house. "They're in the bottom of that bag, not even in the boxes, either. Just loose inside."
That doesn't mean he doesn't respect the rings. He'd be "pissed" if someone else just carelessly tossed them in the bag.
"Now, if you told me I got hit in my head and I lost all the memories of jokes in the locker room," he said, "that's the golden goose."
****
Don't assume Tuck's pec injury made it easier for him to walk away. He said it made it harder because of the desire to leave on a better note.
But one thing made it easier: Khalil Mack.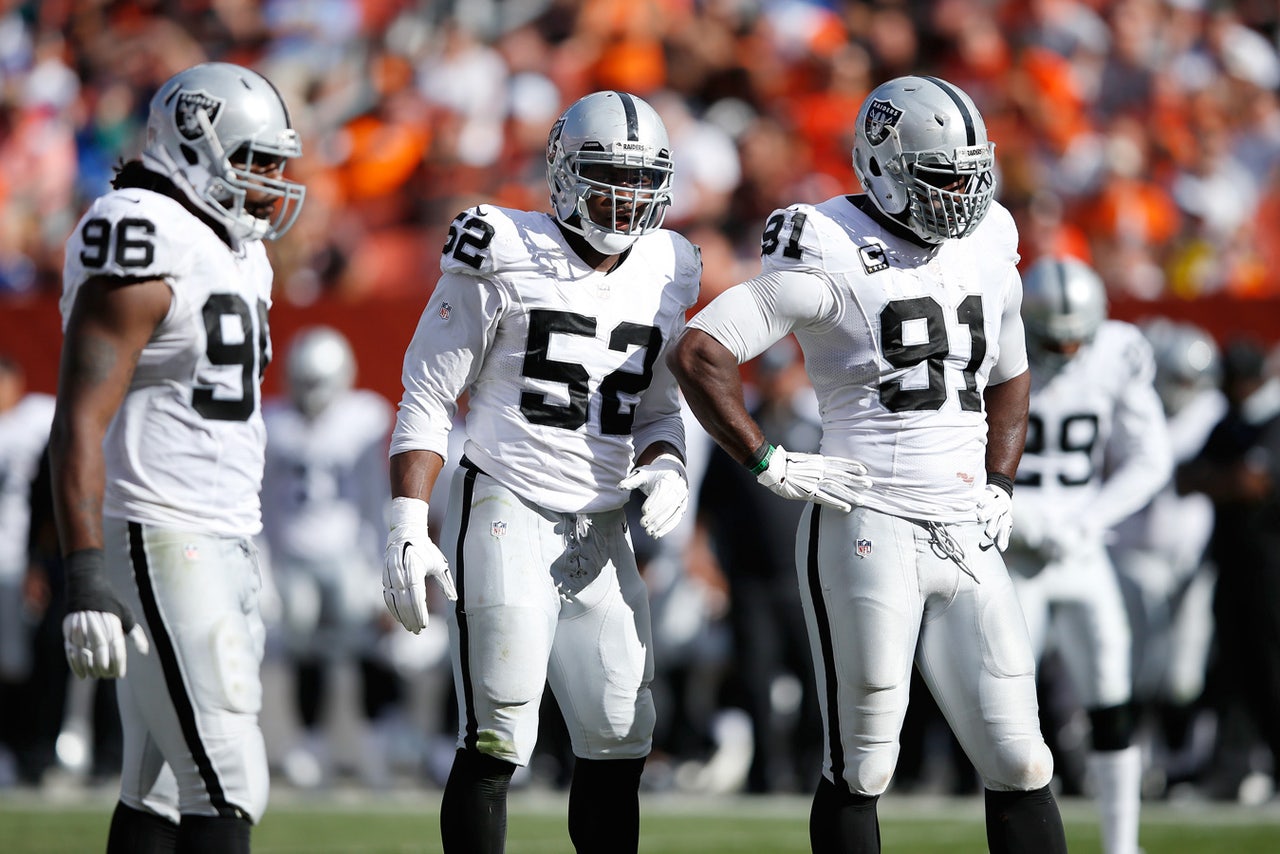 Tuck (91) has been somewhat of a mentor for the Raiders' next big star, Khalil Mack (52).
Tuck calls the Raiders' pass rusher the best second-year player, offense or defense, he's ever seen. He also compared him to Lawrence Taylor and Derrick Thomas. Some people told him not to put those names in the same sentence with Mack.
"I know who I'm comparing him to," Tuck says. "Trust me. I get it. I know."
Tuck sees how offenses adjust what they do based on where Mack is on the field and that Mack is handling the extra attention with much more patience than a young Tuck would have. Perhaps that's due to advice he and Osi Umenyiora once received from Strahan.
"We had a great relationship, and those guys would come in some days and call me Old Man and stuff like that, but I'd tell them all the time heavy is the crown," Strahan said. "So when I retired, three or four games into the next season, I get a call from Tuck saying, 'Man, I don't know how you did that for 15 years. I don't know how you took the double-teams.' It's your mindset. You have to change your mindset. It's a compliment that you're a great player when they pay that much attention to you.
"It took me a while to realize that but he got it, he understood it and continued to be a great player."
Tuck has been a mentor for Mack. Cameras caught him berating Mack on the field late in the 2014 season when an extended celebration from Mack and linebacker Sio Moore forced Tuck to call a timeout because the Chiefs were about to snap the ball.
Flash forward a season and witness Mack recording 15 sacks, including five in one game against the eventual AFC champion Denver Broncos, with Tuck pretty much realizing his work there is done.
"When you play long enough, you have to leave something to somebody else," Strahan said. "I did my best to help Tuck and Osi, and I'm glad to see he's passed it on. That's what you're supposed to do."
Said Tuck, "You talk about explosion, power, recognizing things. ... Yeah, his maturation has made it easy for me to say, 'Go do your thing.' He's going to be a better player than me and the Raiders are A-OK."
Just like the Giants were with Tuck and Umenyiora taking over for Strahan.
"Stray is a father figure for me in football, though he wouldn't like me saying that," Tuck said. "I remember him saying, 'You always want to leave the game in better shape than when you found it. I don't feel like I have anything left to prove. I have you two guys to leave the game to and you're going to take care of it.' "
Eight years later, it's Tuck who feels that way. A respected leader who feels he has nothing to prove, he's now left the game in the hands of Mack and others.
---
---