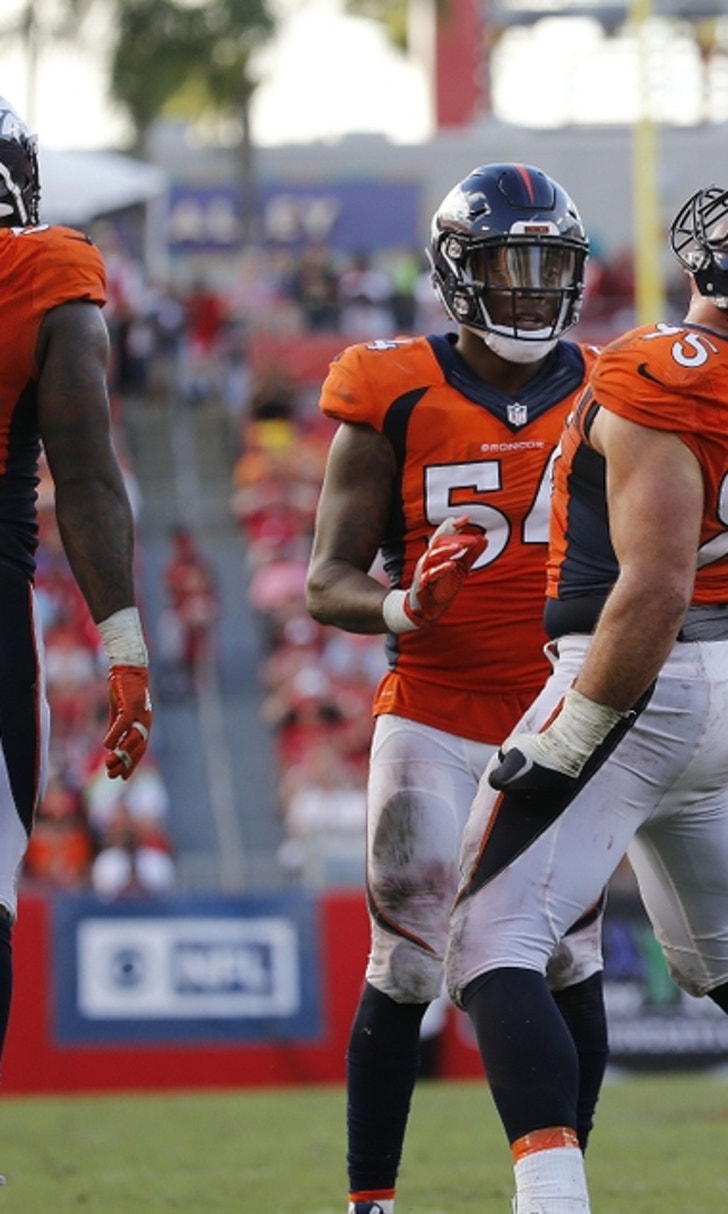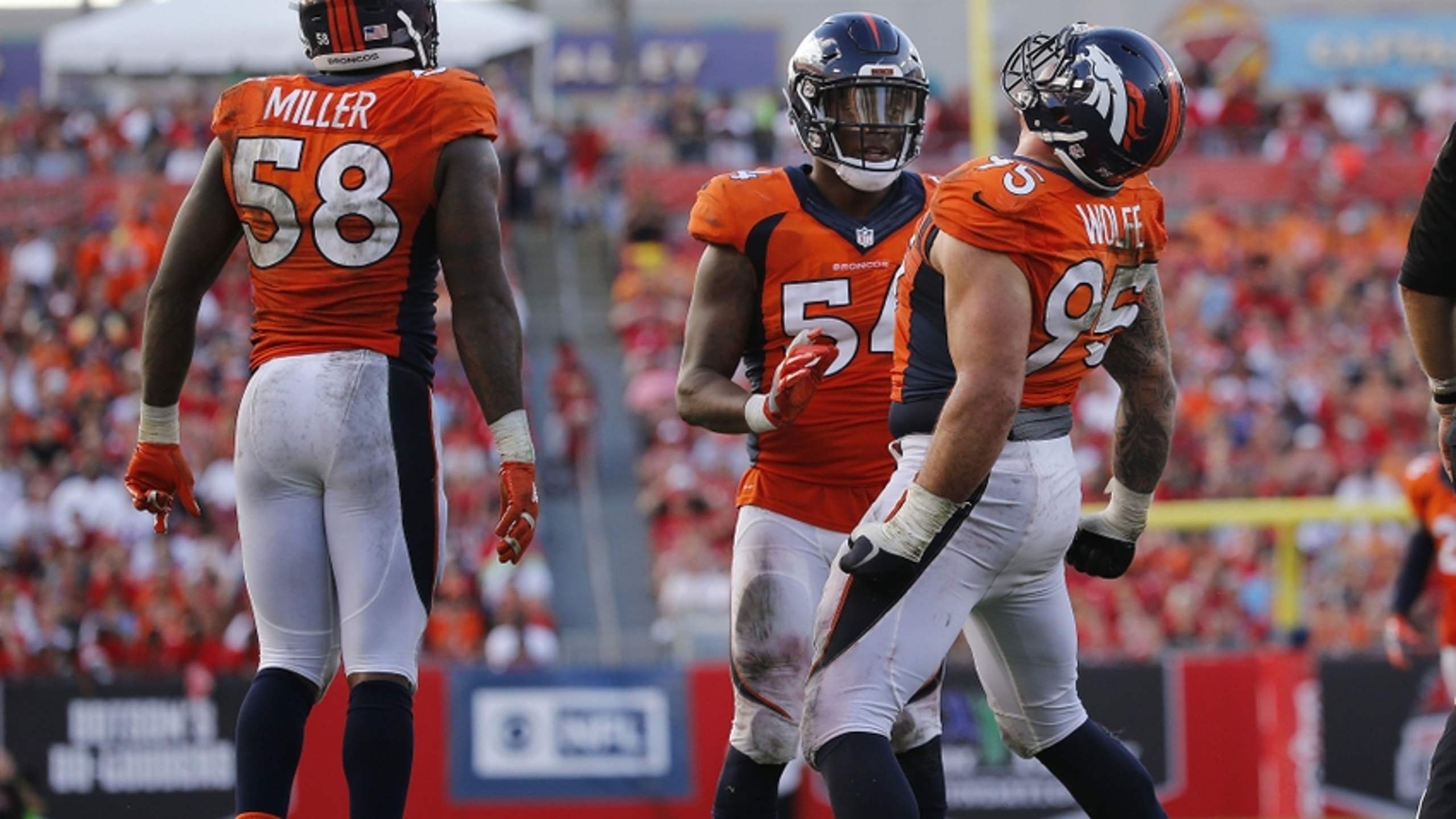 Denver Broncos vs. Atlanta Falcons Week 5 Preview
BY foxsports • June 30, 2017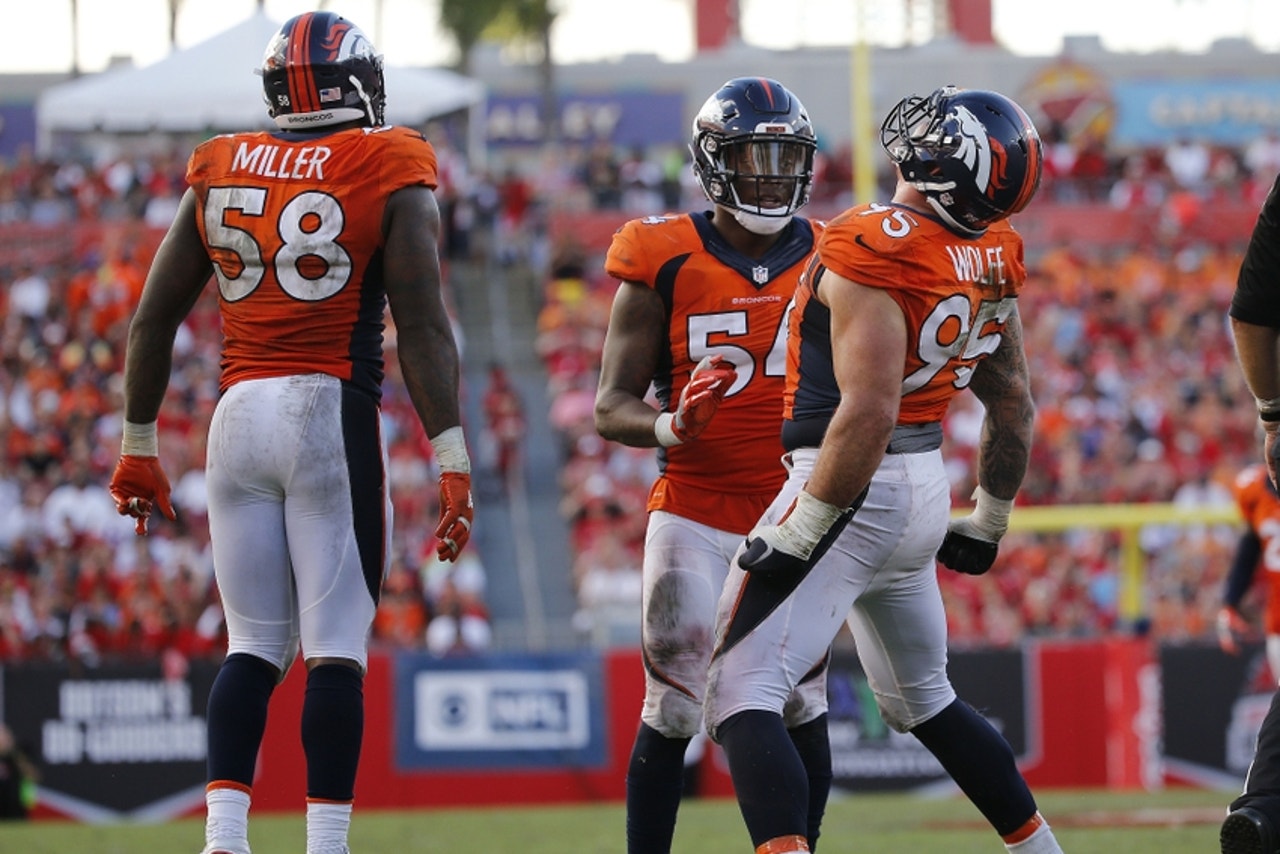 The Atlanta Falcons bring their top ranked offense to the Mile High City to face the Denver Broncos and their all-world defense.  Here's what to watch for.
On Sunday, two of the leagues hottest teams in the league square off for a true strength on strength match-up.  The 4-0 Denver Broncos and their all-world defense host the 3-1 Atlanta Falcons who happen to sport the number one offense in the NFL by a long shot.  The Falcons come into this game averaging 38 points per game, while the Broncos are only giving up 16 points per game after holding the Buccaneers to only 7 points a week ago.  This game has no shortage of great story lines starting with none other than who will play the most important position on the field for the Broncos.
Who's the quarterback?
Last week, starting quarterback Trevor Siemian suffered a sprained A/C joint to his
Oct 2, 2016; Tampa, FL, USA; Denver Broncos quarterback Trevor Siemian (13) reacts on the ground after being sacked by Tampa Bay Buccaneers defensive tackle Clinton McDonald (98) during the first half at Raymond James Stadium. Mandatory Credit: Kim Klement-USA TODAY Sports
non-throwing shoulder after being thrown to the ground by Bucs tackle Clinton McDonald.  He was replaced by rookie Paxton Lynch, who went 14/24 for 170 yards and a touchdown in just over two quarters of play.  Despite Lynch's stellar relief performance, head coach Gary Kubiak has maintained that Trevor Siemian remains the starter for the Broncos if healthy.  Siemian has been listed as day-to-day, and returned to practice Thursday after skipping Wednesday's session.
Kubiak has noted that Siemian does not necessarily have to practice much this week to be ready to play, but also stated that the QB decision will be a game time decision.  "I'd take it all the way to game day."  Kubiak said when asked when he'll make his decision.  "I trust Trevor. He knows exactly what we're doing and he's very bright. He's on top of everything today. He's a part of the walk-throughs and everything that we're doing so he's on top of everything. We'll just see where he's at physically."
With the Broncos unsure of Siemian's status, Paxton Lynch has been preparing as if he is going to be making his first career start.  "I think the other guy [QB Paxton Lynch] needed all of the reps."  Kubiak noted after Wednesday's practice.  "Trevor didn't need those reps."
Siemian would appear on track to start Sunday after returning to practice Thursday.
More from Predominantly Orange
While it is certainly a good sign to see him out there throwing, Siemian does appear to be in pain as he makes his throws.  If he does start, it is likely that Coach Kubiak will have a close eye on him, especially if he falters.  This could lead to a short leash for Siemian if he isn't playing up to snuff, as Kubiak will want to get him out to prevent further injury—much the way he did with Peyton Manning against the Chiefs a year ago when it was obvious that Manning could not perform at the level he was accustomed to.
If Lynch does get the start, the Broncos are confident in his ability to execute their game plan.  "You don't tweak game pans. You plan to play."  Kubiak added.
After practice Wednesday, Lynch was asked if he was mentally ready to start; "Like I said from the beginning, I've been preparing to play just because I have to play. This week will just be more preparation because I'm getting all of the reps with the ones right now until Trevor come back out there and practices. Day-in and day-out, I'm just trying to make sure that I can do whatever I can to help this team win on Sunday."
The rookie showed enough against the Buccaneers to leave Gary Kubiak feeling
Oct 2, 2016; Tampa, FL, USA; Denver Broncos quarterback Paxton Lynch (12) throws the ball against the Tampa Bay Buccaneers during the first half at Raymond James Stadium. Mandatory Credit: Kim Klement-USA TODAY Sports
confident if Siemian is unable to go or cannot finish.  "He's much improved as far just handling himself, handling the huddle and those types of things."  Kubiak said.   "His confidence throwing the ball and stuff, he's always had that. Just handling all of the aspects walking in here today, getting a game plan that's different than the one than that he had last week. He adjusts a little quicker so I think he's just more confident in his ability each week to refocus, start over and get ready to play."
The Broncos have proved over their nine game winning streak dating back to 2015 that who plays quarterback is not that important to the team success.  Over the nine games they have started four different quarterbacks—an impressive feat to say the least.  The decision likely won't be made until Sunday, but whoever is called upon to start will have a great opportunity to go out and extend the streak to 10 in a row.
Stopping the Falcons
Falcons quarterback Matt Ryan comes into this game leading the NFL in passing yards and is tied for the league lead in TD passes with Ben Roethlisberger at 11 a piece.  A big reason for that—Julio Jones.  Last week Jones racked up 300 yards receiving on 12 catches, becoming only the fifth receiver since 1950 to eclipse that mark.
However, the Falcons offense is more than just Matt Ryan and Julio Jones—the
Oct 2, 2016; Atlanta, GA, USA; Atlanta Falcons wide receiver Julio Jones (11) runs for a touchdown against Carolina Panthers cornerback Bene
rushing attack has been potent as well.  In a week three game against the New Orleans Saints—a game where Julio Jones was held to 16 yards on one catch—running back Devontae Freeman totaled 152 yards on 14 carries, and added another 55 receiving yards and a touchdown.  While Freeman had no rushing touchdowns in the game, his partner in the backfield Tevin Coleman cleaned up on the goal line punching in three scores.  The biggest question; how do you stop them?
The Denver Broncos know a little something about stopping a dominant offense.  Keeping the Falcons one dimensional will be key.  Defensive Coordinator Wade Phillips was impressed with the rushing defense last week after being a bit spotty in the first three games of the season.
If they can put an early stop to the running game by Freeman and Coleman, the Broncos will be primed to do what they always do—pressure the quarterback.  The Broncos apply pressure to opposing quarterbacks more than any team in the league, forcing rushed and errant throws.  If Matt Ryan has to sit back and throw the ball 40 plus times, it's going to be a very bad day for him and the top ranked offense in the league.
Key Match-Ups to Watch
Interesting Notes
Prediction
The Broncos defense takes pride in shutting down elite offenses and the Broncos offense—regardless of quarterback—will put up too many yards against the Falcons 30th ranked defense.
The Score:  Broncos 30  Falcons 17
Game Information
Who: Atlanta Falcons at Denver Broncos
Where: Sports Authority at Mile High
When: Sunday, September 18, 2016
Time: 4:05 PM EST/2:05 PM MST
Network: Fox
Announcers: Chris Myers, John Lynch
This article originally appeared on
---
---