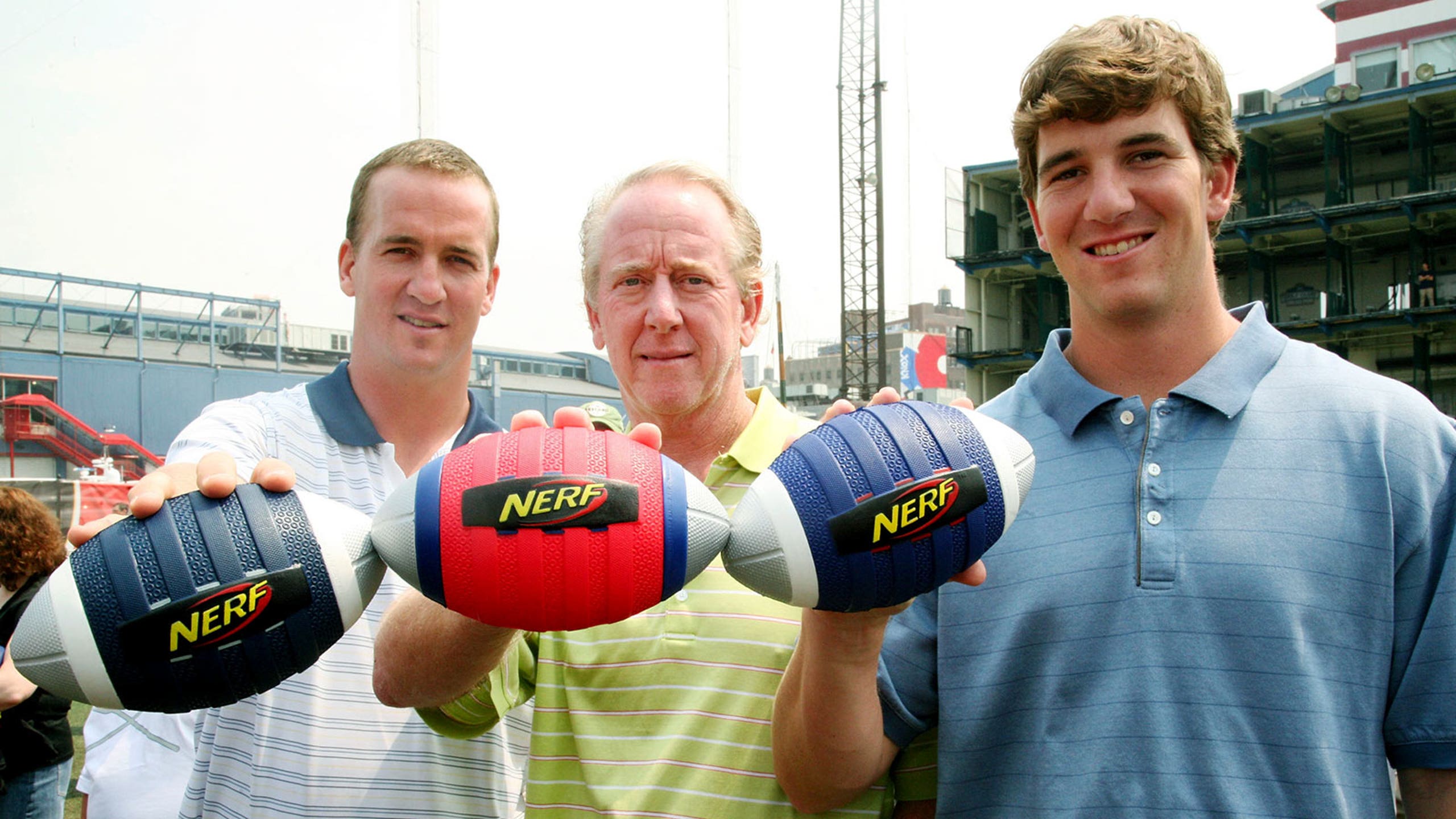 Deflate this: The true story behind the indestructible Nerf football
BY Erik Malinowski • January 22, 2015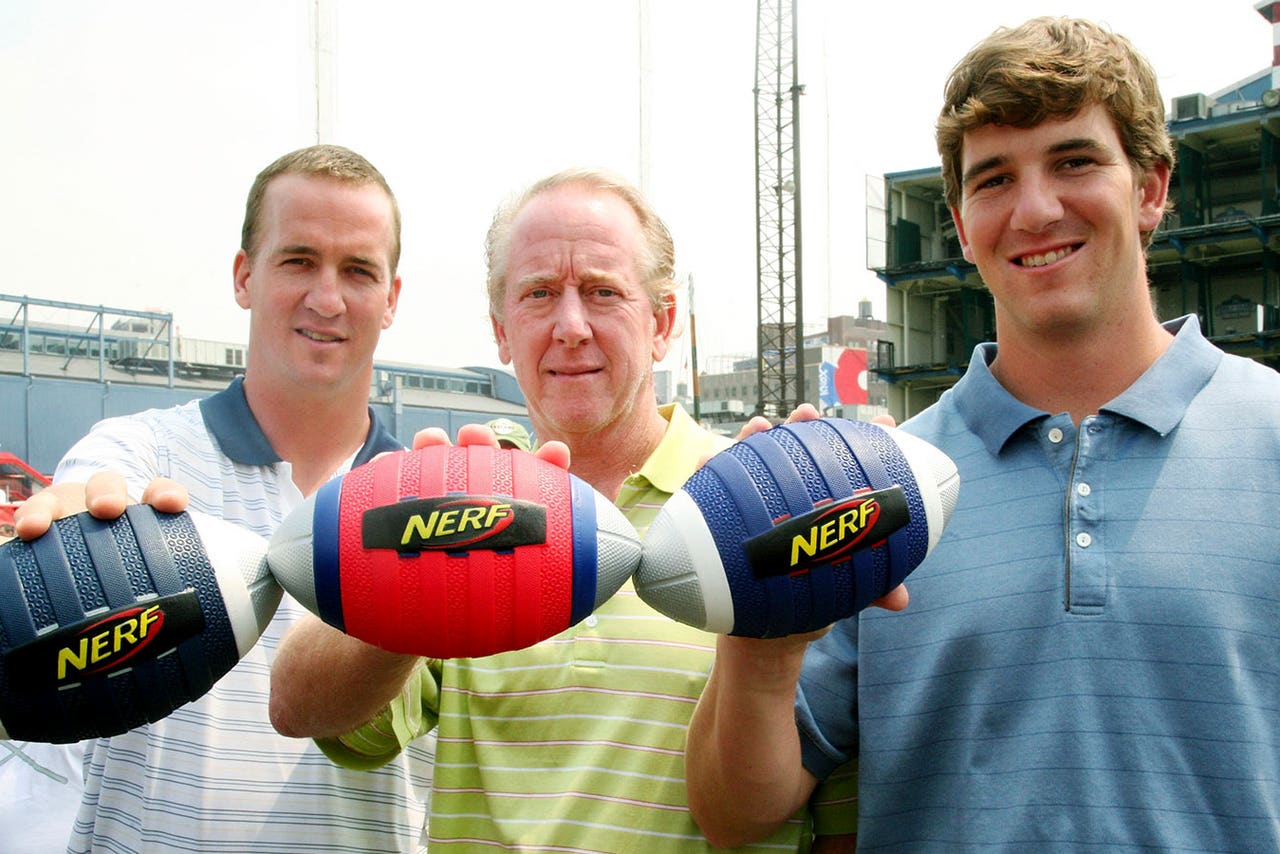 It's the controversy that has swept the NFL and deflected — deflated? — any and all logical discourse about Super Bowl XLIX two Sundays from now in Glendale, Ariz. The New England Patriots were allegedly caught deflating 11 of 12 game-used footballs in the AFC championship game, and some people now claim the Indianapolis Colts got a raw deal — except, actually, the Colts themselves.
More specifically, one of the Colts players said "it didn't matter if we played with Nerf footballs" since the Patriots still dominated them in the rain of Foxborough on their way to another Super Bowl. 
Of course, he's right, but Nerf footballs have been a staple of young football players for decades. In fact, Nerf footballs and the NFL itself have a long and intertwined history.
So let's chuck one deep and dive down the memory hole before I'm all out of hot air: 
1. The Nerf football, as we know it, was invented by a former NFL kicker.
The original foam Nerf ball was invented by Parker Brothers and hit the market back in 1970. They would've loved to have had a football to sell as well, but they couldn't quite figure out how to get the look and feel just right. At least they had the safety aspect locked down. The packaging on the original, round Nerf ball read, "Throw it indoors. You can't damage lamps or break windows. You can't hurt babies or old people." 
It wasn't until two years later when Minnesota Vikings kicker Fred Cox — to this day, the team's all-time leading scorer — pitched Parker Brothers executives on a kicking game for kids. An acquaintance had come to him with the idea, but without a working football prototype, so Cox (the football connoisseur he was) fashioned one himself. (By the way, another popular toy invented by a 1970s NFL player? Starting Lineup figures.)
"What you need is something like a Wiffle Ball," Cox told the AP back in 1990. "I have no idea why foam rubber came to my mind." 
Good thing it did. Parker Brothers passed on the game but scooped up Cox's ball faster than linemen lunging for a fumble, in return for royalties on all future sales. 
Time magazine eventually named the Nerf football one of the top 100 toys of all time.
2. Cox made good money off his idea . . . but hardly anyone knew.
For years, Cox's own teammates in the NFL had no idea he was the inventor of such a sporting phenomenon. By the time he retired in 1977, after 15 seasons in the NFL, his role in the creation of Nerf footballs was still very much shrouded in mystery.
"In 1977, very few people I played with, even on the Vikings, knew I invented the ball," Cox told the AP. "Now they tell me they wish they'd invented it."
Even with the checks flowing from Parker Brothers, Cox wasn't able to fully retire from everyday work. Instead, he became a successful chiropractor in his hometown in southwest Pennsylvania. But today, even at 75, Cox still gets his check in the mail every quarter.
3. A whole generation of NFL players and coaches has now grown up knowing Nerf . . .
Jon and Jay Gruden grew up playing Nerf. Peyton Manning grew up playing Nerf. Jay Cutler grew up playing Nerf. OK, we get it. Everyone grew up playing Nerf.
4. . . . Which means professional athletes are certainly no stranger to Nerf footballs and their progeny.
Whether it's Kyrie Irving playing indoor mini-hoops . . . 
or Brewers outfielder Carlos Gomez surviving a Nerf blaster war in the locker room . . . 
Nerf has become inextricably linked to professional sports.
5. You can still (kind of) buy the classic, original Nerf football.
The closest thing resembling an original Nerf football from the early '70s is the Turbo Jr. Retails for just $7 and appers to be nothing more than foam in your hands. What more do you really need?
You can follow Erik Malinowski, who has gotten Nerfed in the head more times than he can remember, on Twitter at @erikmal and email him at erik.malinowski@fox.com.
---
---