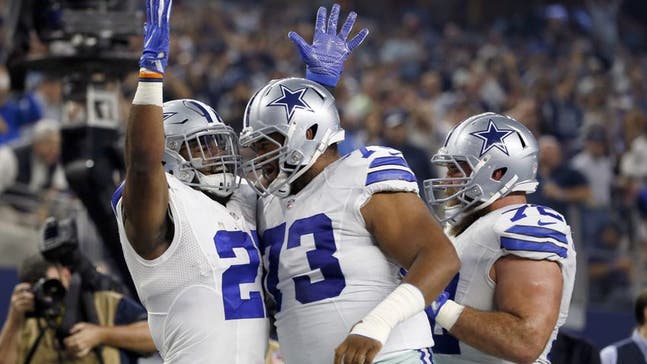 Dallas Cowboys: Four Hot Takes going into the final week of the season
Updated
Mar. 5, 2020 1:10 a.m. ET

Fansided, Carl Daley/FanSided via The Landry Hat
After the Dallas Cowboys steamrolled the Detroit Lions on their way to a huge win, here are four Hot Takes going into the final week of the regular season. Dec 26, 2016; Arlington, TX, USA; Dallas Cowboys running back Ezekiel Elliott (21) celebrates a touchdown with center Joe Looney (73) and center Travis Frederick (72) in the third quarter against the Detroit Lions at AT&T Stadium. Mandatory Credit: Tim Heitman-USA TODAY Sports The Dallas Cowboys are coming off a dominating performance over the Detroit Lions on Monday Night Football.Not only did they play well but this is one of the few times the team has tied a franchise record for wins in a season with 13.It was widely debated just how much the Dallas starters would play/ what attitude they would take to approach this game and the answer was resounding.The Cowboys dropped over forty points on a playoff caliber team and they did it without some of their most productive defensive players. The Dallas defense did struggle in the early part of this contest however after a rousing speech at the half by defensive captain, Sean Lee, the team came out and shut down the Lions. But before we get into the defense's performance in this contest, lets discuss some of the rookies on offense to start off my four hot takes from Week 16.Next: HOT TAKE #1 - Dallas Finally Adds Another Offensive Weapon Dec 26, 2016; Arlington, TX, USA; Dallas Cowboys wide receiver Dez Bryant (88) catches a touchdown pass past Detroit Lions cornerback Johnson Bademosi (29) during the first half at AT&T Stadium. Mandatory Credit: Kevin Jairaj-USA TODAY Sports
Hot Take #1 – The Cowboys Finally Add Another Weapon
All season the football world has been wondering what exactly is going on with Cowboys star wide receiver, Dez Bryant. The Cowboys current number 88 has had a down year in a season for the ages however he has been either been nursing an injury or working on developing chemistry with starting quarterback Dak Prescott.
It seems as if they have finally gotten their timing down as Prescott and Bryant showcased production that we have not seem from them as a duo all season long. The connections ranged from the jaw dropping as Dez corralled the football with one hand after being interfered with in the end zone, a play that resulted in a big touchdown.
The second touchdown pass for Bryant came as the Cowboys quarterback threw an absolute dime to Dez as he was being double covered, which also led to a Dallas touchdown. These are not the typical throws you see from just any random duo in the NFL.
The fact that Prescott can throw the back shoulder fade to number 88 as if he has been playing with him for years is astounding. We also saw the rookies level of trust in Bryant as he threw an terrific ball into double coverage. Not only did this signify the fact that Bryant is finally being utilized to the fullest extent in this offense but it also showed his range as a playmaker.
The Cowboys star wide receiver threw a touchdown pass to veteran tight end, Jason Witten that instantly became one of the highlights of the season. When Dez was not playing the role of a quarterback he was one of the top targets for Prescott who had one of his better games this season. Number four finished the day going 15 of 20 from the field, recorded 212 yards in the air, and three touchdowns with no turnovers.
This seems like only a sign of things to come as this offense is finally mastering how many ways they can hurt opposing teams.
Dec 26, 2016; Arlington, TX, USA; Dallas Cowboys running back Ezekiel Elliott (21) runs for a touchdown in the third quarter against Detroit Lions middle linebacker Tahir Whitehead (59) at AT&T Stadium. Mandatory Credit: Tim Heitman-USA TODAY Sports
Hot Take #2 – Zeke will not break the NFL Rookie Rushing Record
Cowboys star running back, Ezekiel Elliott had a decreased role in this game however he made the most out of the carries he was given. On only 12 attempts, Zeke gained 80 yards on the ground, two touchdowns, and averaged 6.7 yards per carry. Those are pretty impressive numbers for the limited amount of time he was on the field.
More from The Landry Hat
Dallas appears to be spelling Elliott more as games go on. If there was an actual battle going on late into Monday's game who is to say that the coaches wouldn't have given Zeke a few more carries? The Lions did appear to be hitting Elliott pretty hard, and keying in on him while he was on the field.
The hit on Elliott that caused a personal foul penalty is probably what changed the coaches mind of leaving him out there. While it did not look like an especially dirty hit, it was still unnecessary. Now we are faced with the question of can Zeke realistically rack up 200 yards on the Philadelphia Eagles this week?
Personally I believe he could but will the Cowboys coaches leave him in for that long, or give him the reps to achieve that? Probably not. If Elliott can break off several long runs throughout the course of the game he could have a shot but in what is largely a meaningless game, expect Dallas to err on the side of caution.
Dec 26, 2016; Arlington, TX, USA; Dallas Cowboys defensive end Randy Gregory (94) tackles Detroit Lions running back Dwayne Washington (36) in the fourth quarter at AT&T Stadium. Mandatory Credit: Tim Heitman-USA TODAY Sports
Hot Take #3 – Eagles game will show Cowboys defensive depth
The Cowboys defense came to life in the second half of their Week Sixteen battle with the Detroit Lions. Dallas would finish the game with five defensive linemen who were able to play as defensive tackle, Terrell McClain and defensive end Ryan Davis suffered injuries that forced them out of the game.
Davis injury is looking to be a bit more serious than McClain's at this time. Safety JJ Wilcox who was returning from an injury (deep thigh bruise) managed to record an interception in the third quarter that really changed the tide of this contest. Wilcox also managed to deliver some big hits that signified he was back to 100 percent health.
Want your voice heard? Join the The Landry Hat team!
Rookie cornerback, Anthony Brown was having an excellent game until he suffered a concussion that took him out of action. Brown is expected to clear the protocol before Sunday's contest. It was surprising to say the least that the Cowboys could find such production from a defensive line that was missing some key personnel.
This was somewhat alleviated by the return of Cowboys defensive end Randy Gregory however he was not yet in full game shape after missing so much time. It is unknown if Gregory will be able to play moving forward as the team waits to hear the ruling on his suspension. The real credit for this defenses success has to go to the man behind the clipboard, Rod Marinelli.
He may have had some extra motivation going up against his old franchise but he delivered a disruptive game plan that took advantage of the Lion's inexperienced offensive line. If Marinelli can keep finding ways to generate pressure this team is in for some big performances.
Dec 18, 2016; Arlington, TX, USA; Dallas Cowboys quarterback Dak Prescott (4) smiles as he walks off the field after the game against the Tampa Bay Buccaneers at AT&T Stadium. Dallas Cowboys won 26-20. Mandatory Credit: Tim Heitman-USA TODAY Sports
Hot Take #4 – Dak Prescott will win the NFL MVP Award
I know this season is about a lot more than individual awards and accolades but how are we not supposed to believe that Dallas holds the Most Valuable Player on their roster? Not only should head coach, Jason Garrett win coach of the year but the MVP race is really only a two horse race.
A lot of analysts are clamoring for New England Patriots quarterback, Tom Brady to receive the award which makes some sense. Besides the Cowboys, the Patriots are the winningest team in the league with an identical record, the only problem is that Brady has not played in every game.
The argument that the MVP is the player who means the most to their franchise is faulty as there are multiple players in the NFL who fill that role. If you do a straight up numbers comparison of both Brady and Prescott the similarities are incredible. Dak is currently sitting at 3,630 passing yards on the season while Brady only has 3,278.
The Patriots quarterback does currently have the edge in quarterback rating as he is sitting at 110.7 however keep in mind he did miss four games. Prescott's QBR is at 105.6 which is second in the league in terms of quarterbacks who have played a full season starting under center.
Only Matt Ryan is ahead of the Cowboys fourth round pick. Number four also takes an edge when it comes down to completion rating as Prescott is averaging a 68.1 while Brady is currently at 66.7. Dak's touchdown to interception ratio is slightly behind Brady's as he sits at 23/4 while Brady is resting at 25/2.
The main difference in all of these statistical discussions is basically that Prescott has more yards and touchdowns with his legs than plenty of running backs in the NFL this season. When running the football, Dak averages 4.9 yards per carry, and has amassed 273 rushing yards and six touchdowns.
That is incredible for a quarterback who has currently thrown for more yards than Tom Brady. If that was not enough, Brady is expected to get these types of numbers however  a rookie quarterback was never thought capable of this. Currently Dak is the best rookie quarterback in NFL history and if that is not MVP worthy, I do not know what is.
The NFL is a funny place though and it could turn out that Dak wins the offensive Rookie of the Year award, even though that is more suited for Zeke. Prescott has done things even elite level quarterbacks have not gotten close to accomplishing this season and considering he has started in every game this season he should be the odds on favorite for Most Valuable Player.
I mean how do you gauge the value of a player who essential made Tony Romo obsolete? If were judging players based off of wins the Cowboys and the Patriots are right on top of the pile. Ezekiel Elliott's numbers are fantastic but what Dak has done in his short time with the Cowboys has never been done before on any NFL team.
Elliott should win the Offensive Rookie of the Year award because he simply has been the best offensive player in the NFL excluding quarterbacks. The NFL simply has to recognize the incredible numbers the Cowboys two rookies are putting up, and reward them accordingly for it.
---
---