Coaches on the Hot Seat: Who is feeling the heat?
BY Alex Marvez • December 9, 2014
The 2014 NFL season is now 15 weeks old and only one head coach (Oakland's Dennis Allen) has gotten fired so far.
That will be changing on Dec. 29, aka "Black Monday."
The day after the season ends always brings a rash of dismissals from teams who didn't make the playoffs. Most of the changes are imminent although there is usually one that is unexpected. For example, Tennessee Titans CEO Tommy Smith fired Mike Munchak in the days following last season when he refused to make changes to his coaching staff.
Here's a look at the coaches who may be on the outs with their respective teams based upon the temperature of the seat in which they are sitting.
SCALDING
Rex Ryan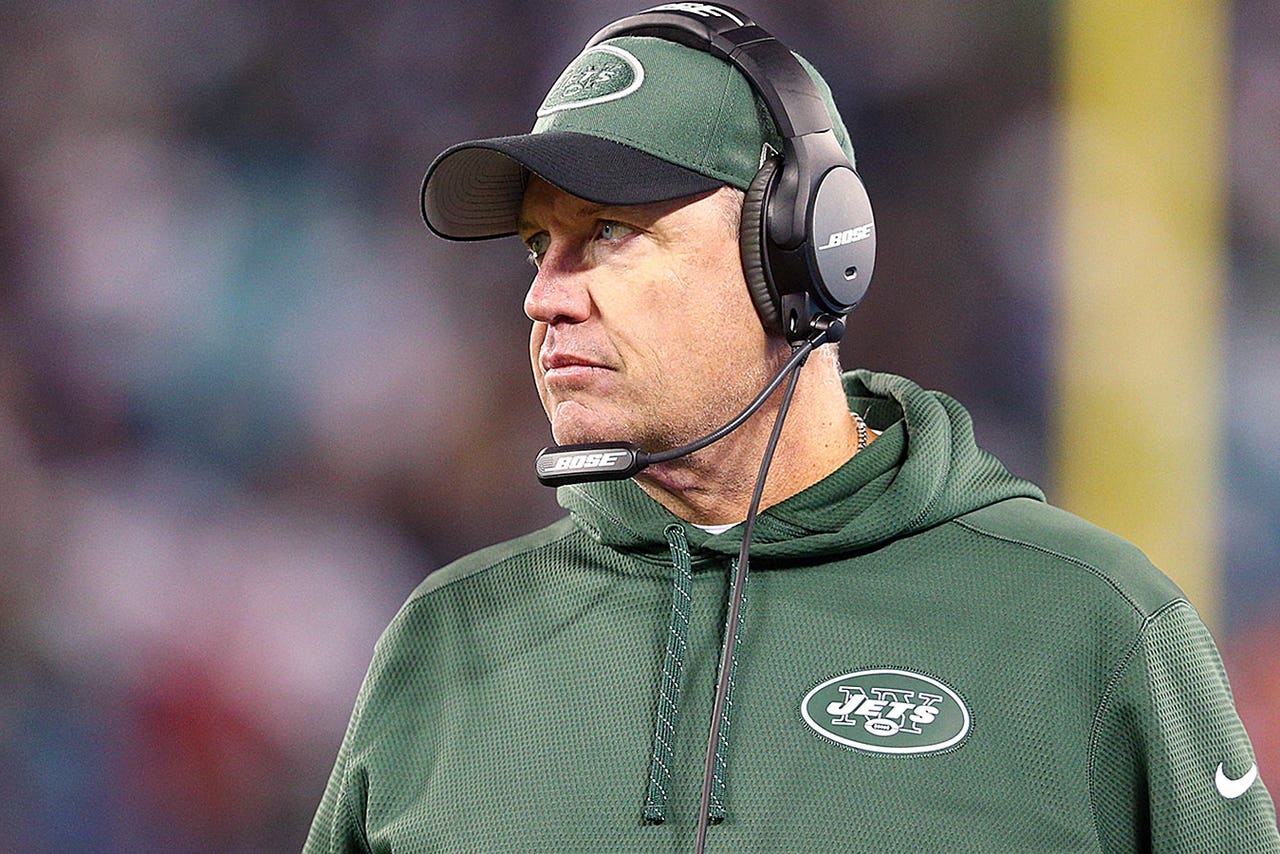 Team: New York Jets (2-11)
Overall record including playoffs: 48-50 (sixth season)
What went wrong?: As the talent on New York's roster dwindled, so did Ryan's success. In the span of four seasons, the Jets have slid from being the AFC's Super Bowl runner-up to potentially having the No. 1 pick in next April's draft. New York's persistent offensive struggles during Ryan's tenure, particularly at quarterback, are damning as well.
Why should he stay?: Ryan is still one of the NFL's sharpest defensive minds and he continues to command respect in New York's locker room despite the disaster that has unfolded in 2014. Ryan also was saddled into working the past two seasons with John Idzik, who is in way over his head as general manager.
Prediction: Ryan arrived in New York with bluster and will leave with a whimper unless team owner Woody Johnson is convinced he can right the ship after four seasons of diminishing returns. Idzik will probably be following Ryan out the door, dissolving a coach/GM partnership that never seemed to jell.
Marc Trestman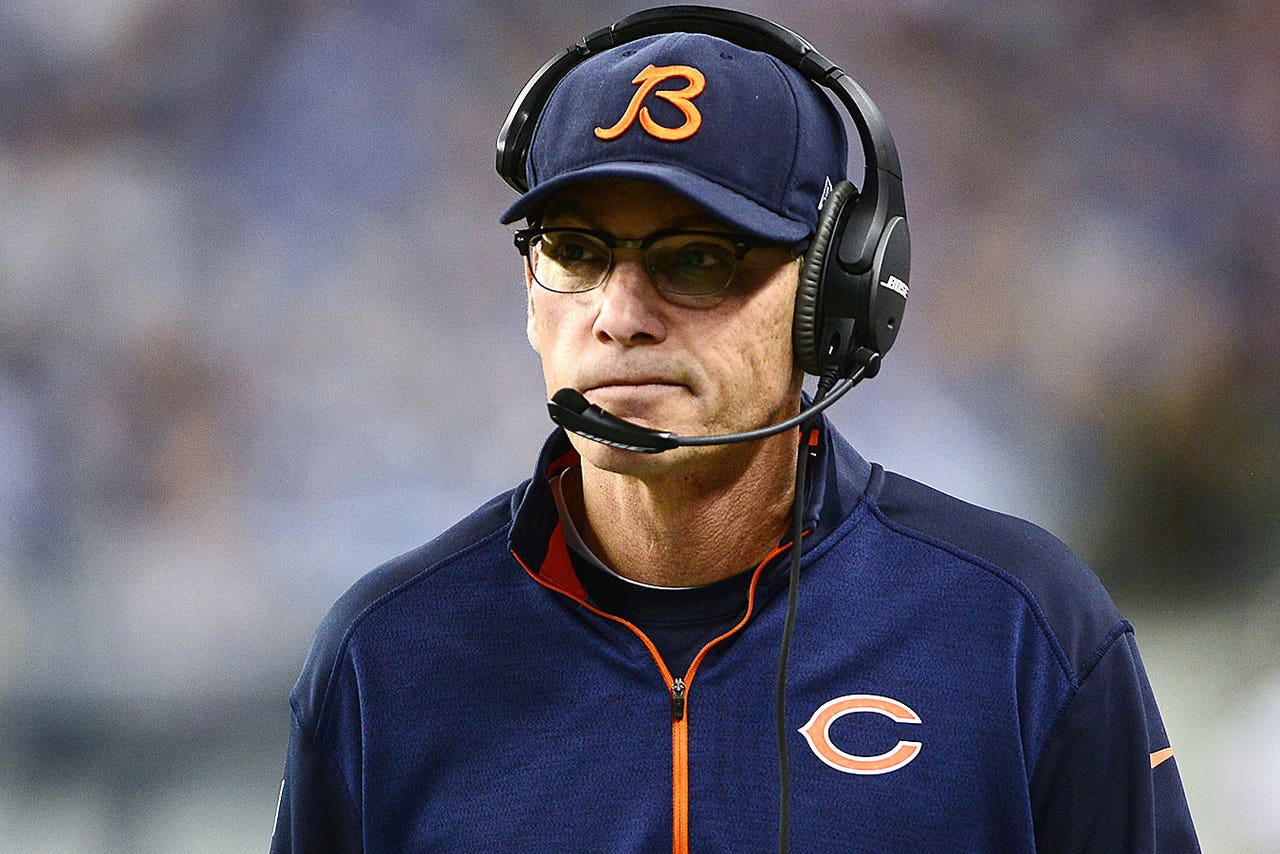 Team: Chicago (5-8)
Overall record: 13-16 (second season)
What went wrong: After fielding one of the NFL's most impressive offenses in 2013, the Bears have taken a major tumble behind the tepid play and leadership of quarterback Jay Cutler. The problems are even worse on defense where the Bears are surrendering a league-high 29.1 points a game.
Why should he stay?: Trestman is still a sharp offensive mind and could play a pivotal role into helping develop a rookie quarterback if the Bears want to find an heir apparent to Cutler.
Prediction: Trestman's fate may be connected to that of general manager Phil Emery, who made the unorthodox decision to hire him from the Canadian Football League after interviewing a field of 11 other candidates that included current Arizona head coach Bruce Arians. Emery also chose to give Cutler a lucrative contract extension at the end of last season that essentially tethers him to the franchise. If Emery goes, Trestman will surely follow.
Jim Harbaugh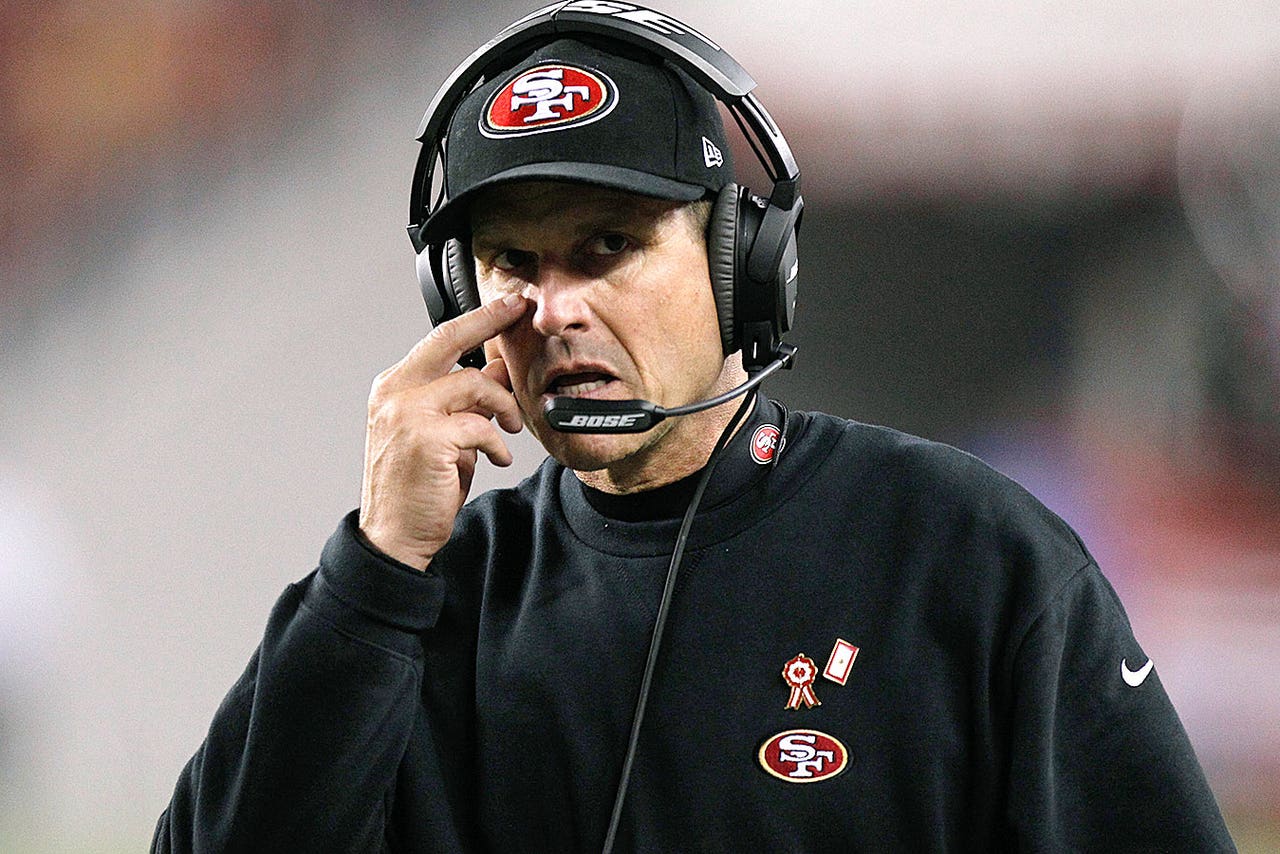 Team: San Francisco (7-6)
Overall record including playoffs: 48-20 (fourth season)
What went wrong?: Harbaugh butted heads too frequently with 49ers management, particularly CEO Jed York and general manager Trent Baalke. Speculation about Harbaugh's future in San Francisco began running rampant after last season's NFC Championship Game loss to Seattle and has continued to gain steam as the 49ers became a middle-of-the-pack team largely because of a foundering offense under quarterback Colin Kaepernick.
Why should he stay?: At this point, there is no reason. There is too much scorched earth for Harbaugh to return despite being the most successful 49ers coach since George Seifert.
Prediction: It isn't a question of whether Harbaugh will be gone but where he is going next. Let's be realistic: The 49ers can't undergo another season of internal dysfunction and expect to win. Harbaugh has one year remaining on his contract and the 49ers will seek compensation for his services. Harbaugh, though, can't be traded like a player. Harbaugh can choose whether he wants to coach for any interested suitor. As for Harbaugh's replacement, defensive line coach Jim Tomsula is widely considered the top internal candidate but that doesn't make him a slam-dunk for the job.
Tom Coughlin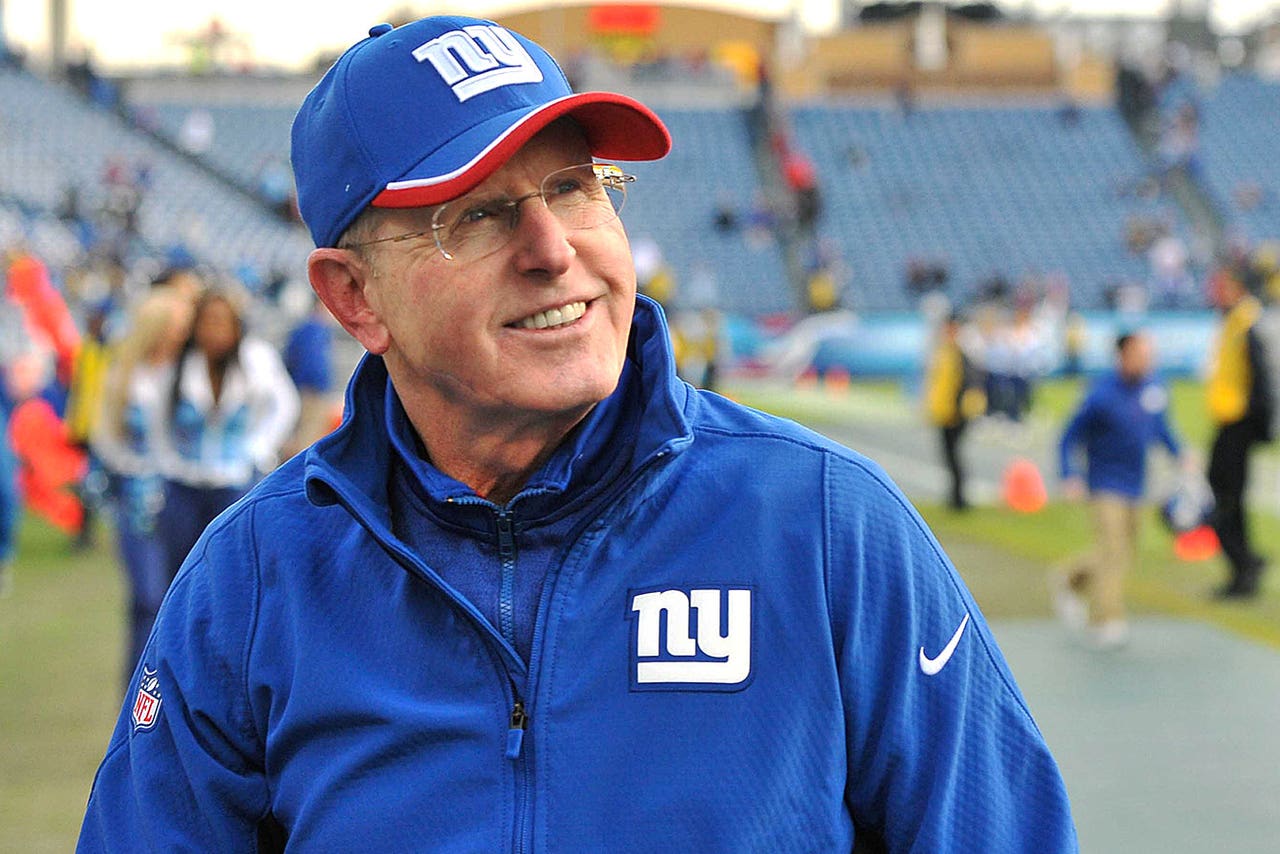 Team: New York Giants (4-9)
Overall record including playoffs: 174-146 (19 seasons)
What went wrong?: Coughlin is the NFL's most senior coach at age 68 but that isn't an issue. The bigger problem is how his Super Bowl-winning roster from the 2011 season got old without quality replacements arriving. The arrival of first-year offensive coordinator Ben McAdoo also didn't help Eli Manning regain his place among the NFL's top-tier quarterbacks after a disastrous 2013 campaign.
Why should he stay?: Coaching may not be the biggest problem that needs fixing in New York. Although Jerry Reese did unearth wide receiver Victor Cruz as a college free agent, defensive end Jason Pierre-Paul is the only one of the general manager's 38 draft picks between 2008 and 2013 who has reached a Pro Bowl. With better players, there's a good chance Coughlin could flourish again.
Prediction: Another head coach who failed to make the playoffs for three straight seasons might automatically get tossed, but the loyalty between Coughlin and the Giants organization shouldn't be taken lightly. Retirement is another option, although Coughlin has shown no signs of slowing down. Should the Giants make a change and he wants to continue coaching, Coughlin will be a very appealing candidate for a team that isn't far off from playoff contention.
WARM
Joe Philbin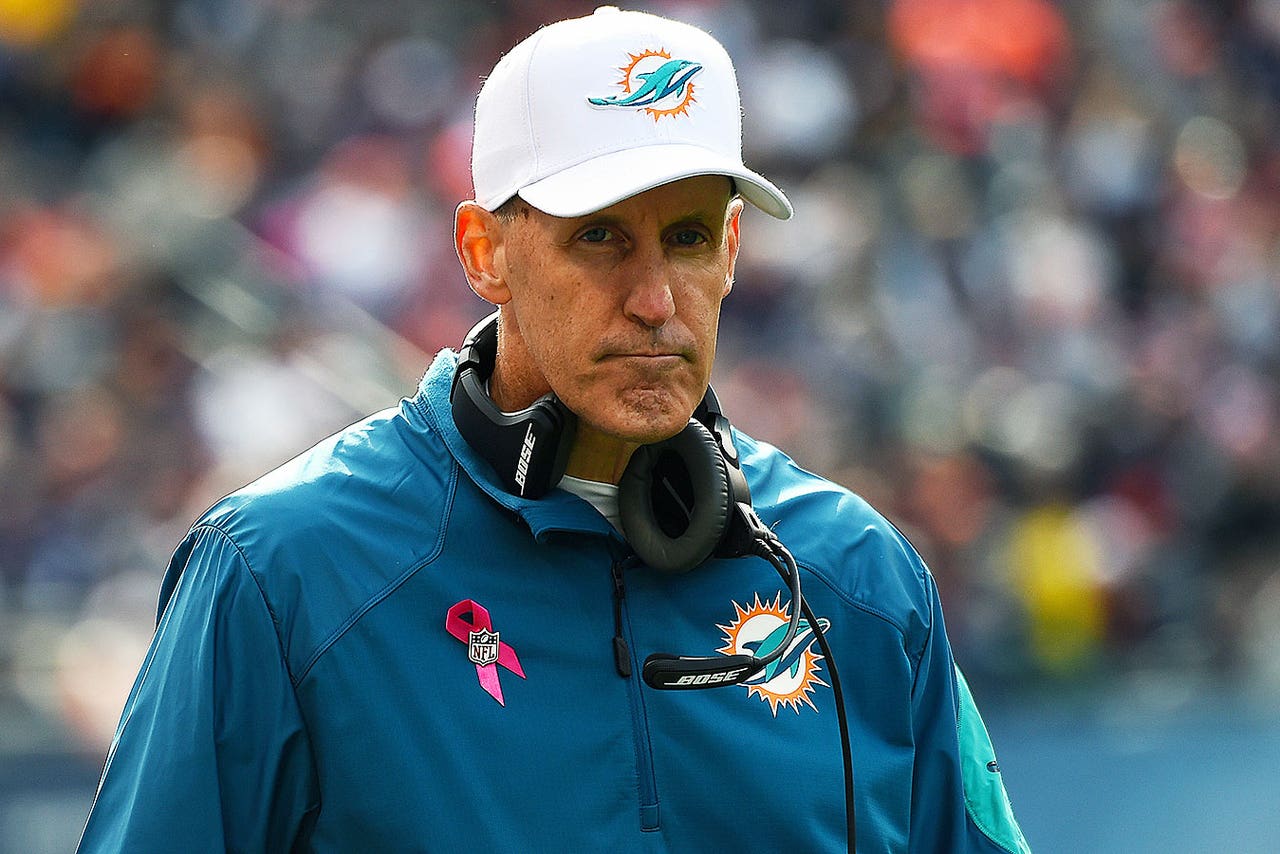 Team: Miami (7-6)
Overall record: 22-23 (third season).
What went wrong?: The injury-plagued Dolphins could essentially be eliminated from the playoff race for a third straight season under Philbin with a loss Sunday in New England. Miami also slumped late last year, squandering a chance for the playoffs with two season-ending losses against Buffalo and the Jets.
Why should he stay?: While not reflected in the record, this is the best team Philbin has fielded during his Dolphins tenure. The development of third-year quarterback Ryan Tannehill under new offensive coordinator Bill Lazor is encouraging. That growth could be stunted if the Dolphins clean house and Tannehill is forced to learn the third different offense of his young NFL career.
Prediction: With so many internal factions inside the Dolphins organization, it's hard to guess whose voice will carry the most weight with team owner Stephen Ross. He could make another run at 49ers head coach Jim Harbaugh, whom Ross unsuccessfully courted in 2011. But that brings its own set of issues. First and foremost, would Harbaugh want to come to South Florida?
Mike Smith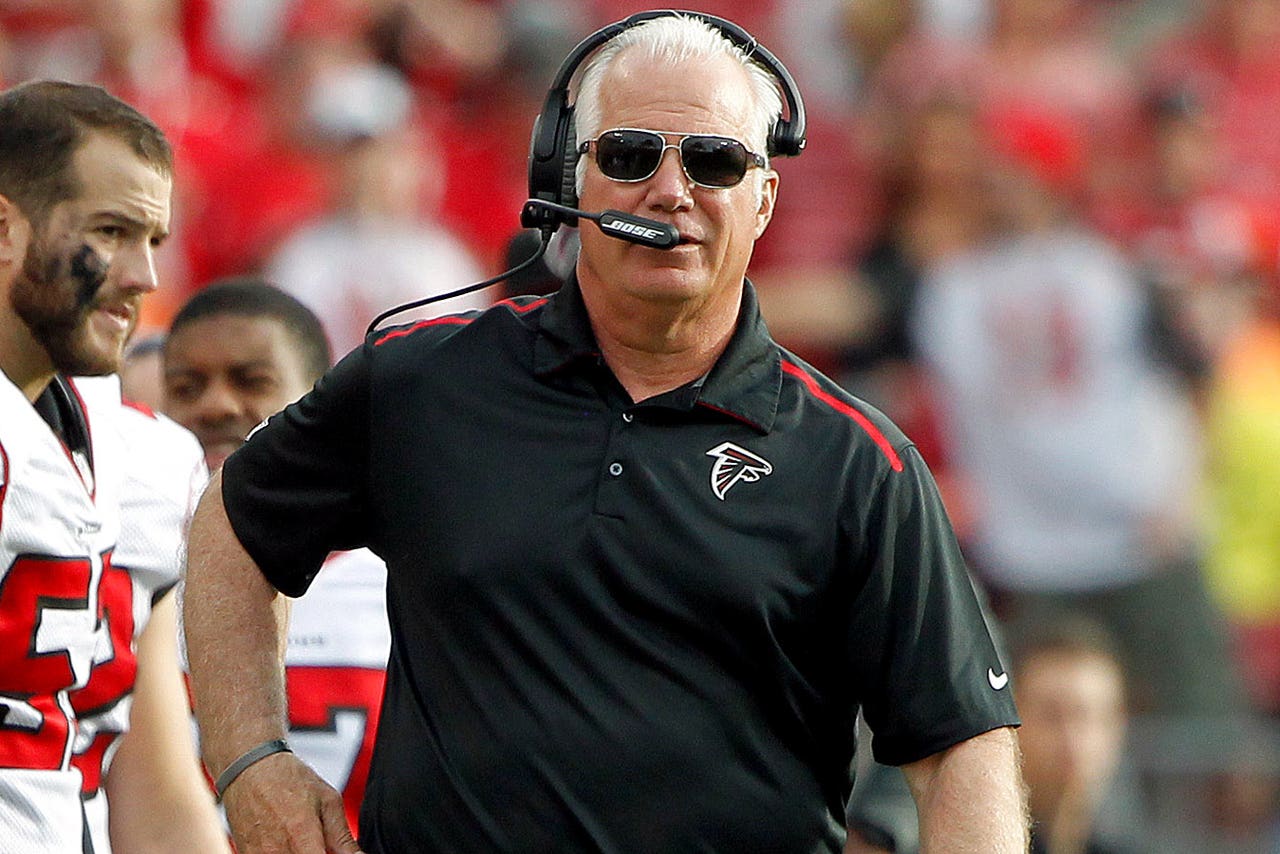 Team: Atlanta (5-9)
Overall record including playoffs: 66-48 (seventh season)
What went wrong?: After posting winning records in Smith's first five seasons, the Falcons had their window of opportunity slam shut with a loss to San Francisco in the 2012 NFC Championship Game. Atlanta is 9-20 since then despite having a franchise quarterback in Matt Ryan. Smith's critics have a long list of questionable coaching decisions, including his botched clock-management that greatly contributed to losses against Detroit and Cleveland. Injuries -- especially along the offensive line -- and a decline in roster talent haven't helped matters either.
Why should he stay?: The Falcons didn't become a consistent winner by accident. Smith and general manager Thomas Dimitroff helped Atlanta post five straight winning seasons for the first time in franchise history. A strong argument can be made that both deserve another year to get the Falcons soaring. Patience can pay when a team undergoes a rough stretch. A prime example: The Steelers stuck with head coach Bill Cowher after three seasons without a playoff berth and were ultimately rewarded with a victory in Super Bowl XL. While it's impossible to expect complete oblivion to the local outcry for change, Falcons owner Arthur Blank should speak with the Rooney family before making a final decision about the fate of Smith and Dimitroff.
Prediction: Smith's future doesn't look bright if the Falcons fail to win the lousy NFC South. Even if Atlanta does, a one-and-done playoff run might not do much to help either.
TEPID
Jay Gruden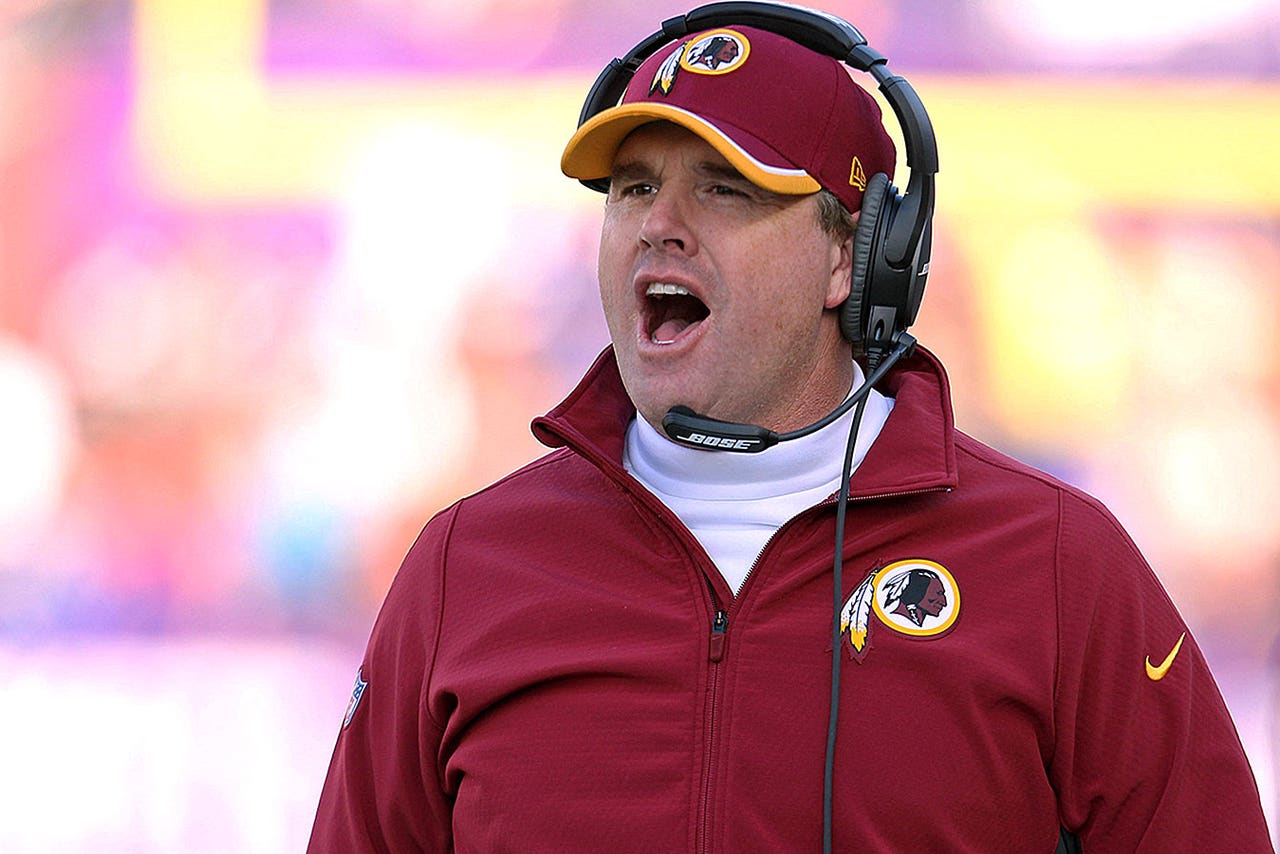 Team: Washington (3-10)
Overall record: 3-10 (first season).
What went wrong?: Gruden failed to accomplish what should have been the top priority of Mike Shanahan's replacement. That was fixing whatever problems were ailing Robert Griffin III. Further compounding the problem: Another once-promising young quarterback -- Kirk Cousins -- also regressed under Gruden's tutelage in 2014. Colt McCoy isn't the answer. And by the way, the Jim Haslett-coached defense is just as brutal.
Why should he stay?: The expectation that RG3 can become a franchise quarterback once again may be unrealistic because of the knee injury suffered during his 2012 rookie season and a suspect work ethic. And is one season truly enough to get a read on whether Gruden is the right man for the job?
Prediction: With four guaranteed years remaining on his coaching contract, Gruden probably stays and RG3 gets traded. But who knows with an impetuous owner like Daniel Snyder?
UPON FURTHER REVIEW
Chip Kelly surely has more in his bag of tricks, but the Philadelphia Eagles head coach shouldn't want to see Seattle facing his team again in the playoffs. The Seahawks have resurfaced as the NFL's most dangerous team heading down the home stretch (my FOX Sports coverage of last Sunday's 24-14 win over Philadelphia  can be found here). It's also a matchup issue because of the way Seattle's defense is built with an aggressive secondary that can handle the Eagles' receiving corps in press coverage, especially when the officials aren't calling ticky-tack contact penalties.
Seahawks cornerback Richard Sherman spoke the truth: The Eagles do miss the deep threat that was once provided by DeSean Jackson because nobody on Philadelphia's roster can stretch the field or command the same attention as he did. Mark Sanchez's limitations as a long-ball passer were exposed as well last Sunday, which leaves Kelly with a critical decision to make at quarterback once former starter Nick Foles (collarbone) is healthy enough to play again.
The most underrated part of Seattle's defensive performance was how well the Seahawks contained running back LeSean McCoy, especially when the Eagles tried to attack the perimeter. The Eagles gained only 57 rushing yards to join Arizona and San Francisco as the third straight Seahawks opponent to gain less than 64 yards on the ground. Such stinginess coincides with the return of middle linebacker Bobby Wagner from a toe injury.
If these two teams do meet again, I expect Eagles running back Darren Sproles and tight end Zach Ertz to have bigger roles. Sproles had a net gain of zero yards on four carries and was never targeted out of the backfield in the passing game. Ertz scored on a 35-yard touchdown catch but logged only one other reception for four yards. Sanchez didn't spot a wide-open Ertz on a third-down incompletion that forced an Eagles punt from midfield five minutes into the second quarter when the score was tied 7-7. It's arguably a different game if the Eagles convert in that situation and kept some of their early momentum going.
NUMBER TO NOTE
I feel for Tampa Bay head coach Lovie Smith, a good man who has unbelievably bad luck with offensive coordinators. Smith employed four of them during nine seasons with the Chicago Bears. The only one who had success was Ron Turner in 2006. After a year out of football in 2013, Smith thought he had the problem solved when bringing former University of California head coach and Aaron Rodgers mentor Jeff Tedford with him to the Buccaneers.
Tedford, though, never called a single play during the regular season because of a heart ailment. Tedford's responsibilities were given to 34-year-old quarterbacks coach Marcus Arroyo, who had no NFL experience prior to this season. I'm told Arroyo has gotten better as the season unfolded but the Buccaneers (2-11) are still ranked 28th in points scored and 29th in total yards. Smith must now search for his sixth different OC in the offseason since the Bucs announced last week that Tedford won't be returning. How appealing the job is will depend on whether Tampa Bay finishes with a poor enough record to secure a high enough draft choice for the shot at a franchise quarterback.
THURSDAY NIGHT PICK
St. Louis 19, Arizona 10.
Arizona was considered the best team last season not to make the postseason. That distinction in 2014 could fall to St. Louis, which has won three of its past four games and recorded the NFL's first back-to-back shutouts since 2009. Such defensive might doesn't bode well for a Cardinals squad that hasn't scored more than 18 points in the four games since Carson Palmer was lost to a season-ending knee injury suffered in Arizona's first matchup against the Rams.
---
---