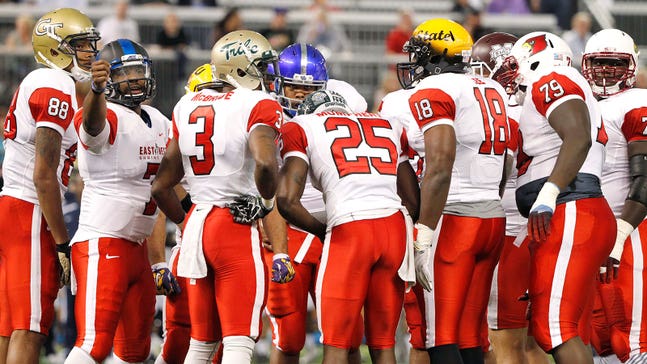 Chargers pluck two draft picks from the East-West Shrine Bowl
Published
May. 22, 2015 12:20 a.m. EDT

The East-West Shrine Game has produced players like Walter Payton, Gale Sayers, Tom Brady, and John Elway in its 90-year history.
The Chargers are hoping they find the next player on that storied list after drafting two defenders right from the Bowl's roster this spring.
Both Texas State's Craig Mager and North Dakota State's Kyle Emanuel cemented their status as draft-worthy players at the event. General manager Tom Telesco and his gang of Chargers scouts took notice, and when the draft came along, they took Mager in the third round and Emanuel in the fifth.
"East-West always has third, fourth and fifth round draft picks, and it's always really competitive," Telesco said after the draft.  "It seems like every year there's a good crop of prospects there that are a half level below and get to go against division I players.  It's a great scouting tool for us."
The scouting community might place too much value in events like the Senior Bowl and NFL Combine. Players who aren't invited to one or either can still play in the NFL, and the East-West Shrine Game is the perfect platform for them to prove it.
"That was the main reason I went," Emanuel said. "You have a big question mark when you come from an FCS school, and I have the ultimate respect for the Shrine game."
So does Mager, another small-school prospect who catapulted into the third round after a standout performance.
The Texas State product thinks the game played a key role in that high selection -- while dropping a few hints here and there that the Chargers were interested.
"I talked to some of their scouts a lot," Mager said. "They came up to me after every practice and talked to me, so I knew they were kind of interested. I talked a bunch with (Director of College scouting Kevin Kelly). Then a bit later Coach (Ron) Milus came to work me out at Texas State, so I knew they were really interested.  But It all really started with the East-West Shrine Game."
---
---