National Football League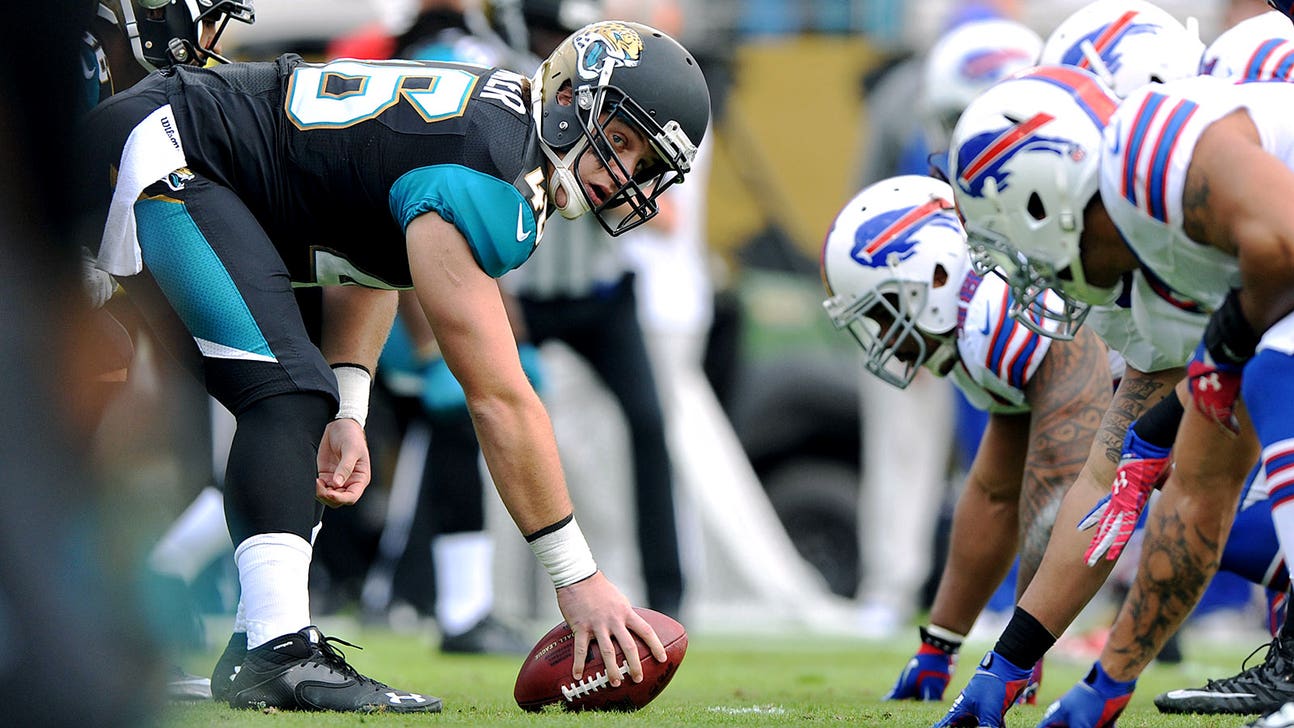 National Football League
Carson Tinker's life is a story of inspiration and perseverance
Published
Aug. 12, 2014 12:00 p.m. ET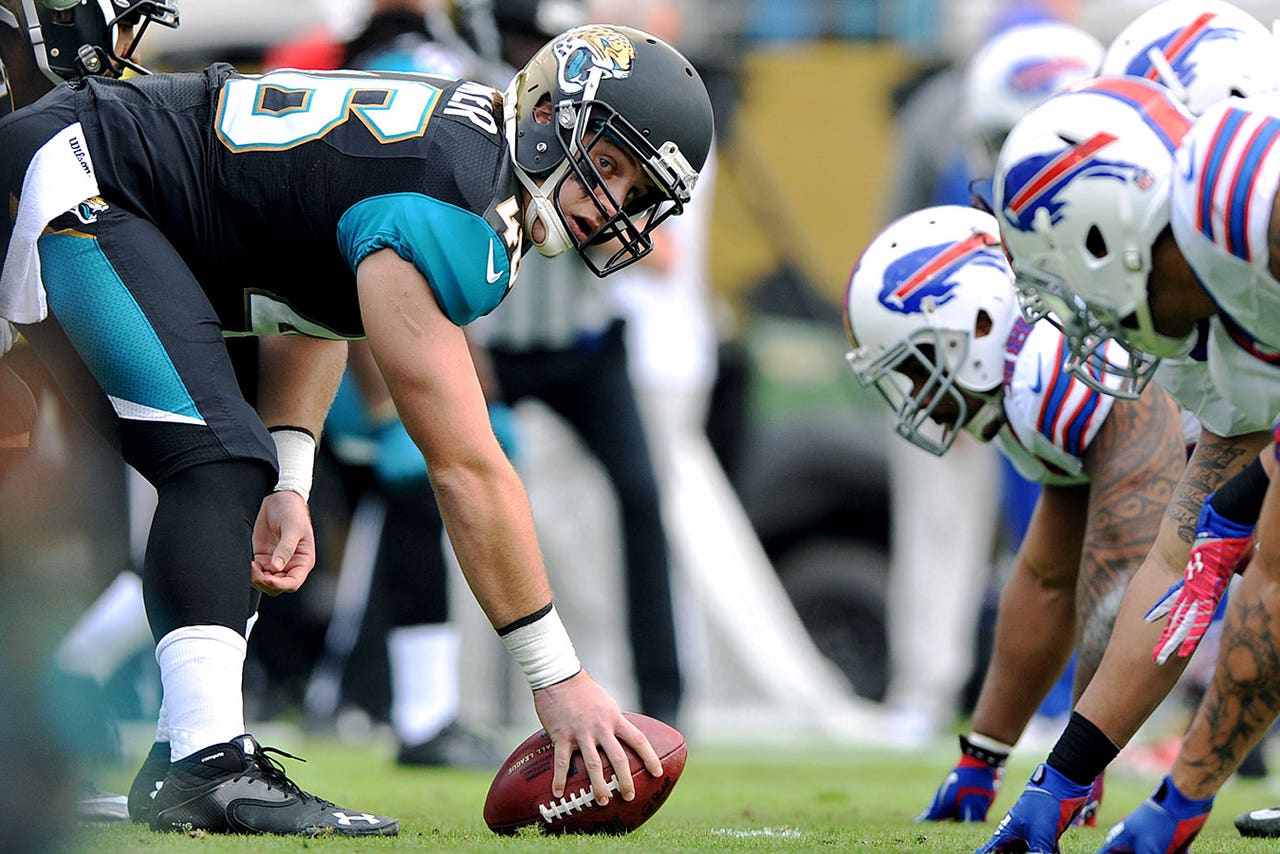 JACKSONVILLE, Fla. — In the town of Enterprise, Alabama, about 185 miles southeast of the plot at 611 25th Street where Carson Tinker's house once stood in Tuscaloosa, there stands a monument to a boll weevil.
As the story goes, an infestation of the tiny beetles took over the Enterprise area during World War I, crippling the town's vital cotton industry. Knowing that cotton crops couldn't survive so long as the boll weevils remained in the area, the town's farmers, instead, turned to peanut farming to make ends meet.
Over the next few years, Enterprise would become one of the leading producers of peanuts in the country, not only saving the local economy but elevating it to levels unseen to that point. So in 1919, the town erected the monument in a roundabout along Enterprise's main drag depicting a woman holding a pedestal above her head with a boll weevil resting on top.
Near the statue, a marker explains that, "in profound appreciation of the boll weevil and what it has done as the herald of prosperity, this monument was erected by the citizens of Enterprise, Coffee County, Alabama."
And while the shrine to the boll weevil, to most who pass through Enterprise, represents little more than a quirky piece of Americana, Tinker, the second-year long snapper for the Jacksonville Jaguars, sees it as a something of a symbol of how far he's come since April 27, 2011.
As afternoon turned to evening on that horrific spring day, Tinker, then the long snapper for the University of Alabama, found himself huddled into a closet with his girlfriend, Ashley Harrison, his roommates, Payton Holley and Alan Estis, and his dogs, Josie and B, at the house on 25th Street. Moments earlier, Tinker had been on the phone with his grandfather, who warned the group to take cover as a tornado approached Tuscaloosa.
"Growing up in Alabama, you always see it on TV, but it's always the other city, or the house down the road or on the other side of town," Tinker told FOX Sports last week during an interview at Jaguars training camp. "My grandad called me and said, 'You need to take shelter,' and I was like, 'All right, we'll do that,' and it wasn't 30 seconds after that that our house was being ripped apart."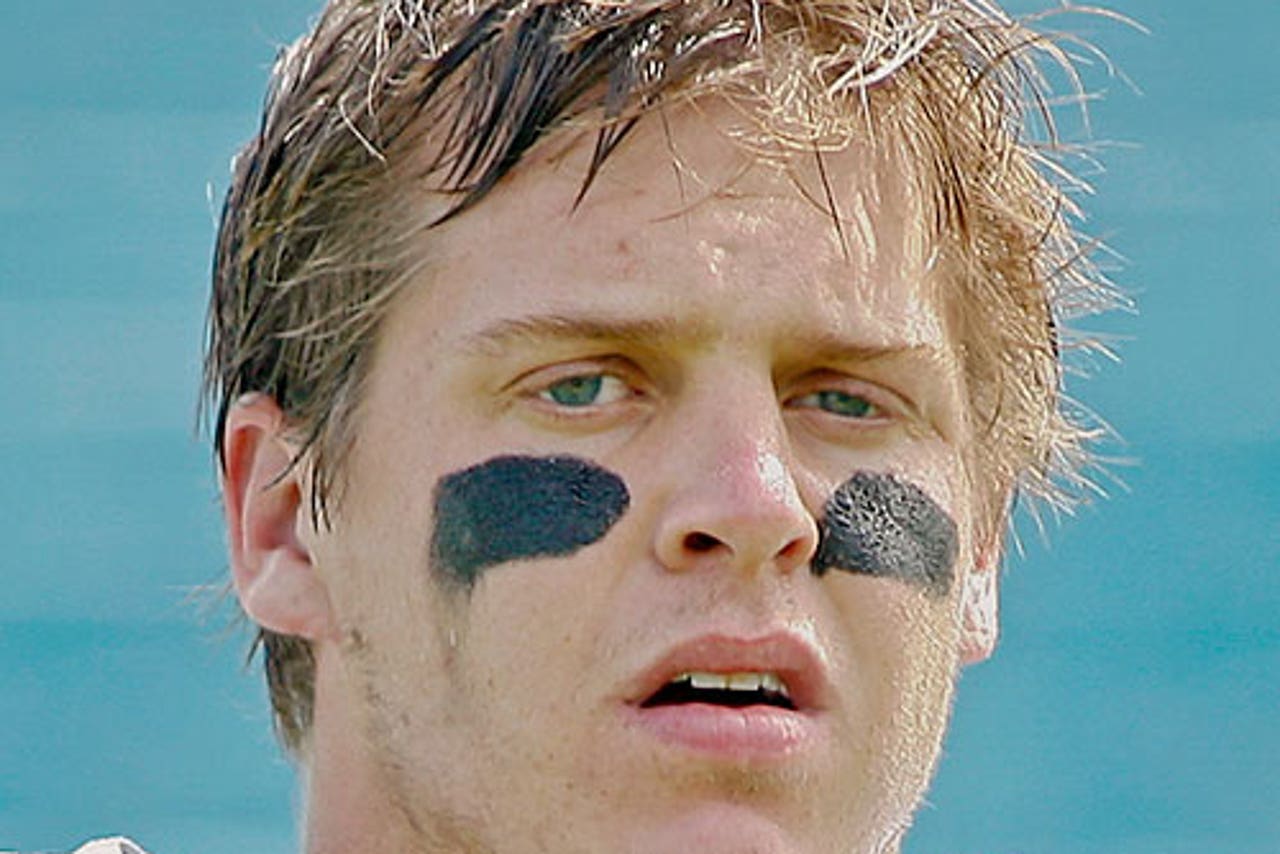 Carson Tinker
The tornado that tore through Tinker's house was designated an EF-4, with sustained winds reaching an estimated 190 miles per hour. The structure was no match for the twister, which threw the house and everything in it 75 yards into a clearing across the street — a place where, earlier that afternoon, Tinker had taken his dogs to fetch golf balls he'd hit across the field with his pitching wedge.
Tinker, Holley and Estis all survived the ordeal with only relatively minor injuries.  Harrison, they later learned, had broken her neck and didn't make it, one of six Alabama students killed in the storm.
For Tinker, Harrison's death and the passing of his two dogs added yet another layer of heartbreak to a situation no one in Tuscaloosa could have been fully prepared for. In addition to losing his home and his girlfriend of a year, Tinker had also suffered a concussion amid the chaos and injured his wrist and ankle, the latter of which eventually required a skin graft and extended physical therapy to heal.
To this day, Tinker bears physical scars reminding him of the storm that changed his life, and the emotional wounds run deeper. Through all of the sadness, Tinker found hope and joy in rebuilding Tuscaloosa, both through football and away from the field, and in the three years since, Tinker has used his faith and his story to touch the lives of countless others, both in Alabama and across the globe.
To some, it might sound strange, or perhaps insensitive to liken what happened in Tuscaloosa that day to the fall of cotton production in southeastern Alabama, but for Tinker, the events are not as relevant as the messages gleaned through them. An unwaveringly faithful man, Tinker has dedicated his life over the last three years not only to living out his dream of being a professional football player but also to making a difference in the lives of others with the lessons learned through his own personal tragedy.
"While a lot of people would have seen that as a bad thing, a negative thing, they saw it as an opportunity," Tinker said of the people of Enterprise. "So I don't know, I guess the tornado was my boll weevil."
*****
Long before making his own recovery in the wake of the 2011 storm, Tinker watched as both of his parents fought through battles with cancer during his childhood, a formative experience for the only child and self-proclaimed "mama's boy."
When Tinker was in third grade, his mom, Debbie, was diagnosed with ovarian cancer. Three years later, when Tinker was 12, his father, Carleton, learned that a melanoma had spread to his lymph nodes. Eventually, both Debbie and Carleton were able to defeat the disease and reach remission, but the difficulty of the paths they had to travel to get there wasn't lost on Tinker.
"They were my role models pretty much my whole life," Tinker said of his parents, who make the eight-hour drive to Jacksonville from their home in Birmingham — where Tinker rehabbed for a month after the tornado — for each of their son's home games. "Just the fact of what they had been through when they had cancer and watching them when I was growing up, I think that played the biggest role in my recovery and helping me get better."
As Tinker got older, his parents say they did what they could to not let their cancer impact their son's life. Though his dad was sick and weakened from intense chemotherapy, Tinker says he always made it a point to take Carson to practice or play catch in the yard. And even when the effects of the disease were unavoidable, Debbie made light of things when she could, allowing Carson to do the honors and shave her head when she began to lose her hair as a side effect of chemo.
"We tried to keep things as normal in our house as possible because we didn't want it all to be about cancer and appointments and treatments," Debbie Tinker said in a phone interview with FOX Sports.
"There was a several-year span there when it could have been very much a part of our lives and sort of taken over. So we tried to keep things as normal as we could, tried not to be afflicted, and just keep a positive attitude and assured Carson that God had allowed this to come to our family for a reason and that he was going to use it for good, and that while we might not understand it right now, there would be a purpose to confirm it."
In turn, Tinker also found ways to inspire his parents, even if he didn't realize it at the time.
"He gave us something to look forward to," Debbie said. "We kept going to his ballgames and practices, and he inspired us through his life and being able to participate in his life. Just like football was so good for him and gave him that sense of normalcy to go back to (after the tornado), having Carson's childhood accomplishments and continuing to be involved in that inspired us and helped us.
"He's just been a big encouragement to us, not only what he learned from our cancer, but what we were learned from him and were able to do through treatment and surgery because of his inspiration for us."
When it came time for Debbie and Carleton to be a rock for their son, the concerned parents took off for Tuscaloosa as soon as they heard the news that Carson's home had been hit. Debbie had been able to get a hold of Carson through his roommate Payton, so she knew he was alive, but she had no idea the severity of his injuries or the toll the storm had taken on the town.
When the Tinkers arrived in Tuscaloosa, the scene was like a war zone, Debbie said, and the drive from Carson's house to the hospital, usually a 10-minute trip at worst, took nearly 3 hours, with Debbie and Carleton eventually ditching their car along the way and walking instead.
When they finally got to the hospital, Debbie didn't recognize Carson because of the blood and mud that covered his body, but when she heard his voice, she says, she knew it was him, and from there, Carson's journey toward recovery began — his parents returning the favor Carson gave them as a child, inspiring their son all along the way.
"If they could get through cancer, then I knew I could get through anything," Tinker said. "I'd like to think that I drew some strength from them. I'm definitely not as strong as they are, but if I could be mentioned in the same category as my parents, I'll be doing all right."
And in the years since the tragedy, Carson's story of recovery — from a gurney in the hallway of a Tuscaloosa hospital, to the BCS Championship to a starting job in the NFL — is a source of motivation for many, a blessing not lost on Tinker and his family.
"As a parent, there are a lot of things that (God) has allowed into Carson's life where I would have said, 'No, let's not do that. Let's pass on that and take the easy road,' " Debbie Tinker said. "But I can see how God has used that for his good and how Carson has been able to make an impact on other people and be an encouragement to them. And if He brought him a life where the worst thing that ever happened to him was a hangnail, he wouldn't have had much of an impact."
*****
There comes a point in the aftermath of every tragedy where those impacted the most by what occurred have to find closure and begin the process of moving on. For Tinker, that moment came in June 2011, when he reported back to campus and the Crimson Tide started to prepare for his junior football season.
"I kind of made that my goal my whole time through rehab," Tinker said. "While I was hurt and injured and couldn't walk, I wanted to focus on playing football, and I really made that my vision.
"My main theme (since the storm) has been that you either live in circumstance or you live in vision. My circumstance was my injuries from the tornado and the emotional loss that I suffered, but my vision was to play football, and when I got tired, or had feelings of poor-me or felt sorry for myself, I reminded myself of what I wanted to accomplish, and that was to get healthy and play football."
Coming off of a 10-3 season that was subpar by Alabama standards — the Tide won the BCS championship during Tinker's redshirt freshman season, while he was still a reserve — Nick Saban's team already had its sights set on redemption before the storm hit. Combining that with the pressure of healing a grief-stricken community only stood to raise the stakes even higher, but the team rose to the occasion, starting with an emotional 48-7 win over Kent State during the season opener in Tuscaloosa.
"It was incredibly emotional when you thought about how it was never just a game that season," Debbie Tinker said. "Every game was like you were giving somebody a distraction — somebody who lives in Tuscaloosa who had lost their home, who had lost a child, who had lost a parent, or lost a job because their business was destroyed.
"It gave them something to look forward to, and it was so much more than football and so much more than a national championship. It was like a gift to the community, really."
Additionally, during his rehab, Tinker says he found motivation in a scene from the movie Saving Private Ryan, in which Tom Hanks, playing Captain John Miller, uses his final words to tell Private James Ryan, played by Matt Damon, to "earn it" before Miller dies after being shot in a mission to save Ryan. Eventually, word of that story got around to Saban, who made "earn it" a team rallying cry during the season.
"That's something that I tried to do and still try to do every day," Tinker said. "There's a reason I'm still here, so I have to earn that, I have to earn that right, and that's something I think about more than the loss."
The Tide lost to rival LSU in the ninth game of the season that year but ended up securing a spot in the BCS Championship Game, "earning it" despite not winning the division or the conference. There, Alabama beat LSU, 21-0 ,in the rematch, giving a sense of closure to both Tinker and the Alabama community.
"Saban said after the LSU loss, in the locker room, that we could just keep going how it is and be defined by this loss, or we could come together as a team and keep playing, keep trying our best, and something special might happen," Tinker said.
"I don't want to be defined by the tornado, and the city of Tuscaloosa, we don't want to be defined by the tornado. We want to be defined by how we responded, and I thought that the season just ran really parallel to the city of Tuscaloosa, and my life, especially. Just like (the team) didn't want to be defined by that loss, we didn't want to be defined by that tragedy, but how we responded. I want to be defined by how I respond."
In addition to football, Tinker also began to find solace in a budding friendship with a fellow Alabama student named Annie Bates. Bates and Tinker met shortly after the championship game in January 2012, nine months after the tornado, and though Tinker was still emotionally vulnerable at times from the pain of Harrison's death and his own recovery, he found comfort in the relationship he was developing with Bates.
After about six months, the pair started dating, and on Sept. 28 of last year, they got engaged in an emotional beachside scene in Jacksonville, where Tinker was playing for the Jaguars.
"On the night we met, he told me that he was going to marry me, and at the time I just thought it was so cheesy," Bates told FOX Sports. "So he was asking me about the night we met, and we both started crying just because of everything we'd been through."
The couple is set to get married in Galveston, Texas — near Bates' hometown of Houston — in March, and though the relationship hasn't been without challenges, both Bates and Tinker say they're stronger because of them.
"She definitely made it easy," Tinker said. "It's not a competition, and there's not any hierarchy or anything like that. Annie is my best friend, and I can lean on her. … She's a godly woman, and when it got tough, she was there for me and always kind of knew what to say."
Added Bates: "I knew going into it that it was going to be difficult, but throughout this entire process, since we started dating, he never once made me feel like I wasn't important in his life or anything like that. So my priority was just to help him recover. Lord knows how that feels to go through something like that, and unless you've been in that situation, you can't put yourself in their shoes."
Over the years, Tinker and Bates have returned on several occasions to the lot where Tinker's house once stood, and to the makeshift memorial for Harrison in the field across the street. Bates says she understands that what happened to Harrison will always be a part of Tinker's history, and that if anything, going hand-in-hand Tinker's emotional recovery together has made their relationship stronger.
"While we are moving on with our lives, that will always be a huge part of his life, and something that has formed the character of the man that I love," Bates said. "We pray about it every day and we hope that it's respected just like you would want it to be. … I look forward to every single day being with him. I just think that with what we've both gone through at such a young age, we can tackle anything at this point."
*****
In the three years since the Tuscaloosa tornado of 2011, Tinker has given countless interviews and spent more time than he cares to reliving the horrific moment that forever changed his life. Sometimes the strain of it all can be challenging, but Tinker says it's worth it for the impact he has on others.
Earlier this year, Tinker released a book titled  "A Season to Remember: Faith in the Midst of the Storm," with all of its proceeds going to his recently launched Be A Blessing Foundation. It started as a small way of giving back, Tinker said, but has become an immensely rewarding experience as Tinker uses his platform as a professional athlete to get his story out. And every time he meets someone new who has been touched by his story, it reminds him of why he published for everyone to read.
There was the high school football player who broke his neck in an on-field accident who told Tinker how inspirational he's been during his recovery, and the third grader who lost a friend of his own in a tornado who started a lemonade stand to try to raise money to help. Tinker has a pen pal who reached out to him, not because of his experience in Tuscaloosa but because his mom, like Tinker's, is battling ovarian cancer.
Carson Tinker and Annie Bates will marry in March.

Each story, Tinker says, tugs at his heartstrings and helps remind him why he was spared when the tornado roared through his home and devastated the Tuscaloosa community.
"We all should have died, all four of us in that house, but it's one of those things where there was a reason for it, you know?" Tinker said, his voice softening. "So I never really asked why me. I just bought in from the very beginning, as soon as I could, and I know that might seem cliche or weird or whatever, but I really just tried to make that decision.
"I mean, yeah, I had doubts and felt bad for myself, but when I did, I'd go right back to it being a part of God's plan and how there is a reason for everything that happens. … It was awful, but I kind of bought into the fact that there was a reason I was here, just like there was a reason Ashley wasn't. It was really hard to make that choice, and sometimes I had to make it multiple times a day, but I really tried to believe in that."
The trauma of the events of April 27, 2011, came roaring back on the three-year anniversary of the tornado, just four months ago, when another tornado ripped through Tuscaloosa, killing Alabama swimmer John Servanti. And there will always be days and moments that remind Tinker of what he lost and just how close he came to death, himself. But just like with the aftermath of the 2011 storm, Tinker chooses to keep his focus on moving forward — on making the most of his boll weevil, as he puts it — and being a beacon, rather than dwelling on the tragedy of the past.
"Tuscaloosa is just as strong and together and ready to give back as the first time, and that's really inspiring to see," Tinker said. "It's one of those things that you're not meant to understand. You've just got to go back to God having a reason for it.
"Living through what I did was a gift. I shouldn't have been here, and it could have been a lot worse, and I've always realized that and tried to make the best out of it. I really try to take advantage of every opportunity I have. I don't take anything for granted and I try to have a genuine passion for life and everything that comes with it. You've got to enjoy the bad days, too."
You can follow Sam Gardner on Twitter or email him at samgardnerfox@gmail.com.
---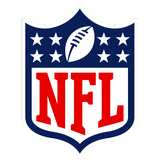 Get more from National Football League
Follow your favorites to get information about games, news and more
---