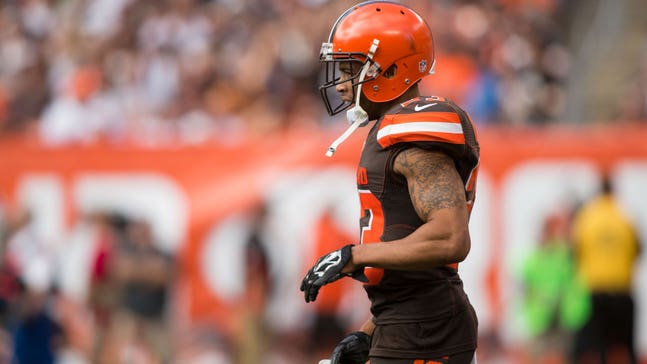 Browns' Haden sheds walking boot, eager for healthier season
Updated
Mar. 5, 2020 1:10 a.m. EST

BEREA, Ohio (AP) Assigned to cover the NFL's best wide receivers every week, Browns cornerback Joe Haden knows challenges.
He's dealing with his toughest one yet.
Haden expects to be ready for the upcoming season after undergoing left ankle surgery, which came after he missed 11 games an assortment of injuries, including a concussion which had him questioning his football future. On Wednesday, Haden, who is finally out of a walking boot and making progress, said the past few months have been difficult.
''I never really went through any type of adversity like this playing football,'' said the former Pro Bowler. ''It's always kind of been pretty good. Just being able to go through something like this, it definitely brings a newfound respect, a newfound love, passion.''
Haden believes good days are ahead for him and the Browns. He's been re-energized by new coach Hue Jackson and is excited to be reunited with defensive coordinator Ray Horton, who is back with Cleveland. The always upbeat Haden isn't sure if he'll be ready for training camp in July, but he's confident he won't miss any of the 2016 regular season.
In the meantime, the healing process hasn't been easy for Haden, who can't wait to return to the field.
''I'm missing it,'' he said. ''Just not being able to be out there with my guys, sometimes feeling like I'm in the way a little bit, just don't really like that feeling at all, knowing that I'm a leader on this team and a person that's going to be making a big impact depending on wins and losses, so I'm just really excited to keep pushing.''
This week, Haden was able to ditch both his immobilizing boot and a scooter that helped him get around. It's been a slow crawl for the 27-year-old, who initially injured his left ankle on Nov. 1 against Arizona. It was while making a tackle along the sideline in that game that Haden sustained his head injury, which kept him out of Cleveland's final eight games.
While he was training during the offseason, he aggravated his ankle injury and needed an operation.
''I'm dealing with it really well,'' he said. ''I have a really positive attitude. A new coaching staff, coach Hue Jackson, him being here, having faith in me, trusting in me and definitely believing in me, knowing what type player I am, not really feeling like I have to prove to him what I can do.
''Just him having that confidence gives me a lot of confidence in myself. It doesn't make me feel like with a whole new staff I have to prove myself. We played against Cincinnati before. He kind of knows what I can do.''
---
---