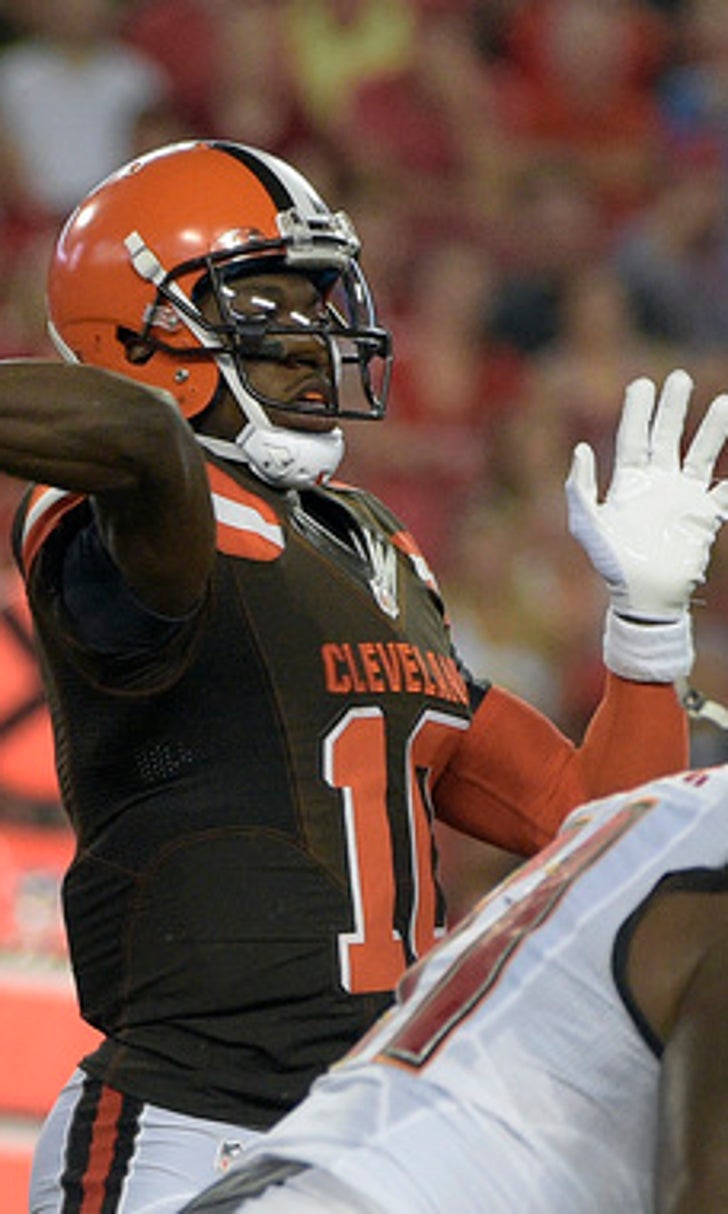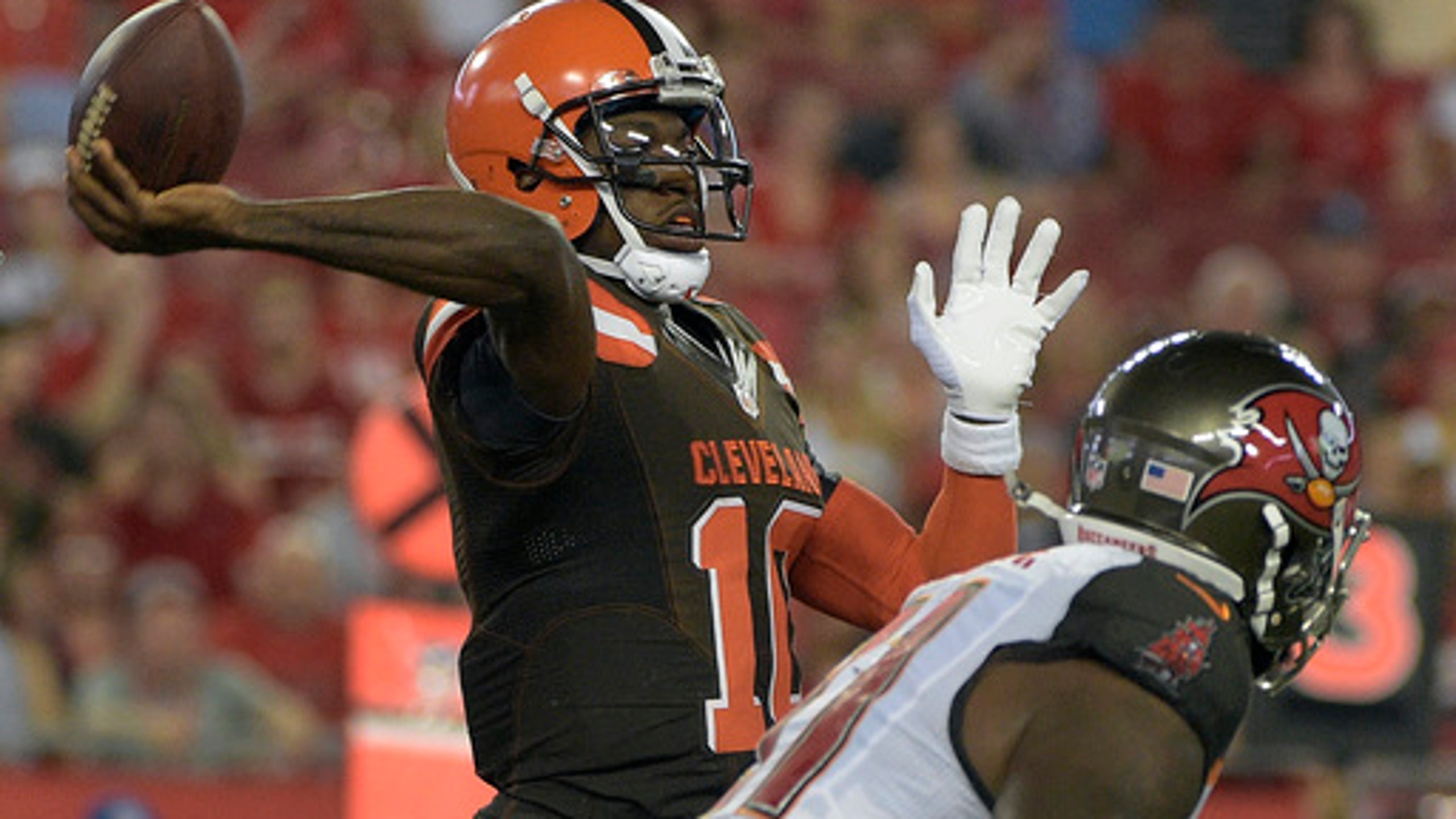 Browns coach Jackson doesn't think 'sky' falling on team
BY foxsports • August 27, 2016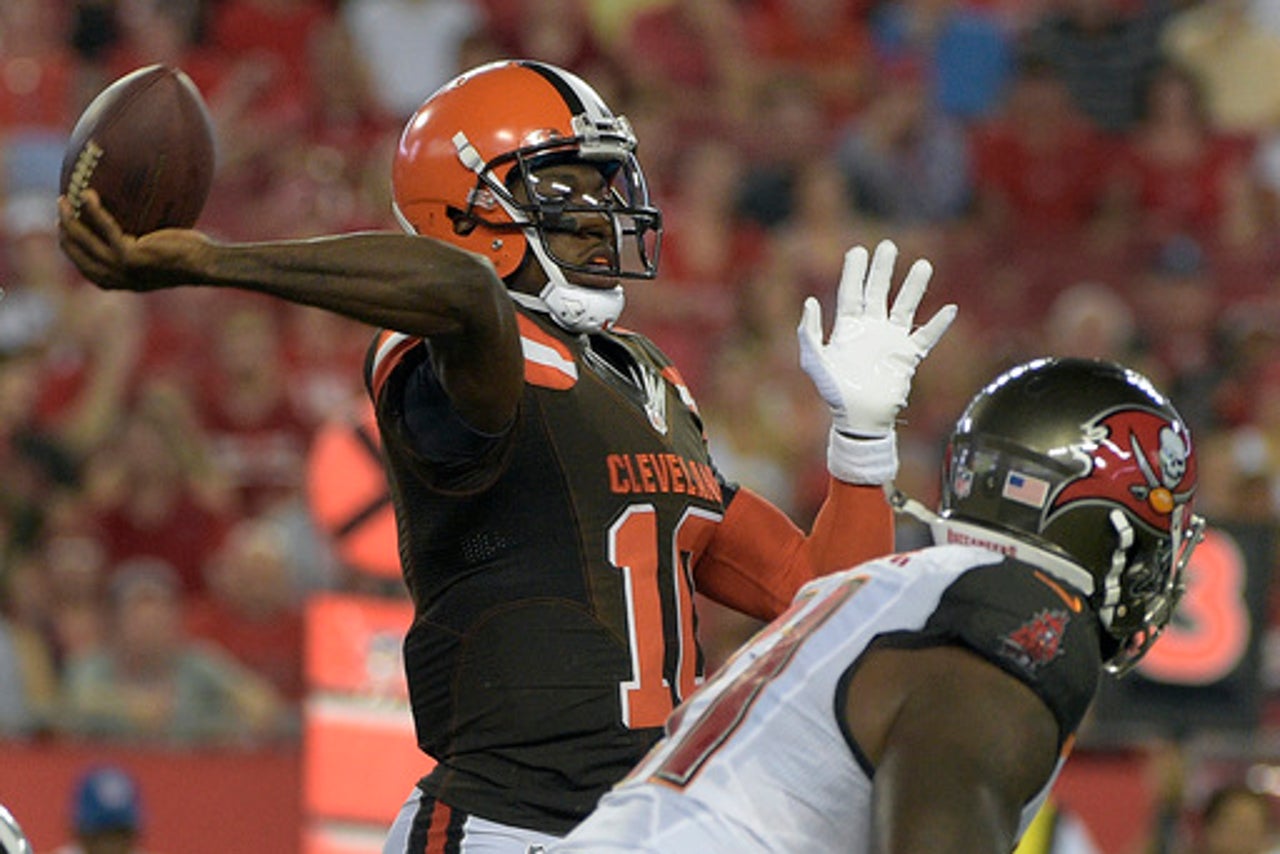 CLEVELAND (AP) Despite the penalties, sacks, missed tackles, dropped passes and everything else that went wrong for the Browns on Friday night in Florida, coach Hue Jackson isn't panicking.
''I don't think the sky is falling at all,'' he said Saturday.
Maybe not, but it's looking dark and ominous.
In what's supposed to be the dress rehearsal for the regular season, Cleveland's starters were overwhelmed by Tampa Bay's in a 30-13 loss.
The Browns were outplayed in all three phases and Jackson acknowledged he's got problems to address before the team's Sept. 11 opener at Philadelphia.
''We've got a lot of work to do,'' Jackson said on a conference call Saturday. ''Last night's game certainly didn't go the way any of us would have liked and there's plenty for us to learn from.''
The clock is ticking for Jackson and his coaching staff to fix the Browns, who have dropped all three exhibitions heading into Thursday's finale at home against Chicago.
The last preseason game is normally a night off for the starters so as not to risk injury before the opener. However, Jackson said he will consider playing his first-teamers against the Bears.
Jackson is most concerned about a defense that was shredded in the first half by Bucs quarterback Jameis Winston, who passed for 259 yards and two touchdowns before halftime.
The Browns showed improvement in stopping the run - Tampa Bay had 76 yards on 32 carries - but the secondary gave up too many easy completions.
''We're certainly not at the point that I desire or the level I want us to be,'' Jackson said. ''We defended the run better, and I think we're a little bit better at tackling. But we had some miscommunication that needs to get cleaned up.''
The Browns rotated defensive linemen, but were unable to record a sack. Also, starting nose tackle Danny Shelton, who is trying to bounce back from a rough rookie season, didn't get on the field until midway through the first quarter as the Browns were mostly in their nickel package.
Jackson said he's done mixing and matching on the defensive front and believes it's time to settle on a group and let them grow.
''It's so important that those guys play together, be together, be able to make calls,'' he said. ''When we're talking about communication issues, that's where some of that comes from.
''You have a lot of young guys maybe playing at a time and they hear something and don't react very quickly. It's about time we put units together and let them play and get these guys ready for the opener.''
Despite being sacked five times, quarterback Robert Griffin III moved Cleveland's offense and provided a glimpse of hope by hooking up on two long completions with wide receiver Josh Gordon, playing for the first time since the end of the 2014 season.
Griffin went 8 of 14 for 119 yards and threw a 43-yard TD to Gordon, his former teammate at Baylor.
''He did some really good things under duress obviously,'' Jackson said of RG3. ''Obviously, he continues to find ways to make plays down the field, and he's putting the ball in the right spots and putting his eyes in the right spots. He took some hits last night that were unfortunate.
''We always want to do a better job of protecting our quarterback. He stood in there, kept his poise and made some plays. But I just think he'd be the first to tell you as a unit, we've got to play better, and it's just not him.''
Jackson was pleased with running back Isaiah Crowell, but needs more players to step up.
''I love the big plays, but I feel like we can't be a team that just relies on big plays offensively,'' Jackson said. ''We need to sustain drives and that gets back to running the football.''
Jackson insists there's time to work out the kinks with his young team, but he knows there might not be enough to fix them all.
''I never said we were going to be a juggernaut today or yesterday,'' he said. ''We're going to keep working at this thing, and when the games start being played here in a couple weeks, that's when we've got to be at our best."
NOTES: Jackson said CB Justin Gilbert (concussion) and WR Marlon Moore (hip pointer) were the only significant injuries. ... RT Austin Pasztor was called for two holding calls, but Jackson said there are no plans to replace him.
---
AP NFL website: www.pro32.ap.org and http://twitter.com/AP-NFL
---
---