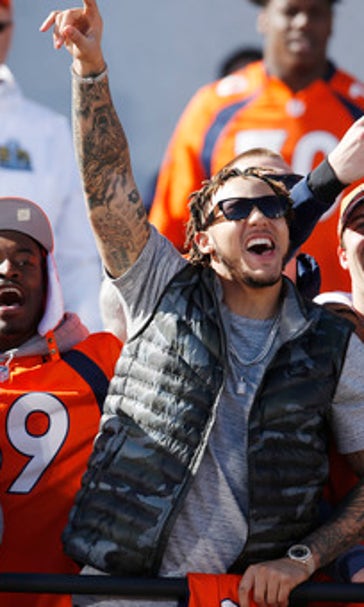 Broncos linebacker Shane Ray bulks up for 2nd season
May 11, 2016

ENGLEWOOD, Colo. (AP) Shane Ray found a way to get under the skin of Denver fans: A tattoo that features the skyline of his hometown Kansas City, accompanied by the logo of the rival Chiefs.
Nothing personal, the Broncos linebacker insisted. It's just a little ink to honor where he came from.
On the field, his loyalty of course lies with Denver. That's why he only took a week off after the Super Bowl before returning to his workout program. He even overhauled his diet and cut out fast food to get leaner as well as quicker.
Still, Ray caught some flak for that art work across his back, which also features the slogan, ''The Town.''
''There are going to be people that are going to like things you do and don't like the things you do,'' said Ray, who went to high school in a suburb of Kansas City and was a 2015 first-round pick out of Missouri. ''I have a lot of pride in my city and things I've been through and come from. I let the Broncos fans know it has nothing to do with how I'm going to play the Chiefs every game.
''I'm going to go out there and play the best I possibly can. I'm a Bronco. I love being here.''
Ray is coming off a solid season in which he predominantly backed up DeMarcus Ware. The highlight moments included sacks of Teddy Bridgewater, Derek Carr, Philip Rivers and Ben Roethlisberger. The frustrating moments included a lingering foot injury from college that hampered his development early on and a knee injury later in the season that sidelined him for two games.
''Coming in, kind of being behind the curve and realizing what I did in college was not going to transfer to the league as easily as I thought it would,'' Ray said. ''At this level, you have guys that are very smart in everything they do as far as technique. Your athletic ability can only take you so far. That was a big thing for me, understanding that my athletic ability would take me this far, but I had to find another piece, another key.''
That's why he dedicated the offseason to getting stronger. In the middle of last season, he checked in at 234 pounds and 10 percent body fat. This spring, he's closer to 245 and still at 10 percent body fat.
His expectations haven't changed, though - wreak havoc on QBs.
''I set the bar high for myself last year and the bar hasn't changed,'' said Ray, who's eating leaner meals and staying away from sugar. ''I still want to dominate and be the best I can be for this team.''
Ray was taken under the wings of Von Miller and Ware last season, soaking up all their advice. He wasn't afraid to ask questions, either, and then put their responses to good use on a dominating defense.
His primary role was simple: Rush the passer. This season, he feels confident enough to drop back into coverage if necessary.
''I'm more relaxed and comfortable because I know where I'm supposed to be and how I'm supposed to play the technique,'' Ray said.
Recently, Ray had a chat with rookie quarterback Paxton Lynch about the pressure of being a first-round pick. His biggest suggestion was keep things simple and listen to veteran QB Mark Sanchez.
''In this program, in this organization, when you're a first-round pick, I think across the board everybody has huge expectations in you to contribute,'' Ray said. ''That's something where last year I felt a lot of heat. I had to learn to tune everything out and focus on being the best player I could be.''
Ray and fellow linebacker Shaquil Barrett may see increased playing time this season to keep Ware - who turns 34 on July 31 - from wearing down.
''The expectation for us as young guys is to step up, do what we're supposed to do and help lead this team,'' Ray said. ''I feel as big, fast and as explosive as I've ever felt.''
NOTES: After the Super Bowl, Barrett said he went on a Caribbean cruise. ... CB Chris Harris Jr. represented the team as the Colorado House of Representatives paid tribute to the Super Bowl-winning Broncos on Wednesday at the state capitol. ... Denver recently claimed fullback Toben Opurum off waivers from the New Orleans Saints and waived rookie tight end Anthony Norris.
---
AP NFL website: www.pro32.ap.org and http://twitter.com/AP-NFL
---
---