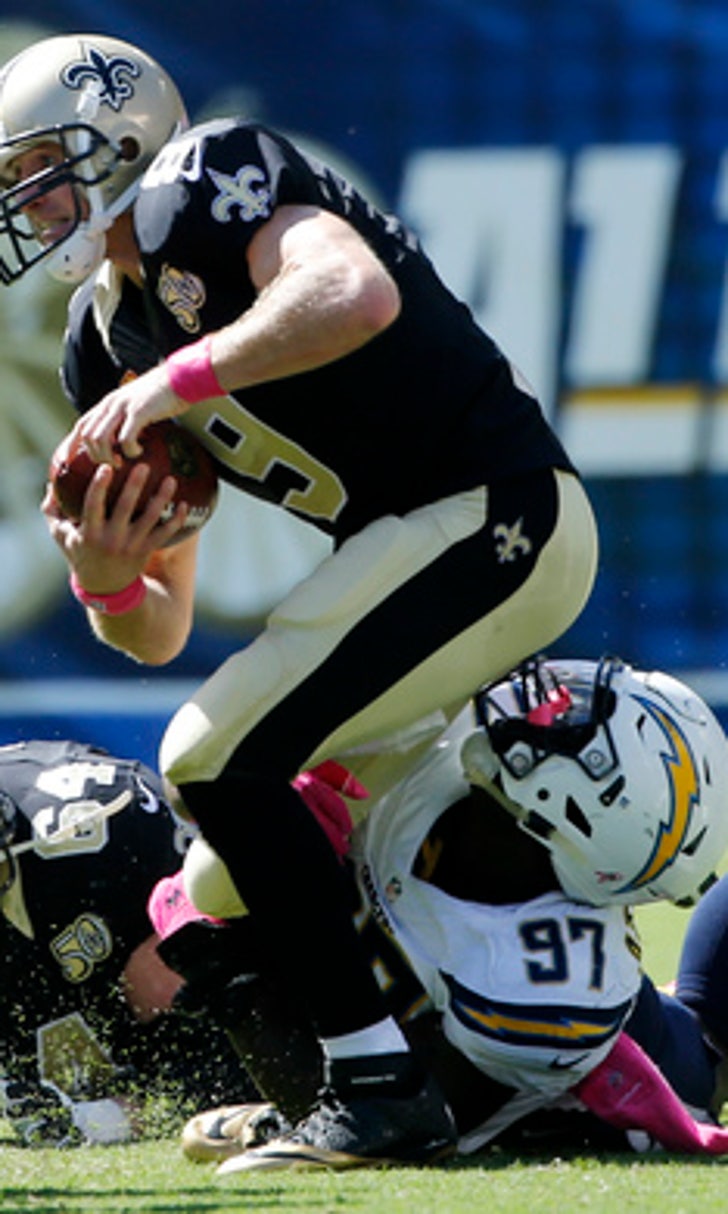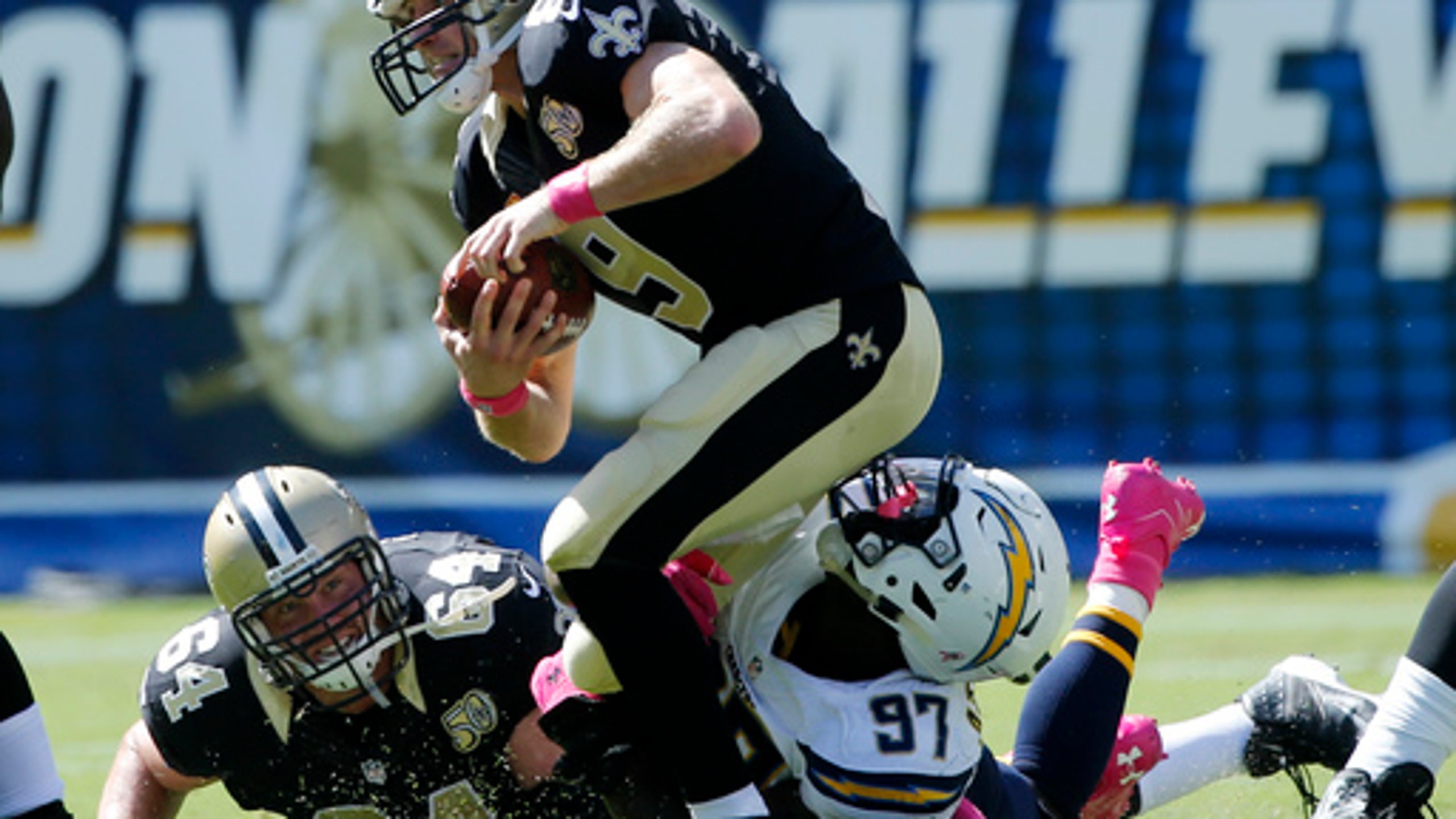 Brees, Saints head into bye after stunning Chargers 35-34
BY foxsports • October 2, 2016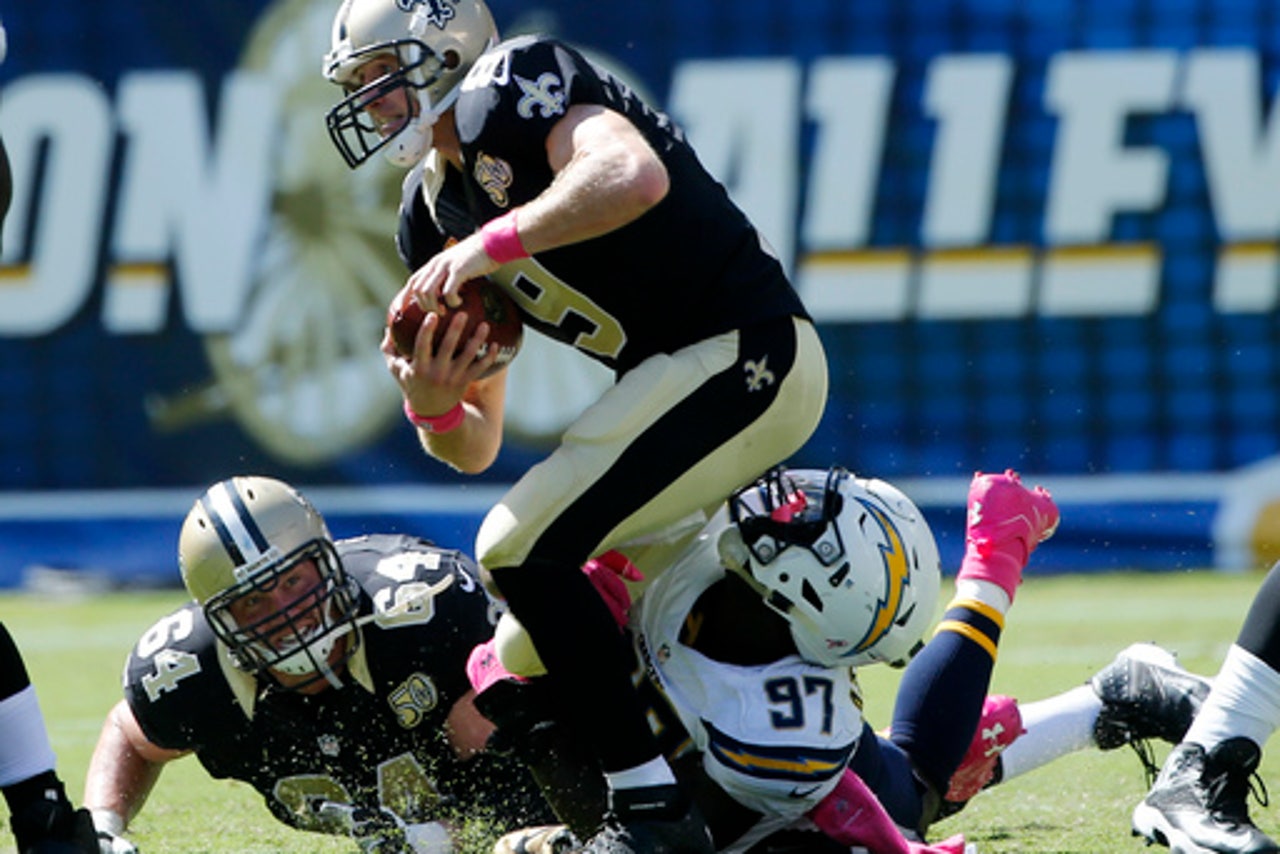 SAN DIEGO (AP) Drew Brees and the New Orleans Saints go into their bye week with their first win of the season, a crazy comeback against Philip Rivers and the San Diego Chargers.
Brees and the Saints rallied with two touchdowns in the final 4 minutes, 50 seconds for a stunning 35-34 victory after the Chargers blew a 13-point lead by committing two crucial turnovers.
''A collective effort,'' said Brees, who spent his first five NFL seasons with the Chargers before suffering a shoulder injury and being allowed to leave as a free agent. ''We all felt we were meant to win this game no matter what had happened up to that point. Players made plays on both sides of the ball.''
With the Chargers trying to protect a 34-21 lead, Melvin Gordon fumbled and Darryl Tapp recovered at the San Diego 13, setting up Brees' 5-yard TD pass to Michael Thomas on fourth-and-2 to pull to 34-28 with 4:50 to go.
Travis Benjamin then fumbled after a reception and Nate Stupar recovered at the San Diego 31. Seven plays later, fullback John Kuhn scored his third TD of the game, on a 1-yard run. The PAT made it 35-34.
Rivers, who was Brees' understudy for his first two NFL seasons, was intercepted by B.W. Webb with 1:10 to go.
It was the first win for the Saints (1-3).
It was the third time this season the Chargers (1-3) blew a late lead.
Here are some takeaways from the Saints' big win:
BYE TIME: ''It's a good way to go into the bye week feeling good about it,'' Stupar said. ''instead of 0-4 it's 1-3. We've just got to build from this, watch the film to get better and continue to use this moment to carry on throughout the bye week.''
REFLECTION: When the Saints came to Qualcomm Stadium to stretch their legs after a long flight Saturday, Brees walked to the spot in the west end zone where he suffered a career-changing injury on the last day of 2005, and said a prayer.
''It was a great time of reflecting, of just how far I've come and our team has come,'' Brees said.
It was the first time Brees played at Qualcomm Stadium since Dec. 31, 2005, when he injured his throwing shoulder in his final appearance as Chargers quarterback. He had surgery and was allowed to leave as a free agent, signing with New Orleans.
That gave the starting job to Rivers.
''That last game in San Diego, I thought my career might have been over,'' Brees said. ''As I walked off the field, I thought it might be the last game I would ever play.''
COOL BREES: After the final gun, Brees ran over to the stands and traded high-fives with jubilant Saints fans. After showering and doing postgame interviews, he came back out on the field with several family members and friends. He said his kids have seen the highlight tape from his excellent 2004 season so many times that he wanted to let them recreate some plays on the field.
WHITE HOT: Chargers coach Mike McCoy was furious after watching the meltdown. ''That performance in the second half is flat-out unacceptable,'' McCoy said. ''From the very opening kickoff return all the way to the very end. You cannot turn the ball over at critical times when you are trying to put the game away. Two times in a row. We absolutely gave this one away.''
So what next? ''I know one way and that is to come in tomorrow and work my (rear end) off and get this team ready to go to Oakland,'' McCoy said. ''I don't worry about any of that. I'm coaching this football team the way I know how to do it and we are going to grind.''
NO LEAD IS SAFE: The Chargers seemed to have it in control after Rivers directed a 14-play, 74-yard scoring drive capped by Gordon's second 1-yard scoring run of the game to give the Chargers a 31-21 lead with 12:15 to play. Rivers kept the drive alive with a pinpoint, 16-yard completion to Tyrell Williams to the New Orleans 7-yard line.
Josh Lambo kicked a 47-yard field goal with 8:39 left to make it 34-21.
Rivers said the Chargers still believe in McCoy.
''You look up and I don't know anything in the last six minutes that he could have done differently,'' Rivers said. ''Yeah, we still believe. ... Out of all games played so far this year, I feel as players we should have won them all. But we sit here and we've only won one of them.''
---
Online: http://pro32.ap.org/poll and http://twitter.com/AP-NFL
---
---