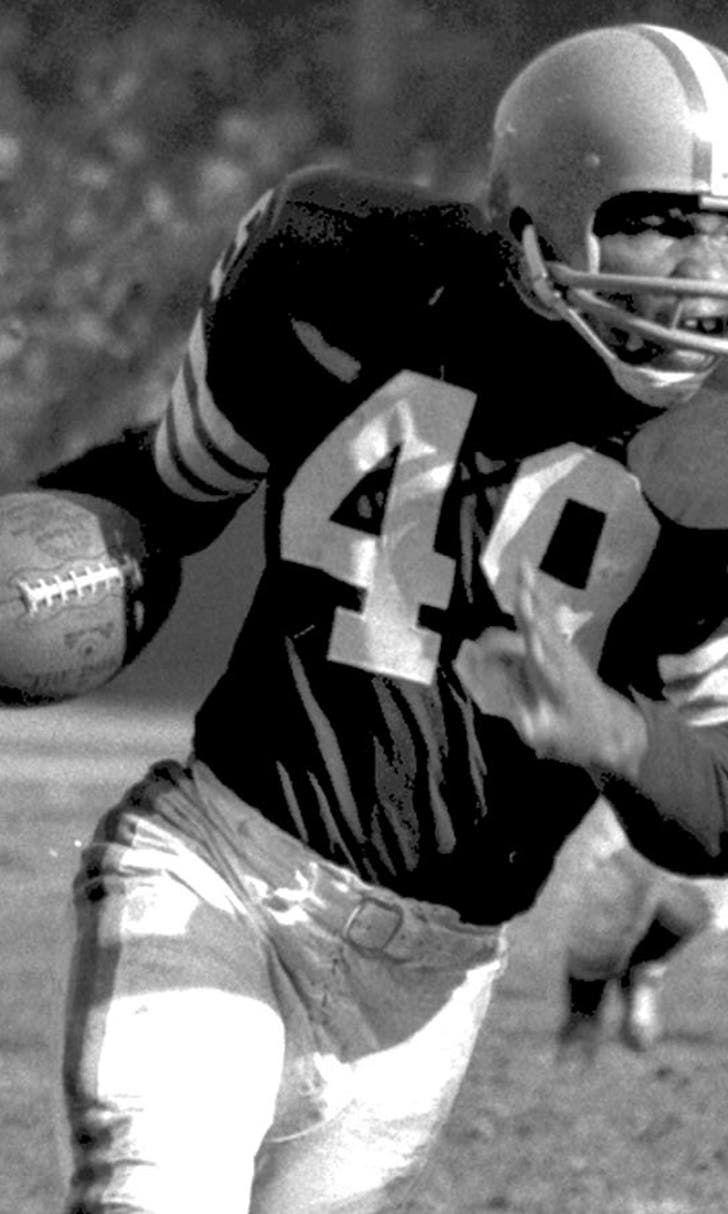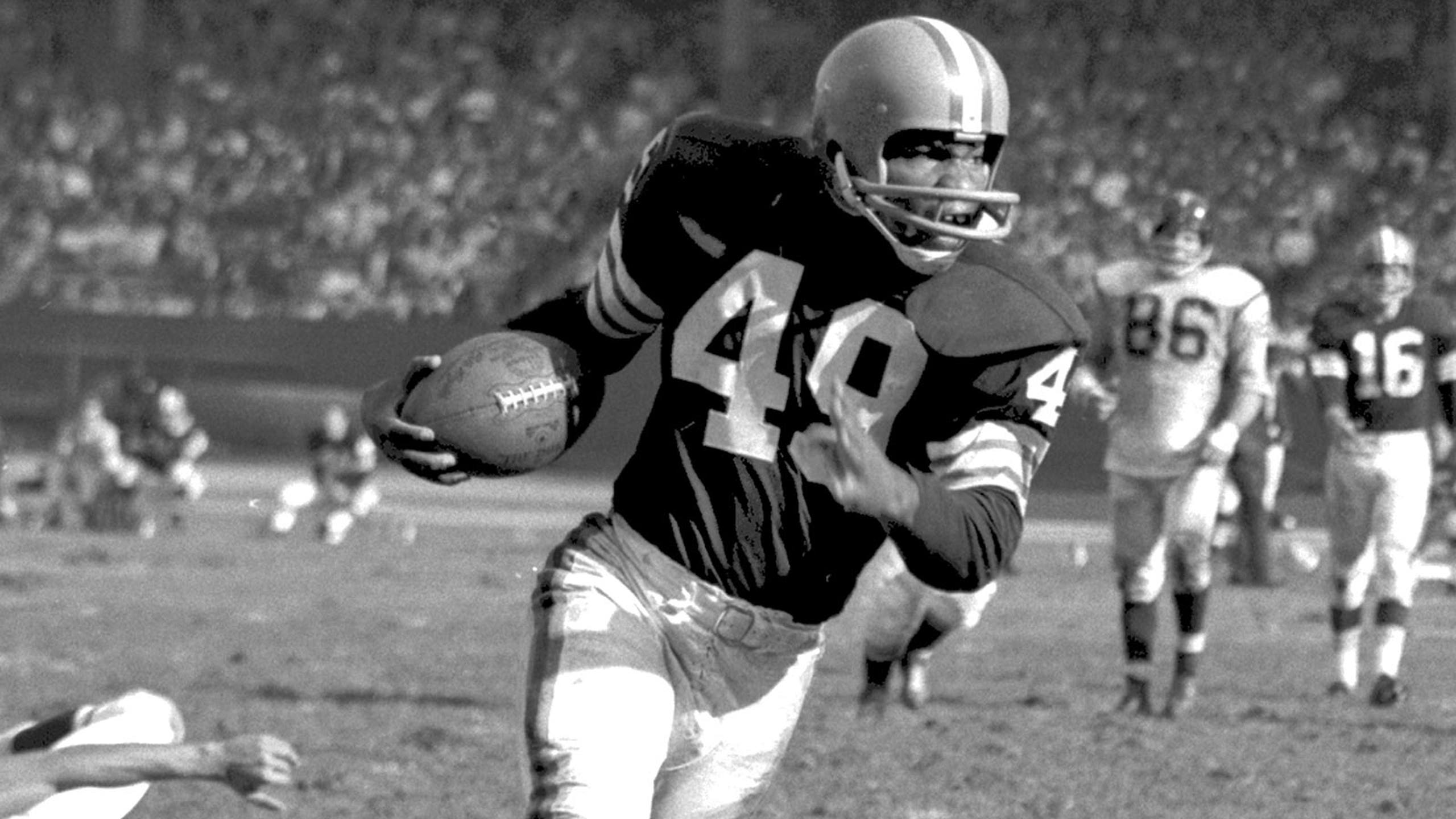 Bobby Mitchell provided leadership on and off the field in Washington
BY Sam Gardner • February 26, 2014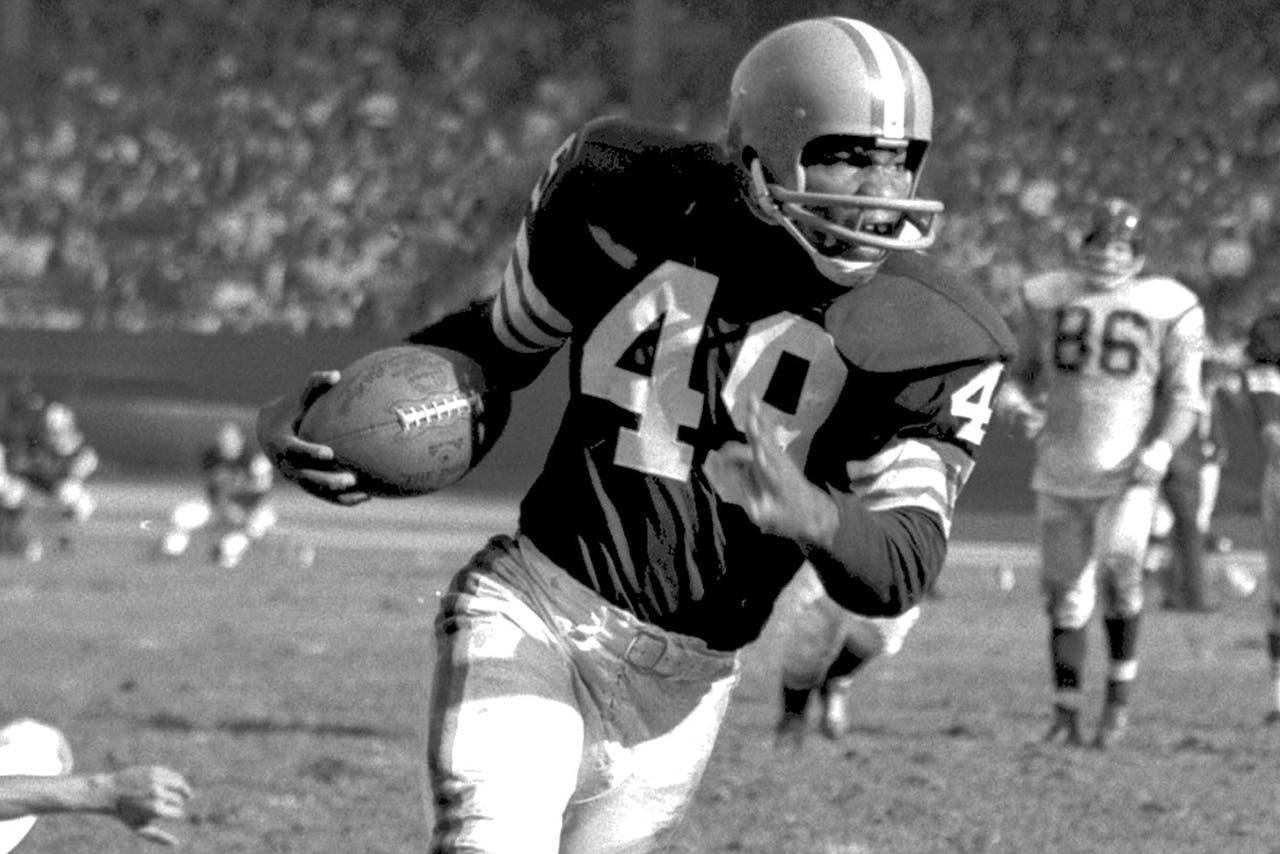 In 1946, the Los Angeles Rams became the first team to integrate the NFL when they signed Kenny Washington and Woody Strode — both teammates of Jackie Robinson's at UCLA — to contracts. By 1952, every team in the league but one had a black player on its roster.
That lone holdout was the Washington Redskins, and the Redskins' failure to integrate was tied almost directly to the intolerance displayed by obstinate owner George Preston Marshall  — a man who once famously said his team would "start signing Negroes when the Harlem Globetrotters start signing whites."
(As legendary Washington Post columnist Shirley Povich wrote: Marshall "was widely considered (1) one of pro football's greatest innovators and (2) its leading bigot.")
In hindsight, it's tough to say when the Redskins would have integrated their roster had it not been for the involvement of the U.S. government, which threatened to deny the team use of its home stadium — which was built on ground owned by the Interior Department — if it continued to ban black players from the roster.
But one thing is certain: The team couldn't have picked a better player to lead the charge than Bobby Mitchell, who was traded from Cleveland to Washington in December 1961 in exchange for Ernie Davis, after Davis said he wouldn't play for "that S.O.B." Marshall.
Nine months after the swap, Mitchell, Leroy Jackson and John Nisby helped break the NFL's only remaining color barrier — doing so with little fanfare, as far as the rest of the Redskins roster was concerned.
"I can recall Bobby coming in and practicing and the first year that he was with us, he fit right in," said Don Bosseler, who played fullback for the Redskins from 1957 to 1964. "Bobby is intelligent and he had all kinds of ability, obviously. … We had no problems whatsoever."
Of course, it's tough to have problems when you prove your value as quickly as Mitchell did.
In his first game with the Redskins, Mitchell caught six passes for 135 yards and two touchdowns and had a 92-yard kick return for a touchdown in a 35-35 tie with the Dallas Cowboys. In his first home game at D.C. Stadium, Mitchell had seven catches for 147 yards and two more scores against the St. Louis Cardinals.
Mitchell joined the Redskins with one Pro Bowl selection already under his belt from his days with the Browns, despite playing behind Jim Brown at halfback. And he was a first-team All-Pro selection in his debut season in Washington, as he led the NFL in receiving yards, with 1,384 — then led the league again in 1963, with 1,436.
In 1964, alongside new Redskins quarterback Sonny Jurgensen, Mitchell had an NFL-best 10 receiving touchdowns.
"He was a go-to guy receiver," said Jurgensen, who spent 11 seasons in Washington, including five alongside Mitchell. "He was exceptional because you just had to get the ball in his hands and he was capable of going all the way. … He and Charley Taylor gave me two good wideouts, and even if (defenses) tried to take one of them away from you, they weren't going to keep the other one down."
In addition to his exceptional play on the field, and perhaps more importantly given the Redskins' hesitance to hire black players,  Mitchell was also considered a leader and a motivator — if a quiet one — in the locker room.
"Everybody looked up to Bobby, not only because of his ability on the field but as a generally nice guy and somebody they could talk to," Bosseler said. "I learned a lot from Bobby. We'd line up in the backfield together and he was on top of me before I could even move. He had all kinds of ability, and he was a pleasant guy, a really intelligent young man."
Added Jurgensen: "He led by example. He didn't have that fake bravado. He just led with the way he played on the field."
After his playing career ended in 1968, Mitchell joined the Redskins as a scout under then-coach Vince Lombardi. He would go on to spend 35 years in the team's front office, eventually rising to the position of assistant general manager.
Mitchell was rewarded for his accomplishments with an induction into the Pro Football Hall of Fame in 1983, and though the issue of integration in football is long behind us, he is still remembered, even today, for the class with which he handled a difficult and divisive situation in Washington.
"Quite honestly, I never even gave it a thought at the time," Bosseler said of Mitchell breaking the Redskins' color barrier. "There was a lot of talk and chatter and so on, but I didn't think anything of it. All I thought was, 'Gee whiz, he's got all kinds of ability. I'd wish I had five of him if I was the coach.'"
---
---