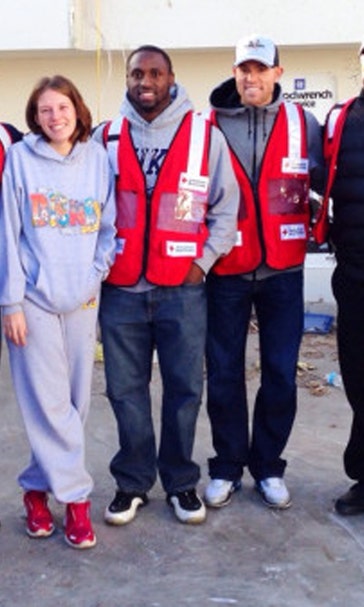 Bears work overtime volunteering for tornado relief effort
November 20, 2013

The Chicago Bears are working overtime this week for a good cause.
On Sunday, dozens of tornadoes ripped through Illinois, destroying hundreds of homes and devastating communities. While the destruction occurred throughout the Midwest, the storms hit scarily close to home and some of the Monsters of the Midway are lending a hand in the recovery efforts.
Bears players Robbie Gould, Zack Bowman, Blake Costanzo and Sherrick McManis along with former players Anthony Adams and Rashied Davis traveled to Coal City, a southwest suburb of Chicago, to join American Red Cross volunteers serving meals and distributing supplies at a fundraiser from 11 a.m. to 2 p.m. at United Methodist Church.
Coal City was one of the areas that was hit hardest by the storms, totaling more than 100 destroyed homes in the community.
"€œIt's great to be down here to help out. I mean, it really is," Gould said. "I mean, you have Bears fans down here that help support our careers and are very supportive for us. So, for today, we'€™re not worried about football. We're not worried about a game. We're not worried about game planning. We're really focused on trying to help the community out."
Gould also hosted a charity event on Monday night and announced that he would be donating some of the proceeds to the American Red Cross.
Check out the Bears giving back in the photos below.
---
---