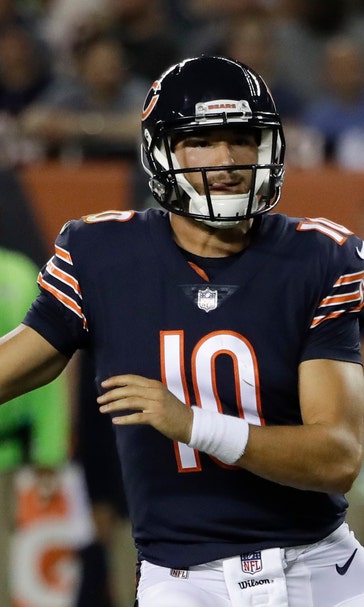 Bears face punchless Cardinals, look to improve to 2-1
September 20, 2018
GLENDALE, Ariz. (AP) — Now the 2018 Chicago Bears will find out how they handle success.
After a close loss to Green Bay, the Bears got a nice win over Seattle. Now they face an Arizona team that's been outscored 58-6 in the Cardinals' first 0-2 start since 2005.
It's a game Chicago is supposed to win, maybe even dominate.
"Just like last week when it was coming off a difficult loss, now the team is feeling good in the fact that we got a win," s first-year coach Matt Nagy said. "Sometimes when you have that, with bad teams, complacency sinks in. That's not what we want. We want our guys to continue to stay hungry, to realize how important it is to stack wins on top of each other."
Arizona, under first-year coach Steve Wilks, is at the bottom of the league offensively and near the bottom defensively.
To try to boost an offense that got past midfield once — on the next-to-last play of the game — in last week's 34-0 drubbing by the Rams in Los Angeles, Wilks and offensive coordinator Mike McCoy say they've scaled down the game plan, simplified things. They also say they want to get the ball to David Johnson more often.
While Chicago quarterback Mitchell Trubisky has been inconsistent, Arizona's Sam Bradford has been mostly bad, struggling with his accuracy, usually a strength in his game.
"Sam is known to be able to put the ball where it needs to be," Wilks said. "Regardless of why, we need to try to make sure we correct that moving forward. Is it the line? Is it just him? Is it the receivers? Again, everybody has a hand in it. Everybody's working on their craft, trying to correct it."
Here are some things to consider when the Bears visit Arizona.
MACK'S IMPACT
Now Bradford, Johnson and the rest of the beleaguered offense must deal with Khalil Mack, who has two strip sacks and returned an interception for a touchdown in his two games since joining the Bears.
"You just turn the film on, you can see it," Wilks said. "He's doing some great things: a sack/fumble, interceptions for touchdowns, you name it. So, you've got to make sure you try to slow him down, neutralize him a little bit. I don't know if you can stop him, but we're going to do a great job of trying to create some things and hopefully we can try to slow him down a little bit."
UP-AND-DOWN TRUBISKY
Trubisky has had some great moments and some that weren't so great. He completed 25 of 34 passes for 200 yards and two touchdowns against the Seahawks, but had two intercepted.
Trubisky said it's a matter of making progress.
"I'm just trying to enjoy every single day you have to come out, practice and play with your teammates, develop great relationships and just continue to get better and better," he said, "and when things go wrong, you just go back that it's part of the process. There is going be ups and downs. You've got to celebrate the small victories. There is going to progress along the way, but there is also going to be setbacks. It's all about just staying positive and keeping your head down and staying on track."
CARDINALS QB
While Wilks is sticking with Bradford at quarterback, Arizona's supposed franchise quarterback of the future is waiting in the wings.
Arizona moved up in the draft to pick Josh Rosen at No. 10 overall with the idea he'd learn by watching Bradford this season. But the Cardinals' offensive woes could wipe out that timeline.
"Sam, right now, is the quarterback, as I've stated before," Wilks said. "I don't think it's just the quarterback position. I think we have some issues across the board in all three phases, and we're working on those issues. I think we've done a great job of trying to correct those issues, starting with trying to simplify things with the game plan, allowing guys to play fast."
BOOED AT HOME
To try to motivate his team, Wilks played audio of the home crowd booing the Cardinals in their opener. Cornerback Patrick Peterson called the booing "an embarrassment." Wide receiver Larry Fitzgerald seemed to think they were understandable.
"We can't play any worse than we did the last two weeks," he said. "All you can go is up."
HELP ARRIVES
Arizona should have the services of tight end Jermaine Gresham and defensive end Markus Golden for the first time this season. Both were recovering from significant surgeries, Gresham's to repair a torn Achilles tendon, Golden a torn ACL.
Both would be significant contributors if healthy.
---
---