New England Patriots
New England Patriots
Are you ready for some better football? Hopefully in Houston
Updated
Mar. 4, 2020 5:27 p.m. ET

FOXBOROUGH, Mass. (AP) There's this football game planned for Feb. 5 in Houston. Let's hope it turns out much better than most of the postseason matchups the NFL has provided this year.
To say Sunday's championship games were duds is being kind. Blame the two losing teams, the Packers and Steelers, who were so helpless that they looked like they should have been done playing last month. All credit to the Patriots and Falcons, of course, who could give fans an all-time great shootout in two weeks.
But don't count on it considering how eight of the 10 playoff contests were, well, no contest.
Wild-card weekend was everything except wild. Routs galore. Inept performances by the undermanned Raiders and Dolphins, inconsistent Giants, and they-don't-belong-there Lions.
It didn't improve any with the mismatches on the first day of the divisional round: Houston had no business being on the same field as New England, and only the Patriots' sloppiness kept that game relatively close for a while. Atlanta passed Seattle dizzy and cruised.
The respite from such lopsided and at times barely watchable matches came the next day with a classic Packers-Cowboys game. It was worth waiting for from beginning to end - the kind of product that entrances everyone - and was followed by a tight Steelers-Chiefs game that seemed to bode well for the conference finals.
Then, deflation.
Sure, it was sweet for the folks in Georgia and New England, and they deserve to celebrate. The Patriots (16-2) are seeking even more history, including Tom Brady going for a record fifth Super Bowl crown by a quarterback. The Falcons (13-5) are an exciting offensive machine with an improving defense and a coach likely to entertain in Dan Quinn.
Oddsmakers expect a close one, too, making the Patriots merely a 3-point favorite.
''It's an honor to get to go and play in this game,'' Patriots receiver Julian Edelman said Sunday night. ''This is what you fight for. This is what you train for. This is what you get hurt for. This is what you get yelled at for, and prepare for, and go through the ebbs and flows of a season.''
Unfortunately, the NFL this month has seen far too many ebbs. The conference championships punctuated that, which was surprising because the Steelers and, in particular, the Packers had performed so well in their previous two outings.
Maybe that was a big part of the letdown Sunday. Green Bay and Pittsburgh made so many mistakes almost from the outset that they never gave themselves a chance to reach Houston. Perhaps they simply ran out of steam, while their opponents had a wild-card bye that kept them fresher.
Seemingly much fresher.
''If this has taught us anything, it's how important home-field advantage is,'' Aaron Rodgers said. ''Being able to sleep in your own bed and practice and not have to travel and have the fan support, it makes a big difference. We've played in three of these now and all on the road. It's tough to win on the road.''
For the Steelers, it's nearly impossible to win in Foxborough, where they are 1-5 since 2002; Brady was injured for the one Pittsburgh victory in 2008.
They might not have won against Boston College with the kind of showing they made this time.
''A lot of guys were feeling good about this game, the game plan and everything else,'' right tackle Marcus Gilbert said. ''Then the whole climate changed, we weren't moving the ball, we weren't converting third downs. Then they scored and we were behind, we tried to play catch-up, and that's when bad things happen. You aren't going to win football games like that.
''There is no next game, so I can't say we need to work on it. It's a disappointing way to end the season.''
Just as, for the most part, it's been a disappointing postseason. Perhaps what the Falcons and Patriots bring to Houston will make folks forget that.
---
For more NFL coverage: http://www.pro32.ap.org and http://www.twitter.com/AP-NFL
---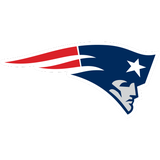 Get more from New England Patriots
Follow your favorites to get information about games, news and more
---