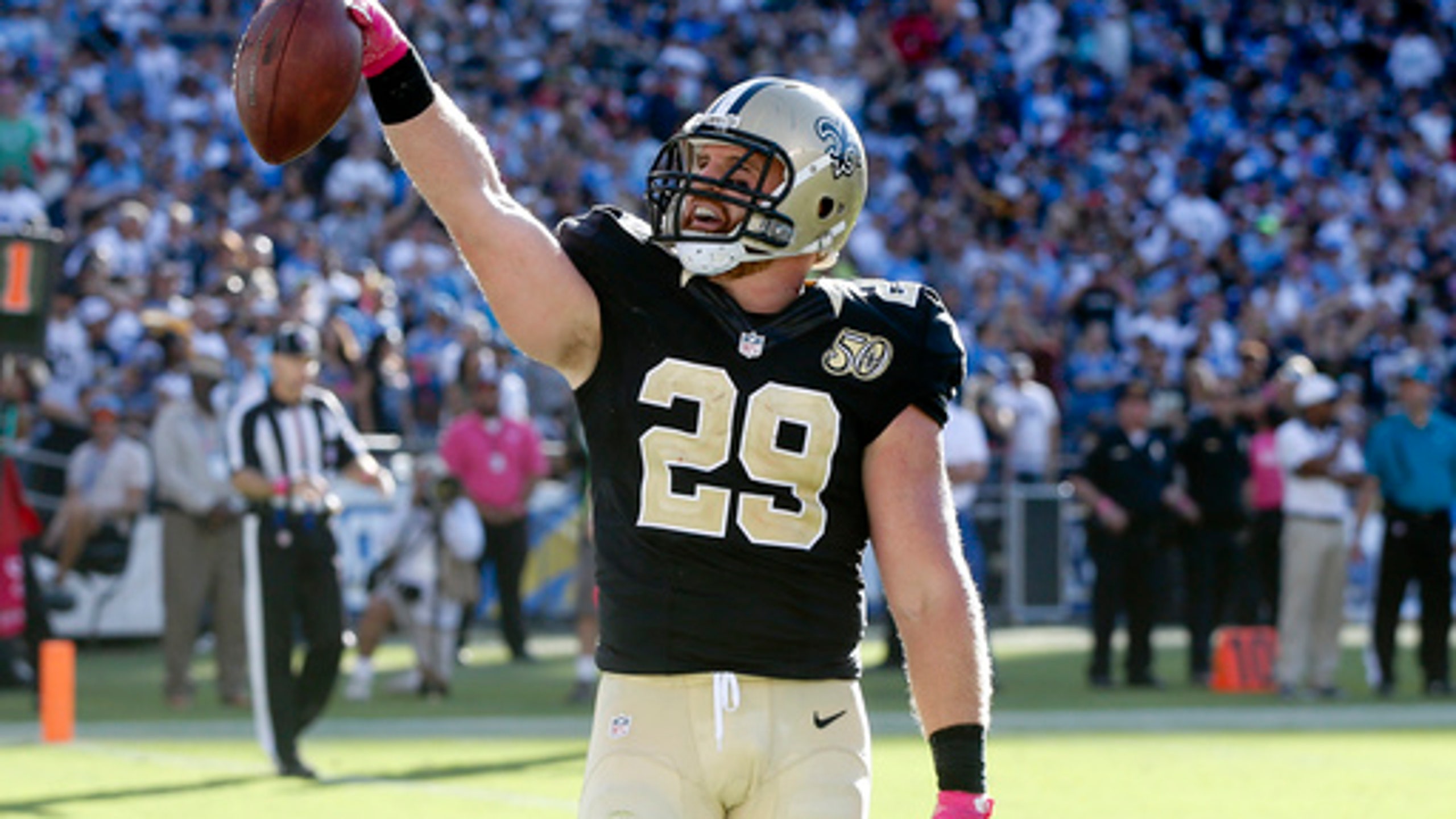 After much-needed breaks, the Saints get to take a break
BY foxsports • October 4, 2016
METAIRIE, La. (AP) Saints fullback John Kuhn plans to stay in New Orleans during his team's Week 5 bye and try to get his first real taste of life in the Big Easy.
That option became a lot more attractive after he scored three touchdowns in the Saints' first victory of the season in San Diego.
''I won't feel like I have to have a hood up at all times,'' said Kuhn, who joined the Saints in August and knows what it's like to mingle with a passionate fan base from his nine seasons with Green Bay.
The Saints might be 0-4 now if not for a trio of Chargers turnovers inside the final seven minutes of New Orleans' 35-34 victory on Sunday . Then again, they were not far off from being 3-1, either.
New Orleans led Oakland in Week 1 until the Raiders scored a touchdown with 47 seconds left, and then added a bold, do-or-die 2-point conversion for a 35-34 victory.
The Saints still had a 61-yard field-goal attempt for the win as time expired, but Wil Lutz's kick narrowly swerved wide left.
In Week 2, the Saints lost to the Giants on a field goal in the final seconds. Only one of New Orleans' losses didn't go down to the wire - a 45-32 setback against Atlanta in Week 3.
So the Saints head into their week off with at least a measure of hope they'll start winning more during the last three quarters of their schedule.
''We had a couple of close games at the beginning of the season that could have swung the other way,'' defensive end Cameron Jordan said. ''When you come out with those wins, it helps build confidence for the young guys and helps mold the team.''
The bye also comes at what appears to be a preferable time for the Saints, who have been riddled with an unusual number of early season injuries to key players.
It is unclear whether starting left tackle Terron Armstead (knee), starting middle linebacker James Laurinaitis (quad), projected starting linebacker Dannell Ellerbe (quad), tight end Josh Hill (ankle) and left guard Senio Kelemete (hamstring) will return from injuries by the time New Orleans next takes the field at Carolina on Oct. 15. Ellerbe, however, appeared close to returning this past week, and another week off certainly helps the other hobbled players.
Meanwhile, players including safety Kenny Vaccaro (ankle) and receiver Willie Snead (toe) just returned from recent injuries on Sunday. They could use more time to heal.
And in just a few more weeks, starting cornerback Delvin Breaux and first-round draft choice Sheldon Rankins, a projected starter at defensive tackle, could be back. Both of them have fractured fibulas.
''We've got a lot of guys that we need to get back healthy, which will make us a lot better team,'' said Vaccaro, adding that he'll be staying in New Orleans this week. ''I've got to get treatment on my ankle; it was really sore (Sunday), so I'll have to get treatment throughout the week.''
On Sunday, the Chargers, who led by 13 before their offensive meltdown, lambasted themselves for giving the game away.
For the Saints, it begged the question: Was their first victory cause for validation, or nothing more than a brief reprieve?
Many Saints players saw it as the latter, because they played hard until the end and capitalized on San Diego mistakes in the clutch.
Even before the Chargers' turnovers, the Saints' defense bowed up in its territory to force a field goal and keep the game a two-possession affair.
Then came the fumbles, one of which was caused by a heavy hit from safety Vonn Bell, while the other just seemed to slip from the grasp of Chargers receiver Travis Benjamin.
''A lot of times with turnovers, it's just capitalizing on the offense's mistakes,'' Vaccaro said. ''If guys aren't running to the ball, we wouldn't have recovered the fumbles.''
Even after the Saints took the lead, the defense, which came in ranked 31st in the NFL, had to stop star quarterback Philip Rivers from driving into field goal range. The Chargers went backward and B.W. Webb's interception of a fourth-down pass sealed it.
''We needed that win and I don't care what form or fashion it came in,'' Vaccaro said.
---
AP NFL website: www.pro32.ap.org and www.twitter.com/AP-NFL
---
---