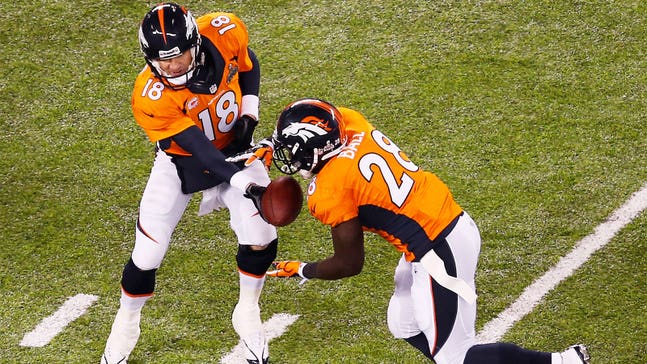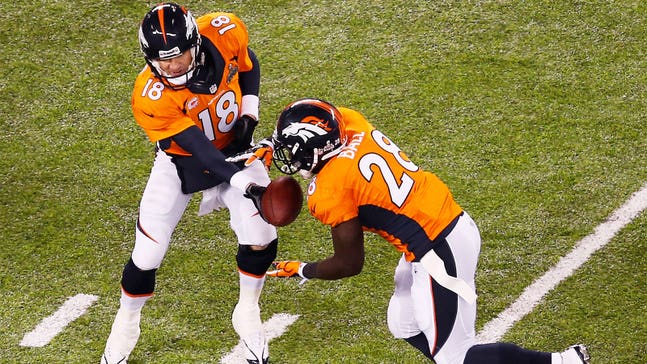 AFC West draft needs: Broncos must find precious balance
Updated
Mar. 4, 2020 4:34 p.m. ET

Denver Broncos
2013 Record: 13-3
Key player departures: CB Champ Bailey, C Chris Kuper, G Wesley Woodyard, LB Robert Ayers, WR Eric Decker, RB Knowshon Moreno, DE Shaun Phillips, CB Dominique Rodgers-Cromartie
Free-agent acquisitions: CB Aqib Talib C, Safety T.J. Ward, DE DeMarcus Ware, WR Emmanuel Sanders, C Will Montgomery C
Positions of need: RB, LB, G
Analysis: Denver is admittedly all-in for a Super Bowl in 2014. John Fox received a new three-year extension, and John Elway was also extended and given more power within the front office. This will be the third year with Peyton Manning at QB and there is no guarantee that there will be a fourth. After setting every major offensive record in 2013, the Broncos entered Super Bowl XLVIII very confident, but Seattle was younger, faster and more prepared, which resulted in a 43-8 drubbing of the aging, one-dimensional Broncos.
Elway won two Super Bowls late in his career in large part because the Broncos were so balanced. The defense has gotten a facelift with the additions of big names like Aqib Talib and DeMarcus Ware in free agency -- and it could add another piece in the draft, such as Ohio State linebacker Ryan Shazier -- but the offense seeks that balance the late-90s teams had. Denver has to find a way to run the ball effectively and replace the production of Knowshon Moreno. That will be the responsibility of Montee Ball and likely someone selected in the upcoming draft (Washington'€™s Bishop Sankey or Arizona'€™s Ka'€™Deem Carey would work). Manning was sacked only 18 times last season -- the lowest among all QBs that played a full season -- and with Kuper retiring, along with the departure of Zane Beadles, offensive line is going to be a focus in the draft. Keep an eye on guards David Yankey (Stanford) and Xavier Su'€™a-Filo (UCLA), as well as center Weston Richburg from Colorado State.
Kansas City Chiefs
2013 Record: 11-5
Key player departures: DE Tyson Jackson, WR Dexter McCluster, OT Branden Albert, S Quintin Demps, LB Akeem Jordan
Free-agent acquisitions: OT Jeff Linkenbach, LB Joe Mays LB, DT Vance Walker, CB Chris Owens, DT Cory Grissom DT
Positions of need: S, CB, WR
Analysis: The Chiefs started the year 9-0 before losing three straight games within the division (two to Denver). They have found their future at QB with Alex Smith, but he needs more weapons around him to get the ball down the field. Andy Reid has always been a coach who favors the short passing game, but coupled with Smith'€™s conservative mentality, the Chiefs need a reason to force the ball into the intermediate and deep zones.
KC had a terrific defense last season, allowing 19 points per game -- good for fifth in the NFL -- but it will have to replace some of its key defenders with young draft picks. In a division like the AFC West it is imperative that the second and third levels of your defense are sound and the Chiefs have to get better in this area. I won'€™t be surprised if they'€™re looking to draft a few defensive backs -- such as cornerbacks Jason Verrett of TCU, Bradley Roby of Ohio State or Terrance Mitchell of Oregon and free safety Calvin Pryor of Louisville -- along with a WR to help Alex Smith and Jamaal Charles. Florida State'€™s Kelvin Benjamin, USC'€™s Marqise Lee and Oregon State'€™s Brandin Cooks could all be WR targets for Kansas City.
San Diego Chargers
2013 Record: 9-7
Key player departures: CB Johnny Patrick, QB Charlie Whitehurst, CB Derek Cox
Free-agent acquisitions: RB Donald Brown, QB Kellen Clemens
Positions of need: CB, DT, WR, OLB
Analysis: Mike McCoy had a tremendous first year in San Diego, capped by a four-game winning streak to make the playoffs and a wild card win at Cincinnati. He has solidified his standing as one of the brightest offensive minds in the NFL after going to the playoffs with Tim Tebow when the former was Denver'€™s OC, coordinating a Peyton Manning offense and now ranking fifth in the NFL in total offense with the Chargers. Phillip Rivers found a tremendous young target in rookie Keenan Allen, and they could use another option to help him out, such as Vanderbilt'€™s Jordan Matthews or Colorado'€™s Paul Richardson.
With Manning in the division, cornerbacks are at a premium and San Diego is no exception. The Chargers had no answer for the Broncos in the divisional round of the playoffs, and as Seattle showed, physicality is needed to stop Denver. The interior of the Chargers'€™ defensive line has to get better, and they must find a way to put more pressure on the QB having sacked the QB only 35 times last season (23rd in the NFL). Defensive tackles Rashede Hageman of Minnesota and Will Sutton of Arizona State could help them in the draft, and San Diego is another team that could be in on Ohio State CB Bradley Roby.
Oakland Raiders
2013 Record: 4-12
Key player departures: RB Rashad Jennings, OT Jared Veldheer, DT Vance Walker, CB Tracy Porter, CB Mike Jenkins, RB Jacoby Ford
Free-agent acquisitions: DE Justin Tuck, LB LaMarr Woodley, CB Tarell Brown, DE Antonio Smith, WR James Jones, OT Donald Penn, G Kevin Boothe, QB Matt Schaub, RB Maurice Jones-Drew, CB Carlos Rogers
Positions of need: WR, CB, OL
Analysis: Oakland had mountains of money to spend in free agency, and that is exactly what it did. The Raiders also solidified their biggest area of need by trading for quarterback Matt Schaub. Darren McFadden returns and they have added MJD, which makes their backfield as good as any in the NFL. They still need help on the outside to assist new addition James Jones, but that should not be hard to find with the fifth pick in the draft, likely Clemson WR Sammy Watkins (unless they opt for a quarterback there, such as Louisville'€™s Teddy Bridgewater).
Dennis Allen has two years left on his deal, which might have saved his job this offseason, but with all of the offseason additions and a deep draft ahead, the Raiders are poised to challenge Kansas City and San Diego for a Wild Card spot in the AFC Playoffs. The Raiders still love speed and skill players, so don'€™t be surprised if they pull the trigger on receiver Dri Archer from Kent State in the back half of the draft. He ran the fastest 40 time at the NFL Scouting Combine since Chris Johnson in 2006. Two other potential draft targets for Oakland: Auburn offensive tackle Greg Robinson and Virginia Tech cornerback Kyle Fuller.
---
---