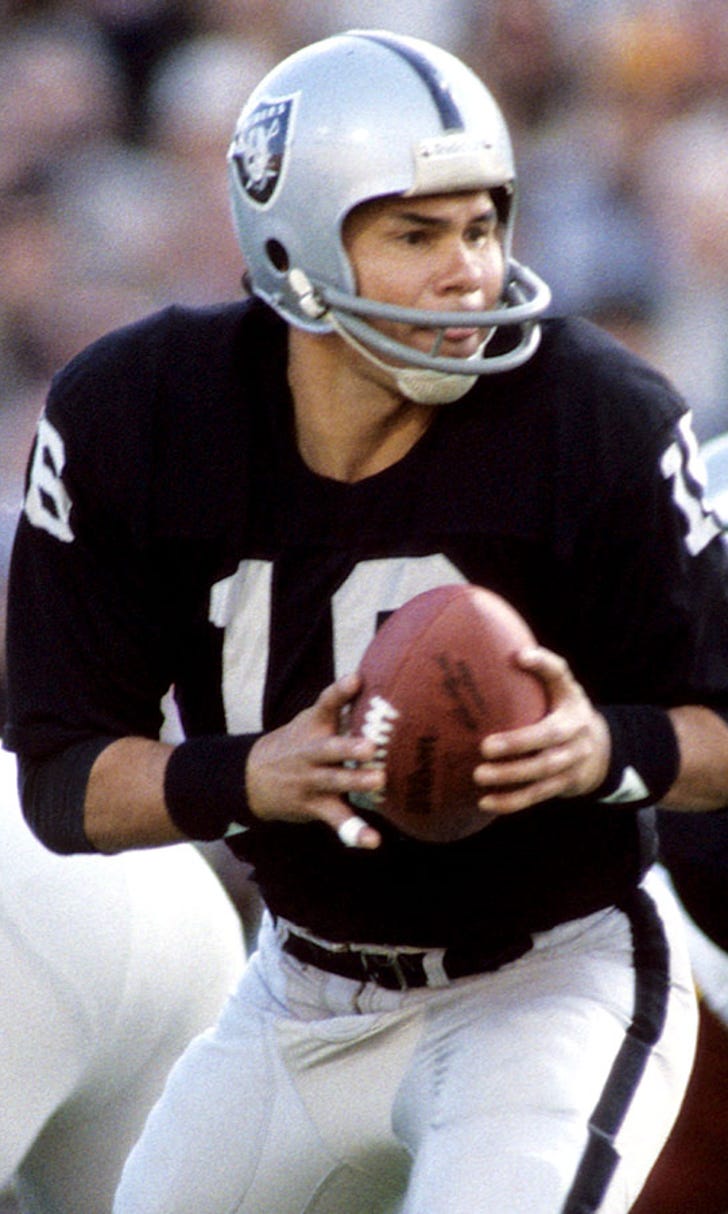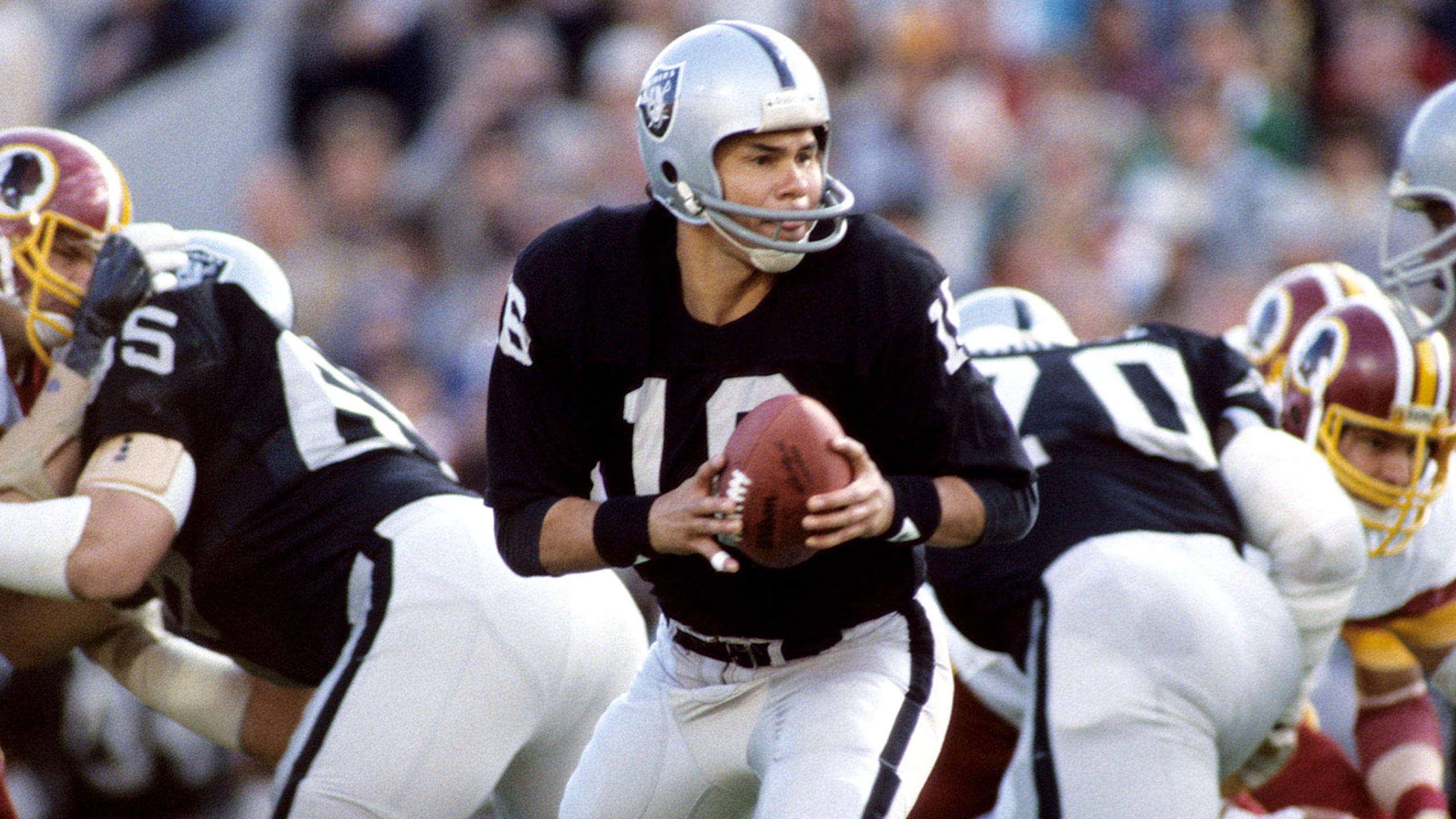 5 for Friday: Jim Plunkett, two-time Super Bowl-winning quarterback
BY Erik Malinowski • August 15, 2014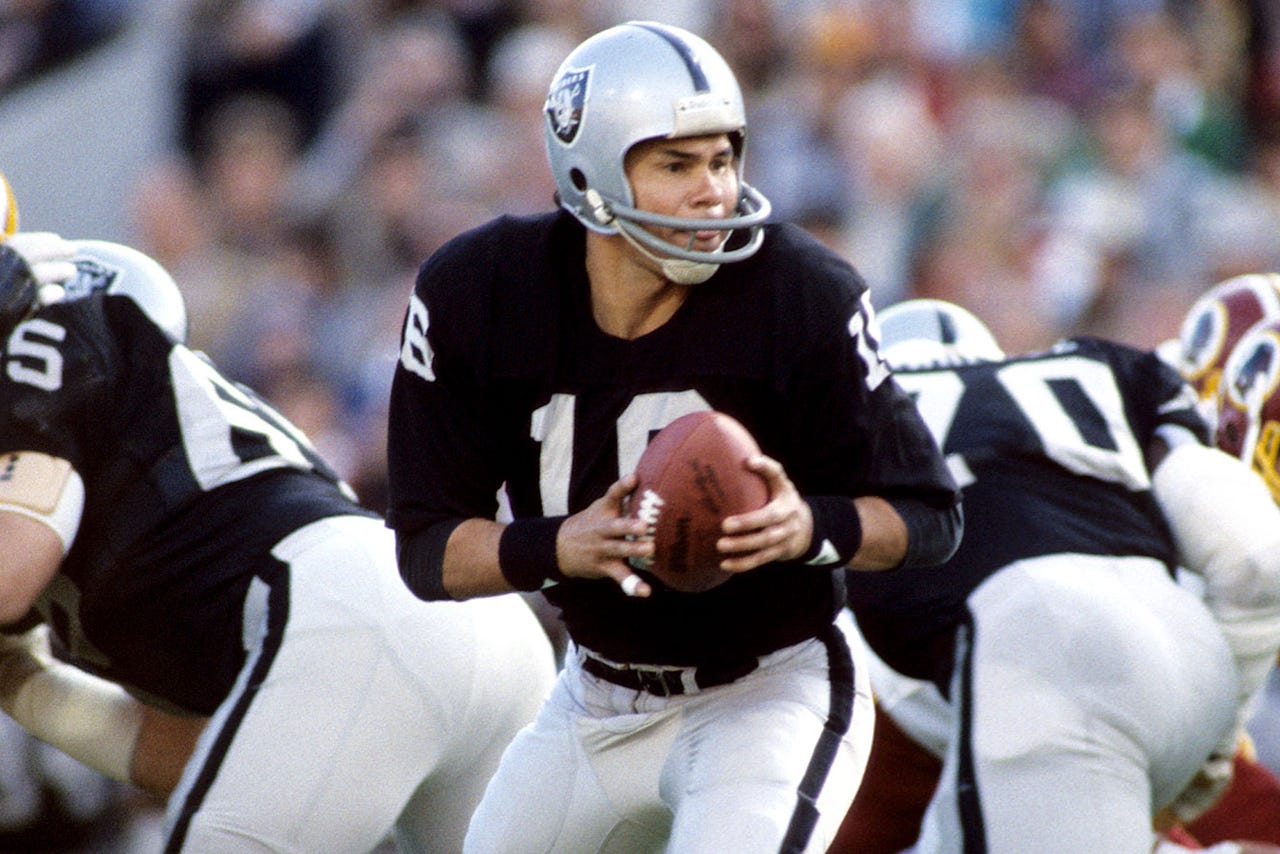 Through 48 Super Bowls, there have been 11 quarterbacks who have won more than one Big Game. Seven are in the Hall of Fame, while three — Eli Manning, Tom Brady and Ben Roethlisberger — are still active.
And then there's Jim Plunkett, a native of San Jose who became a Heisman Trophy-winning star at Stanford in 1970, beating out Notre Dame's Joe Theismann and Ole Miss' Archie Manning for the prize. Drafted No. 1 overall by the New England Patriots in 1971, Plunkett forged a career that was solid if unspectacular, and it looked like he was washed up after two miserable seasons with the San Francisco 49ers ended in 1977. Plunkett, then 31, was signed by owner Al Davis and the Oakland Raiders, who needed a backup for the aging Ken Stabler. Plunkett was No. 3 on the depth chart in 1978 and didn't play a snap. The next season, he threw 15 passes in four games.
Entering 1980, Plunkett was, with Stabler now gone, the clear backup to Dan Pastorini. And when an injury forced Plunkett into the starting role in Week 6, he never relinquished it. The Raiders won their next six games, and Plunkett went on to not only win the NFL's Comeback Player of the Year Award — throwing for 2,299 yards and 18 touchdowns as he went 9-2 as a starter — but also Super Bowl MVP honors, as the Raiders whupped the Eagles, 27-10, in Super Bowl XV. Then, three years later, after the team had moved to Los Angeles, he guided the Raiders to yet another improbable Super Bowl victory, this time at age 36 and after having lost (and again regained) his starting job.
Plunkett retired just before the 1988 season at age 40, and his career, though dotted with some outstanding accomplishments, is likely not enough for Hall of Fame inclusion — he finished with a 72-72 record, 164 touchdown passes and more than 25,000 passing yards — but he has those two rings. And he was also the first starting quarterback of Latino descent — his mother's family was from Mexico — to win a Super Bowl.
To this day, Plunkett -- the subject of this week's 5 for Friday -- is still very much involved with the Oakland Raiders, with whom he often travels and still does a weekly highlights TV show. FOXSports.com spoke with the former Silver-and-Black signal-caller by phone earlier this week from his home in the Bay Area, about his old team's chances of moving elsewhere, what he thinks of another Stanford quarterback-turned-NFL star and whether the league is doing enough to protect players from the never-ending threat of head injuries.
1. MALINOWSKI: You were the original star Stanford QB who went first overall in the NFL draft, but Andrew Luck has certainly made his mark in just two NFL seasons thus far. What do you make of his transition to the pressures of playing in the NFL, and what's the limit for someone with his talent?
PLUNKETT: I think he's just getting better year to year. Hopefully, they continue to surround him with players that can protect him, players that can play defense, give him some explosive people to throw the football to. His abilities are limitless. If he can stay healthy and he has the kind of team around him that helps him do the things that he can do best, he's got a tremendous future ahead of him. 
Now, they may get better and get the ability to win a game 10-3, hopefully, if they have to, and every quarterback needs that somewhere along his career to help him win football games. There's just no question about it. You're just not always going to put up 40 points in a game, and sometimes you need that defense to come through and hopefully they'll be able to do that.
2. MALINOWSKI: As you turned 33, you not only won Comeback Player of the Year but also Super Bowl MVP. That's perhaps one of the most improbable seasons a quarterback has ever had in this league. What was your recognition at the time of what you were accomplishing? Were you able to enjoy it and appreciate it in the moment, or only afterward? (Never mind the fact that you won another Super Bowl three years later at 36.)
PLUNKETT: Well, I had struggled. I was Rookie of the Year in New England, and then we ran into some problems. And then (coach Chuck) Fairbanks came in, wanted me to run the option, and I wasn't exactly looking forward to that, and it was time for me to move on. I came back to San Francisco, a team I wanted to come back to, in the Bay Area, where I grew up. I wanted it to work out in the worst possible way, and for some reason it just did not. We started the first season 6-1, but then we only won two games after that and struggled. And then (general manager) Joe Thomas came in my second year and he was — how should I say? — personally, I think he really tore that franchise apart for a few years and got rid of a lot of players, including myself. But other teams were interested, and my agent would call me and say this team or that team had asked. 
With the Raiders, I just really didn't want to leave the Bay Area again, so I wound up signing with them and it certainly worked out for me. And did I enjoy that year when I got to take over in 1980? Sure I did. Two seasons behind Stabler and then they bring in (Dan) Pastorini, there's no competition for the starting job, and I wasn't exactly happy. But then it worked out for the best. He got injured, unfortunately for him, but fortunately for me and for the team, I think. 
3. MALINOWSKI: You actually got to win a Super Bowl for the Raiders of both Oakland and Los Angeles. There's been a lot of talk on both sides of the debate between the Raiders and the Coliseum Authority. There have even been reports, as there has been for years, that the Raiders may move out of Oakland yet again, perhaps to San Antonio. Let's look at it from both sides: What would it mean to the city of Oakland and the East Bay to lose the Raiders yet again, but also what it would mean for the Raiders to finally get a new stadium in Oakland and move out of O.co Coliseum?
PLUNKETT: No. 1, my feeling has always been that I'd certainly like the Raiders to get a new stadium here in the Bay Area, whether it be Oakland or close by, just like the 49ers. They're not in San Francisco anymore, but they're within reach of most of their fans. And I would like to see that happen for the Raiders.
But if it doesn't happen here — look, they need a new stadium, there's no ifs, ands or buts. They're the second tenant (at O.co Coliseum), so to speak. The A's are the dominant tenant. And if it happens in Los Angeles or elsewhere, then so be it. It's time for a new stadium. Let their fans walk into a beautiful place. I've been in Levi's Stadium. And I travel with the Raiders, so I've seen some gorgeous stadiums all around the country.
There's no reason why the Raiders, with their success in the past, don't deserve one. 
4. MALINOWSKI: Head injuries and brain trauma again look to be a big story this season. As a former player who's been away from playing the game for a while but also stayed close to it, do you think the NFL is doing enough to protect players, and how much responsibility does the NFL bear in that regard?
PLUNKETT: I don't know what more can be done. You can only build the helmets so big; you'll get a neck injury yourself just because it weighs so much. They've changed the game. They've changed the rules. Before, blockers could cut people on kickoffs and punt returns, and you can't do that anymore. A lot of below-the-waist blocking is gone. Same with helmet-to-helmet hits. They try to watch it as much as they can, but it's a violent sport, there's no doubt about it. It's not a contact sport; it's really a collision sport. It's hard to eliminate all those things.
But I think they're doing what they can. I'm sure there's more they can do, and I'm sure they're probably looking into it, one way or the other. But then again, you don't want to change the whole concept of pro football, or football in general, or else people aren't going to come. If they change the way football is played, to a great degree, it won't be the same game. It'll be more like rugby, dragging people down from behind, instead of putting your helmet right there in somebody's gut. And that's what people love to see.
I haven't heard about anybody quitting just for the sake of not wanting to risk injury, but usually they quit because they have had an injury and they don't want to continue their career. But I've just been hit by a friend of mine who played in the NFL for only eight years, but he was mostly special teams, and he's come down with Alzheimer's. It's the saddest thing in the world to see a close friend go through. It's tough.
And they have protocols now — you have to pass this test or else you're not going back in — and in our day that wasn't the case. They'd give you smelling salts on the sideline, and they'd hold up three fingers and if they asked how many fingers they were holding up and you said four, that would be close enough. They'd put you right back in, and that's the way it was.
I never missed more than one play after getting knocked silly on the football field.
5. MALINOWSKI: You're still the only eligible quarterback to have won two Super Bowls and not be elected to the Hall of Fame. Is that something you ever think about, and what would it mean to you to finally earn election one day?
PLUNKETT: Obviously, it would be quite an honor. But my numbers are not like a lot of other players', especially with some of these current players, because it's more of a passing league now than it ever has been. So numbers-wise, not way up there, but probably ahead of some guys. And I got my rings, and I'm very proud of that fact as well. It was a long road and a tough road, and some people thought I was through, and I was fortunate enough to prove them wrong.
You know, if I get in, I get in. If I don't, I can't worry about it.
Even at 33, he probably has no shot at winning his first Super Bowl any time soon, but you can still follow Erik Malinowski on Twitter at @erikmal and email him at erik.malinowski@fox.com.
---
---