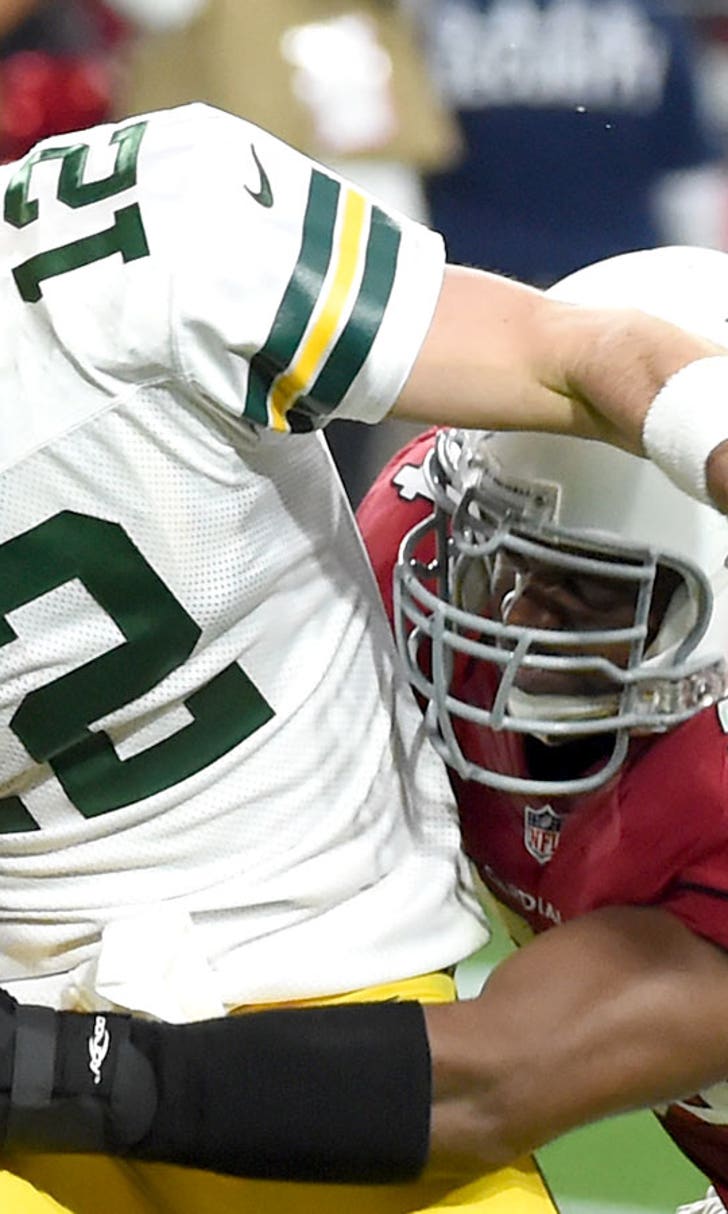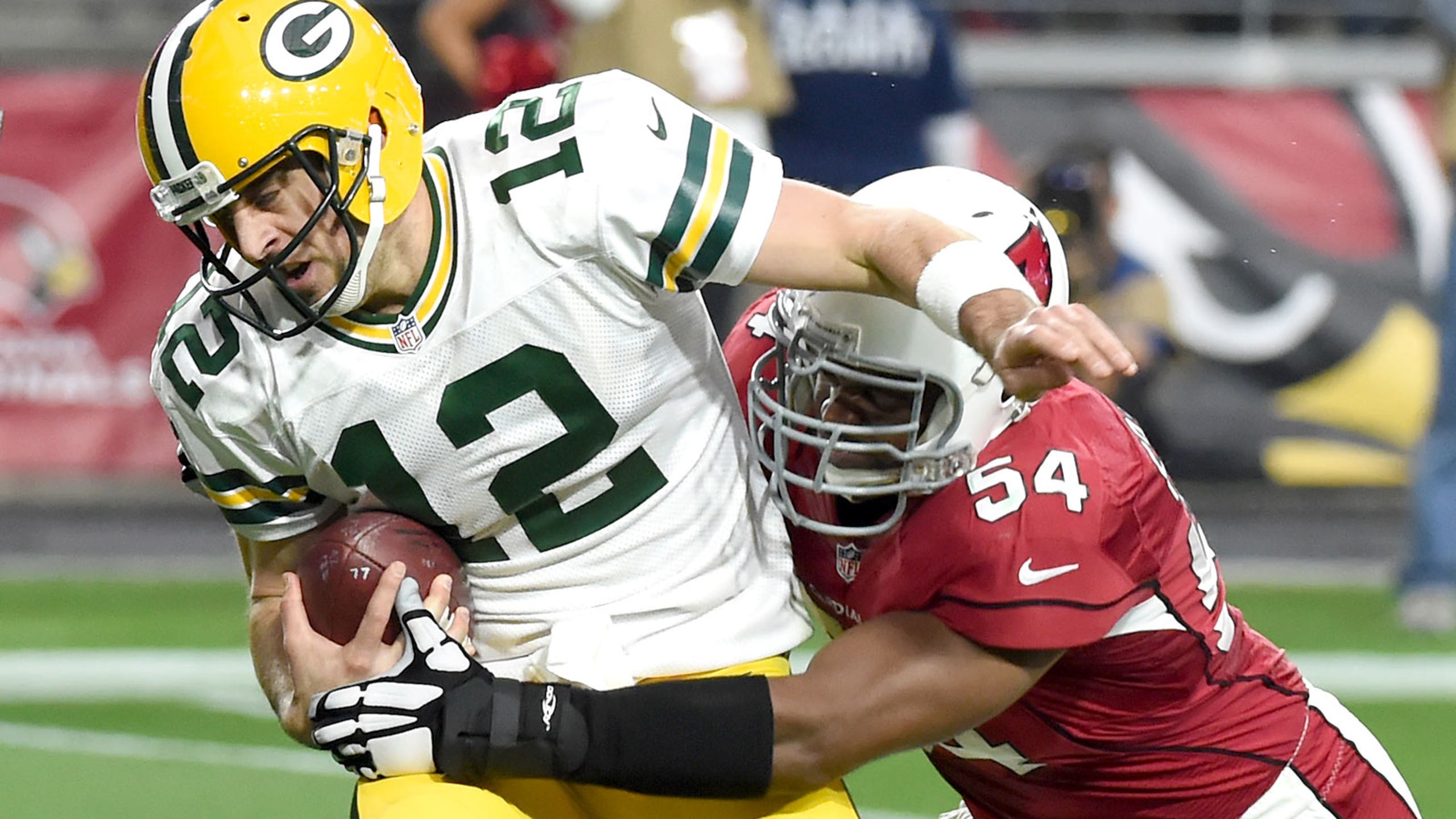 5 changes that give Green Bay hope against Arizona
BY Dan Graf • January 15, 2016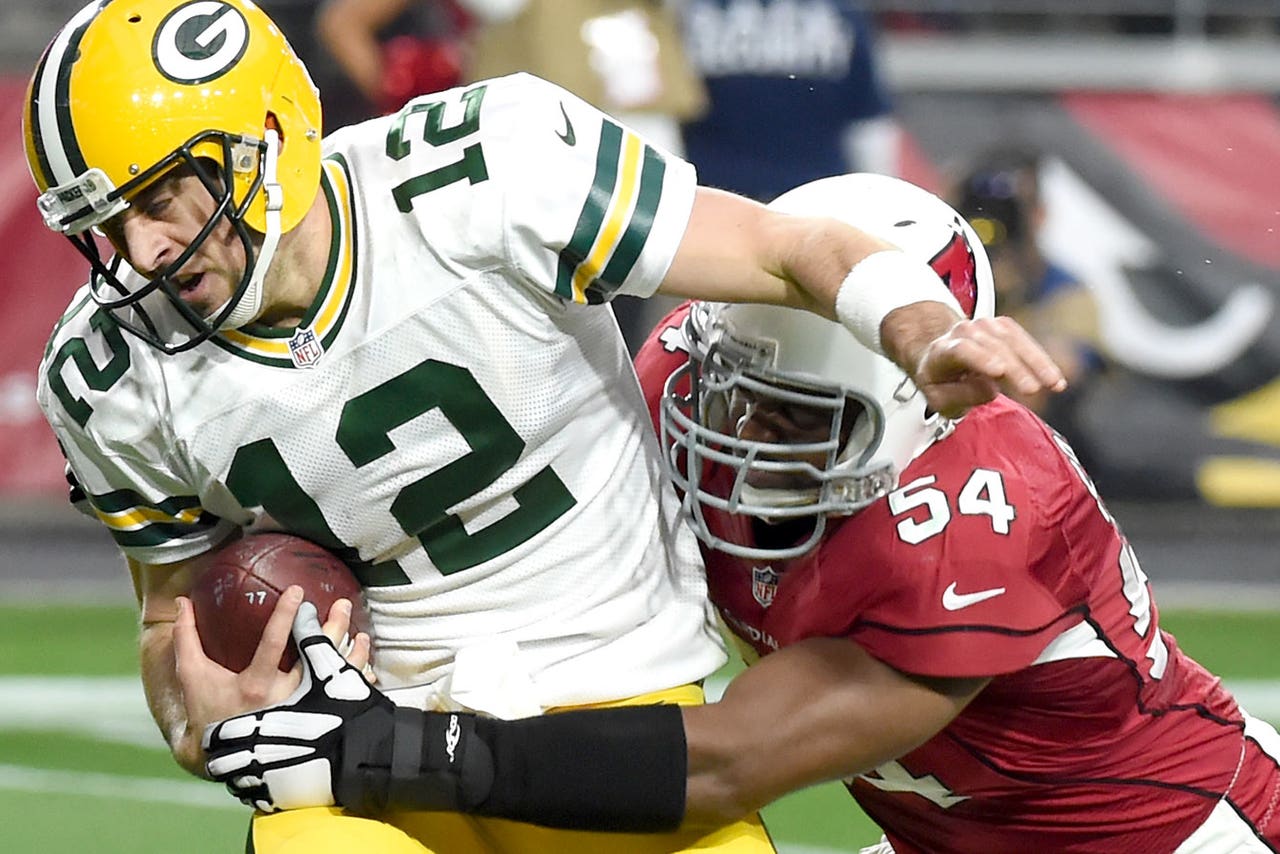 Three weeks ago, the Green Bay Packers went to Arizona and were pounded 38-8 -- their first 30-point loss since Thanksgiving Day 2013.
Two Aaron Rodgers fumbles were returned for touchdowns as an offense that had been teetering on collapse all season finally caved in around its reigning MVP quarterback. Saturday night, the Packers will be in Arizona again, this time coming off a wild-card win over the less imposing Redskins.
So is there reason to believe the Packers are a different team than the one that barely crawled out of the desert in December? Heck, there are five:
1. THE OFFENSIVE LINE IS MUCH HEALTHIER
This group allowed nine sacks last time around, two of which led to those ghastly Rodgers fumbles. The culprits were everywhere, but the biggest problem was Don Barclay, who allowed 4 1/2 of those sacks while filling in for injured starting left tackle David Bakhtiari. The team has since partially shored up the problem by moving backup center J.C. Tretter to left tackle -- and Tretter played well last week against Washington after a rough start -- but Bakhtiari returning after missing three games with an ankle injury is the real solution. He's been practicing this week and seems likely to play, and having him and right tackle Bryan Bulaga -- who had to leave the Cardinals game early with an injury as well -- back on the field will go a long way to keeping Rodgers upright.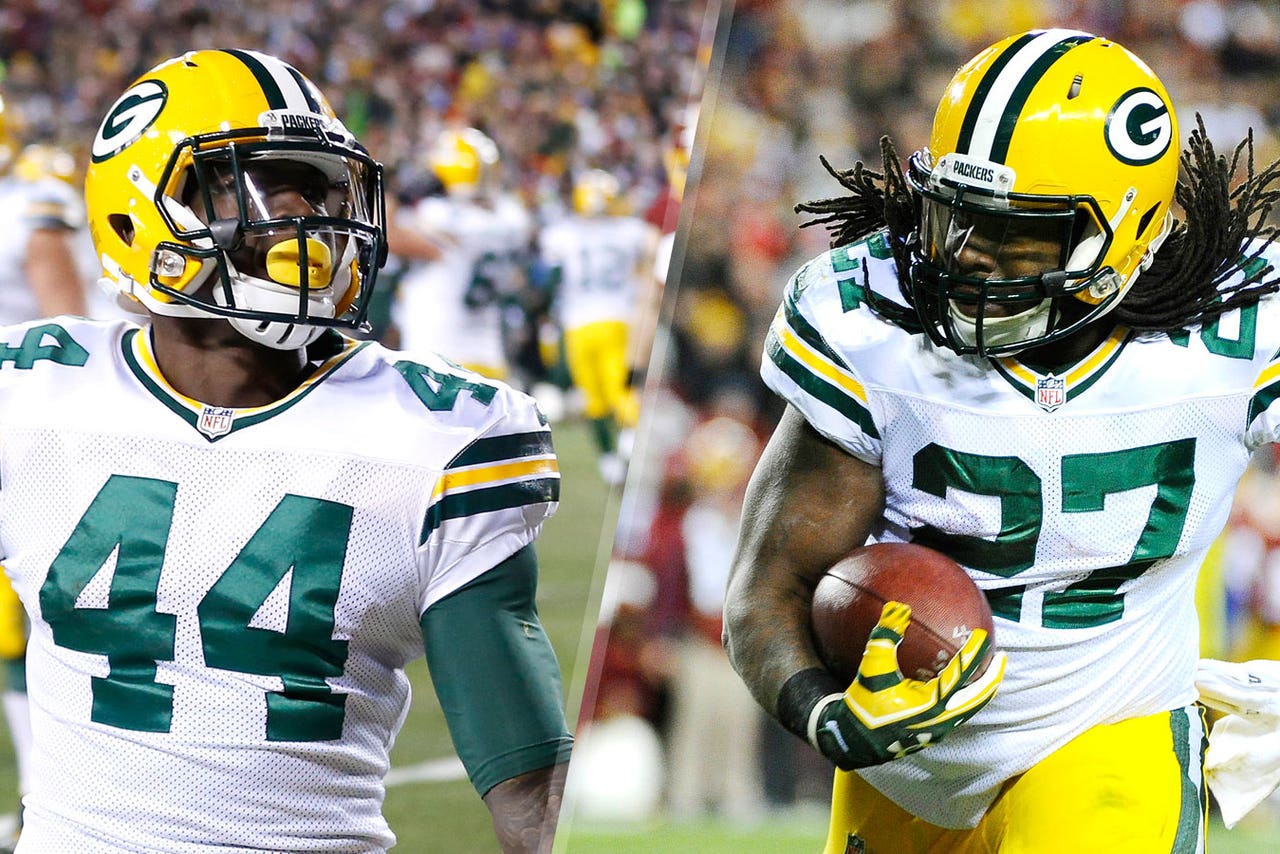 Expect to see plenty of both James Starks and Eddie Lacy against the Cardinals.

2. JAMES STARKS IS BACK IN THE GAME PLAN
Maybe he was last time, but Starks' day ended on the Packers' sixth offensive play when he fumbled and coach Mike McCarthy banished him to the bench. With the season on the line, there's no time for teaching lessons, and Green Bay showed last week against Washington that its offense is most effective when starter Eddie Lacy and Starks are sharing carries and Starks is catching passes. Starks fumbled a career-high four times this season, but don't expect him to be benched if it happens again Saturday.
3. B.J. RAJI WILL BE ON THE FIELD
Most of the Packers' problems in their first loss had to do with the offense, but it's worth noting that Green Bay played the Cardinals to a scoreless tie in the first quarter before things fell apart. Raji, who suffered a concussion in that first quarter, has been the anchor of the Packers' run defense all season after missing all of 2014 with a torn biceps, and his linemates wore down as the first matchup with the Cardinals wore on. Arizona will find it tougher to average 4.7 yards per carry this time around.
4. CONFIDENCE IS UP -- WAY UP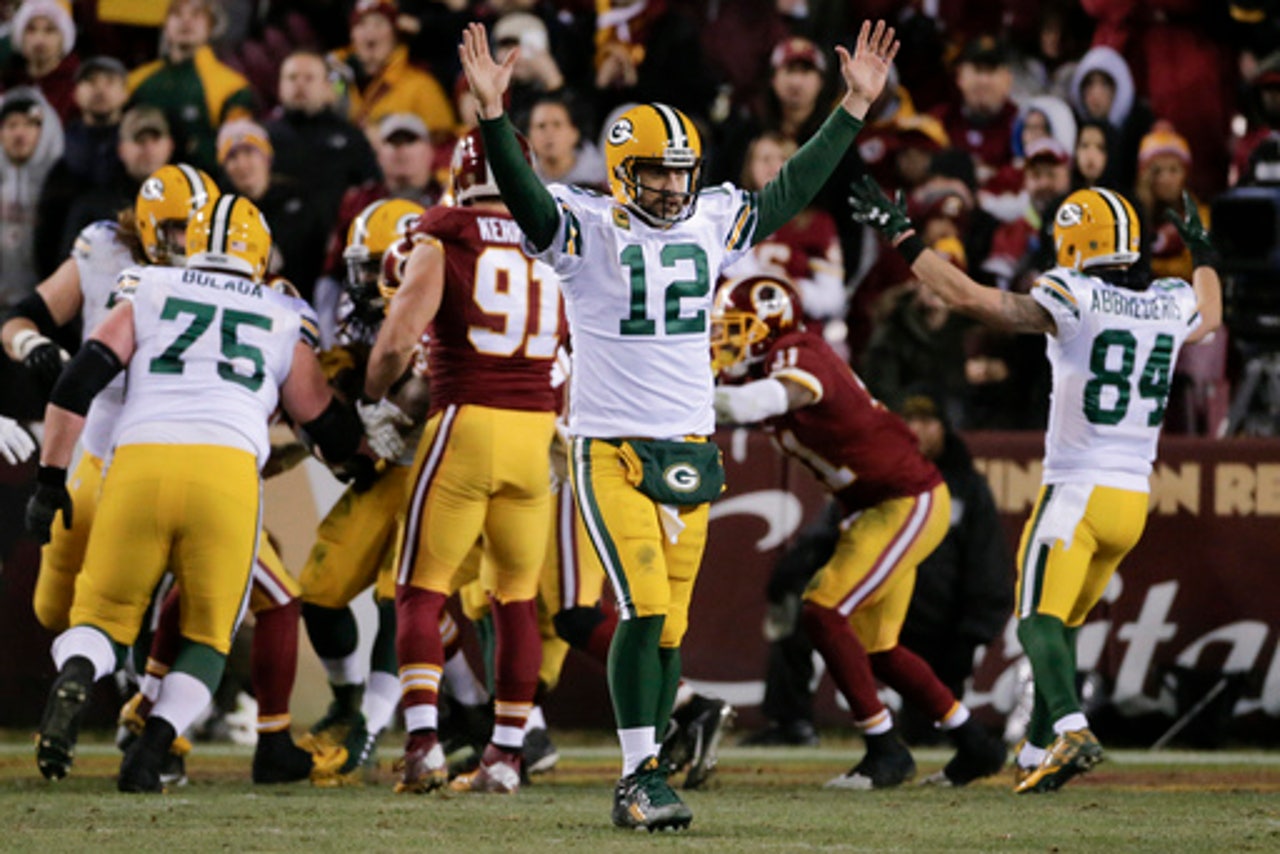 The Packers' offense finally found its swagger in Washington.

Until waking up in the second quarter of last weekend's 35-18 rout of the Redskins, the Packers' offense had been in hibernation since its Week 3 win against Kansas City. The Washington win marked the first time since then that the Packers had topped 30 points, and more distressing than the lack of scoring was the stunning level of frustration and confusion displayed by a group that had been among the league's best for years. Entering the last Cardinals game, the Packers were coming off three straight wins against bad teams -- Detroit, Dallas and Oakland -- but Rodgers was not at all pleased with the state of the offense, and it was easy to see what would happen when Green Bay faced a defense of the Cardinals' caliber. The Redskins game was a watershed moment for a team that had gone more than three months with little to no confirmation that it could move the ball consistently. Don't underestimate the power of positive thinking heading into this game.
5.  SAM SHIELDS IS BACK, TOO
All these happy returns don't mean the injury news is perfect for the Packers -- they had wideout Davante Adams last time around and almost certainly won't (MCL) this time -- but Shields is the Packers' top cover corner and has been out with a concussion suffered the week before the last Cardinals game. Like Bakhtiari, he's expected to play. The Packers' otherwise very young secondary fared well against the Redskins, but Arizona quarterback Carson Palmer gouged Green Bay by completing 18-of-27 passes for 265 yards and two touchdowns in their first meeting. Shields is the Packers' fastest defender, and big plays will be tougher to come by for Arizona this time around.
---
---