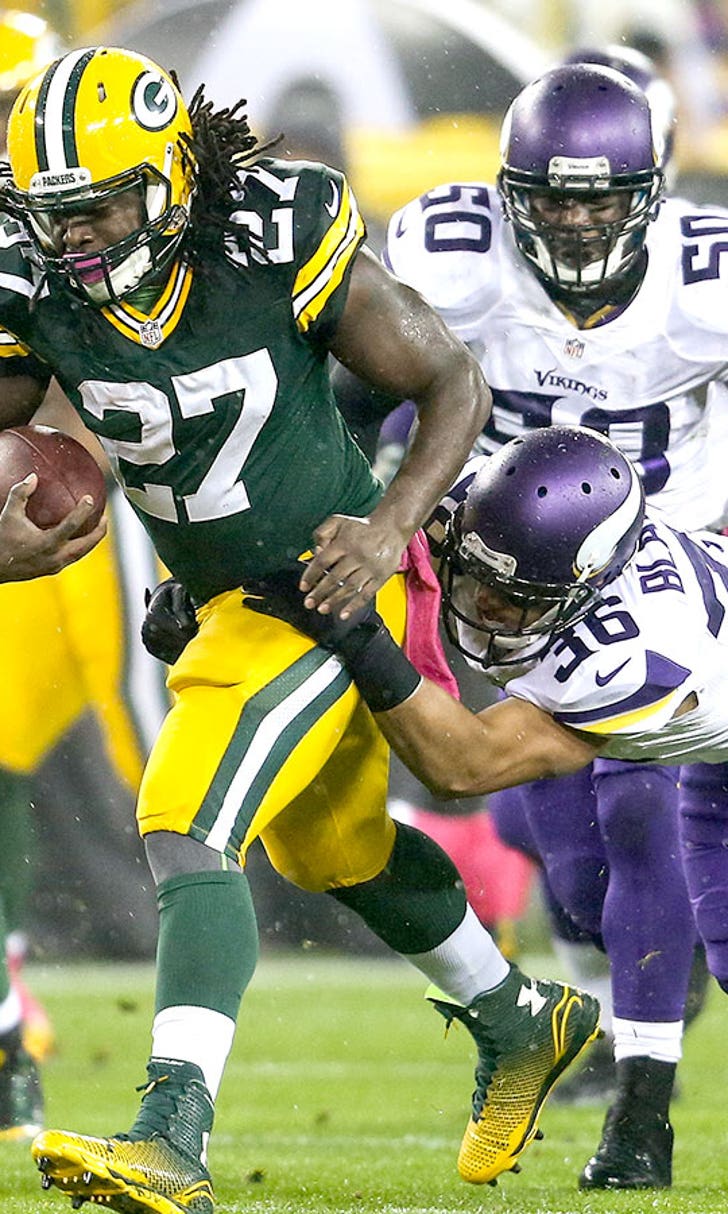 15 thoughts from Packers' Thursday night shellacking of Vikings
BY Ross Jones • October 2, 2014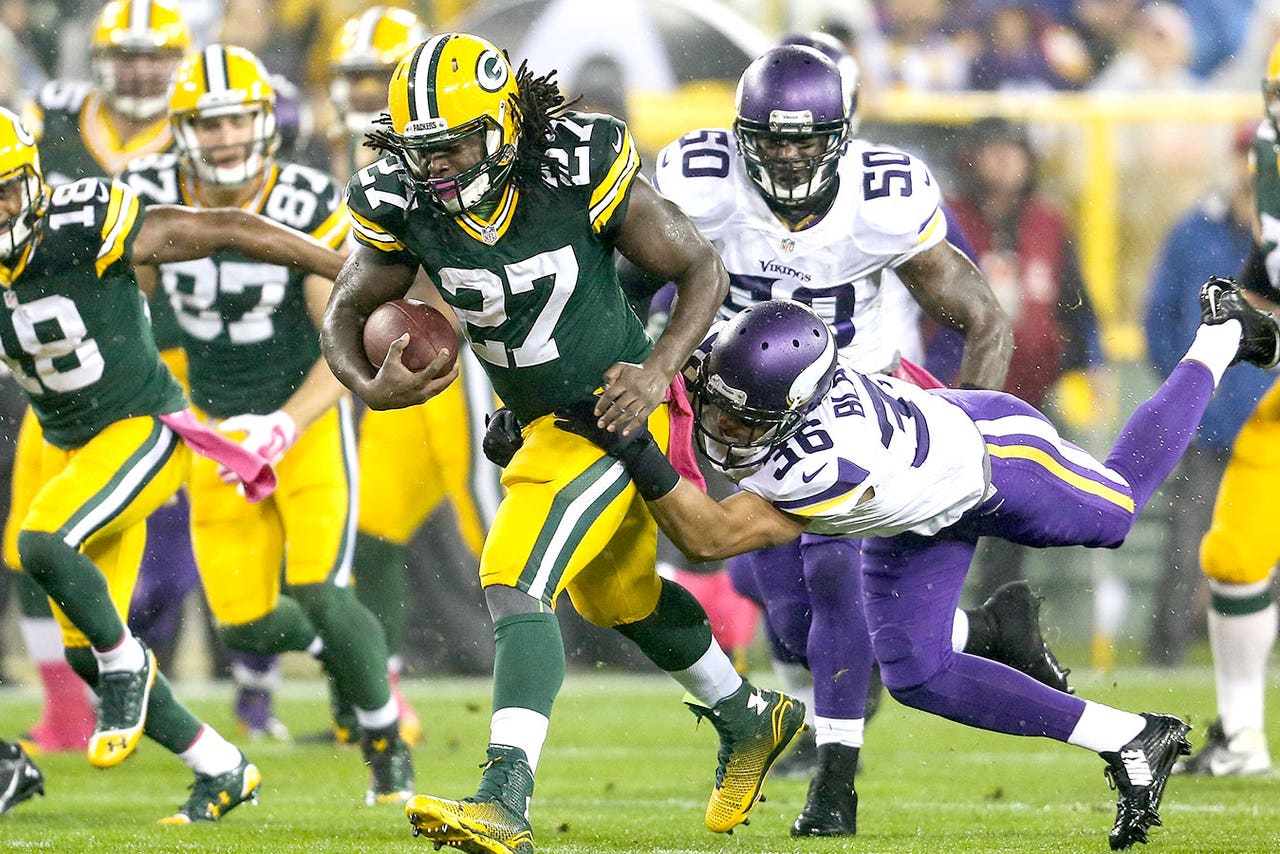 Change the time, date and place, the result would likely remain the same.
While some pointed out how ultra-uncompetitive Thursday Night Football has been through the first five weeks of the season, the Packers ran wild in a 42-10 beating against an undermanned Vikings' team at Lambeau Field.
Off five days' rest, rookie quarterback Teddy Bridgewater, sidelined with a mild ankle sprain, donned a black and pink (for the NFL's annual breast cancer awareness month) team hoody and witnessed his replacement struggle to put up any points through the first three quarters during a wet and sloppy night.
While quarterback Christian Ponder would give Vikings' fans a subtle hint of optimism in the fourth quarter, cashing in on two scoring drives, it was too little, too late.
The first 45 minutes was all the Packers' starters needed, jumping out to a 42-point lead by a formidable running game and efficient passing by Aaron Rodgers. In fact, the drubbing was so lopsided that Rodgers finished 12-of-17 for 156 yards and 3 touchdowns, and quarterbacks coach Alex Van Pelt watched backup Matt Flynn put the game on ice for the entire fourth quarter. Here are 14 more thoughts from Thursday night's beatdown:
2. Packers running back Eddie Lacy had his best game of the season, rumbling for 105 yards on 13 carries. Up until this point, Lacy hadn't broke the 50-yard mark on the ground this season. He did that in the first quarter and never turned back. It was physical play by the offensive line and shoddy tackling by a Vikings' defense that allowed the second-year running back to get loose. Lacy stuck his foot in the ground on his first carry of the game and leveled cornerback Xavier Rhodes, who left temporarily with a shoulder injury.
3. On Green Bay's third series of the game, Rodgers exploited the Vikings' Cover 2 zone, which aims to prevent the big play. Wide receiver Jordy Nelson, lined up on the right side of Rodgers, ran a beautiful double-move creating nearly five yards of space on safety Harrison Smith. Rodgers dropped in a perfect pass for a 66-yard score. It was Nelson's only catch of the game. A lethal one at that.
4. Julius Peppers made history, becoming the first defender to log 100 sacks and 10 interceptions. Peppers' interception, which was returned for a 49-yard score, had been caused by a hurry via Luther Robinson. Robinson was promoted from the team's practice squad earlier in the day and didn't waste any time getting down to business. Robinson was in action because defensive lineman Datone Jones had been sidelined with an ankle injury.  
5. Ponder's second interception was a bit more erratic, throwing behind his receiver. Linebacker Jamari Lattimore hauled in the errant throw. Despite Brad Jones being active, Lattimore retained his job and made plays, finishing with five tackles and a pass deflected. On a night where he could've made the most for a 2015 free-agent audition, Ponder fell short, completing 22 of 44 for 222 yards.
6. Green Bay's defense rattled Ponder from the beginning, laying 14 quarterback hits. Defensive coordinator Dom Capers deserves some credit as his team tallied six sacks.
8. Without linebacker Chad Greenway, who snapped his 90-game starting streak, the lost production was apparent. Safety Robert Blanton finished the game with a team-high eight tackles. It's certainly never a good sign if a safety is your team's leading tackler as it suggests the opponent is consistently getting into the second and third levels.
9. Head coach Mike Zimmer used first-round linebacker Anthony Barr in a lot of creative ways, spying Rodgers on a few plays. Barr's athleticism has shown up over the first month of the season.
10. Bridgewater has 10 days to heal his ankle before suiting up against the Detroit Lions in Week 6. Hope he's healthy -- that defense is playing ferocious.
12. Before the game, some were calling the Vikings' duo of Matt Asiata and Jerick McKinnon the next thunder and lightning. After the game, some were left scratching their heads, as they combined for 22 carries for 96 yards. Asiata's fumble in the first half certainly was a momentum changer.
13. Blowout city! Thursday Night Football games so far:
Week 1: Seahawks 36, Packers 16
Week 2: Ravens 26, Steelers 6
Week 3: Falcons 56, Bucs 14
Week 4: Giants 45, Redskins 14
Week 5: Packers 42, Vikings 10
15. Punter Jeff Locke got plenty of work for Minnesota, booting seven balls for 304 yards. Yeah, that's also not a good sign for your offense.
Ross Jones is an editor and writer for FOXSports.com. Follow him on Twitter @RossJonesFOX and email him at ross.jones@fox.com.
---
---