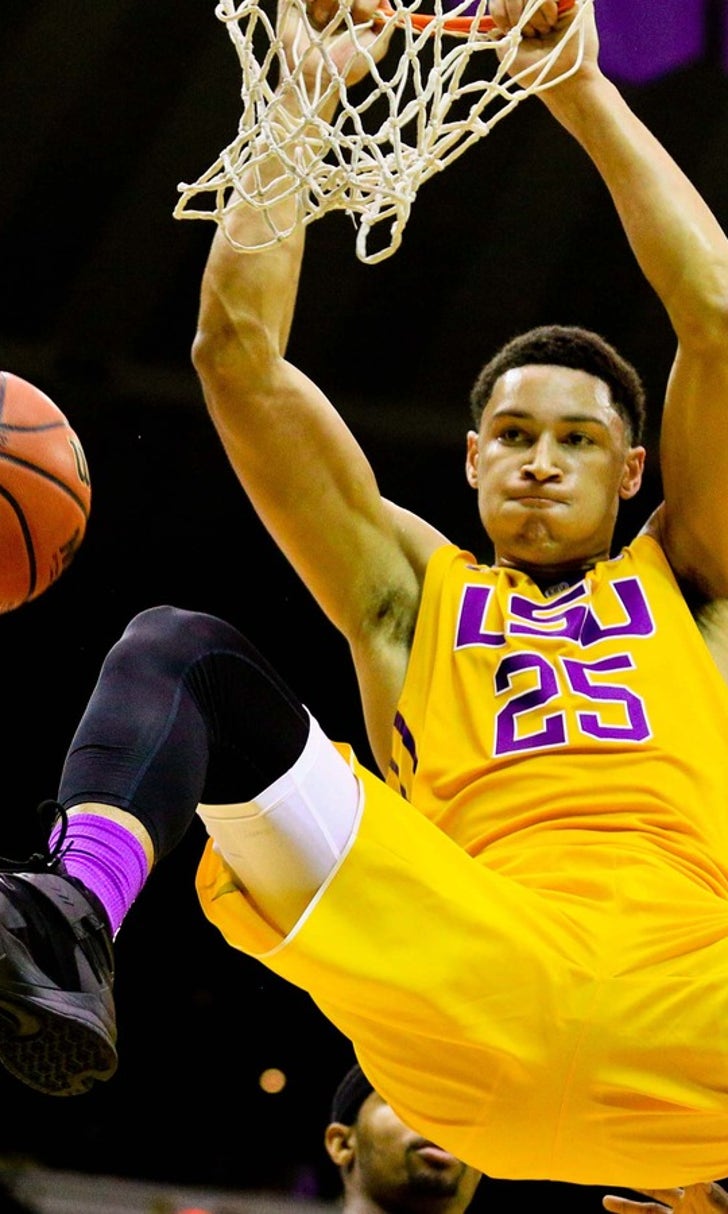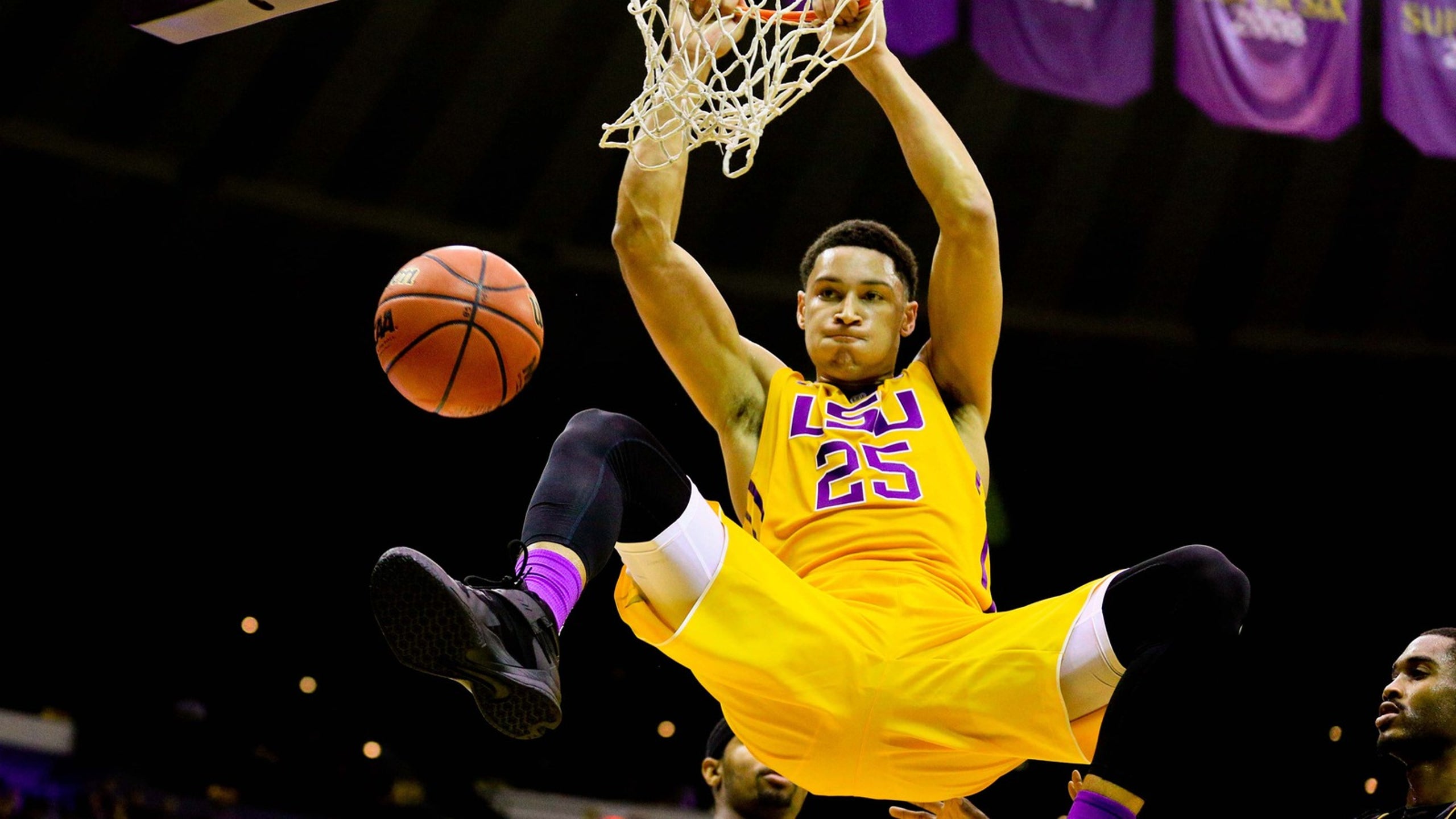 Who's No. 2 behind Ben Simmons in our latest NBA mock draft?
BY Reid Forgrave • January 12, 2016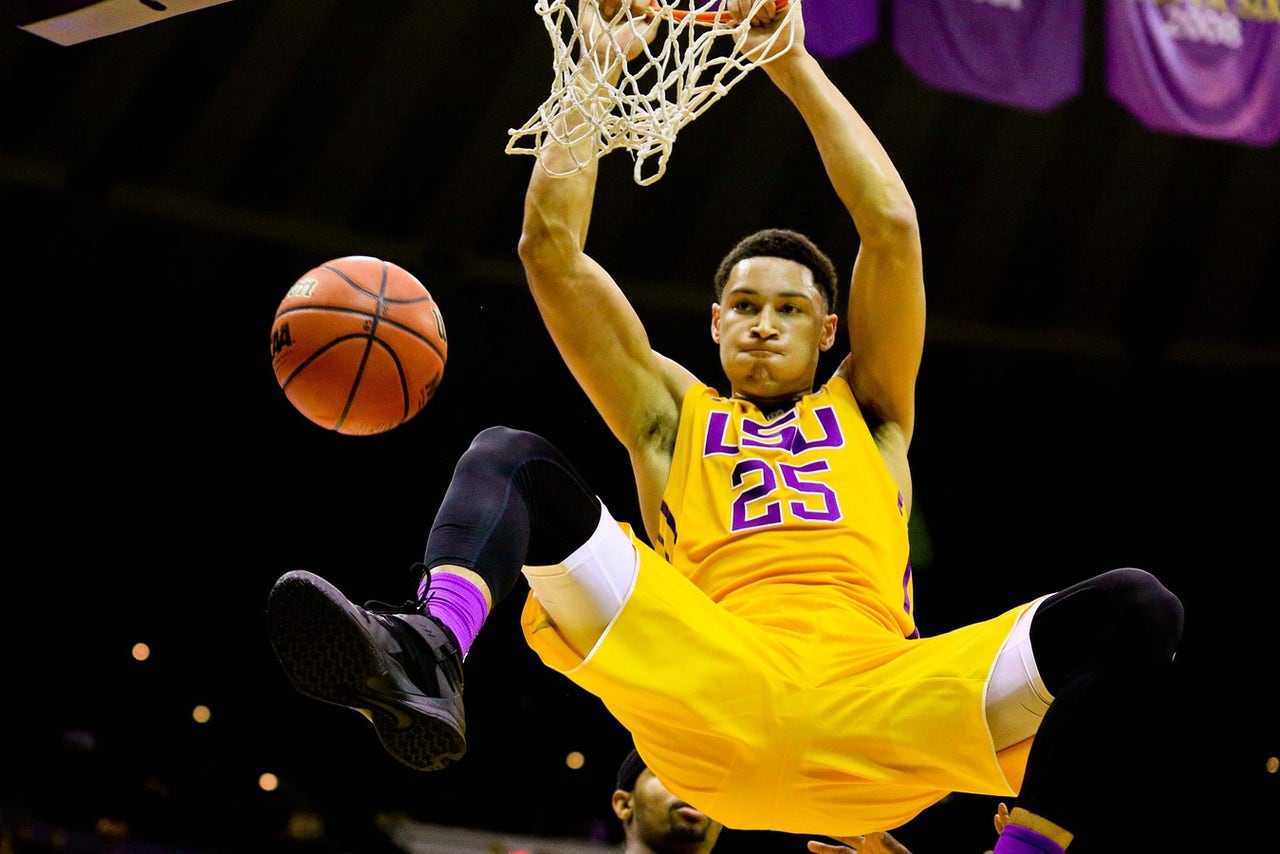 To tank or not to tank?
That is the question if the NBA playoffs look like a far-off possibility for your franchise.
I'm talking to you, Philadelphia 76ers. And to you, Los Angeles Lakers. Even to you, New Orleans Pelicans despite the fact that you have Anthony Davis, the best young player in the NBA. But I'm not talking to you, Brooklyn Nets – because you've mortgaged your future by sending what could be the No. 1 overall pick in the 2016 NBA Draft to the Boston Celtics. Great job there, guys!
The answer to those who are in the position to tank: Yes. Absolutely. Tank away.
That's how good LSU freshman Ben Simmons, the no-doubt No. 1 pick in June, is. Every ping pong ball that might bounce your way is worth losing for. Magic Johnson calling Simmons the best all-around player since LeBron James jumped from high school to the NBA is no joke.
Of course, even if you tank "better" than everyone else, that only secures you more of those ping pong balls, not the No. 1 pick. You may be No. 2, No. 3 or No. 4. You will not have gotten what you wanted.
But you will still get something really, really promising in a draft that will be stacked with tons of great forwards but few elite point guards.
That's the biggest question to be answered in my Mock Draft 2.0 – not who is No. 1, but who is No. 2?
A couple quick notes about this mock draft: First off, consider this to be the views of one guy who is really connected in the college basketball world, not a comprehensive survey of NBA scouts and general managers (although a decent amount of their views went into this as well). And second, the order is based on the NBA standings through the weekend. That's obviously very subject to change.
1. Philadelphia 76ers: Ben Simmons, freshman forward, LSU. Can we just say this is a foregone conclusion, that no matter who gets the No. 1 overall pick, that team will choose Simmons? He's an extraordinary and unique talent unlike any we've seen in college basketball in a long, long time. A 6-foot-10 point forward in the LeBron James/Magic Johnson mold, Simmons is missing only a reliable three-point shot … and that ought to come in time.
2. Los Angeles Lakers: Brandon Ingram, freshman forward, Duke. This is where things get interesting. There are four or five players who wouldn't shock me if they were selected this high. But I'd take Ingram. There's a lot of Kevin Durant in Ingram, who needed about a month to adapt to the college game before he took on the feel of a star. I don't think anyone will take the No. 1 spot from Simmons, but Ingram has the best chance of anyone in this draft at becoming a better pro than Simmons.
3. Boston Celtics (from Brooklyn): Skal Labissiere, freshman forward/center, Kentucky. The Celtics could go a million ways here, since this is one of three first-round picks. Why not aim high with the high-risk, high-reward Labissiere? You may remember it was only a couple months ago when plenty of draftniks said Labissiere was a better NBA prospect than Simmons. He has struggled mightily at Kentucky, partly because of a lack of strength, partly because he hadn't played much competitive basketball the past two years while dealing with injuries and partly because coach John Calipari is trying to toughen him up by playing him inside even though his strength is in his inside-out versatility. Will the Celtics try to package their abundance of draft picks and young assets to move up to No. 1?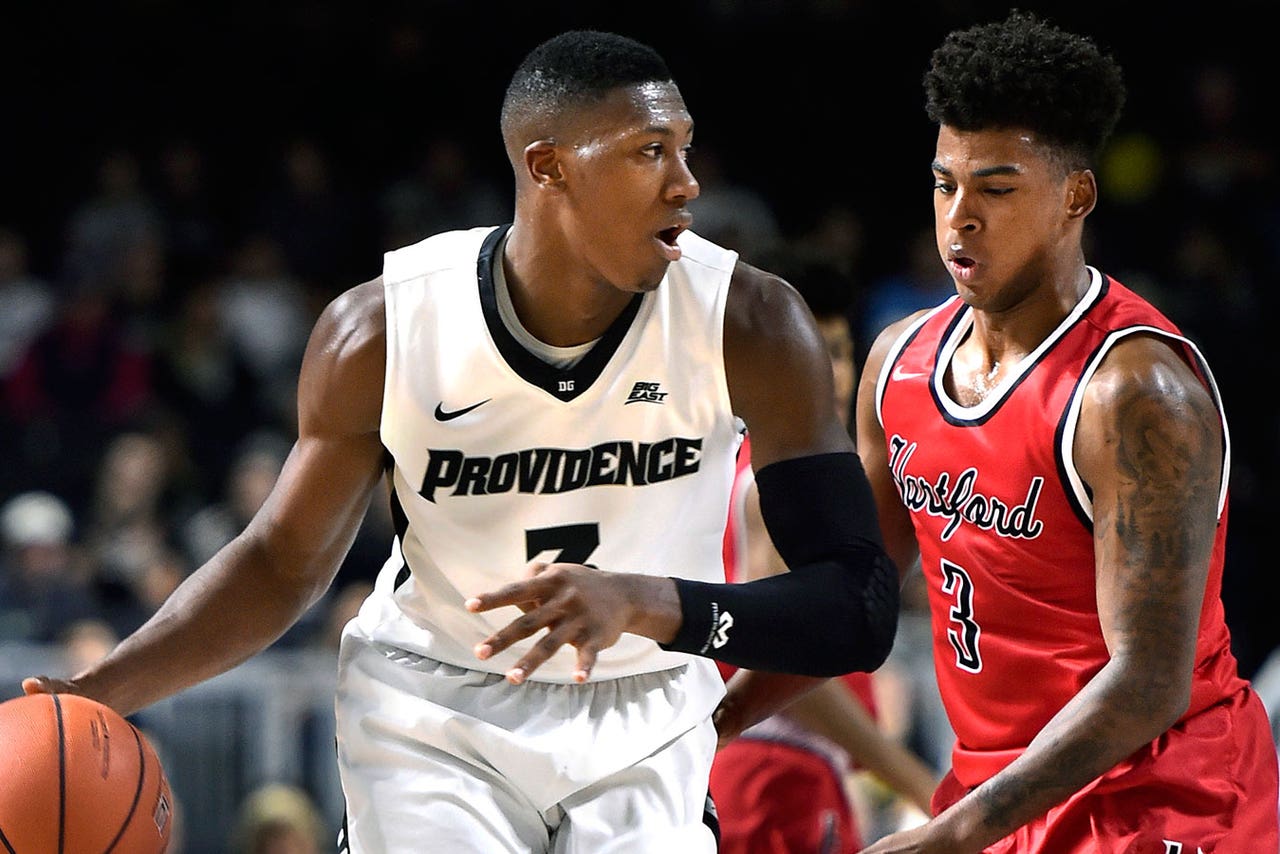 Kris Dunn appears to be the top point guard in the draft.

4. New Orleans Pelicans: Kris Dunn, junior point guard, Providence. In case you haven't noticed, Dunn – a redshirt junior who suffered through injury problems early in his college career – has a shot at winning every player of the year award there is. He could have gone to the NBA a year ago. But the way he has dominated this season on both sides of the ball (and improved his three-point shot, the only place where his game leaves something to be desired) has only helped his draft status.
5. Minnesota Timberwolves: Henry Ellenson, freshman power forward, Marquette. When I watched him the past two summers against elite competition with USA Basketball, Ellenson always seemed like the most developed and complete player on the floor, physically and mentally. Part of that is because the near-7-footer grew up playing against his older brothers; that's where the ballhandling and the perimeter game come from. The Kevin Love comparisons feel spot on.
6. Phoenix Suns: Jamal Murray, freshman combo guard, Kentucky. It will not surprise me if Murray goes as high as second in this draft. He's the best pure scorer in this class and just so, so smooth. Feel like he has a little Damian Lillard in his game.
7. Denver Nuggets: Jakob Poeltl, sophomore center, Utah. Poeltl is the best defensive big man in this draft, and it's not particularly close. The Austrian is a massive, strong presence in the post with some innate shot-blocking and rebounding skills.
8. Milwaukee Bucks: Buddy Hield, senior, Oklahoma. Perhaps this is reaching for Hield, who seems like the likely player of the year pick at this point of the season. I don't think so. Especially after I saw him hang 46 points on a Kansas team whose only goal was to stop him – and who actually did a pretty good job in "holding" him to 46. He can shoot, he can penetrate, he can pass, and he plays his tail off. By the way, he may be the best locker-room player in this entire draft. Such a positive, hard-working presence.
9. Sacramento Kings: Dragan Bender, power forward, Israel. The Kings' needs are all over the place, so why not try to swing for the home run if he's still around? Bender's game feels Porzing-ian: He's a tall, skilled and versatile player who can shoot and pass. The Latvian's success in the NBA may have paved a path for the Croatian. Any way you look at it, Bender, currently with Maccabi Tel Aviv, is a high-risk, high-reward pick.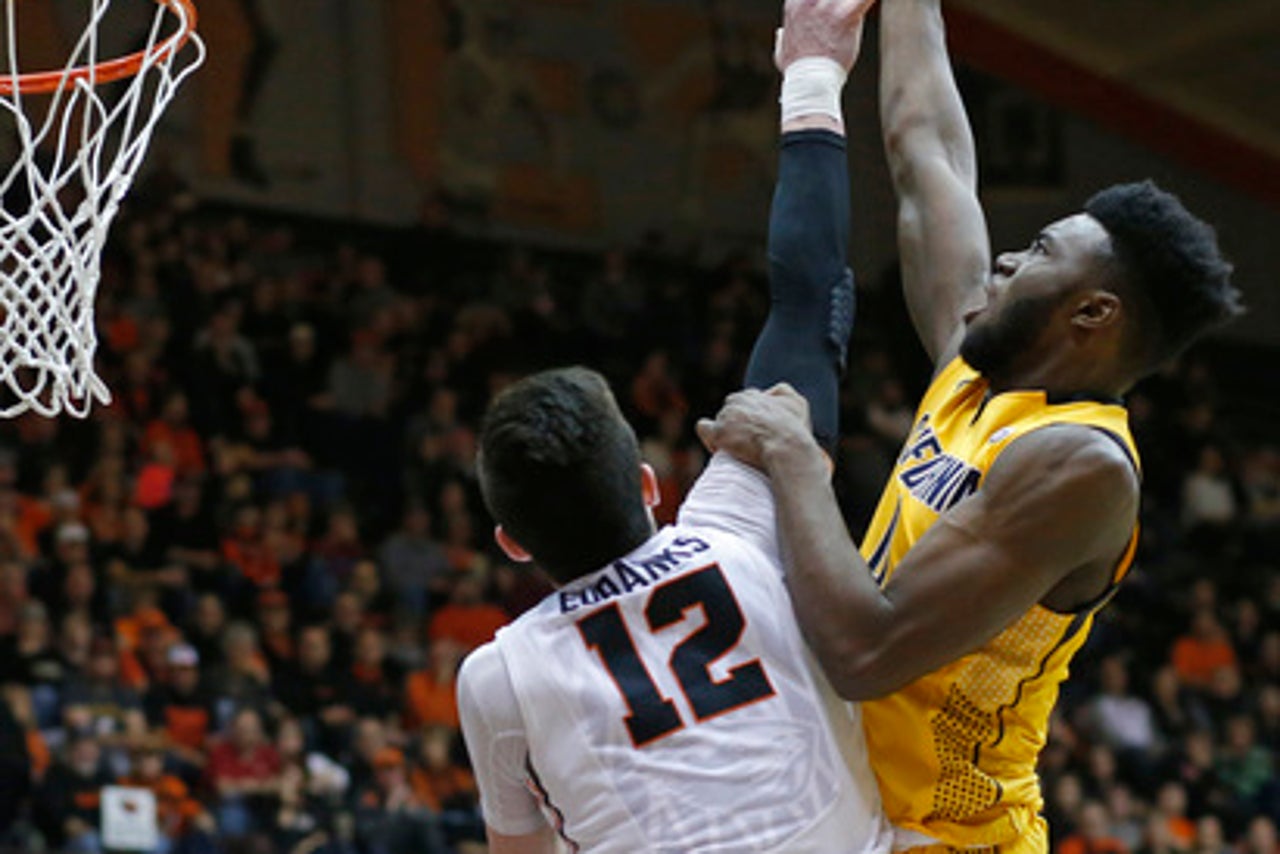 Jaylen Brown is the most explosive player in the draft.
10. Portland Trail Blazers: Jaylen Brown, small forward, California. If Brown falls to the Blazers, Portland fans ought to thank their lucky stars because Brown fits perfectly into a team that has a huge hole at the three. Has Brown been consistently great for Cal this year? No. He's been subpar from deep, and his game (like Cal's game) started off struggling but has really come on lately. Brown is the most explosive player in this draft. Love the idea of putting him alongside Damian Lillard.
11. Washington Wizards: Domantas Sabonis, sophomore forward/center, Gonzaga. The Wizards' struggles in the frontcourt could be greatly helped by the son of former NBA player Arvydas Sabonis. This kid can play. He's an excellent defender and a straight-up pit bull when it comes to getting rebounds. Few play harder.
12. Utah Jazz: Denzel Valentine, senior shooting guard, Michigan State. Tom Izzo told me he sees Valentine as a poor man's version of Draymond Green in how he is versatile on offense and can guard multiple positions on defense. Valentine was barely considered a top-100 recruit out of high school, and the way he's developed into one of Michigan State's all-time greats has been mind-boggling. He has a high IQ and absurd work ethic and can guard multiple positions. He went from making 28.1 percent of his 3-pointers as a freshman to 41.6 percent as a junior. That's all from working at it.
13. Charlotte Hornets: Ivan Rabb, power forward, Cal. He's pretty much solely a post player now, but it won't surprise me if Rabb develops into Chris Bosh Lite. He's been the most reliable player on a supremely talented Cal team. Rabb has been automatic around the basket this year and is a phenomenal rebounder as well. He'll be even better as he continues to fill out his developing body.
14. Toronto Raptors (from New York Knicks): Deyonta Davis, freshman power forward, Michigan State. At 6-foot-10, Davis is the most athletic big man in this draft. When I saw him in person before the season, my eyes bugged out. Yes, he's raw, but the dude can block shots, throw down dunks and jump out of the gym. He can only get better.
15. Denver Nuggets (from Houston Rockets): Caris LeVert, senior shooting guard, Michigan. One of the most heartbreaking moments of last season came when LeVert broke his foot at the end of a home win against Northwestern. (Note on his toughness: He did a postgame interview with Big Ten Network before getting his foot checked out. Tough kid.) He's a tall, rangy shooting guard with some point guard skills. He can pass and shoot and has a great basketball IQ on top of his obvious physical gifts.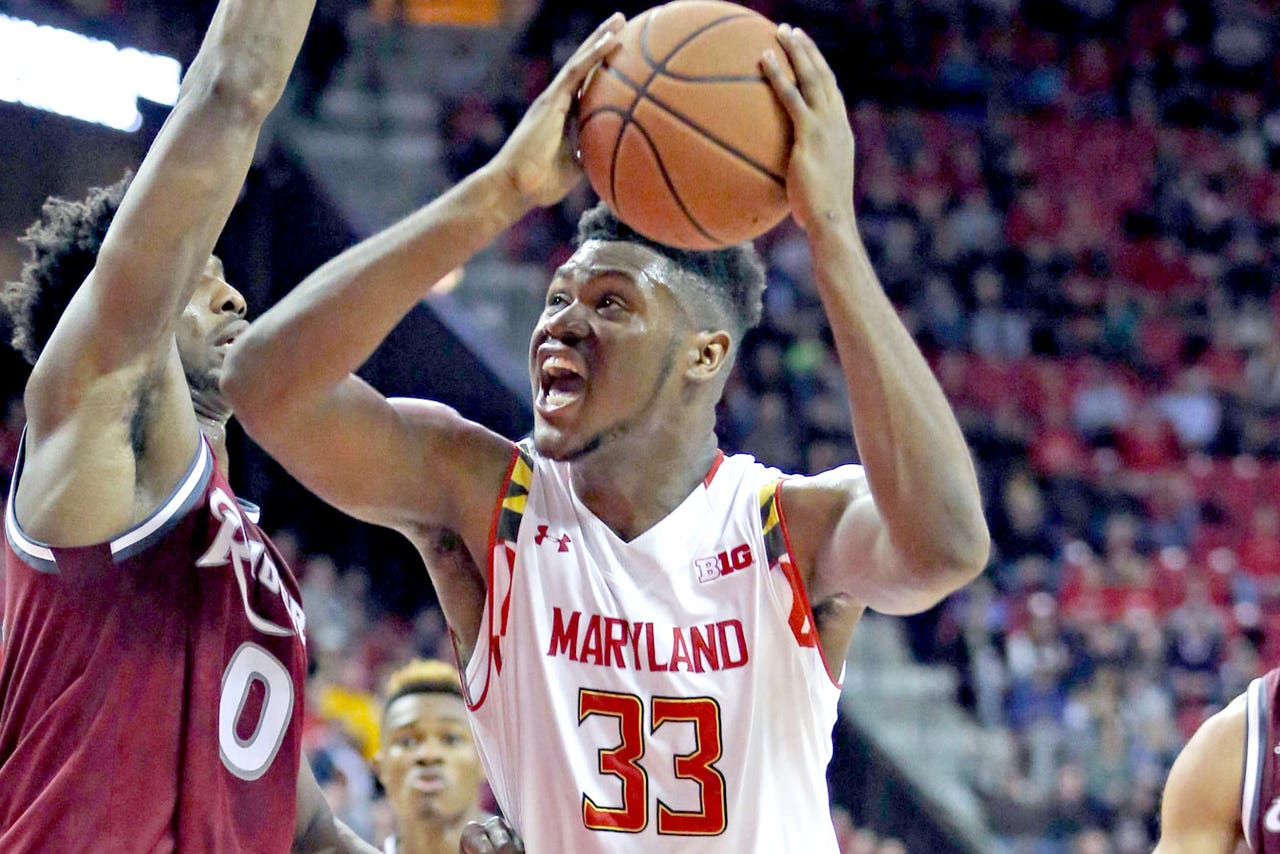 The middle of the first round is a great place to take a chance on a Diamond Stone in the rough.

16. Boston Celtics: Diamond Stone, freshman center, Maryland. Stone is the best NBA prospect on this national title contender. (Sorry, Melo Trimble.) He's a near-7-footer who is strong, can rebound and manhandles people around the rim. He can look a little raw offensively, but he has really come on for Maryland in the past month, including with a 39-point (!) performance against Penn State.
17. Orlando Magic: Troy Williams, junior forward, Indiana. Williams can make coaches pull their hair out, but only because he gets a bit out of control and tries to do too much with his absurd athleticism and potential. He's a long, lanky, freakish athlete who can jump, score in transition, shoot surprisingly well (46.2 percent on 3-pointers last season in limited attempts and a respectable 37.5 percent this year) and rebound. He's worth a risk for a team willing to try taming a wild colt.
18. Memphis Grizzlies: Sviatoslav Mykhailiuk, sophomore shooting guard, Kansas. He's among the youngest players in college basketball, even as a sophomore. I say that to point out this kid hasn't even scratched the surface of his potential. The Ukrainian projects as a straight-up scorer in the NBA, the excellent 3-point shooter that Memphis needs. It's all projecting now, but the foundation is there.
19. Detroit Pistons: Cheick Diallo, freshman forward/center, Kansas. All energy. All heart. All sorts of running and bouncing all over the court. But very little basketball IQ … yet. What Diallo is right now is a down-and-dirty shot blocker, defender and rebounder who coaches praise for his non-stop motor.
20. Indiana Pacers: Demetrius Jackson, junior point guard, Notre Dame. Small but mighty, Jackson is only 6-foot-1, but he could be the most athletic player in the country. He's such a great passing point guard and so explosive around the rim that it can be easy to forget Jackson is great from deep, too, shooting above 41 percent from 3-point range in each of his three seasons.
21. Boston Celtics (from Dallas Mavericks): Stephen Zimmerman, freshman center, UNLV. Gotta be honest: I've never have been a huge fan of Zimmerman's game. The whole seems less than the sum of his parts. But the parts are impressive: a 7-footer with a 7-foot-3 wingspan who has a versatile skill set on offense and defense. He's just never wowed me, no matter how highly touted he's been.
22. Philadelphia 76ers (from Miami Heat): Melo Trimble, sophomore point guard, Maryland. Trimble excelled in crunch time last season, when Maryland seemed unable to lose a close game. He's doing the same this season. (See: Game-winning 3-pointer at Wisconsin.) I'm starting to think these aren't flukes. He gets to the rim, he gets to the foul line, and he's become a better distributor this year for a more talented team. Despite being a little turnover-prone, Trimble is strong for a point guard, can really shoot it and gets after it on defense.
Wayne Selden was a late bloomer, but that's still good enough for a late first-round selection.

23. Atlanta Hawks: Wayne Selden, junior wing, Kansas. Selden arrived at Kansas in the same year as Andrew Wiggins and Joel Embiid and was hyped as the third possible lottery pick on that talented team. After two rough seasons (where Bill Self played him out of position by necessity), Selden stood out in the World University Games last summer in South Korea, and has been phenomenal this year. He's making 50.6 percent of his 3-pointers and could go as high as late in the lottery.
24. Toronto Raptors: Justin Jackson, sophomore forward, UNC. Jackson is still a string bean, but when (if?) his body fills out, he'll be even more exciting. The regression so far this season in 3-point shooting – from 30.4 percent last year to 23.1 percent -- is a concern and will keep him from having a chance at being a lottery pick. This one is a flier but one worth taking late in the first round.
25. Chicago Bulls: Kahlil Felder, junior point guard, Oakland. He might be a smaller version of Isiah Thomas – the Hall of Fame Piston, not the Isaiah Thomas of today's Celtics. Yes, his 5-foot-9 height will always put him at a disadvantage, but I can't find a single thing about this kid's game that I don't love. He could end up leading all of college basketball in scoring and assists.
26. Los Angeles Clippers: Nigel Hayes, junior forward, Wisconsin. It has been a disappointing year for a young Wisconsin team, but the only thing I have to say negative about Hayes is that he isn't fit to be a leading man. He's a helluva supporting actor, though, as he proved on Wisconsin's two straight Final Four teams. Hayes is only 6-foot-7, small for his position, but he's strong, has a nice shooting touch and mind for the game and can defend multiple positions.
27. Philadelphia 76ers (via Oklahoma City Thunder): Taurean Prince, senior small forward, Baylor. Prince is big (6-7, 220) and powerful for his position. He's an extraordinarily versatile offensive player. And like so many Scott Drew players at Baylor, this kid has a great motor and incredible toughness. He'd fit on any NBA team.
28. Phoenix Suns (from Cleveland Cavaliers): Damian Jones, junior center, Vanderbilt. Jones has the body and the athleticism. Yes, he's raw, and inconsistency is a problem. But when you look at Jones, you see the skeleton of a guy who belongs in the league.
29. San Antonio Spurs: Monte Morris, junior point guard, Iowa State. Tony Parker ain't getting any younger. And I might be on a bit of an island here, but I love Iowa State's undersized (6-2, 170), underrated point guard. After setting an NCAA record in assist-to-turnover ratio as a freshman, Morris ran away with the ultimate decision-making metric in college hoops again last year. He then put on muscle in the offseason. Will he be an NBA star? No. Can he be a competent NBA point guard if he's surrounded by a talented group, the ego-less player who lets his teammates reap the benefits of his leadership? Absolutely.
30. Golden State Warriors. Brice Johnson, senior power forward, UNC. Johnson is a big kid and a ridiculous athlete who is an absolute grinder on the basketball court. He can score a multitude of different ways, too, evidenced by his 39-point, 23-rebound performance against Florida State earlier this month. He won't be a star at the next level, but he will be a winner.
Follow Reid Forgrave on Twitter @reidforgrave or email him at ReidForgrave@gmail.com.
---
---