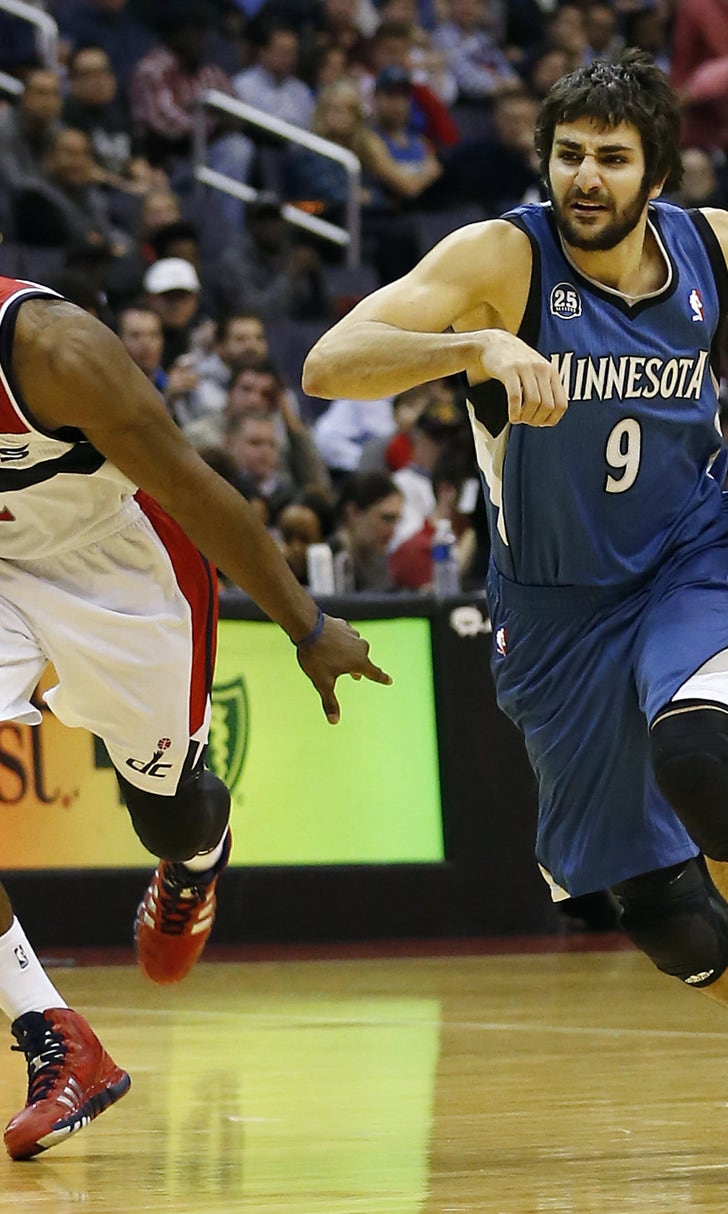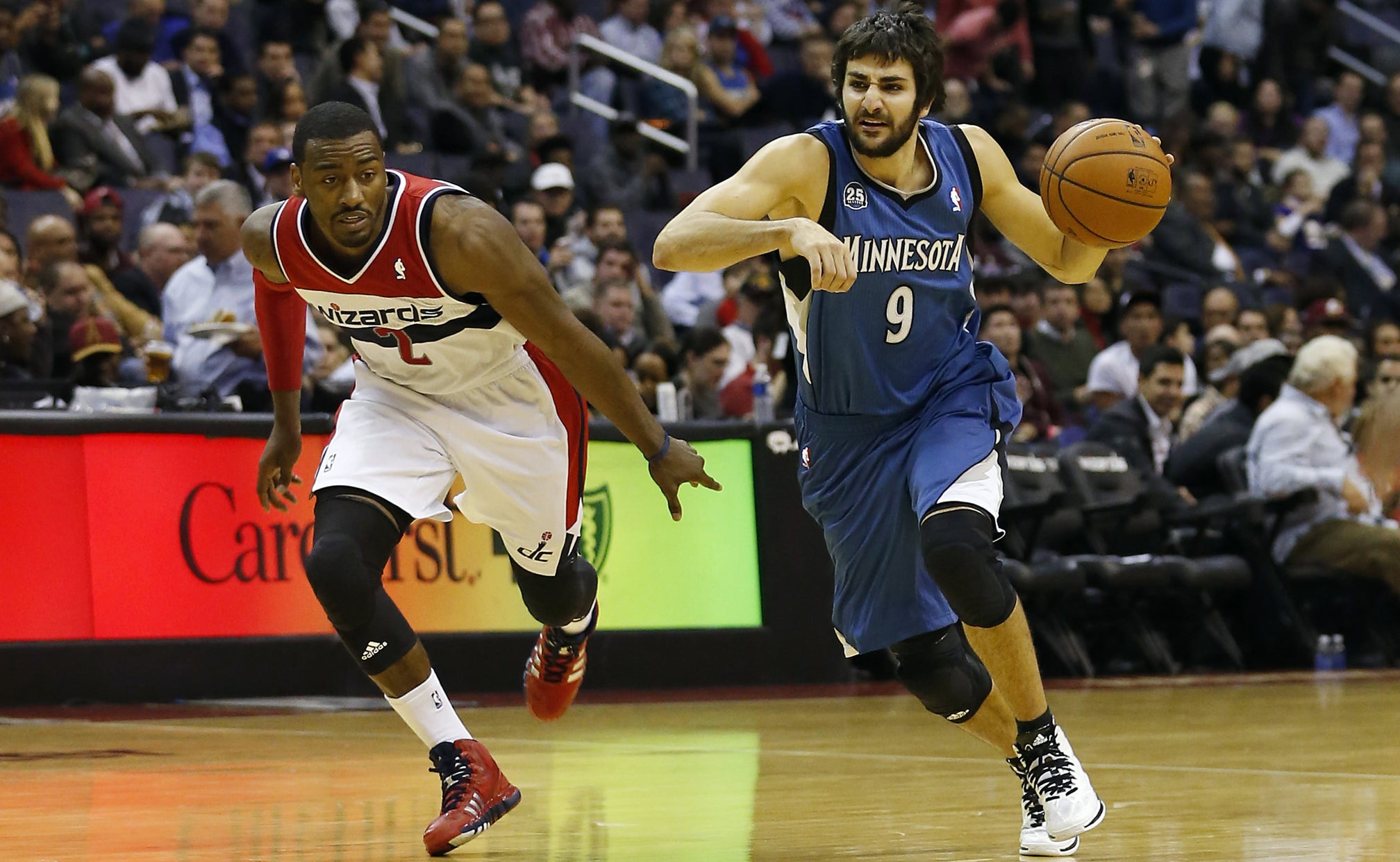 Washington Wizards NBA Trade Deadline 2017: Why Ricky Rubio Is A Solid Trade Option
BY Fansided and Jen Julie Smith/FanSided via Wiz of Awes • June 30, 2017
Washington Wizards need a backup guard and Minnesota Timberwolves' Ricky Rubio would be a good fit in Scott Brooks' system.
The NBA Trade Deadline is less than two weeks away and the Washington Wizards have a few options: stand pat or make moves to bolster their weak bench.
If they want to make it past the first round of the playoffs, it's probably advisable to improve their current roster.
When the team's starters have gone down with injury, the Wizards have struggled to pick up the slack. On Wednesday night against the Brooklyn Nets, the Wizards were without Markieff Morris and didn't have anyone off the bench capable of filling the void.
The Wizards went from almost beating the defending champs on Monday, the Cleveland Cavaliers, to having to go into overtime to beat the worst team in the East, the Nets, on Wednesday.
The Wizards don't have a true sixth man, which they desperately need, because their starters are playing way too many minutes.
Teams like the San Antonio Spurs and Cavaliers will occasionally sit their starters during the regular season, hoping to keep them well-rested before the NBA Playoffs.
More from Wiz of Awes
These similarly situated situated teams have players with fresh legs for their playoff run, whereas the Wizards don't have that luxury.
Washington failed to acquire an adequate backup guard this past summer, as Trey Burke and Tomas Satoransky have both failed to solidify their spots in Scott Brooks' rotation.
For the Washington Wizards to seriously compete against the Cleveland Cavaliers in the postseason, they'll have to acquire a guard before the NBA Trade Deadline.
According to The Vertical's Adrian Wojnarowski, the Minnesota Timberwolves are actively shopping Ricky Rubio.
Rubio's numbers from last season has dipped slightly.
In 2015-2016, he averaged 9.7 points, 8.6 assists and 4.4 rebounds per game. Currently, he's averaging 7.9 points, 8.1 assists, 3.9 rebounds and 1.9 steals per game, while shooting 24.4% behind the arc.
But lately, Rubio's game has been on an upswing.
Over the past five games, Rubio has averaged 13 points and 9 assists.
And on Wednesday, in the Wolves' loss to Cleveland, Rubio put up 14 points, 13 assists and 2 rebounds.
Rubio, 26, would be a strong addition to lead the Wizards' bench, due to his strong passing ability and defensive style of play.
In January, Rubio told Andrew Sharp of Sports Illustrated that the Wolves were rebuilding.
Unfortunately, part of the rebuild includes trading Rubio so that the rookie Kris Dunn would be able to start in the future.
More from Wiz of Awes
Rubio has a guaranteed contract with Minnesota through the 2018-2019 season worth $14,250,000/year.
It's a win-win situation for Minnesota because Washington would absorb Rubio's guaranteed salary, and the Wolves would have money left over to continue with their rebuild.
The Wizards are currently over their cap, so they would be hit with the league's luxury tax.
But Washington would start seeing an immediate return on their investment, as the Rubio addition would give them an opportunity to go deep into the NBA Playoffs.
Although Washington is not in the process of a rebuild, it has a core that will continue growing.
In exchange for Rubio, the Wizards could package Tomas Satoransky, Trey Burke and a pick to Minnesota.
Although, Satoransky is technically a rookie, he played years of professional ball overseas before putting on a Wizards' uniform.
Sato, alongside the rookie Sheldon McClellan, put in a solid and star-like performance in their first start in the NBA, when both Bradley Beal (hamstring injury) and John Wall (rest) were both out against the Chicago Bulls.
In Washington's first game against Chicago this season, Satoransky put up 12 points and 9 assists. And on Martin Luther King's Day, in the Washington Wizards' blow out win over the Portland Trail Blazers, Sato scored his first NBA career double-double, putting up 10 points and 10 rebounds to help the Wizards get their 10th straight win at home.
Burke, on the other hand, has failed to consistently produce behind Wall as a score-first point guard.
If the Wizards want Rubio, they're going to have to move fast, because Sam Amico of Amico Hoops is reporting that both the "Bulls and Knicks have a strong interest in the available point guard."
According to cbsports.com, it's unclear what those teams will have to give up for Rubio, but it's likely that the Wolves move him before the deadline.
Washington is one legitimate game-changing piece away from truly pushing the Cavaliers. If Rubio is available, Ernie Grunfeld should make the call.
---
---