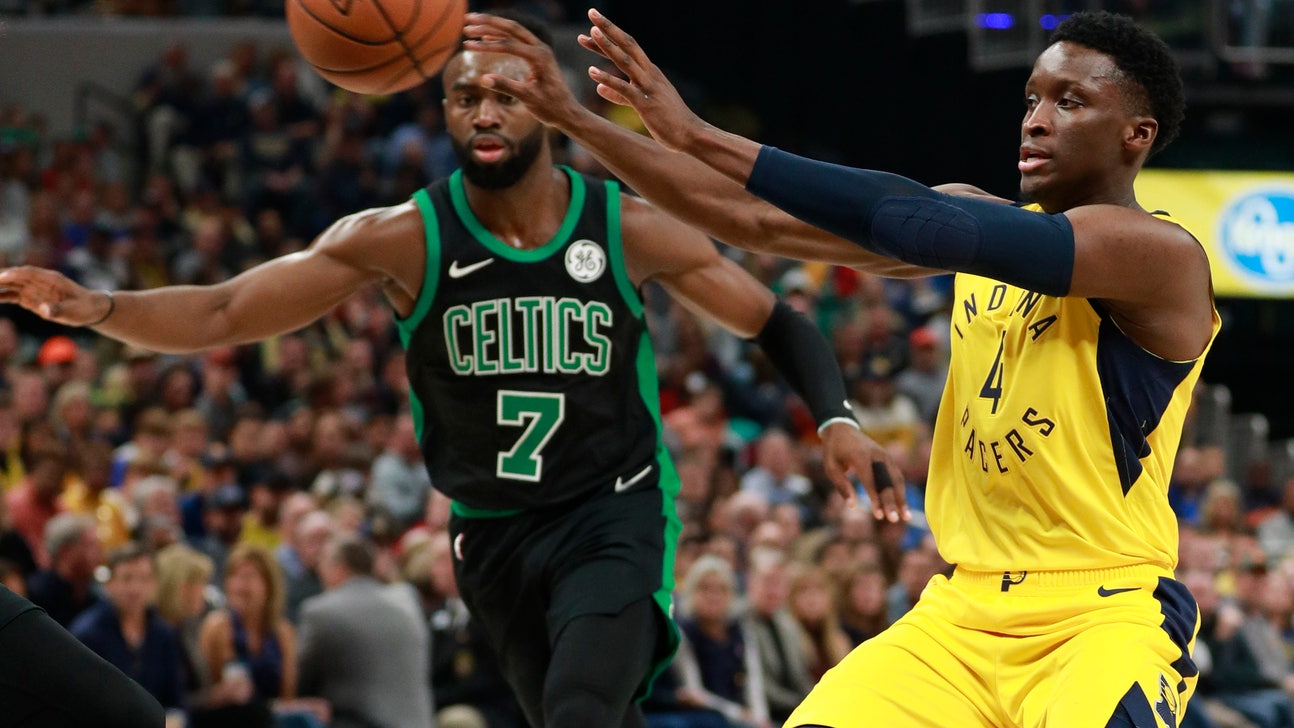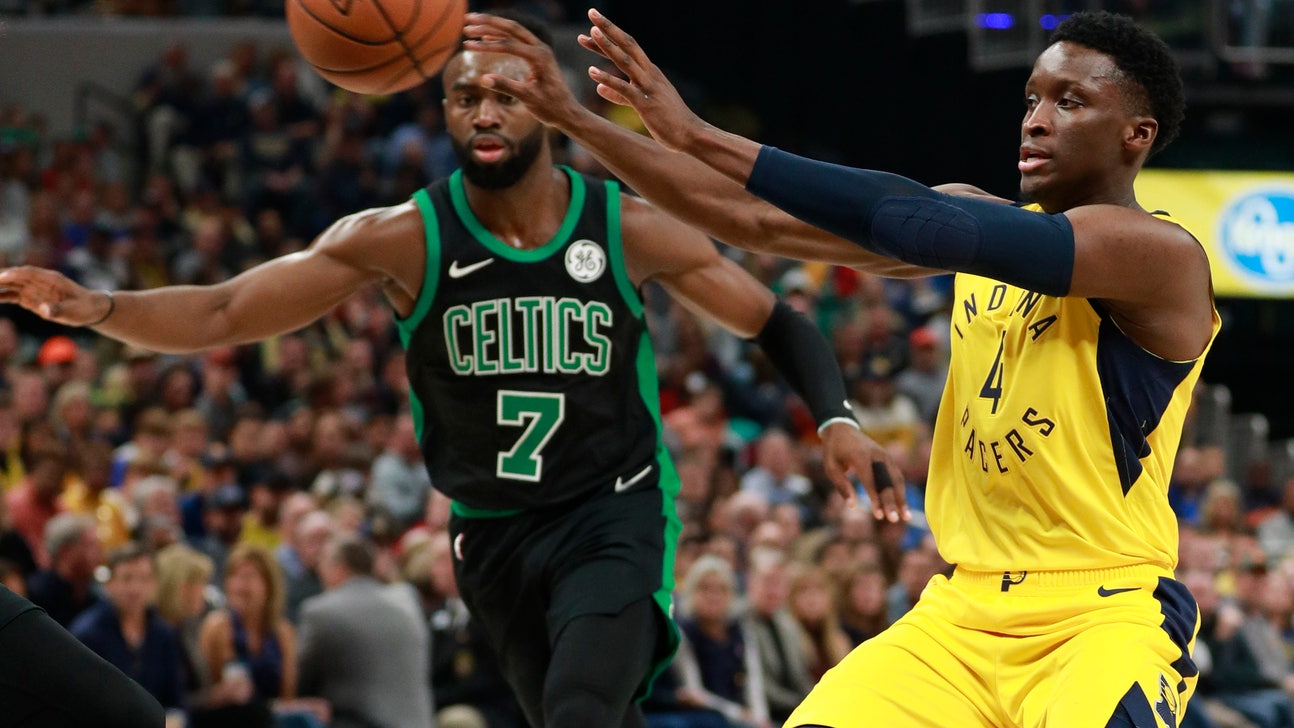 Victor Oladipo's 3-pointer sends Pacers past Celtics 102-101
Updated
Mar. 4, 2020 5:48 p.m. ET
CHICAGO (AP) — James Harden scored 25 points, including 11 in a decisive run in the third quarter, in his return to the Houston lineup and the Rockets defeated the Chicago Bulls 96-88 on Saturday night.
Harden, who had missed three games with a strained left hamstring, scored 11 straight points in a 1:59 span of the third as the Rockets went on a 15-0 run.
Carmelo Anthony had 17 points and James Ennis added 15 as the Rockets won their second game in two nights after starting the season 1-5.
Chicago led 59-58 midway through the third quarter before the Rockets and Harden went ahead for good, outscoring the Bulls 21-7 in the period.
Zach LaVine led Chicago with 21 points, and Wendell Carter Jr. had 14 points and 13 rebounds. Jabari Parker added 15 points as the Bulls lost their fourth straight game — going 0-4 in the homestand — and dropped their fifth straight to the Rockets.
INDIANAPOLIS (AP) — Victor Oladipo connected on a 3-pointer with 3.4 seconds remaining to lift Indiana past Boston.
Oladipo finished with 24 points and 12 rebounds. Tyreke Evans added 17 points for the Pacers, who shot 41 percent (36 for 87).
Marcus Morris had a team-high 23 points and six rebounds for the Celtics, who shot 43 percent (38 for 88) and had their four-game winning streak snapped.
PHILADELPHIA (AP) — Joel Embiid scored 32 of his 39 points in a dominating first half and had 17 rebounds to lead Philadelphia.
Embiid made 10 of 18 field goals and 18 of 23 free throws to help Philadelphia improve to 6-0 at home.
Blake Griffin had 38 points, 13 rebounds and six assists to lead Detroit, which lost its fourth in a row after starting the season with four consecutive victories. Langston Galloway, who starred collegiately at nearby Saint Joseph's University, had 13 points off the bench.
CHARLOTTE, N.C. (AP) — Jeremy Lamb had a season-high 19 points and eight rebounds, and Charlotte routed Cleveland.
Kemba Walker had 18 points and Malik Monk added 16 for the Hornets, who improved to .500 on the season. Charlotte had balanced scoring throughout, with seven players finishing in double digits, including five off the bench.
J.R. Smith scored 14 points for the struggling Cavaliers (1-8), who are playing without the injured Kevin Love and put up very little resistance on defense.
ATLANTA (AP) — Trae Young had 24 points and a career-high 15 assists, and Atlanta beat Josh Richardson and Miami.
Taurean Prince and Dewayne Dedmon each scored 15 points for the Hawks, who had dropped four in a row. Young also had six rebounds in his ninth NBA game.
Richardson scored 32 points, setting a career high for the second time this week, but Miami lost its third straight game.
Dwyane Wade had 19 points for the Heat.
SAN ANTONIO (AP) — DeMar DeRozan scored 26 points, LaMarcus Aldridge added 22 points and 12 rebounds and San Antonio extended New Orleans' losing streak to five games.
Dante Cunningham had a season-high 15 points, Patty Mills finished with 15 points, seven rebounds and seven assists and San Antonio won its fourth straight.
Jrue Holiday had 29 points and eight assists to lead the Pelicans. Anthony Davis had 17 points and eight rebounds after missing Thursday's game with a sprained right elbow.
DENVER (AP) — Gary Harris scored 20 points and Malik Beasley and Mason Plumlee hit key 3-pointers in a fourth-quarter flurry, leading Denver past Utah.
Jamal Murray scored 19 for Denver, which won its fourth straight.
Jae Crowder scored 21 points off the bench for Utah, which has lost three straight.
The Jazz got a scare when guard Donovan Mitchell left the game in the fourth quarter with an apparent leg injury. Mitchell, who finished with 16 points, missed Friday night's loss to Memphis with a right hamstring injury. He was helped off favoring his left leg, but returned a few minutes later.
LAKERS 114, TRAIL BLAZERS 110
PORTLAND, Ore. (AP) — LeBron James had 28 points and seven assists and Los Angeles topped Portland.
Rajon Rondo gave the Lakers a huge lift off the bench, finishing with 17 points and 10 assists in 25 minutes.
Damian Lillard and CJ McCollum each scored 30 points for Portland.
Portland shot a 6 for 35 (17 percent) from beyond the arc.
The Lakers had seven turnovers in the fourth quarter and finished with 20 overall, but they survived their mistakes.
---
---