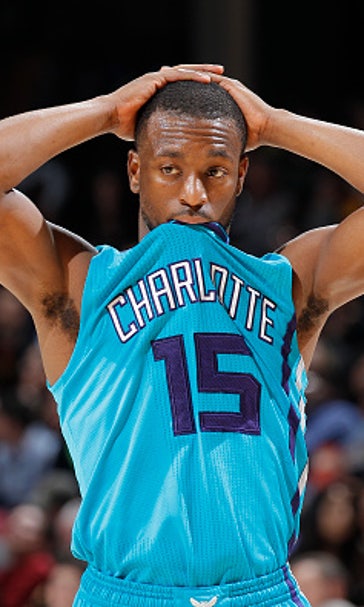 The 7 most intriguing bets heading into the NBA playoffs
BY foxsports • April 15, 2016
The NBA playoffs start on Saturday. How exciting! For basketball fans, this is the most entertaining three-month stretch of the year, even if stars like Steph Curry and LeBron James have made the ultimate outcome feel a bit inevitable. 
But being that it's professional sports and anything can technically happen, here's a look at seven of the most intriguing bets (with odds provided by Bovada) to wager on before the real season officially kicks off. 
7. Paul George's first-round points per game average: over/under 23.0
This smells like the over. Despite a sore ankle and regular-season struggles against the Toronto Raptors (against whom he shot a miserable 30.8 percent in four rough games), Paul George is his team's life source. They only go as far as he drags them, and, as one of the 15 best players in the world, count on the 25-year-old to get up as many shots as he can with his Pacers facing such long odds to advance. 
6. Number of 5-8 Seeds that will advance to the second round: over/under 1.5
There are three conceivable bottom-four seeds that can advance to the second round: The Portland Trail Blazers, Boston Celtics and Charlotte Hornets. Do you think at least two of them can pull off the upset? You do? Good. We agree. Take the over. 
5. Oklahoma City Thunder to win the NBA Finals: 10/1
Everyone's favorite "outside-the-box" option to win it all, Oklahoma City will only benefit from a tightened rotation that keeps Russell Westbrook, Kevin Durant and Serge Ibaka on the floor as much as possible. 
That trio outscored opponents by 12.3 points per 100 possessions this season. They put the ball in the basket at will and defended like maniacs. It's a threesome as good as any in the league.
Furthermore, head coach Billy Donovan has so many different lineup combinations to explore if he's inventive enough to try. Durant hardly spent any time at power forward this season, but throw him and Ibaka in the frontcourt with Westbrook, Anthony Morrow and Dion Waiters/Cam Payne dotted around the perimeter, and things get very interesting.
Sure, defense is a concern, but how do you guard it? The Thunder have two top-five players in their prime, and in any other season betting against them would be insane.
4. Detroit Pistons to win the Eastern Conference: 50/1 
OK, first of all those are pretty awesome odds for a team that's athletically off the charts, well-coached and built to grind through a playoff series. The bad news, of course, is that Detroit squares off against the Cleveland Cavaliers in Round 1. LeBron plays for that team, and he's appeared in five straight NBA Finals, so, yeah, things don't look great for the Pistons. 
But in four regular-season meetings between these teams, Detroit came out on top three times, outscoring the Cavs by 6.6 points per 100 possessions in those wins. Of course, one was two days ago and both teams rested all their meaningful players. And another was way back in November, when the Cavaliers had a different head coach and Kyrie Irving was injured. But that only means they broke even when both sides were fully healthy!
Detroit has beefy bodies to throw at LeBron (Tobias Harris, Marcus Morris and rookie Stanley Johnson) and they're comfortable going small when Cleveland plays James at power forward. Drummond is an obvious load, and the Cavs don't really have anyone who can make Reggie Jackson's life too difficult, either. This one could be closer than a lot of people think, and if Detroit manages to pull off the upset, it won't have a tougher matchup until the NBA Finals. All they have to do is get there.
3. San Antonio Spurs vs. Cleveland Cavaliers in the NBA Finals: 7/2
These odds could be better, sure. And maybe I'm a little biased considering this is how I thought the 2016 NBA Finals would shake out ever since the Spurs landed LaMarcus Aldridge in July. But unless you think the Golden State Warriors are virtually unbeatable (they are not), then this bet is pretty smart. 
The Spurs were overshadowed all season by Golden State, but they're a historically brilliant team, too. And they remain undefeated at home (when Boris Diaw is in the lineup). Meanwhile, it contradicts other words in this very post, but the Cavaliers are a solid lock to make the Finals, and the odds of them facing Golden State once they get there aren't high enough to validate a bet. 
This is a safe-ish play with a decent enough payout.
2. Draymond Green's first-round assists per game average: over/under 7.0
Take the over on this and never look back. Green averaged 7.4 assists per game during the regular season, and 9.3 assists in three games against the Houston Rockets. There's always the chance his minutes drop if the Warriors wax Houston off the floor by halftime in each of their four games, but great players typically see their minutes head in the opposite direction once the stakes start to rise. Green will play a ton, and he'll dominate. 
1. Charlotte Hornets to win the NBA Finals, 150/1
Why the hell not? Since this team traded for Courtney Lee and permanently promoted Cody Zeller to center, their starting lineup of Kemba Walker, Nicolas Batum, Lee, Zeller and Marvin Williams ranks second among all five-man units that have played at least 400 minutes in offensive rating. 
This team knows how to score and loves to defend. Since the All-Star break, the only two teams with better point differential are the Golden State Warriors and San Antonio Spurs. That. Is. Incredible. 
The Hornets are the best defensive rebounding team in the league. They shoot threes, take care of the ball and have multiple weapons who can get their own shot—from the rising Walker to the endlessly steady Al Jefferson. 
They're a tremendous long shot to win it all, and if they did it would be the biggest story in professional sports. But consider that even though they don't have home-court in the first round, Charlotte isn't set to square off against the Cleveland Cavaliers until the Eastern Conference Finals. By then, anything could happen. 
Take these beautiful odds and ride what could be an extremely joyful wave.
---
---