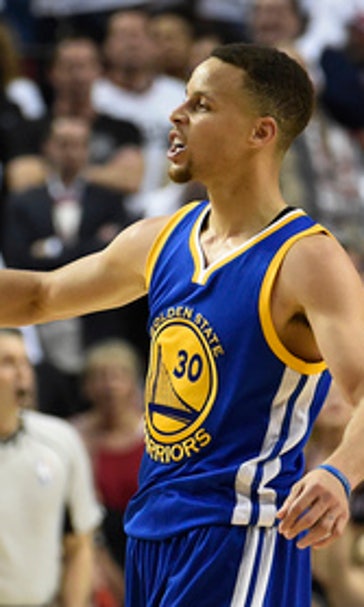 Stephen Curry returns, drops 40 in OT Game 4 win over Blazers
May 10, 2016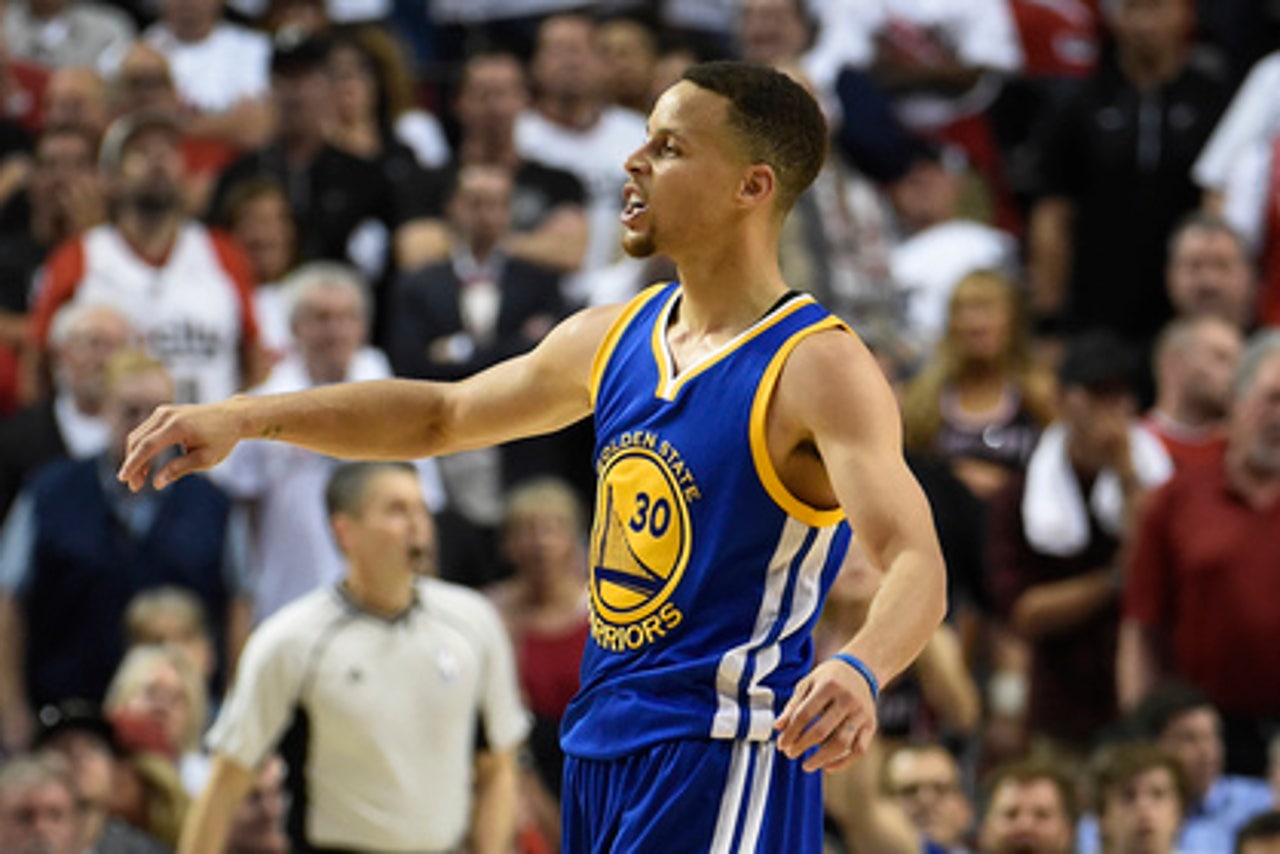 PORTLAND, Ore. -- Stephen Curry returned from a sprained right knee to score an NBA-record 17 points in overtime, finishing with 40 as the Golden State Warriors rallied to take a 3-1 lead in the Western Conference semifinals with a 132-125 victory over the Portland Trail Blazers on Monday night.
Playing for the first time since he was injured in Game 4 of the first-round series against Houston, Curry was rusty for three quarters and sensational down the stretch after the Warriors trailed by as much as 16 points.
Originally expected to play about 25 minutes off the bench, Curry picked up a heavier workload in the second half after Shaun Livingston, who had been starting in his absence, was ejected in the second quarter after arguing a call and picking up two technical fouls.
His victorious return came hours after a person with knowledge of the award told The Associated Press that Curry would repeat as NBA MVP, with the announcement coming as early as Tuesday.
The Warriors can win the series Wednesday night at home in Game 5.
Damian Lillard finished with 36 points and 10 assists for Portland.
Curry's fast-break layup gave the defending NBA champions a 120-118 lead with 2:21 left in the extra period. He followed with a 3-pointer, pounding his chest and pumping his fist in celebration, posturing for the courtside fans.
Harrison Barnes' layup extended the lead to 125-118 and Portland couldn't catch up. Klay Thompson finished with 23.
Curry's long jumper gave the Warriors a 92-87 lead with 9:01 left in the fourth quarter. Lillard's 3-pointer gave Portland back a 99-97 lead, but Curry nailed his first 3 of the game to give the Warriors a 103-100 lead with 4:35 left.
Draymond Green dunked to keep Golden State within 109-108 late in regulation. Mason Plumlee's finger-roll layup extended Portland's margin but Barnes tied it at 111-all with a 3-pointer for Golden State with 51 seconds left, and both Lillard and Curry missed to force the OT.
Curry led the Warriors to an NBA-record 73 wins in the regular season, a year after leading the team to its first NBA championship in 40 years. He averaged just over 30 points per game this season.
The Trail Blazers narrowed the series to 2-1 on Saturday night when Lillard scored 40 points in a 120-108 Portland victory while Golden State was still without its star guard. The Blazers became the only team to defeat the Warriors twice this season.
Maurice Harkless, who had been icing his hip during Game 3, hit Portland's first 3-pointer of the night. Lillard hit two more 3s as the Blazers took an early 12-2 lead.
Curry came in off the bench with 5:56 left in the first quarter and Portland up 16-2. His only points in the quarter came off a pair of jumpers before he went back to the bench.
Livingston felt he was fouled just before halftime and was thrown out after arguing with referee Scott Foster. The 12-year veteran guard was averaging 12.1 points and 5.5 assists in the playoffs. He had started six of the eight playoff games while Curry nursed his knee injury.
Portland led 67-57 at the half, scoring a franchise playoff-record 41 points in the second quarter alone. Lillard led all scorers with 17 points.
Thompson's 3-pointer and Curry's driving layup capped a 14-5 run, pulling the Warriors within three. Thompson's 3-pointer put the Warriors ahead 79-78.
TIP-INS
Warriors: The Warriors are 11-0, counting the playoffs, in games after a loss. ... The Warriors are 8-1 in Game 4s since returning to the postseason in 2013. ... Green blocked seven shots, most of his career in the regular season or playoffs.
Trail Blazers: Plumlee has eight playoff games this season with 10-plus rebounds, matching Cleveland's Kevin Love for the most. ... The Blazers came back from a 2-0 deficit in the opening round against the Los Angeles Clippers, who were hurt when both Chris Paul and Blake Griffin went down with injuries.
CURRY'S NUMBERS
Curry led the league in scoring during the regular season with 30.1 points per game and broke his own record with 402 3-pointers.
He also averaged 6.7 assists and 5.4 rebounds, led the NBA with 2.1 steals per game, while shooting 50.4 percent from the field, 45.4 percent from 3-point range and 90.8 percent from the foul line.
He was the first Warriors player to lead the league in scoring since Rick Barry's 35.6 scoring clip in 1966-67, joining Barry and Wilt Chamberlain as the only players in franchise history to average 30 or more points in a season.
---
---