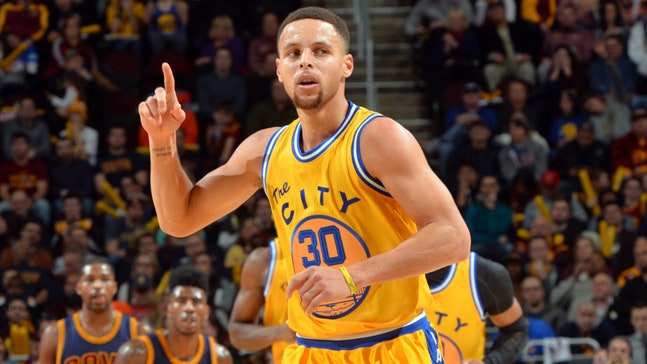 Steph Curry talks Cam Newton, race, Kobe's career and Jordan's Bulls
Published
Feb. 1, 2016 3:00 p.m. ET

Stephen Curry is not only the reigning NBA MVP, but he's been even better this season in leading his Warriors to a historically great start to the season. Courtesy of his partnership with Degree and the launch of the Degree MotionSense Lab, Curry sat down with FOX Sports to discuss a variety of topics, including Cam Newton's criticism, the chase to break the Bulls' record for most wins in a season, and whether his style of play might allow him to stay in the league as long as Kobe Bryant.
FOX Sports: Obviously you guys are on a record-setting pace, and there's been a lot of talk about 72-10, chasing the '96 Bulls. Do you guys even talk about that internally? Do players talk about that, do coaches, or is that mostly media and fans who are discussing it?
Stephen Curry: We talk about it because we're asked about it, mostly. We're not afraid to address it and understand the opportunity we have, obviously with the 24-0 start. We're on pace for it, or actually I think we're one game ahead of that pace. 
So we know where we are, but it's really hard to fast-forward to April and really kind of get your mind to where, we're 28 games from tying the record. It just makes it sink in how hard and how special that accomplishment was for the Bulls. We're obviously worried about what happens in the playoffs, and being healthy and full-strength playing our best come April 16 or whenever our last game is. 
But if we have an opportunity to go for it, we'll go for it. Because how many chances are you going to get to be a team that passes that record, and obviously everybody's still talking about the 95-96 Bulls — one, because of their record, and two, because they finished it off with a championship. We want to be able to do both, too.
FS: You guys got off to that hot start with Steve Kerr sidelined. I know he was around behind the scenes, and you were still running his systems and he was around a little bit at practices. But for fans that don't really know exactly what he brings, what's the biggest difference having him back on the bench for you guys?
SC: He just has a presence that we've come to kind of expect every night. He's pretty fiery. He has a high standard that we have to meet regardless of what our record is. [Sunday night] he broke the white board during the first quarter because we were playing like trash, pretty much. 
It doesn't matter what our record is or how great we've been playing up until that point, we still have to keep a level of focus. And if we're not meeting that, he's quick to tell us. It is obviously his system and his vision for our team, and coach Walton did a great job of amplifying that while he was gone. But when you have your general running the show, it's definitely more comfortable for us.
FS: Obviously your Panthers are in the Super Bowl, wanted to ask you a little bit about Cam Newton. You're the reigning MVP in the NBA, he's on track to win it this year in the NFL. But in the media, you guys are portrayed very differently. He's criticized for what seems like nonsense, but you get almost universally positive coverage. Why do you think that is?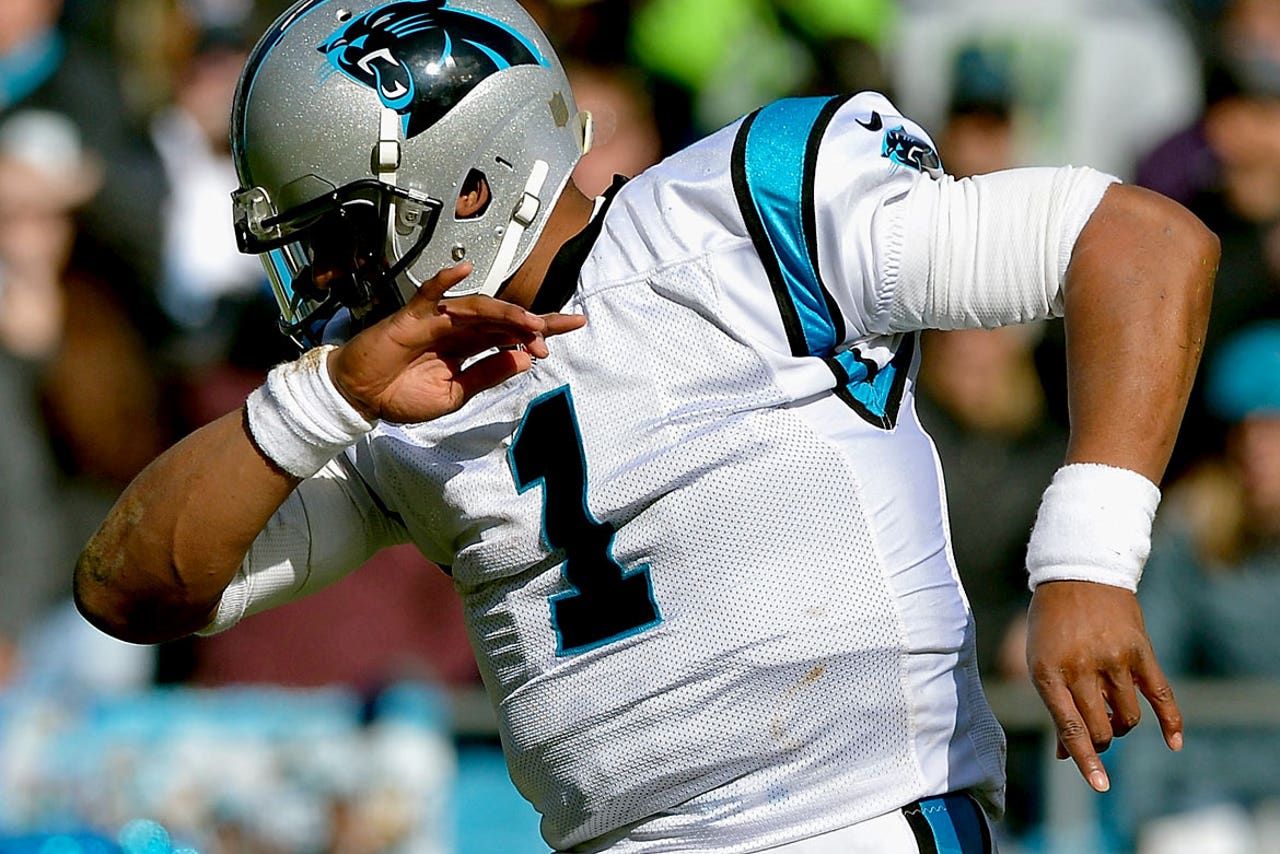 CHARLOTTE, NC - JANUARY 17: Cam Newton #1 of the Carolina Panthers shows his trademark "dab" against the Seattle Seahawks in the 2nd quarter during the NFC Divisional Playoff Game at Bank of America Stadium on January 17, 2016 in Charlotte, North Carolina. (Photo by Grant Halverson/Getty Images)
SC: I don't know. He's addressed it a lot actually, and I respect him for standing up and answering those questions for sure. Obviously there's a lot of talk about race and just his uniqueness as a player. And there's so much scrutiny for the quarterback position in football in general. But the way he plays the game is so much fun to watch — he's smiling, he's joking, he's laughing, he has a flair about him. And obviously when he's dancing in the end zone and all that, he's not the first person to do it, he won't be the last person to do it. 
The unwarranted scrutiny, I don't know really what the root of it is, but the fact that he continues to be himself despite whatever anybody might say, or any letter that a fan might write about why he's dancing in the end zone, dabbing or whatever. He takes it well, and continues to be himself and just plays the game and has fun doing what he does. I try to keep that same mentality, regardless of if there's praise or scrutiny.
FS: There's been guys recently that were tagged with the best player in the game label that were polarizing. Kobe Bryant, obviously, for a lot of reasons. LeBron, when he left Cleveland the first time. What do you think you would have to do to sort of get that polarizing label, because again, fans don't hate you, there's no negative narratives written about you. Is there anything you could do to sort of become a villain in the league?
SC: I have no idea (laughs). It's funny now how certain just off-the-cuff comments or whatever, even in the last month, started headlines. Me talking about the Super Bowl, we have a game Saturday and they have a game Sunday, I said hopefully it'll be a great 48 hours, a win and a win for us and the Panthers. That became a "guarantee" that we're going to beat OKC, and this and that. The position I'm in, whatever I say is going to be analyzed and all that kind of stuff, which is fine by me. But I don't know exactly what it'd take to be a polarizing figure. I just try to be myself and enjoy what I do. You can't really control that stuff, so there's no point in wasting energy on it.
FS: Kobe Bryant's now in his 20th NBA season, and obviously he's retiring after this season. Do you see yourself having that type of longevity assuming you stay healthy? And then, if so, do you think the way that you play the game now would translate over that type of time period, or would you have to adjust some of the things that you do to stay in the league that long?
SC: I want to play that long. My dad has kind of been the standard for me, he played 16 years in the league, and since I've been in the league, every year that I go through and deal with the scratches, the bumps and bruises, just the grind that it is to go through one NBA season. 
I have such a respect for those guys that play that long into their careers, because there's just so much that you go through. So, for Kobe to be, one with the same team for 20 years, and two, to play 20 years is pretty remarkable. I would love to be one of those guys. Being able to shoot the ball will hopefully allow me to have that longevity, [as well as] being able to handle the ball. Obviously quickness and speed might deteriorate as you go through your career, but I think the way that I play the game will last a good while. I won't have to do any major changes to continue my career a long way, hopefully. Just hopefully stay healthy, and be able to help a team out as I go through and still play at a pretty high level.
FS: We've got All-Star weekend coming up, are you planning on defending your three-point shootout title?
SC: Most likely. I've done it three straight years and finally won one. Knowing I'll be there already, I'll probably suit up Saturday night and see if I can defend it. It's a gym I've gotten a lot of shots up in growing up, with my dad playing up there for three years. So, it'll be a pretty special spot to lace 'em up and shoot some threes.
---
---