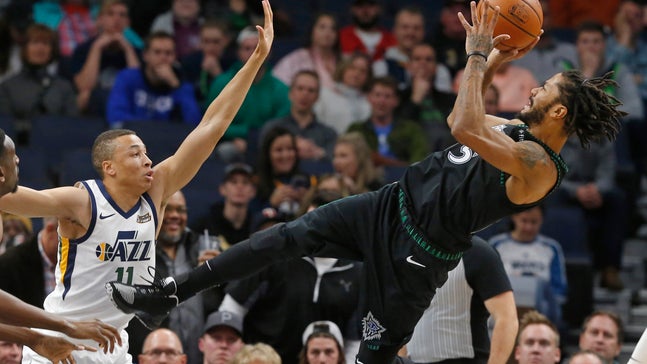 Rose scores career-high 50 points, Timberwolves beat Jazz
Updated
Mar. 4, 2020 6:42 p.m. ET
MINNEAPOLIS (AP) — Derrick Rose scored a career-high 50 points in a vintage performance that lifted the Minnesota Timberwolves over the Utah Jazz 128-125 on Wednesday night.
An emotional Rose was in tears after the game as he walked off the court serenaded by chants of "MVP! MVP!" from the home crowd. The 30-year-old point guard has been derailed by injuries since winning the 2011 NBA MVP award.
He had 34 points in the second half and 15 in a tightly contested fourth quarter as the Wolves held off the Jazz, who waived Rose in February after a two-day stint.
Rose shot 19 of 31 from the field and hit four 3-pointers. He played 41 minutes, his most in nearly two years.
His basket down low with 30 seconds remaining put Minnesota up for good, and he made two free throws with 13.8 seconds left to make it a three-point lead.
Jae Crowder and Joe Ingles each missed a 3-pointer that could have tied it for Utah. Rose then blocked a 3-point try by Dante Exum with 2.7 seconds to go, and the Timberwolves grabbed the loose ball to seal it.
Back in the locker room, excited teammates doused Rose in celebration.
Making his first start of the season, Rose scored 19 points in the third quarter as the Timberwolves took a five-point lead into the fourth. Karl-Anthony Towns added nine of his 28 points in the period.
Minnesota played without All-Star Jimmy Butler, as well as point guards Jeff Teague and Tyus Jones. Butler sat out with what the team described as "general soreness."
Donovan Mitchell scored 26 points, and Rudy Gobert added 22 for Utah.
OAKLAND, Calif. (AP) — Stephen Curry had 37 points for his sixth 30-point game of the season, and Golden State beat New Orleans for its sixth straight win.
Curry had seven 3-pointers and nine assists, Kevin Durant added 24 points and eight assists, and Draymond Green contributed 16 points, 15 rebounds and eight assists for his first double-double of the season. Green has 50 assists in the last five games for the Warriors, who finished with a season-high 39 assists.
Anthony Davis returned from a two-game absence with a sprained right elbow and had 17 points, 12 rebounds and seven assists for the Pelicans, who lost a five-game Western Conference semifinal to Golden State last postseason.
Klay Thompson scored 18 points with one 3-pointer for the Warriors two days after setting an NBA record with 14 3s and scoring 52 in a blowout road win against the Bulls.
LOS ANGELES (AP) — LeBron James scored 29 points and made the game-winning free throw with 2.1 seconds left as Los Angeles held off Dallas.
The Lakers led nearly throughout and were up 111-98 with 3:42 to go before the Mavericks went on a 15-2 run to pull even with 7 seconds remaining. Luka Doncic tied it at 113 on a jumper from the corner, but James was fouled by Wesley Matthews while shooting a jump shot.
James missed the first free throw but made the second, and the Lakers (3-5) stopped a two-game skid.
JaVale McGee added 16 points and 15 rebounds, and Kyle Kuzma scored 18 for the Lakers.
Matthews led Dallas with 21 points and Harrison Barnes scored 19. The Mavericks (2-6) have lost five straight.
PHOENIX (AP) — DeMar DeRozan scored 20 of his 25 points in the first half, LaMarcus Aldridge added 24 and San Antonio routed Phoenix for its third consecutive victory.
The Spurs led by 31 in the second quarter en route to a fifth straight win over Phoenix. Aldridge scored 16 points in the third, then he and DeRozan sat out the fourth with the Spurs comfortably ahead. The duo combined to make 20 of 25 shots.
The Suns have lost six straight and joined Cleveland and Washington at 1-6, tied for the NBA's worst record. T.J. Warren, in his first start of the season, led Phoenix with 21 points.
Phoenix played its third game in a row without star guard Devin Booker, who is still dealing with a hamstring strain.
NEW YORK (AP) — Domantas Sabonis matched his career high with 30 points, Victor Oladipo scored 11 of his 24 points in the fourth quarter and Indiana beat New York.
Indiana trailed 97-94 with 3:08 left before Oladipo got hot. Sabonis hit two free throws, and then Oladipo picked off Tim Hardaway Jr.'s lazy dribble and threw down a breakaway dunk for a 98-97 lead. Indiana scored the next five points, capped by Oladipo's 3-pointer with 1:23 left, to make it 103-97.
Hardaway led the Knicks with 37 points, and Noah Vonleh had 14 points and 10 rebounds. New York has lost six of seven since winning on opening night.
Alonzo Trier's basket cut New York's deficit to 103-101 with 44 seconds left, but Thaddeus Young found Oladipo open in front of the Knicks bench for a 3-pointer.
NEW YORK (AP) — Spencer Dinwiddie made a 3-pointer with 7.1 seconds left in overtime and finished with 25 points to help Brooklyn beat Detroit.
Joe Harris added 23 points, Caris LeVert and Jarrett Allen had 19 each, and Jared Dudley finished with 11. The Nets snapped a three-game losing streak to improve to 3-5.
Blake Griffin led Detroit with 25 points, Andre Drummond had 24 points and 23 rebounds, and Reggie Jackson scored 21 points. After Dinwiddie's late 3-poiter, Griffin missed a fadeaway. The Pistons have dropped three straight to fall to 4-3.
CHICAGO (AP) — Paul Millsap's putback with 0.1 seconds left in overtime lifted Denver past Chicago.
Denver inbounded with 3.5 seconds remaining. Nikola Jokic missed, but Millsap grabbed the rebound and converted a layup off the glass. Nuggets improved to 6-1.
Jokic had 22 points and 12 rebounds. Zach LaVine scored 28 points for Chicago, and Wendell Carter Jr. added a career-high 25.
---
---