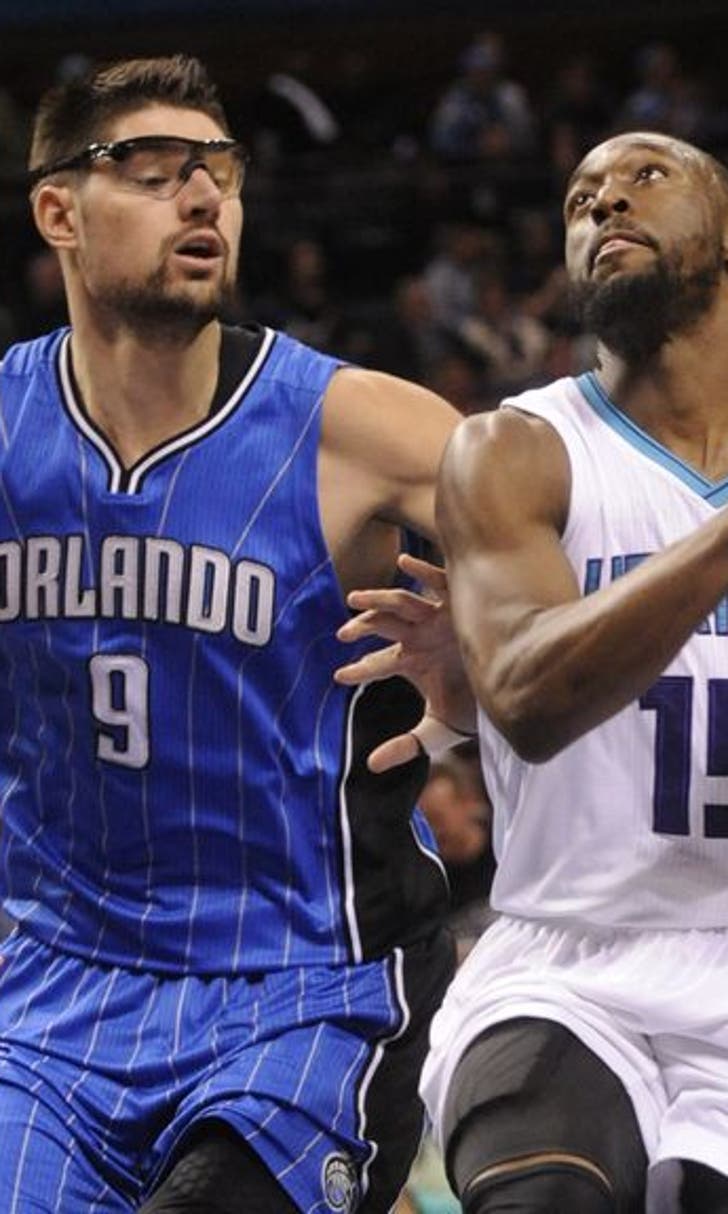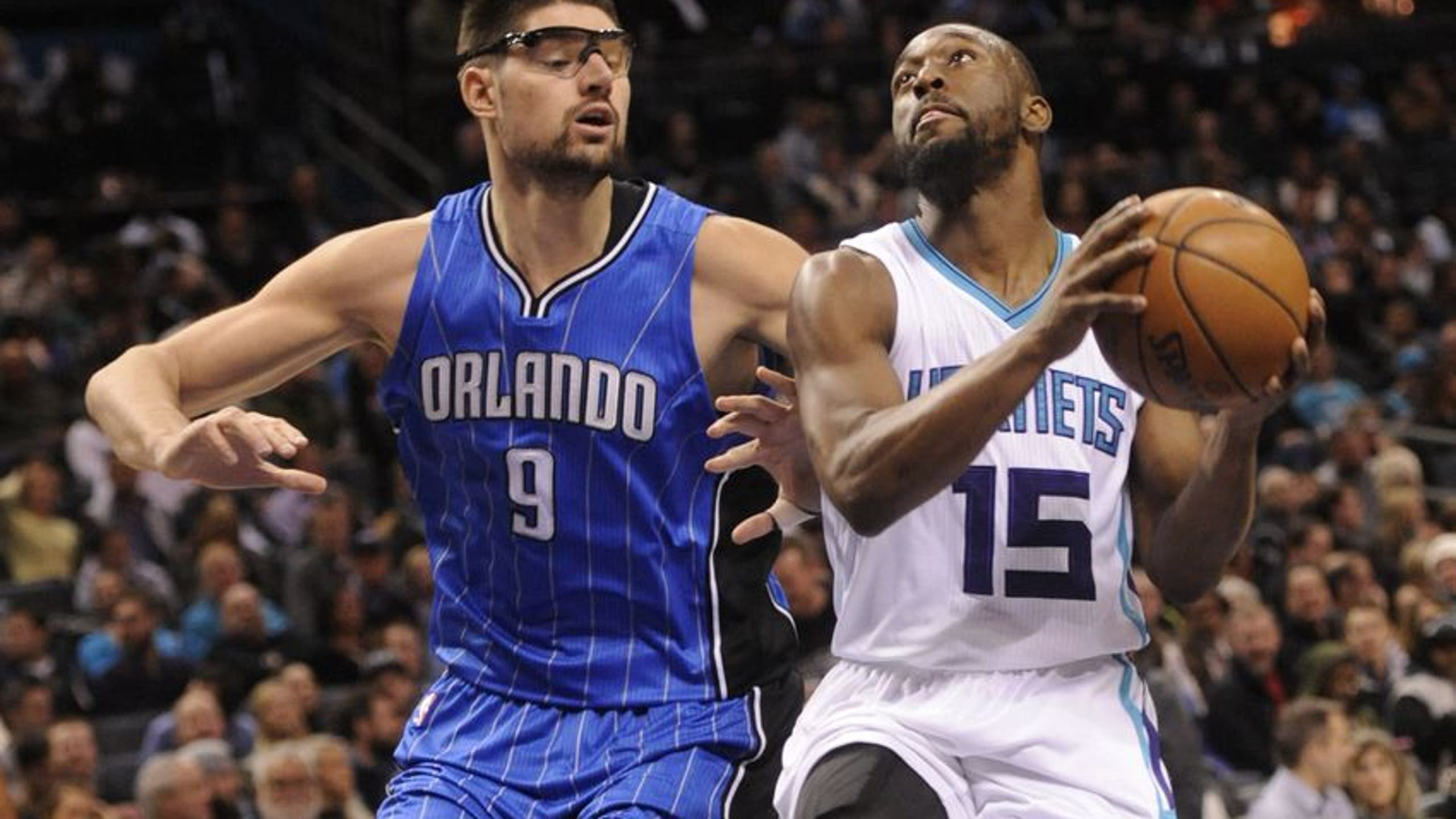 Orlando Magic Daily Mailbag Volume 19: Everyone is thinking about it already
BY Fansided and Philip Rossman-Reich/FanSided via Orlando Magic Daily • December 17, 2016
Dec 9, 2016; Charlotte, NC, USA; Charlotte Hornets guard Kemba Walker (15) drives past Orlando Magic center Nikola Vucevic (9) to score during the second half of the game at the Spectrum Center. Hornets win 109-88. Mandatory Credit: Sam Sharpe-USA TODAY Sports
It did not take long for everyone to turn their attention to it. We open the Orlando Magic Daily Mailbag and answer your questions — mostly about trades.
The Orlando Magic appear to have settled in some for the season.
The team has passed the quarter pole and statistics are beginning to settle down as the noise of early season hiccups and small sample sizes recedes into the distance.
What we seem to know about this Magic team is they can be very good on defense and very bad on offense. The holes are apparent, but when the Magic hold true to their defensive identity, they can give themselves a chance to win. They win those games when they can actually hit a shot.
The Magic have left plenty of questions this season. They have been both brilliant and terrible at various points this season. Hopeful and despondent.
Such is life with a team that is still piecing itself together and still seeking its identity. That is life with a team that was put together quickly with one goal in mind and a lot of pressure to accomplish it.
There is still plenty of time this season. Nothing is lost for Orlando, even hovering below .500 at the moment. The Magic are one good run away from placing themselves more firmly in the conversation.
But that one question still hangs in the air. It is Dec. 15 now, after all. The trade market is unofficially open and the Magic are hunting for some help.
The Magic will likely remain patient. Frank Vogel remains confident his team is taking steps in the right direction. But how long will the Magic be willing to wait. At what point do they pull the trigger to make a push and save the season?
Those are the big questions facing the Magic the rest of the season. For now, the big question facing us is the big one — when will that inevitable trade happen and what will the Magic seek. . .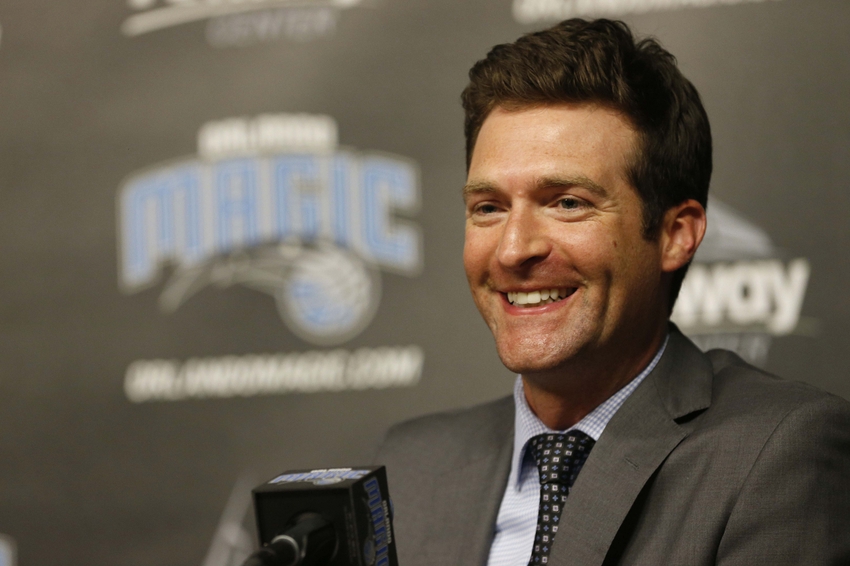 @OMagicDaily The Magic will make a move right? Just wondering and whi do u think is most likely to go

— serge iblocka???????? (@magickeanuk) December 2, 2016
As you can tell by the sheer volume of tweets on this slide, this is the question I probably get asked the most.
Who will the Magic trade? What will they target? And who can they actually get?
I will note a few things — which I also talked about on a recent episode of Locked On Magic.
First, I think the Magic are looking to keep most of their team intact and push for the Playoffs. They have no reason to give up on that. So they will do everything they can with the roster they have now to stretch it out.
Second, I do not think the Magic will be willing to deal Serge Ibaka until the season has hit the point of no return. That is unless they get some deal that absolutely blows them away.
And third, I think the Magic will still have some reticence to taking on a lot of long-term salary unless they truly believe it will take them over the top and get into the Playoffs. There is no reason to take on Brandon Knight and his $43.9 million and three more years if the team does not believe he can truly be a major part of their core. Maybe they do, I do not.
So having said all that . . .
I do think the Magic need to make a trade and fish for a way to balance the roster a bit more. The Magic have a lot of defensive pieces, but their lack of offense is pretty evident. The reports the Magic are looking for a scorer is not surprising. They just need one more player in the starting lineup who can create his own shot and get into the paint.
@OMagicDaily who do you think the magic will shop around and what position do you think they will be looking for in return?

— Tyler Barreto (@_TylerBarreto12) November 1, 2016
To get that, they are probably going to have to fish around for teams looking to clear some cap. Jeff Green is probably the player they are most looking to deal. They probably view his expiring contract as a big piece for a team looking to unload some salary and clear space for free agency. His value will peak right at the deadline.
Outside of him, Nikola Vucevic is probably the next big trade piece. The writing is on the wall for him with the signing of Bismack Biyombo. It is hard to justify leaving that much salary on the bench. And I just do not see the Magic going Nikola Vucevic–Bismack Biyombo long term, despite its relative success so far this season.
His contract is very team-friendly and he can still produce — and is producing — at a high level. The only thing the Magic have to make sure is they get a backup center in return to keep their roster relatively balanced.
C.J. Watson and Jodie Meeks are also valuable as expiring contracts. And, at this point, Mario Hezonja is a sweetener. Some team somewhere will believe they can salvage him (and it may still be the Magic, who knows?).
@OMagicDaily OS article stating magic looking to add offense (duh) but who's realistic? Do we go all-in on a guy like Gay or bench player?

— Andy Jordan (@the_fan9) December 6, 2016
So who are the realistic targets? This is the question everyone ultimately wants to know.
My answer right now is much more reserved. The trade market in December simply is not developed enough. Teams are not sure whether they are buying or selling quite yet unless both teams are trying to give up a lot. December trades are typically panic trades.
December trades are typically panic trades. Teams are just doing their homework right now and making calls and assessing their needs. Names will pick up in about a month.
The early trade market is very murky. I do not want to speculate on who the Magic are targeting. But I could see them making a call for a player like Rudy Gay — a pure scorer, who does not do much else. Magic fans have found Jrue Holiday, Danilo Gallinari and Brandon Knight popular options.
Gallinari is intriguing for his potential pairing with Aaron Gordon at forward, but would fundamentally change how the Magic play — a risk in itself. Wilson Chandler is also an intriguing name coming from Denver — the bigger question there is are the Magic willing to stomach Kenneth Faried, his contract and his drawbacks?
Gallinari is intriguing for his potential pairing with Aaron Gordon at forward, but would fundamentally change how the Magic play — a risk in itself. Chandler is also an intriguing name coming from Denver — the bigger question there is are the Magic willing to stomach Faried, his contract and his drawbacks?
Again — and I repeat this for the fake rumor sites — it is far too early to attach any names to any teams. And this is pure speculation.
Between now and February, teams will falter and fall out of the race. The Magic may be one of those, changing their posture from looking to improve the roster and push for the Playoffs to reloading the draft and young player cache.
So patience is still the word of the day when it comes to trades. There is still a long way to go.
Nov 3, 2016; Orlando, FL, USA; Orlando Magic forward Serge Ibaka (7) and center Nikola Vucevic (9) high five in the first half in a game against the Sacramento Kings at Amway Center. Orlando Magic won 102-94. Mandatory Credit: Logan Bowles-USA TODAY Sports
They struggled a lot at the beginning of the season, but I still think the Orlando Magic's original starting lineup is still the best one they can throw out there. That is Elfrid Payton, Evan Fournier, Aaron Gordon, Serge Ibaka and Nikola Vucevic, for those counting.
Maybe, for shooting and balance purposes, I would go with D.J. Augustin. But, ultimately, this is the lineup you want to live and die with. And, for the most part, the Magic close with this lineup to mixed results.
The numbers are, admittedly, not good for this group. The Orlando Magic's original starting lineup posts a 103.5/110.4 offensive/defensive rating split in 169 minutes. But, since the first lineup change, that group is posting a 101.1/98.7 split in 26 minutes. It is a small sample size, but it is something worth exploring now that the team is used to each other again.
Take Elfrid Payton out and add D.J. Augustin for more shooting, and that group has an 112.4/85.9 offensive/defensive rating split in 39 minutes this season. That lineup seems to have more balance and is the best lineup.
The Magic are clearly still experimenting with lineups and starting/bench units. Say what you want about how poor the starting lineups look statistically, they do provide a good balance so the bench unit can also score.
Orlando probably will need to make a lineup change at some point again. Production matters and what they have is producing only moderately. Expect some experimentation.
I would like to see Payton and Vucevic back in the starting lineup with Gordon. But Augustin is a fine replacement too. And, yes, I would like to see some more experimenting with Ibaka-Gordon front lines (Jeff Green can join, I guess).
Nov 11, 2016; Orlando, FL, USA; Orlando Magic forward Aaron Gordon (00) drives to the basket as Utah Jazz guard Shelvin Mack (8) defends during the first quarter at Amway Center. Mandatory Credit: Kim Klement-USA TODAY Sports
If you had asked me this at the beginning of the season, I would have said absolutely. Aaron Gordon should play primarily at power forward.
Sitting here now, today? I am still not sure.
Gordon's perimeter defense is stellar. He is a future all-defensive team player. I have no doubt about that. And keeping him on the perimeter guarding the best wing player feels like an absolute necessity. That means you have to play him at the 3.
But, yes, his offensive game is still somewhat limited. And his offense in the half court has been most successful when they get him closer to the basket.
The plan to use him in pick and rolls has been disastrous — 0.47 points per possession — and the Magic have scaled back his on-ball responsibilities.
The trick with Gordon, it seems, is to play him like a power forward on offense, while keeping him at small forward on defense. That is a tough player to pair. And Serge Ibaka is not exactly the flexible kind of big to do that successfully.
Gordon continues to improve as a shooter. His percentages are still pretty low, but he has been shooting a lot more comfortably and confidently.
And he had games like he had Wednesday night against the L.A. Clippers, Gordon can be pretty special, even at small forward.
The jury is still out. Put me firmly in the maybe camp. But I might quietly think his future is at small forward.
Nov 5, 2016; Orlando, FL, USA; Orlando Magic forward Serge Ibaka (7) against the Washington Wizards during the second half at Amway Center. Orlando Magic defeated the Washington Wizards 88-86. Mandatory Credit: Kim Klement-USA TODAY Sports
From Andrew Chavez, via Facebook:
So my question is if we don't make the playoffs this year and Serge doesn't resign with us, which direction do the magic go trade off the team and rebuild or build off the team we already have with free agents regardless if we keep Rob?? Thanks
Andrew.
This is not a scenario anyone wants to think about when it comes to this Orlando Magic team, but it is one the team and its fans have to be prepared for. What happens if this Playoff gambit fails? What direction do the Magic go?
The next two months will determine this direction and the Magic's ultimate trade deadline strategy.
Let's say the Magic keep Ibaka and believe they can make the Playoffs come February and then miss it.
In this scenario, the team probably faces some questions but works to re-sign Ibaka and then trade off assets that do not fit to build a better team. Assumedly they keep whatever players they trade. In this situation, the Magic are hoping for internal growth to improve and get in 2018.
Let's say the Magic keep Ibaka and fall well short of the Playoffs. Then things probably get stickier. How do the Magic rebuild?
Part of that, again, depends on whom they acquire at the deadline. Take on too much long-term money and the magic are stuck with the team they finish the season with.
I suspect the Magic will try to hedge their bets. They will not take on too much long-term money in case things do fall apart and fail this season.
I do not believe the Magic will commit to a full rebuild again. It has been four years since they made the Playoffs and there is a growing appetite to get to the postseason sooner rather than later (obviously).
Barring getting a top-3 pick, the Magic are going to turn to veterans and try to trade their way back to relevance or pick up players in free agency again. The path is very uncertain. Really either way. The hope is making the Playoffs, or just missing it, will show signs of growth for the team to get better in 2018 and attract some new free agents.
Outside of that, I cannot really chart a clear path for the Magic moving forward.
That will do it for this edition of the OMD Mailbag. Have no fear, there are more questions to clear out and I will get to them before the end of the month (I hope)! Feel free to keep submitting questions to me on Twitter @omagicdaily or @lockedonmagic and you can always e-mail or submit questions for future mailbags at omagicdaily@gmail.com.
More from Orlando Magic Daily
This article originally appeared on
---
---