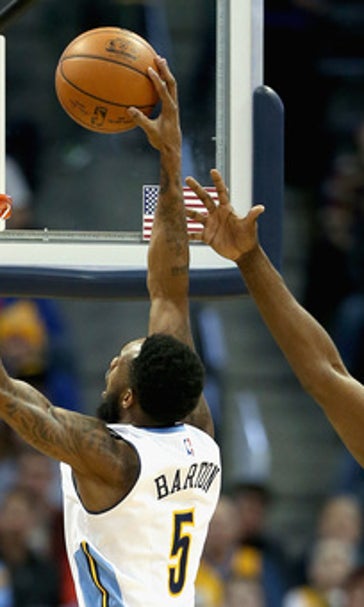 Nuggets tie NBA mark with 24 3s in 132-110 win over Warriors (Feb 13, 2017)
February 14, 2017

DENVER (AP) The sellout crowd at the Pepsi Center came to see the sharpshooters, and they did. Only, it wasn't the Golden State Warriors hitting from long range, but the short-handed Denver Nuggets.
''Once we saw a few go in, we just wanted to keep going, see how many we could hit,'' Will Barton said after the Nuggets tied an NBA record with 24 3-pointers while shocking the Warriors 132-110 on Monday night.
The Nuggets beat the Warriors at their own game, but it wasn't by design.
''We just wanted to get after them, challenge them on offense and defense. It just so happened that we hit a lot of 3s. So, we just kept rolling with it,'' Barton said. ''But we never come into a game, especially with a team like that and just want to outshoot them from beyond the arc because that's what they do.''
The Warriors couldn't counter Denver's dizzying display, sinking just 8 of 32 3-pointers.
Even Stephen Curry couldn't keep up with Denver's surprise sharpshooters, finishing 1 of 11 from beyond the arc.
''I felt confident, every shot I took felt like it was going in,'' Curry said. ''Just got served a humble slice of cupcake.''
The only Denver player who didn't join the long-range barrage was Nikola Jokic, who was too busy setting career highs with 12 assists and 21 rebounds to go with 17 points in his second career triple-double.
The Nuggets tied the 3-point mark set by the Rockets in December against New Orleans when rookie Juan Hernangomez sank his sixth three at the 2-minute mark.
''Yeah, we knew it at the end,'' Gary Harris said. ''We were trying to get one more.''
But their last two 3-pointers in the final minute rattled out, and Jamal Murray passed up an uncontested 3 to dribble out the clock. Denver finished 24 of 40 from beyond the arc.
''Every time somebody shot, it just felt like the ball was going in,'' Harris said. ''It's crazy.''
Hernangomez scored a season-high 27 points to go with a season-best 10 boards, Barton added 24 points and Jameer Nelson 23.
Kevin Durant led Golden State with 25 points 48 hours after his emotional return to Oklahoma City.
He kept waiting for the Nuggets to cool off, and they never did.
''I thought they would. They were playing confident and free,'' Durant said. ''They had nothing to lose, especially missing some of their guys.''
The Warriors' ninth loss of the season matched their total from last year when they set an NBA record by winning 73 games. This also marked their biggest loss since a 129-100 blowout at the hands of the Spurs in the season opener.
''It was one of those nights they had everything going, they were on fire and we couldn't get much going ourselves,'' Warriors coach Steve Kerr said. ''We looked kind of gassed out there.''
BACKUPS' COMEBACK
The Warriors trailed by as many as 28 and were down 107-85 after three quarters. Kerr sat Durant, Curry and Draymond Green in the fourth quarter, and the backups cut it to 109-100 before the Nuggets pulled away again, thanks to some more 3s.
''We had a really good mentality coming in but kind of laid an egg,'' Curry said. ''Our young guys did a great job of providing some life and entertainment.''
TIP-INS
Warriors: Golden State trailed 79-54 at halftime. ... Curry scored just 11 points. Three of the last four times he's scored 11 or fewer have come against Denver. ... Golden State was without guards Klay Thompson (sore right heel) and Shaun Livingston, who headed home for the birth of his daughter. Also out were Zaza Pachulia (strained rotator cuff) and David West (left thumb). ... The Warriors fell to 13-1 against the Northwest Division.
Nuggets: The 79 points marked Denver's biggest first-half output of the season. ... Denver is banged up, too. Danilo Gallinari (strained groin), Kenneth Faried (ankle) and Darrell Arthur (knee) all sat out along with Emmanuel Mudiay (back) and Wilson Chandler (illness). ... Denver is 8-1 over last nine games at home.
UP NEXT
Warriors: Wednesday they host the Kings, a team they lost to in overtime, 109-106 on Feb. 4.
Nuggets: Wednesday they host the Minnesota Timberwolves in what should mark Plumlee's first game in a Nuggets uniform. Denver hasn't won back-to-back games since Jan. 26-28.
---
Follow Arnie Melendrez Stapleton on Twitter: http://twitter.com/arniestapleton
---
---