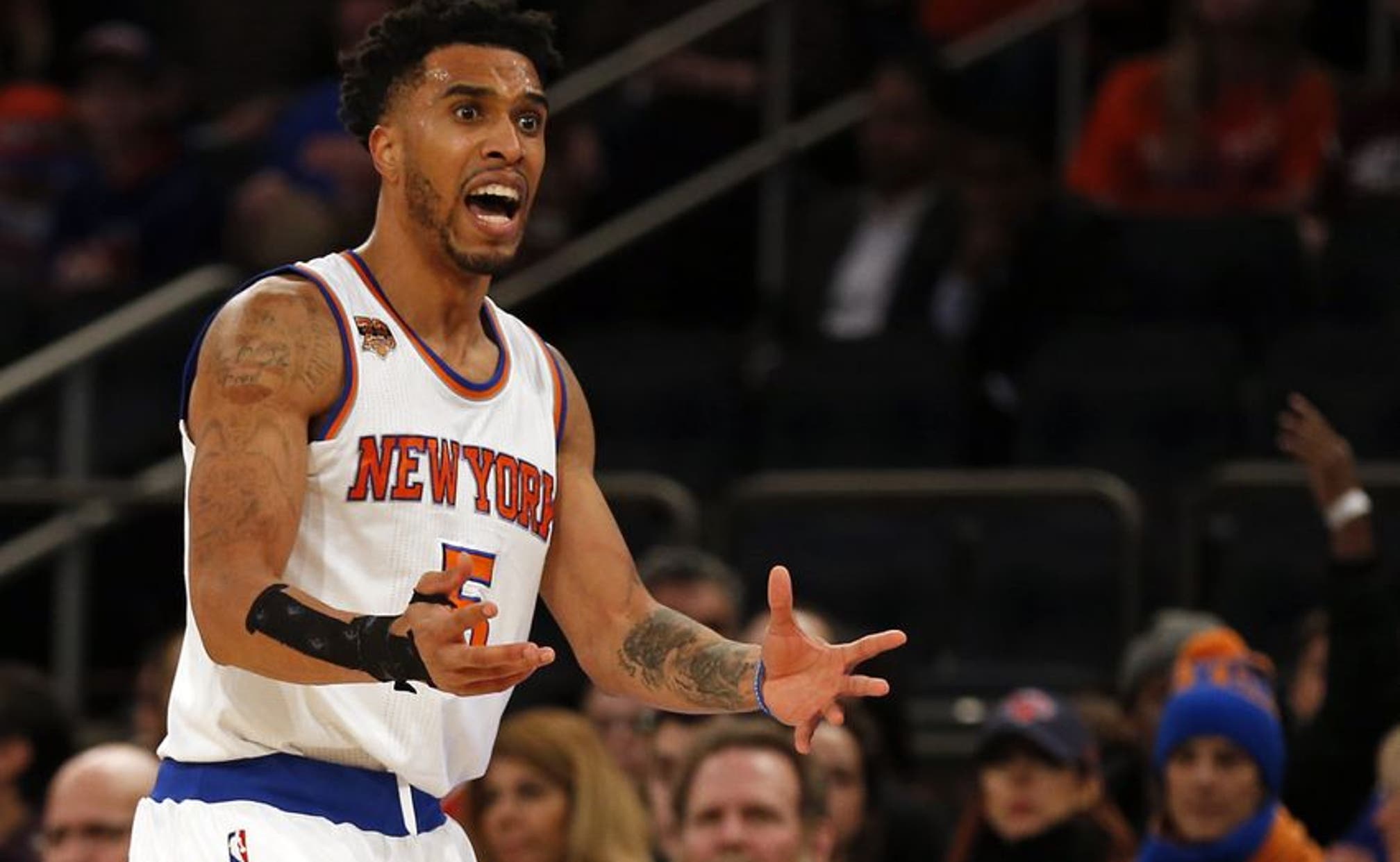 New York Knicks: Here Is What's Wrong With The New York Knicks
BY Fansided and Matthew Perez/FanSided via Daily Knicks • January 3, 2017
After arguably their worst loss of the NBA season against the Orlando Magic, are the New York Knicks even capable of playing good defense?
---
Madison Square Garden was so quiet at some points in last night's defeat that you could distinctly hear the chatter on the court. The New York Knicks, who at one point were 14-10, are now 16-18 after their 115-103 loss to the No. 12 seed Orlando Magic.
The Knicks have had their fair share of injuries throughout the last couple of games. Derrick Rose missed four games with back spasms, Courtney Lee missed three with his wrist injury, and Kristaps Porzingis has missed the last two games with an achilles injury.
With that being said, there's absolutely no excuse for the Knicks inability to play competitive defense.
When Jeff Hornacek spoke in his post-game presser last night, he was clearly upset about the lack of effort on the defensive end, even wondering if the Knicks were capable of playing good defense. While I do believe he meant some of what he said, his comments were intended to motivate his players to find a way to defend at a higher level.
Unfortunately, no head coach should have to continuously motivate his players to play hard on both ends of the floor. Especially when you consider that many players on the Knicks have been a part of elite defenses in the past.
Joakim Noah, who has elevated his play in recent weeks, was a former Defensive Player of the Year on a great Chicago Bulls defense, alongside Rose.
Courtney Lee is known to be a solid wing defender and played on elite defensive teams during his time in Memphis. Porzingis, who struggles with his rebounding from time to time, is a top shot-blocker in the league and has shown flashes of defensive brilliance.
Then, there's Carmelo Anthony.
Reason: Carmelo Anthony
With great power comes great responsibility, and as the leader of the Knicks, Anthony needs to be held accountable on both sides of the ball. It's no secret that Anthony has been suspect on the defensive end of the floor throughout his career, and this year is no different.
What has saved Anthony from harsh criticism in the past was his ability to score at an elite level on the offensive end. This season, those games have come few and far between.
Offensively, which has been the better side of the floor for the Knicks, has seen its fair share of struggles this season. That's due in large part to the lack of ball movement. Usually, that lack of ball movement has something to do with Anthony and his ball-dominant style that favors isolation basketball instead of ball movement.
A perfect example is the video above, where Anthony calls an isolation play for himself when Hornacek clearly had a play called.
In the past, coaches would live with this decision. Anthony would make those shots on a consistent basis. This season, Anthony is averaging 21.8 points per game and shooting 42 percent from the field and 33 percent from beyond the arc.
We must acknowledge that the addition of Rose, in conjunction with Porzingis, will ultimately take away shots from Anthony, thus lowering his points per game average. The alarming part is that with these two high-caliber offensive talents, Anthony is shooting less efficiently.
Take Kevin Durant, for example, who has maintained a similar scoring average with a higher field goal percentage since joining forces with Stephen Curry and Klay Thompson. Anthony must find a way to score on teammates' assists instead of isolating on the wing and creating offense for himself.
This team is too talented on the offensive end to still have struggles with their ball movement. As far as the defense:
This is one example from last night's beating from the Magic, where Anthony doesn't even attempt to close out on his man, which he left open for helping Noah in the paint. How do you motivate the other players on your team to defend at a high level when the leader of the team is playing defense like that?
Granted, there are other players who are struggling defensively, and this defensive effort is not solely on Anthony. However, players usually follow the lead of their best player, and if Anthony continues to defend like that, the Knicks won't even make the playoffs.
Advice for Coach Hornacek:
Have a sit-down meeting with team president Phil Jackson and see what kind of trade they could make before the deadline to bolster their defense. As fellow writer Maxwell Ogden said in his earlier article, adding a veteran wing defender like Tony Allen, or All-Star power forward Paul Millsap to play alongside Porzingis, could elevate the Knicks' defense.
If a trade isn't possible, or the Knicks decide that giving up draft picks isn't in their favor, Hornacek needs to roll with the hottest unit. If the starting lineup is struggling, failing to move the ball, and playing lackadaisical defense, bring in the bench.
Hornacek has shown that he will reward his bench with extra minutes if they play well, and it's effective. This shows your team that you aren't exempt from competing at a high level because of who you are, what you make, or what you've done.
This is New York, and if the Knicks don't muster up the effort to win basketball games, the walls will begin to cave in on Phil Jackson's experiment. As I said before, the Knicks were once 14-10 and fourth in the Eastern Conference.
They've shown that they could defend well enough to win games, especially on their home floor.
That is further proof that the Knicks don't have a talent problem; they have an effort problem, and that is simply unacceptable. The Knicks will welcome a very talented Milwaukee Bucks team to the Garden on Wednesday night.
If they come out with the intensity that they did against the Magic, the Knicks will suffer another home blowout and drop their sixth straight game.
More from Daily Knicks
This article originally appeared on
---
---