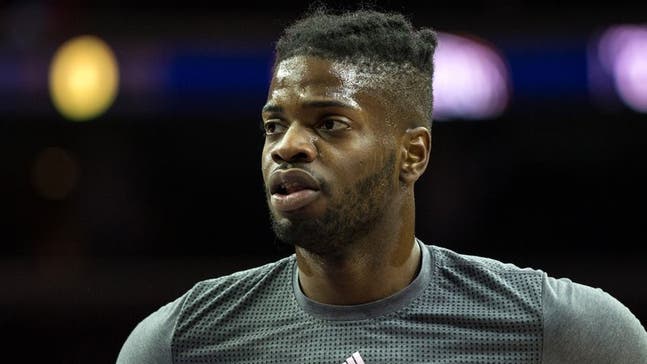 NBA Trade Rumors: Nerlens Noel, Goran Dragic On The Move?
Updated
Mar. 4, 2020 9:28 p.m. ET

Fansided, Nicholas Gonzalez/FanSided via Sir Charles In Charge
Dec 20, 2016; Philadelphia, PA, USA; Philadelphia 76ers forward Nerlens Noel (4) warms up before a game against the New Orleans Pelicans at Wells Fargo Center. Mandatory Credit: Bill Streicher-USA TODAY Sports
Could 76ers star Nerlens Noel be on the move? Who else could possibly be dealt come this NBA trade deadline? Taking a look at a few other NBA trade rumors.
We're nearly in January and that means the trade deadline is just about two months away. What NBA trade rumors are already transpiring and what players could be on the move?
The NBA is probably just behind baseball for the impactful trade deadlines in the major three sports. Every season, players that are quality starters or see quality minutes move to new teams.
There may not always be a blockbuster deal, but there is definitely always some action. Let's take a look at some of the players rumored to be on the move, and a few of their possible destinations if they in fact get moved.
Dec 23, 2016; New Orleans, LA, USA; Miami Heat guard Goran Dragic (7) handles the ball during the first quarter of the game against the New Orleans Pelicans at the Smoothie King Center. Mandatory Credit: Matt Bush-USA TODAY Sports
Goran Dragic – G – Miami Heat
A player fairly new to the known trade block is Goran Dragic. The buzz around the starting point guard for Miami has been picking up as of late.
Dragic, by any means, is not an All-Star, but he is definitely a quality starting point guard. As usual, the Kings seem to be in the running for him as they believe they can still make a playoff push this season. Dragic has also been open about this trade process, not directly requesting one but is not opposing the idea.
Another suitor mentioned recently by ESPN's Zach Lowe is the Minnesota Timberwolves. Dragic could be one of the better players moved this deadline.
Possible Suitors: Sacramento Kings, New Orleans Pelicans, Minnesota Timberwolves
Dec 20, 2016; Sacramento, CA, USA; Sacramento Kings forward DeMarcus Cousins (15) during the game against the Portland Trail Blazers at Golden 1 Center. The Trail Blazers defeated the Kings 126-121. Mandatory Credit: Sergio Estrada-USA TODAY Sports
DeMarcus Cousins – C – Sacramento Kings
This is kind of counterintuitive to the Kings potentially trading for a player like Goran Dragic (as mentioned above), but what is not odd about the way the Kings run their franchise?
Cousins will always be rumored on the trade block until he is actually dealt. You all know who he is, and you know what you will get with him. You get an MVP caliber player with all-time legend potential, as well as an insane headcase.
It really is pick your poison. Whatever team even inquires about Boogie should already have in their mind they are going to need to give up a lot. The obvious suitors are, of course, Boston and Los Angeles.
Possible Suitors: Boston Celtics, Los Angeles Lakers (What's New?)
Nov 22, 2016; Denver, CO, USA; Denver Nuggets guard Will Barton (5) in the third quarter against the Chicago Bulls at the Pepsi Center. Mandatory Credit: Isaiah J. Downing-USA TODAY Sports
Will Barton – G – Denver Nuggets
This is an interesting one. Will Barton is definitely not a massive difference-maker, but he is a quality piece. Barton is having a career year this season with still another year on his deal at a team friendly $3.53M salary.
According to The Denver Post, Barton would like to stay in Denver, but that most likely is not in the Nuggets' best interest. It will be interesting to see how this plays out and if a true contender makes a play for him. Possibly the Cavs with J.R. Smith being out extended time?
Possible Suitors: Washington Wizards, New Orleans Pelicans
Apr 5, 2016; Philadelphia, PA, USA; Philadelphia 76ers forward Nerlens Noel (4) shoots against New Orleans Pelicans center Alexis Ajinca (42) during the first quarter at Wells Fargo Center. Mandatory Credit: Bill Streicher-USA TODAY Sports
Nerlens Noel – F/C – Philadelphia 76ers
What seems like the odd man out of the trio of bigs in Philly is Nerlens Noel. The big man has openly expressed his frustration with his lack of minutes despite not playing bad, Philly just can't fit him in the lineup.
More from Sir Charles In Charge
Nerlens Noel has supreme talent and has progressed every season, and would be a much-needed piece on a lot of rosters. The real question is that how does Philly move Noel without rustling Embiid's feathers.
The Process himself has openly stated that Noel is his best friend in Philly, and that isn't the exact person you want to move away from your superstar. Noel is definitely better than Okafor and definitely fits better, so it will be interesting how this plays out.
The Celtics and Blazers are obvious suitors with their needs of defensive anchors and rebounders, but with Chris Andersen done for the year in Cleveland, watch out for a push from them.
Nerlens Noel is a very versatile player and can fit on a lot of teams.
Possible Suitors: Boston Celtics, Portland Trailblazers, Cleveland Cavaliers
Like always, it will be interesting to how this deadline will pan out. What teams do you think need to make a move?
---
---