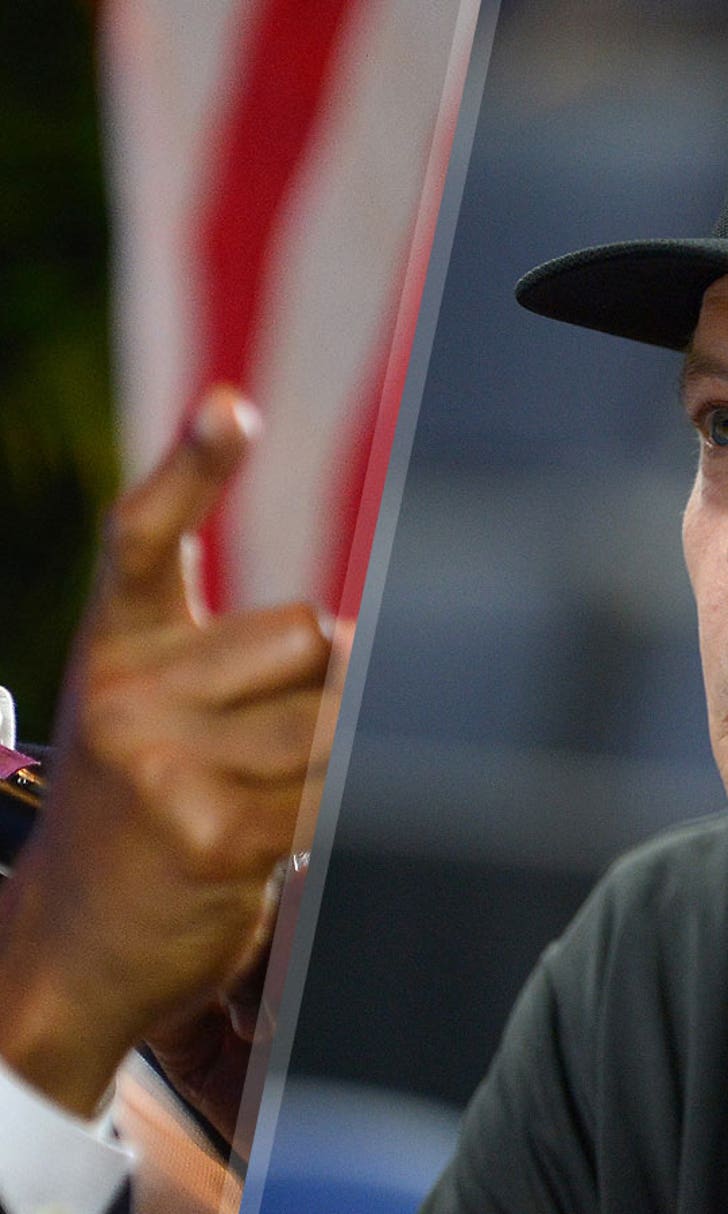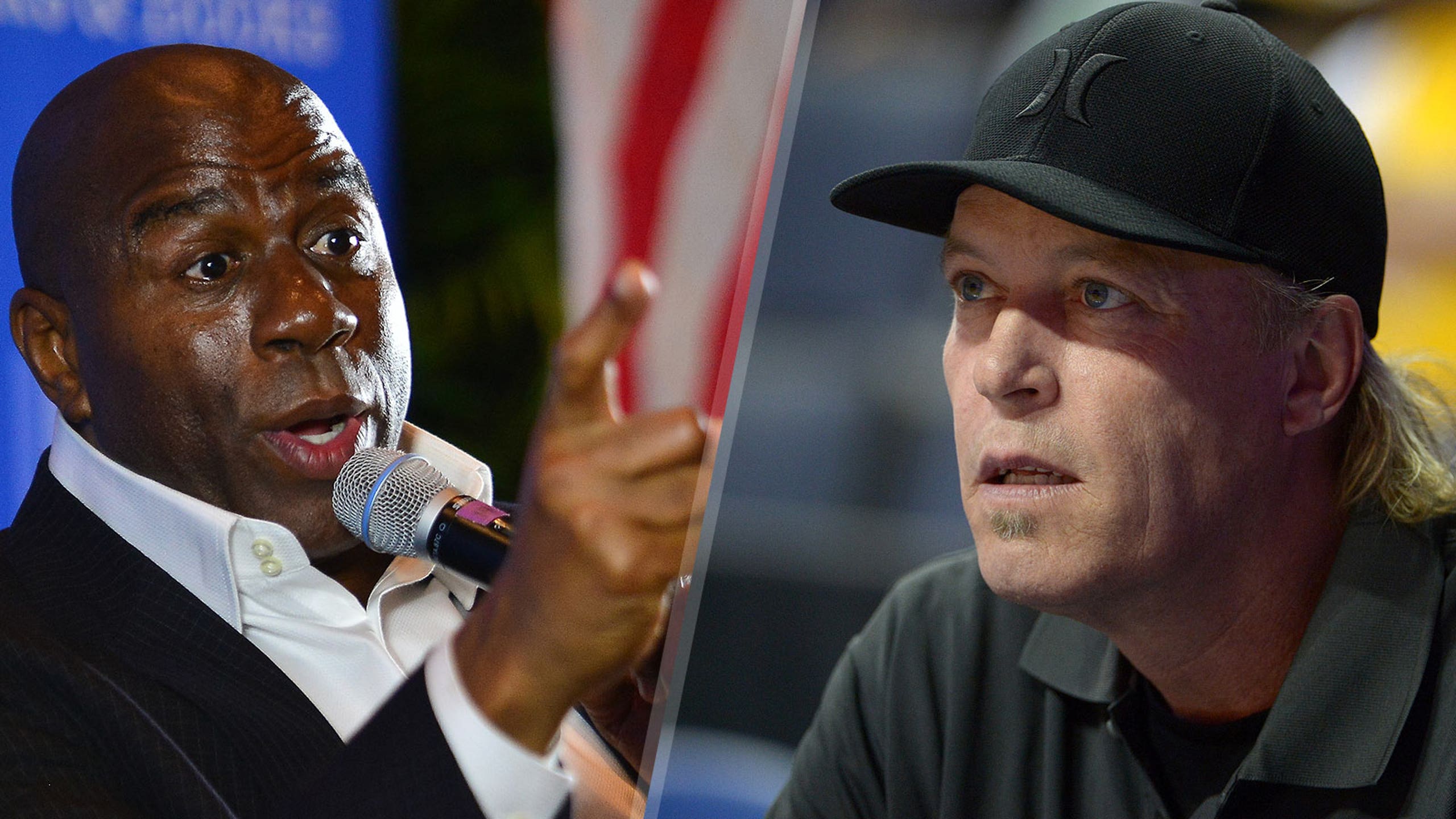 Magic rips into Lakers owner, says Kobe should threaten to retire
BY foxsports • February 11, 2015
For anyone who thinks Magic Johnson is too consumed with the Dodgers to care about the Lakers . . .
For anyone who thinks Johnson's sharp criticisms for Lakers head man Jim Buss were a thing of the past . . .
For anyone who thinks Johnson isn't above calling for Kobe Bryant to retire next season if the Lakers don't land a big-name free agent …
. . . WOW!
In appearances on ESPN's "First Take" and then co-host Stephen A. Smith's Sirius radio show on Tuesday, the Lakers great unloaded on Buss, his management style, the current state of the Lakers, and what Bryant should do to try to leverage the team's owner . . . and it wasn't pretty.
On Jim Buss' track record since taking over the club following the death of his father, former owner Jerry Buss in February 2013:
"Jim is trying to do it himself and trying to prove to everybody that this was the right decision that 'My dad gave me the reins.' He's not consulting anybody that can help him achieve his goals and dreams to win an NBA championship."
On the pressure that Buss will be under this summer to turn around the proud franchise mired in what most view as the biggest funk in its history:
"For Jim Buss, this is a big year for him and for the fan base, too, in believing in him and trusting him. He can gain the trust back if he has a good summer. … If he doesn't have a big summer with a free agent … it looks like they'll have a good draft pick. Put that together with a good free agent, you can be right back into the mix. If this summer, that doesn't happen where they can sign a great player, it's over for us."
On what Johnson believes is Buss' failure to admit his mistake in hiring Mike Brown and Mike D'Antoni as head coaches and not bringing back Phil Jackson:
"Just say, 'Hey, I made a mistake.' We can understand that. We can deal with that. He always put it on somebody else. He's mad at me because I criticize him. Then he's like, 'Magic is trying to get a job with the Lakers. Magic is trying to bring me down.' No, I'm not. I'm telling the truth about the situation and trying to make us better and trying to get us into a winning situation in terms of back to being relevant. So you get mad at me when I tell the truth.
". . . When you're wrong, you're wrong and you've got to stand up and say, 'I made a mistake,'' . . . So quit blaming and pointing the finger at everybody else instead of pointing the finger at yourself. Just say you made mistakes and we can live with that."
On what Bryant should do if the Lakers don't make the big personnel splash in the offseason:
"And I really believe this: [Kobe] should . . . say to Jim and them, 'Look, if you don't sign one of these free agents [this offseason], man, I'm just not going to play next year.' "
When asked if that means Bryant should retire rather than play next season under that scenario:
"You almost gotta say that because if you come back with the same level of talent, you're just going to have the same results. You know, so, look, Kobe, put pressure on Jim to say, 'Look, man, you've got to bring me some talent, some help, so that this can be a great season for the Lakers and a great season for me, being my last season, and then I can retire.'"
Current Lakers head coach Byron Scott, a "Showtime" running mate with Johnson in the club's glory days of the 1980s, defended Buss before Tuesday's game, a 106-96 loss to Denver at home:
"I've been with Jim now since July," he said. "I haven't spent a ton of time with him, but the guy has an unbelievable passion for this game and this organization. I know he wants this thing to work out extremely well, like we all do. So I didn't read or hear [Johnson's] comments and really can't comment on that, but I do know Jim is going to do everything he can in his power to get this organization back to where it should be. We both, and myself included, and him and [GM] Mitch [Kupchak] and [president] Jeanie [Buss], all feel this is a championship organization, and that's what we're trying to get back to."
Scott then said he speaks with Johnson and holds no ill will over Tuesday's comments:
"He's been just like we all are; he understands the process that we've got to go through this right now," Scott said. "What I did read a little bit this afternoon, it's a big summer. And I think everybody feels that way."
The Lakers are 13-39, the fourth-worst record in the league and only three games better than the bottom-feeding Knicks.
Among the players available for unrestricted free agency this coming summer are LeBron James, Kevin Love, Dwyane Wade, Tim Duncan, Marc Gasol, LaMarcus Aldridge, Goran Dragic, Monta Ellis, Rudy Gay and Rajon Rondo.
---
---