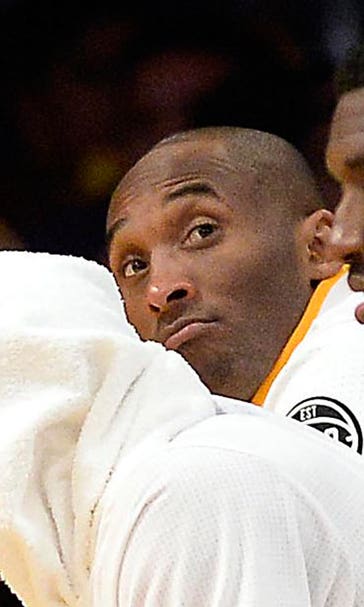 Lakers reach new historic low, but you can't blame Kobe for this one
BY foxsports • February 1, 2016
At first sight, it's just the latest in a growing list of ugly Lakers losses this season:
Hornets 101, Lakers 82
But it's that "growing list of ugly Lakers losses" part that allows one to call Sunday night's disaster perhaps the most damaging regular-season loss in the history of the purple and gold.
Hyperbole? Probably. But for argument's sake, we offer up the following:
● The loss is L.A.'s 10th straight, matching a dubious team mark.
● The loss is L.A.'s 41st of the season, assuring them of no better than a .500 record and, barring 32-game winning streak to close out the season, the Lakers are about to set yet another team mark they would prefer to leave in the history books.
● What's more, the Lakers reached these rare depths with Kobe Bryant playing one of his best games of the season Sunday night.
The retiring 37-year-old, 20-year veteran led all scorers with 23 points. He shot 44.4 percent from the field and hit half of his eight 3-point shots. He grabbed eight rebounds and handed out three assists. He was the only Lakers starter to finish with a plus rating. And he did it all in just 23 minutes. The rest of the Lakers shot a tick above 30 percent from the field -- and a dreadful 19 percent from long range. Even with Bryant's rebounding, the Lakers were outrebounded 59-42.
Yeah, it was that bad. And how does it get worse?
The Lakers' next game is against one of only two teams with a worse record than them last season. And now, the Minnesota Timberwolves -- a team that picked first in the last draft and sports four players on the roster who had not turned 2 when Bryant made his NBA debut -- can hand L.A. a franchise-worst 11th straight loss and make this latest "non-winning" season officially a losing one.
Something Lakers fans are becoming more familiar with than ever before.
---
---