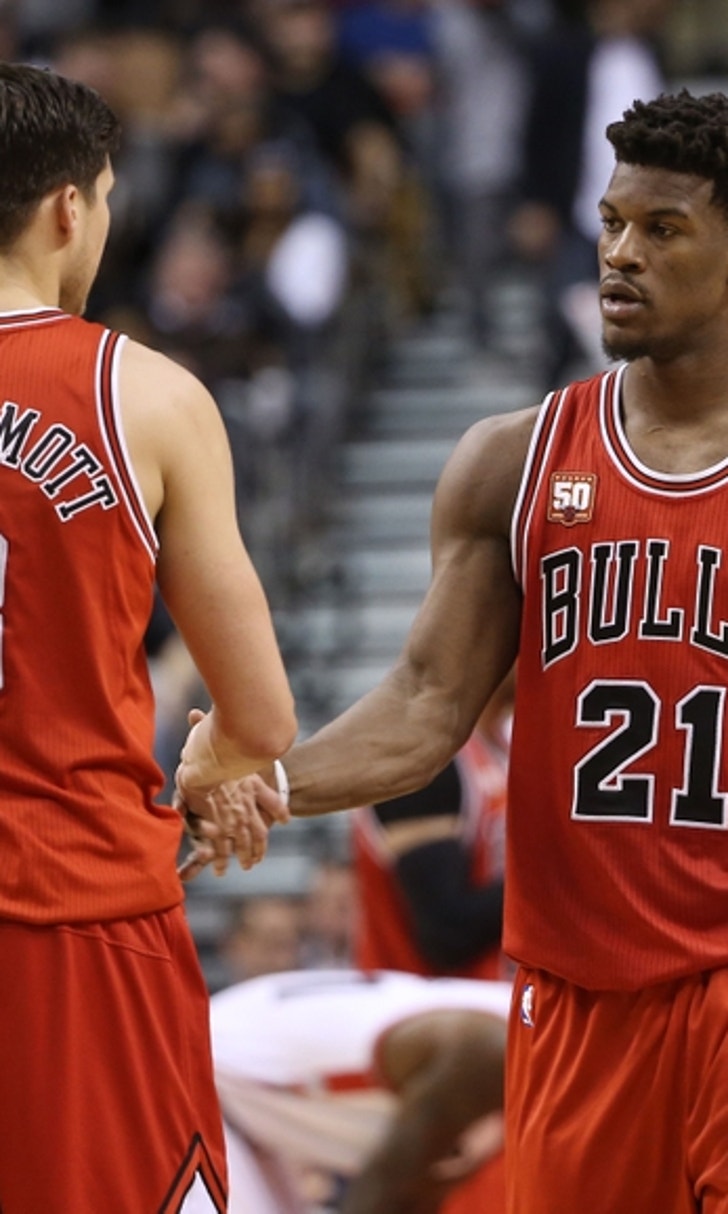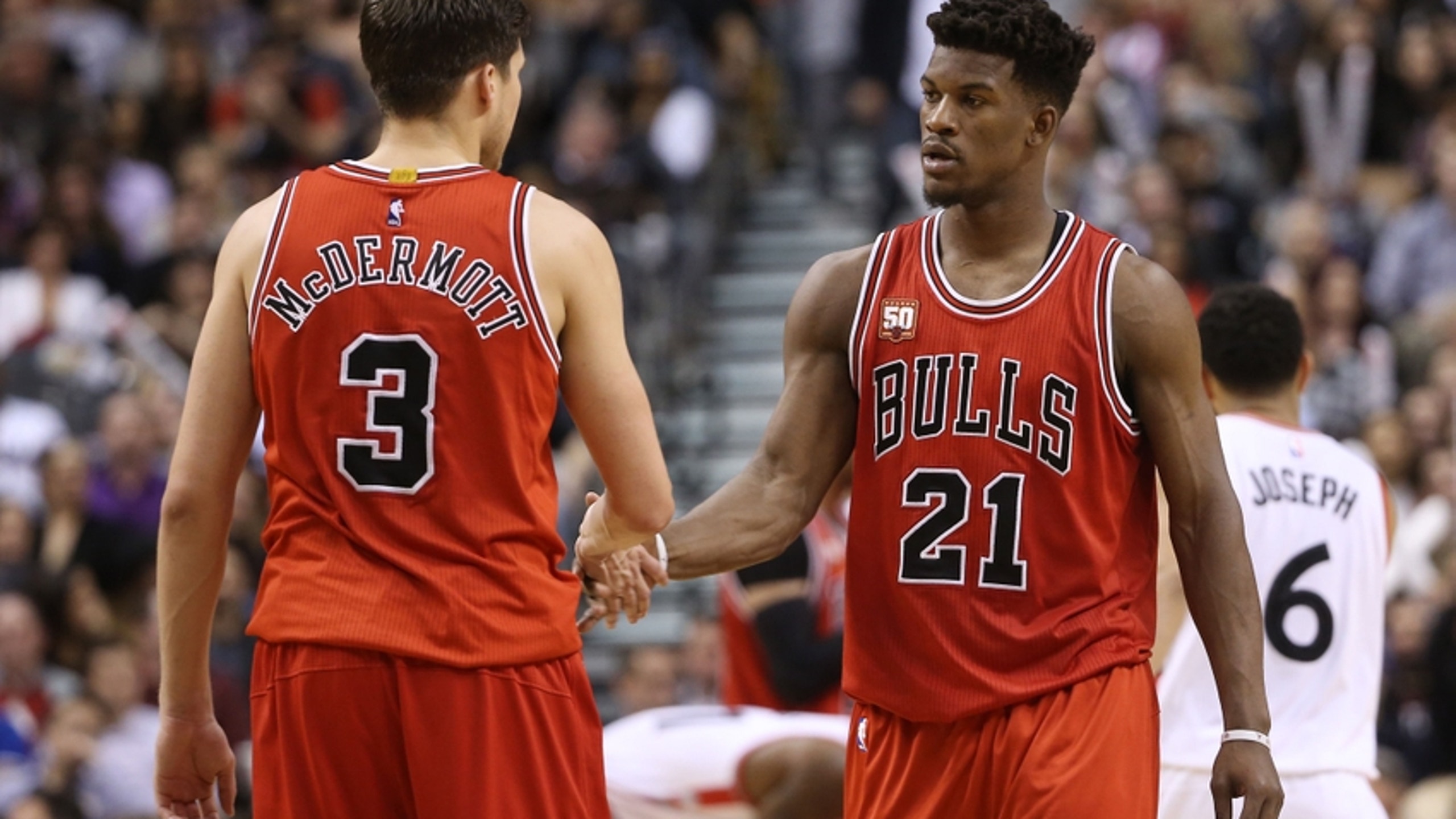 Jimmy Butler Can't Close Out Games, Try Doug McDermott Please?
BY Fansided and Michael RENE KANOY/FanSided via Pippen Ain't Easy • December 27, 2016
It might be for the best to reconfigure the Bulls' offense around Doug McDermott as main gun. Fred Hoiberg might be too timid to figure out that Jimmy Butler is slowing down the team and can't close out games on his own.
Time for Doug to Be Top Gun
The Jimmy Butler best player in the league is not working.
After winning against the embattled Detroit Pistons, the Bulls lost to the Washington Wizards after leading by 11 at the half because Fred Hoiberg played the starters  to finish the game and isolated Jimmy Butler to win it all. If we know Jimmy's game well, we know he has difficulty against double teams because he can't split them nor shoot over them. But Doug McDermott can.
Chicago ran a losing streak to bad teams and is in a funk where line-ups that have no outside shooting in the fourth quarter are not working. Does Fred remember which guys work best with whom?
Thank goodness they beat Detroit off a great shooting performance from both Doug and Nikola Mirotic. Then they reverted back to the slow, walk-up Jimmy ISO game against the Wizards and lost again. How many times do the Bulls have to lose to figure out that a grind out game with just Jimmy does not work? Why not McDermott as ISO player if they insist on that approach?
Staggering the starters is obviously not working and Dwyane Wade should be on a game and minutes restriction for the team to get maximum value out of his playing time. Playing in the fourth game in five days against Milwaukee just took everything out of his gas tank.
Then Wade himself made a pointed observation talking with Cody Westerlund of CBSChicago after the Wizards game about counting on Jimmy in crunch time too much might not be working. This is Dwyane being diplomatic telling Hoiberg what to do:
"It doesn't matter if a guy knows who it's going to," Wade said. "If the paint is packed because you're running one action, it's going to be tough. A guy has to make an unbelievable shot. That's putting a lot of pressure on Jimmy. Let's call it what it is: We're putting a lot of pressure on Jimmy in the fourth quarter to make a lot of plays because we're running just one action. So we got to get more action, more body movement."
Even local newspapers in Chicago are upset at the team for playing tired and aging players at crunch time.
If Doug were set up by Hoiberg as the main weapon of the offense, in a Larry Bird inside-outside threat position, the team should have an easier time attacking the hoop from anywhere. Other scorers like Mirotic can make the offense a pincer attack and more difficult to defend.
Will Gottlieb of The Athletic also opines the same review: The Bulls are not using their weapons like they should and treating Nikola as a catch-and-shoot player instead of a moving off-ball attacker. But it all starts with McDermott as the main offensive weapon.
Hoiberg has to stop using the starters to close out games and play a mix of sure shooting players like Doug McDermott.
Better than Taj and Jimmy
McDermott can post up better than Taj Gibson and Butler and he is a stronger threat as an ISO post-up player.
Taj may be killer in hand-offs and sliding attacks. But for post-up, power forward offense against any defender, it might be time to show McDermott's inside game.
Jimmy Butler can get hot in mid-range but his production is better off as an offball player.
Better mid-range game than Jimmy and he swings the ball too
Doug has a better mid-range game and a stronger long-range game that can only be matched by Mirotic when he's in the groove. Doug has a quick release shot that can be relied upon instead of watching Jimmy grind it out and then get gassed by all the effort by the end of the game. Doug's game is made for Hoiball but he won't generate offense if the team isn't passing to him or setting him up for plays.
When teams blitz Doug, he is smart enough to look for the quick touch pass to an open teammate unlike Jimmy who will only pass at the last second when he is already swarmed.
To Score Big, Doug Needs Touches
When the second unit bombs the hoop from outside, the starters can rest early and the third team gets time to play hold-the-fort for the remainder of the game. Again, that starts with Doug as lead scoring option.
Fred must make the change. Give a scoring combination of McDermott and Mirotic as main offense 10 games to prove themselves as a team with Jerian Grant at the point guard and Denzel Valentine playing off guard. Jerian does not have to score, but he has to defend and look for Doug when he is open.
Why the team has devolved into ISO hero ball with Jimmy or two-man offense with Taj is beyond every fan's expectations. In the Las Vegas Summer League, the bench had amazing chemistry. But this far in December, the team is giving up on their initial success as a run-and-gun passing team and strangely settling for an unworkable ISO one-on-five with Jimmy.
The team can win easier and tougher with McDermott as the focal point of the offense – a role he has grown up performing like a song.
Jimmy Butler Can Still Score Big even if Doug Becomes Lead Gunner
The gist of this idea is that Doug can get 20 points in a quarter in his sleep. But only if he is the focal point of the Bulls offense like the time he torched Toronto for 30 and had 20 in a quarter last year.
That time, Jimmy was injured. If Fred Hoiberg sat Jimmy and the team turned around then that will say everything we need to know about the roster going forward.
More from Pippen Ain't Easy
Chicago can rely on Doug to hold his own against the league's top guns when games turn into shootouts. Unfortunately, the same cannot be said for Jimmy Butler. He gets his numbers but his bricks allow the other team to stay toe-to-toe with the Bulls until the starters get gassed and the game slips away in the fourth quarter.
The back-to-back losses against Milwaukee prove it. Butler got embarrassed going head to head in a shootout with Jabari Parker and Giannis Antetokounmpo. The Detroit game may have been a fluke because the team just lost badly against the Wizards after leading by double digits in the first half. All losses of the Bulls where they had built a big lead ended with Jimmy trying to close out games and that setup is plainly not working.
If Jimmy continues not to play team ball just to get his numbers it might be time to move him to Minnesota or Boston, or even the Lakers.
It is time to choose between Jimmy and Doug as the scoring machine to finish Bulls' games. In the Detroit game and in other big Bulls wins, Jimmy can score 20 points a game and the Bulls win. He doesn't need to go for 30 a night, but Doug can do that and the Bulls win comfortably because Doug can score.
Not using Doug now sets back the team two years if they cannot decide to move on from Jimmy ISO and get the team a better chance to prove themselves on offense. Time to actually let the Sports Illustrated March Madness Larry Bird tribute with McDermott on the cover speak for itself.
---
---