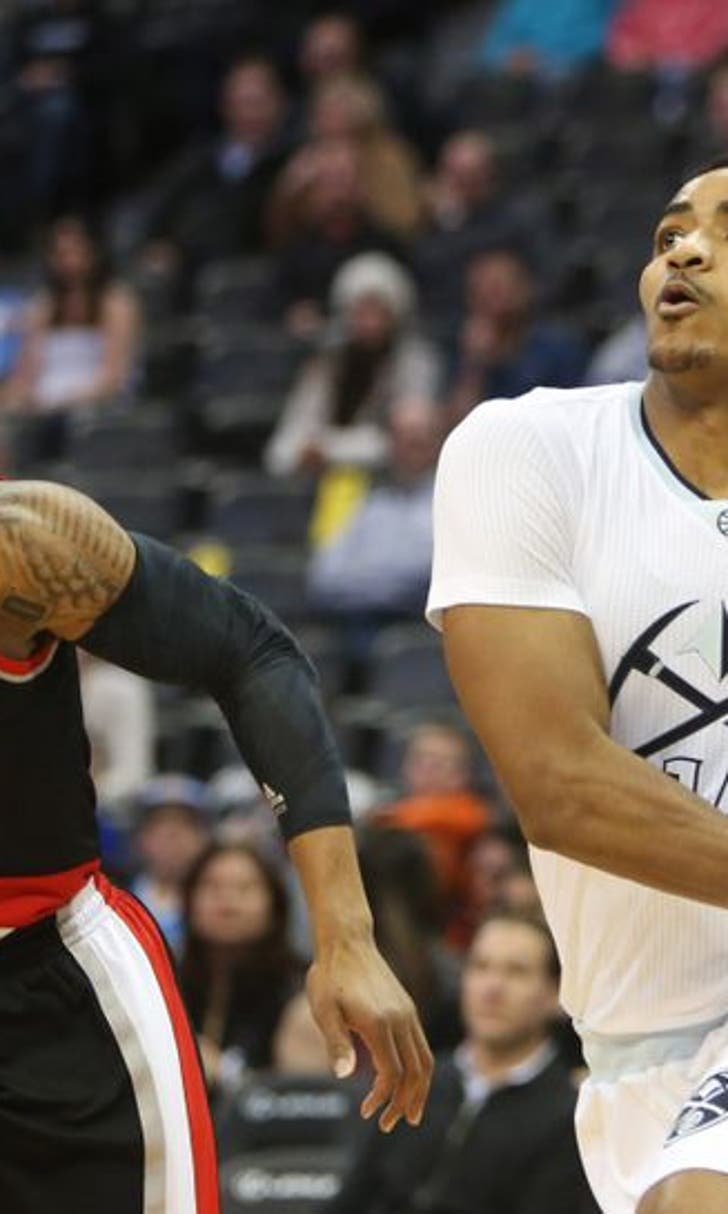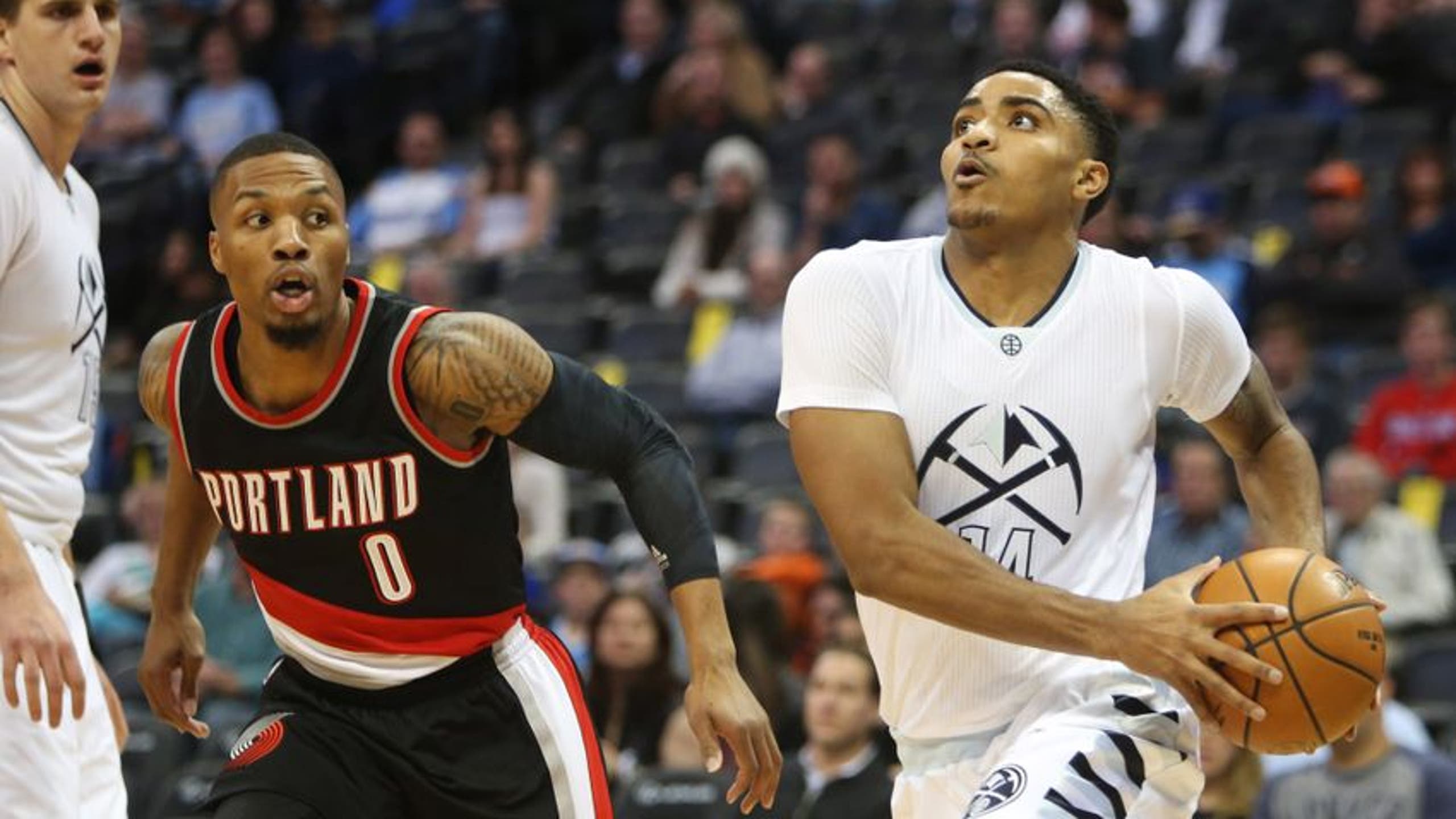 Harris Returns: Takeaways from Denver's Streak-Snapping Win
BY Fansided and Tim Hart/FanSided via Nugg Love • December 16, 2016
Dec 15, 2016; Denver, CO, USA; Denver Nuggets guard Gary Harris (14) drives to the basket past Portland Trail Blazers guard Damian Lillard (0) during the first half at Pepsi Center. Mandatory Credit: Chris Humphreys-USA TODAY Sports
The Denver Nuggets rode out a red-hot start to defeat the Trailblazers in their third match-up this season 120-132, ending Denver's 5 game losing streak, three game home losing streak, and 6 game losing streak to Portland.
Nuggets players and fans alike may find their season breathing new life.
Portland did not necessarily play a bad game. In fact, they out-rebounded the Denver Nuggets 41-36, and turned the ball over less too.
The Trailblazers shot 46.6% from the field, and scored 120 points.
They also logged 20+ assists and 15 offensive rebounds, and Damian Lillard logged a massive double-double, with 40 points and 10 assists. Usually, this is a recipe for a win, but the Nuggets were simply on fire.
With all players on Denver's roster healthy for the first time this season, the team's chemistry issues, offensively and defensively vanished, much in part to Gary Harris' triumphant return to the starting 5.
Nuggets coach Mike Malone started Nikola Jokic at center instead of Jusuf Nurkic, and Wilson Chandler at power forward, alongside Danilo Gallinari,  for the first time this season.
Want your voice heard? Join the Nugg Love team!
This seems to have payed off, resulting in an uncharacteristically efficient 51.2% from the field and 48.4% from downtown.
Dec 15, 2016; Denver, CO, USA; Denver Nuggets head coach Michael Malone (left) talks with Denver Nuggets forward Nikola Jokic (15) during the first half at Pepsi Center. The Nuggets won 132-120. Mandatory Credit: Chris Humphreys-USA TODAY Sports
Nikola Jokic had a solid night despite foul trouble, Wilson Chandler helped his teammates play better, and Gary Harris announced his return with an exclamation mark.
With a new starting 5 of Mudiay, Harris, Gallinari, Chandler, and Jokic, the Nuggets displayed a newfound sense of team basketball.
Turnovers and a lack of assists and defense have been the three major issues of the Nuggets so far, and while this new line-up may help change some of these issues, its overall success seems a bit inflated by a collective and uncharacteristically hot shooting night.
Fueled by the underappreciated passing abilities of Nikola Jokic, who logged 5 assists to go along with his 4 rebounds and 13 points, in just 19 minutes, Denver's lack of effective ball movement saw a jump as the Nuggets ended with 27 team assists.
In fact, every Nuggets starter ended with at least 3 assists. They worked together to find open shots, and hit most of them.
Dec 15, 2016; Denver, CO, USA; Portland Trail Blazers guard Damian Lillard (0) drives to the basket as Denver Nuggets guard Gary Harris (14) defends during the second half at Pepsi Center. The Nuggets won 132-120. Mandatory Credit: Chris Humphreys-USA TODAY Sports
Together, the Nuggets showed more defensive energy, backed by Gary Harris, who, despite allowing 40 points from Damian Lillard, led the defensive charge that kept the Trailblazers from ever trimming Denver's lead down past 9 points (in the second half).
nuggets
Nugg Love 4dDenver Nuggets: What It Means To Win in the Mile High
More headlines around FanSided:
7w - Denver Nuggets: DFS Picks for the Season Opener against the Pelicans10w - Denver Nuggets Fantasy: Implications From Preseason Opener10w - Emmanuel Mudiay: Analyzing the Art of Passing13w - Denver Nuggets: Will Malik Beasley Sadly Only Get Insurance Minutes?13w - Top 5 Denver Nuggets with Any Fantasy Basketball ValueMore News at Nugg Love

Harris and Chandler, who both gave commendable offensive efforts as well, scoring 18 and 17 points respectively, ended with 2 steals each, and also contributed in many effort-driven and attitude/precedent-setting ways that won't show up in the box score.
Still, even though there was much more activity, with Nuggets players chasing down and diving for more loose balls than any other game this season, the Trailblazers still managed to score 120 points, and their star players of Lillard and McCollum went relatively un-stopped.
Shutting down the rest of the team, minus Mason Plumlee, who had a solid night as well, proved to be enough to get the win, but may not be enough moving forward.
Time will tell if this new Nuggets starting 5 means defensively controlling games, or if Thursday's victory simply displayed a bit of luck.
Dec 15, 2016; Denver, CO, USA; Denver Nuggets forward Danilo Gallinari (8) shoots the ball against Portland Trail Blazers guard C.J. McCollum (3) during the first half at Pepsi Center. Mandatory Credit: Chris Humphreys-USA TODAY Sports
The Nuggets were more lively than they have been in any game since the beginning of the season.
A bout of confidence backed by effort and, for the most part, composure overtook this Denver team, giving off a sense of rejuvenation, optimism, and a fresh start to the season.
The collective presence of Chandler, Harris, and Jokic in the starting 5 alleviated defensive pressure on Danilo Gallinari, allowing him to score a season-high 27 points.
If these key players can stay healthy, then Nuggets players and fans alike may find their season breathing new life.
For now, the best thing to do is hope that Thursday's game was not a fluke, and to wait and see if Nuggets coach Mike Malone keeps this new starting 5, and of course, if they can manage to keep up the high level of team-play exhibited against Portland.
With Gary Harris and Nikola Jokic back in the starting 5, Will Barton back at his 6th man position, and the power forward spot being adaptable for match-ups, the future of this season spells improvement over that which has passed.
This may not be enough to make the playoff push that dominated pre-season fantasies, but the goal does now seem closer than it has since Denver's season-opening victory.
More from Nugg Love
This article originally appeared on
---
---