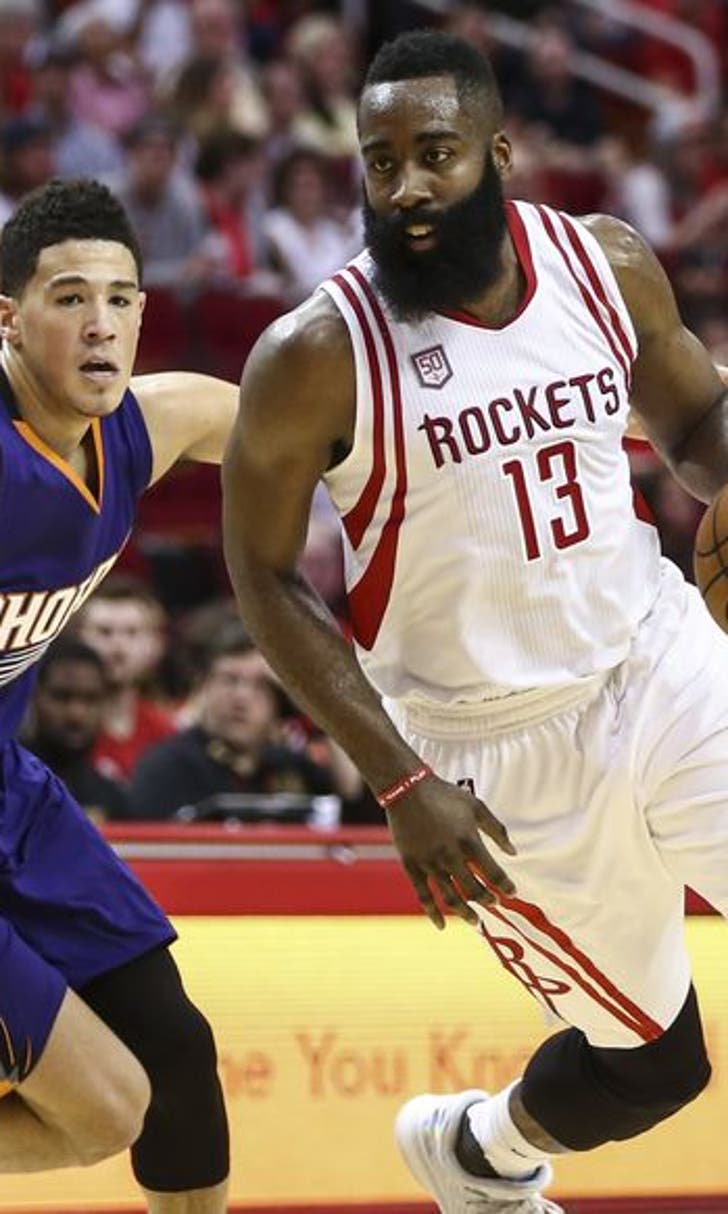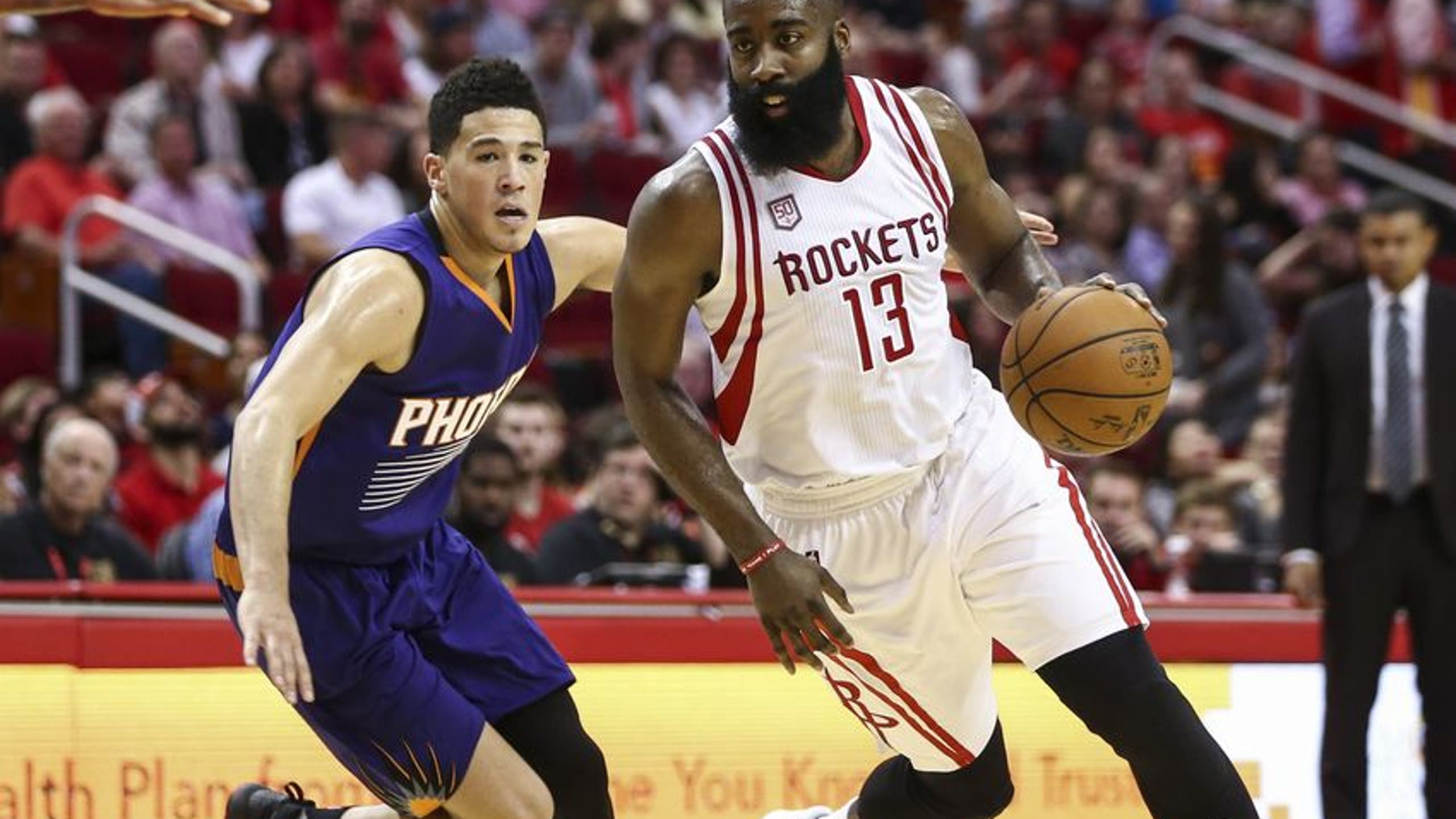 Harden Launches Rockets over Suns as Bender Breaksout
BY Fansided and Adam Maynes/FanSided via Valley of the Suns • December 27, 2016
Remember a few years ago when the Thunder made the horrible decision to trade James Harden?
| | | | | | |
| --- | --- | --- | --- | --- | --- |
| | 1 | 2 | 3 | 4 | T |
| Suns | 23 | 20 | 37 | 35 | 115 |
| Rockets | 39 | 30 | 38 | 24 | 131 |
When Harden went to the Houston Rockets, not only did it seem – even at the time – to be an entirely unsatisfying trade in regards to the return that Oklahoma City received, but also that the Suns were in a position where they desperately needed a star and bringing Harden back home to Arizona would have helped the Suns immensely.
Now, for the second game in five days, James Harden – under the tutelage of former Suns Head Coach Mike D'Antoni – is terrorizing the Suns, much like he is the rest of the NBA, and in a period when having a star would make the Suns relevant, fans are forced to watch the former Arizona State star put together an MVP-type season in Houston.
If only the Suns could have made a better offer for him than Houston, if they made one at all…
Unfortunately they didn't, and tonight Harden had another Harden-type game as he launched the Rockets over the Suns in convincing fashion, never needing to even play a minute in the fourth quarter – but more on him in a moment.
Eric Bledsoe led Phoenix in scoring tonight for the seventh time out of the last ten games with 24 points. He also hovered right around his season averages of rebounds and assists, grabbing one more rebound than his season average with 6, and dishing out one less assist than his season average with 4. Bledsoe also snagged 3 steals to share the team high, but suffered 5 turnovers.
At times it absolutely seemed that the Suns were moving without the ball on offense far more than the regularly do, however as a team they only recorded 17 assists, one below their season average.
Tonight Dragan Bender set several career-highs for himself, giving a glimpse of exactly what they hope to get out of him in the future.
Shooting 1-5 in the first half, Bender's offensive abilities came out in the second half as he went 4-6 including a three-pointer. His eleven points was a career high – the previous high was 10, matched several times – combined with a career-high 13 rebounds which led all rebounders – his previous career high was 4 – allowed for his first double-double of his career.
Defensively Bender's 3 steals set a career-high and 2 blocks tied his career-high.
Bender led all Suns with +10 in the +/- column.
Devin Booker scored 16 points on 33% shooting from the field, though only 1-5 from beyond the arc. He and Bledsoe combined for 2-13 from three as the team went 7-30. Brandon Knight was the only Sun to hit multiple three's, making 2-5.
Devin Booker played late in the third quarter with 5 fouls. Whether the impending blowout afforded Suns Head Coach Earl Watson the opportunity to play Booker with 5 fouls in an attempt to teach him to play with such a number, or Watson simply lost count, Booker fouled James Harden on a three-point shot attempt with 7.9 seconds left in the third, fouling out.
Harden hit all three free throws.
Booker played 27:32, which was the second fastest time his has fouled out of the 8 time in his career he has done so. His career fastest time is 25:42 against the Los Angeles Clippers on February 22, 2016.
Speaking of James Harden, he had a very James Harden-like night scoring 32 on 9-18 shooting including 12-15 from the free-throw line (Harden has made more free throws than any other player in the NBA has attempted) and dished out a game-high 12 assists.
More from Valley of the Suns
Thoughts from the Valley of the Suns
It was nice to see that the Suns had a little more ball movement at times than they normally do, although it was still to little avail as they only dished out 17 assists and shot a lowly 42.6% from the field.
It still seems that the Suns' offense is completely self-voluntary, only without the playmakers to make the plays that the Suns actually need to make to win games consistently. While it appeared they were moving without the ball a little bit more than normal on offense, they still were neither making the passes they need to to find the open man nor were they taking uncontested shots. Too often were the Rockets finding the open shooters on the perimeter whereas the Suns were just shooting from the perimeter, without the same spacing.
Furthermore, on several noticeable occasions, several Suns shooters had a wide-open three opportunity and hesitated on the shot rather than shooting in rhythm off a pass. The players still do not seem to know when exactly they are allowed to shoot and when they are not supposed to. So when they take contested shots and flinch on uncontested shots as often as they do, these are definitely signs that they truly are lost in the offensive system.
I would personally love to see a lot more Dragan Bender hoping that he can play similarly to the way he did tonight: extended minutes; down low on defense hustling for rebounds and loose balls; and offensively cutting when defended at the perimeter rather than standing around looking for a three.
---
---