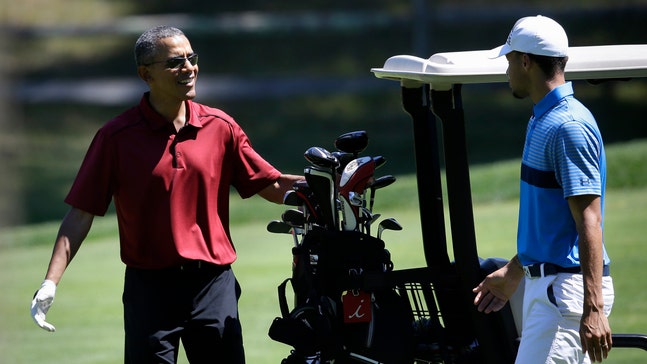 From record 3s to golf with Obama, Steph says: 'It's all too much'
Published
Feb. 4, 2016 11:58 a.m. ET

You can't blame Golden State Warriors sharpshooter Stephen Curry for feeling as if his life is a movie and he's just being swept along for the ride. 
He's risen from a pretty good basketball player with shaky ankles to become the NBA's No. 1 showstopper in a matter of a few seasons. He's won a championship, is likely headed for his second consecutive MVP award, his team could set the NBA's all-time record for wins in a season and, most surreally, he can call President Barack Obama a friend and golfing buddy.
Curry reflected on his whirlwind life and his relationship with the leader of the free world with Michael Lee of The Vertical. Curry's description of when he first met Obama at the White House last year and Obama mentioned the possibility of getting together some time for a little golf sounded a lot like the Keith Hernandez episode of "Seinfield."
They did get together last summer for that round of golf. Curry brought along his former NBA dad, Dell, and the basketball-loving Obama partnered with former NBA star Ray Allen.
Curry's reaction to the day?
Curry is seeing Obama again Thursday, along with all of the Warriors, in a visit to the White House in honor of the team's 2015 championship. In anticipation of the big moment, Curry took his game to surreal levels yet again Wednesday night against the Wizards, draining 11 3-pointers and scoring 51 points in Golden State's 45th victory in 49 games.
As for the sheer delirium of everything going on in Curry's life these days, he summed it up to Lee like this:
---
---