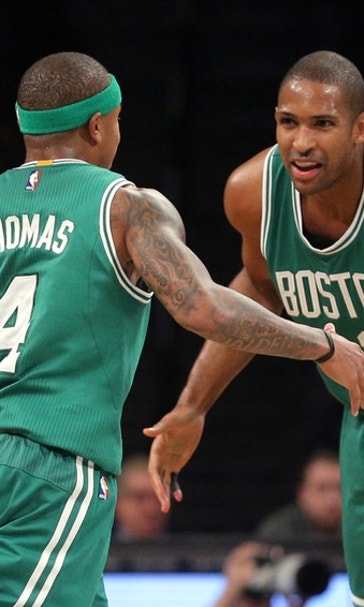 Boston Celtics Getting the Balance They Need
December 27, 2016

Fansided, Joshua Bateman/FanSided via Hardwood Houdini
The Boston Celtics are finally winning because of both offense and defense
Despite having a glaring hole with their interior defense last season, the Boston Celtics clearly won games because of defense. They had too many liabilities on offense, and spent far too much time trying to make up for those shortcomings. The Celtics always needed more opportunities than their opponents, and still that would often not be enough. The Celtics knew that they needed to be a more balanced team, and they needed to be more than just what Isaiah Thomas was able to create.
The Celtics had an inconsistent start to the season, but are finally starting to look like the team that everyone expected, and the biggest difference is their balance. The Celtics may not be quite as good as they were hoping on either end, but they are winning because of both offense and defense, and they are getting contributions across the board on both ends.
Of course, Thomas continues to carry the load and has managed to improve on an already career best season last year. Thomas continues to grow into more than the Celtics could have imagined and everything continues to start with him, That being said, Stevens finally has more talent to use and they are getting better and better on offense because of the all around contributions, including a second unit that is finally coming into form.
The Celtics still are not where they believe they can be, but they continue to prove they are on the verge of being in the top 10 of both offensive and defensive efficiency. They are still working on building up the disastrous start on defense, but are all the way up to ninth in offensive efficiency, which is drastically improved from a season ago.
More from Hardwood Houdini
With Horford's interior presence and shot blocking prowess, it should only be a matter of time before the Celtics are where everyone expected on the defensive ranks. What is important, however, is that the Celtics now feel as though they can win games on either end of the court, and they do not need to put as much work into making up for their shortcomings.
Thomas is making a great case to be a starter in the All Star game with his career high 27 points per game and 6.2 assists per game. Thats good enough for a five point per game increase from last season, without giving up anything in the assist numbers. Thomas has spoken about continuing to improve and that is what he has done every step of the way with the Celtics. The best part is that his improvement is not just making him better, as he has the offense running exactly how any team should want to run. Ball movement and ball security have become the Celtics' identity. Their 2.14 assist to turnover ratio is the best in the league, and the gap between them and the second best gets massive in the fourth quarter.
The Celtics are one of the highest functioning offenses in the league. They have Thomas there to create shots for himself and everyone else, and then whoever else they have on the court now realizes how important the flow and rhythm is. With Marcus Smart leading the second unit the Celtics are always leaning on ball movement, as he is at a career high 4.3 assists per game as well. They are making sure that their still weak shooting is not an issue because they do not waste any of their opportunities. They take quality shots and they do not give the ball away.
Dec 22, 2016; Indianapolis, IN, USA; Boston Celtics guard Marcus Smart (36) makes a pass while lying down against Indiana Pacers guard Aaron Brooks (00) at Bankers Life Fieldhouse. Boston defeats Indiana 109-102. Mandatory Credit: Brian Spurlock-USA TODAY Sports
Boston's assist percentage is second to just the Warriors this season, and the biggest reason for that is that the Celtics miss more shots that are assisted on than them. The Celtics also have the fourth best turnover percentage in the NBA, making it clear that their offense is functioning exactly how Stevens wants them to.
A shooting percentage of 44.6 will continue to hurt them, but as long as the ball keeps moving like the way it has, the Celtics will have one of the strongest offenses in the league, and as that defense continues to come together, they have a chance at being the most balanced team in the NBA.
The Celtics have embraced versatility and willing passers and all of that is paying off. A lot is being speculated about Al Horford's decline in scoring this season, but he has embraced this offense as much as anyone. He is making a great case to be the best passing big in the NBA, and his five assists per game are almost double his career average of 2.8. After Thomas, Horford is the second most important player when it comes to distribution, and with Avery Bradley evolving as a scorer and shooter, Horford's decline in points is much less of an issue. The Celtics are better than last season in many ways, and a lot of that has to do with player development, on top of the addition of Horford. Just as Thomas continues to improve, Bradley is doing the exact same and is becoming one of the best two way guards in the league.
Stevens had a vision of how Boston's offense needed to function in order to be at its best and it should continue to improve. The Celtics had a lot more confidence in their offense than their defense this season, and that is why they can feel moore comfortable with a poorer defensive efficiency at this point in the season.
Things look like they are really coming together for Boston and that is thanks to a team filled with two way players that are buying into everything Stevens wants. They have multiple defenders who embrace size mis matches and they have no problem being undersized. On offense there may still be some issues of shooting too early, but there is not a team in the league that is playing smarter on that end. The ball security will always be the key because turnovers are the one way this offense can fall apart.
Right now, their ball movement is doing more than enough to make up for so many poor shooters, and if Thomas keeps up his scoring rate and Horford keeps up hois distribution rate, the Celtics will continue to grow into one of the most feared offenses in the league, which is quite impressive considering where they were a season ago.
---
---