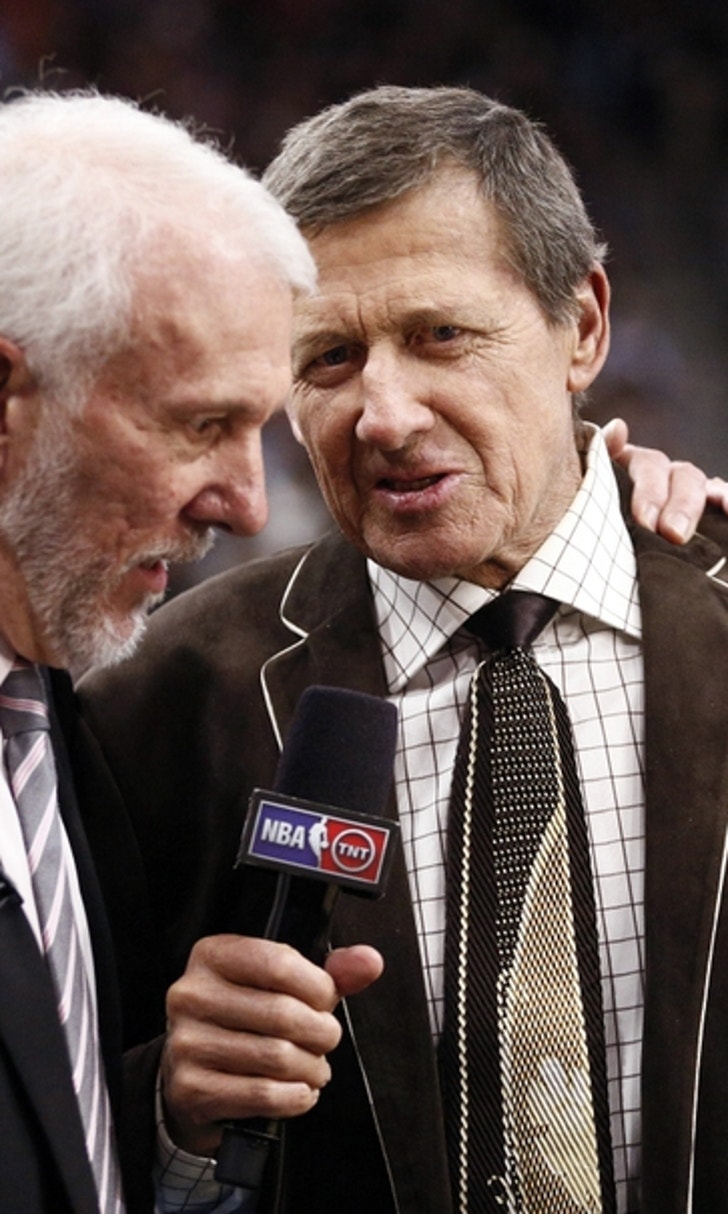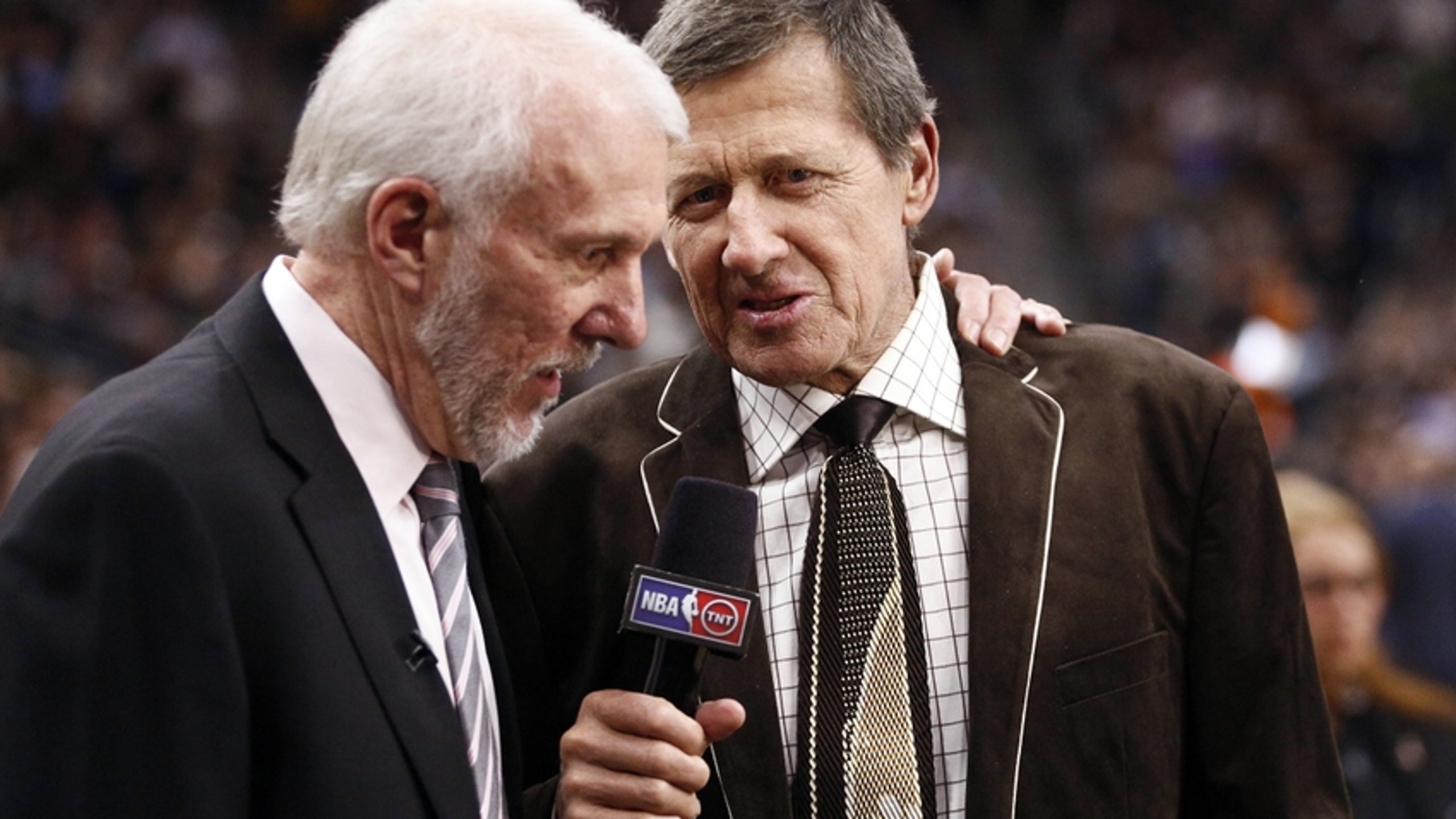 5 best moments in Craig Sager's career
BY Fansided and John Buhler/Fansided • December 15, 2016
Beloved NBA on TNT sideline reporter Craig Sager passed away at the age of 65 on December 15th from leukemia. Here are the best moments of his career.
The NBA lost one of its most beloved people on Thursday, Dec. 15. Longtime NBA on TNT sideline reporter Craig Sager sadly passed away from his long battle with leukemia at the age of 65.
Sager was known for his ability to get the biggest stars to answer the tough questions, for his outstanding professionalism, and of course, the suits. There will never be another sideline reporter quite like Sager. He will be dearly missed. Here are the five best moments from Sager's broadcasting career.
5. Craig Sager Jr. interviews Gregg Popovich
Sager had probably the most interesting relationship with San Antonio Spurs head coach Gregg Popovich from his time doing sideline reporting for TNT. The Spurs were a model of excellence in the Western Conference under Popovich, winning over 50 games annually and five NBA Finals since he took over in 1996.
With unbelievable success as a head coach, Popovich would grow increasingly reluctant to speak with the media in-between quarters. He would often give one-word answers to questions he hated. Sager had to deal with Popovich many times, but was able to build a great working relationship with him over the years.
When Sager was first diagnosed with leukemia, his son Craig Sager Jr. got to interview Popovich between the third and fourth quarters of the Spurs' first round 2014 Western Conference Playoffs series with the rival Dallas Mavericks.
Popovich would answer all of the younger Sager's questions and then gave the elder Sager a fantastic 'Get well soon" message for everybody watching the playoff game on TNT. It was the first of many moments that showed how much Sager meant to everybody who loves the NBA.
March 29, 2016; Oakland, CA, USA; TNT broadcaster Craig Sager (left) interviews Golden State Warriors guard Stephen Curry (30, right) after the game against the Washington Wizards at Oracle Arena. The Warriors defeated the Wizards 102-94. Mandatory Credit: Kyle Terada-USA TODAY Sports
4. Works 2016 NBA Finals Game 6 for ESPN
ESPN and TNT are bitter rivals when it comes to broadcasting NBA games. Disney and Turner are the two media conglomerates that have broadcasting rights to NBA games and have been the go-to networks for prime time NBA telecasts.
ESPN already has a fantastic sideline reporter/television analyst in Doris Burke, but the network opened its arms to let Sager work Game 6 of the 2016 NBA Finals between the Cleveland Cavaliers and the Golden State Warriors.
This was significant because ESPN had the broadcasting rights to the 2016 NBA Finals, and TNT was not going to call any more NBA games that season. It was as classy of a move as ESPN could make to let Sager to be a sideline reporter for at least one more NBA Finals game.
The hope was that Sager would get to be back doing what he loved during the 2016-17 NBA season and the 2017 NBA Finals. Game 6 saw the Cavaliers tie the Warriors at three games apiece before forcing one of the best Game 7's of all time at Oracle Arena in Oakland a few days later.
Jan 19, 2016; New Orleans, LA, USA; Minnesota Timberwolves forward Kevin Garnett reacts from the bench during the second half of a game against the New Orleans Pelicans at the Smoothie King Center. The Pelicans defeated the Timberwolves 114-99. Mandatory Credit: Derick E. Hingle-USA TODAY Sports
3. Kevin Garnett tells Sager to burn his suit
Sager always had a way of getting the most reluctant members of the NBA community to speak. His ability to ask the right questions to get normally mute players and coaches made him one of the best in the business. Sager also had the flashiest suits in the Western Hemisphere.
The quintessential moment defining his one-of-a-kind fashion sense comes from an interview he did with then Boston Celtics forward Kevin Garnett back on February 15th, 2009 at the NBA All-Star in Phoenix.
Sager went backstage to speak with Garnett about his great in-game performance, but Garnett could not get past Sager's ridiculous suit. After completing the interview, Garnett proceeded to tell Sager that he needs to burn his suit.
It was salmon, with a blue tie with purple polka dots and the most ridiculous pair of red shoes. Sager was instructed by Garnett to burn everything. He seemed really sad when he had to let the red shoes and socks go. These kind of suits made for easy icebreakers to get guys like Garnett to loosen up and have some fun talking NBA basketball.
Apr 2, 2016; Houston, TX, USA; TBS announcer Craig Sager at halftime in the 2016 NCAA Men
2. The Jimmy V Perseverance Award at the 2016 ESPYs
The ESPYs are an annual awards ceremony to celebrate the love of sports. ESPN holds them in Los Angeles annually the day after the MLB All-Star Game when seemingly nothing is going on in the American sports world.
Many players, teams and stories are celebrated down in LA Live!, but the most important award being handed out by far is the Jimmy V Perseverance Award. Sager won the award at the 2016 ESPYs for battling through leukemia to still provide the best sideline coverage he can for NBA on TNT.
The award's namesake is Jim Valvano, the former head coach of the North Carolina State Wolfpack's men's basketball team. He would be recognized at the 1993 ESPYs shortly before he lost his battle with cancer.
Sager was bestowed this high honor by ESPN on July 13th, 2016. He would pass away from his multi-year battle from leukemia just five months later.
(Original Caption) With his hand held aloft, Hank Aaron leaps into a host of cheering teammates after he hit his 715th home run on April 8th, during the night of breaking a long standing record of Babe Ruth. The homer came in the 4th inning of their game with the Los Angeles Dodgers.
1. No. 715 for Hank Aaron at Atlanta-Fulton County Stadium
Sager's greatest moment happened when he was fresh out of Northwestern University. At only 23 years old, Sager was working for WXLT in Sarasota, Florida when he got the biggest opportunity of his life.
On April 8th, 1974, the Atlanta Braves were hosting their NL West rival Los Angeles Dodgers at Atlanta-Fulton County Stadium. The usually lackluster Braves had an aging superstar at the plate that was on the precipice of breaking a Major League record. That player was Hammerin' Hank Aaron, and that record was Babe Ruth's 714 career home runs.
Aaron belted Al Downing's offering into left-center field to become the all-time home run champion of the world. Sager met Aaron at the third base line in Atlanta-Fulton County Stadium to interview the new home run champion.
It was one of the greatest moments in MLB history, as the entire city of Atlanta celebrated a black man breaking a record previously held by a white man for half a century. Sager would later spend most of his professional career based out of Atlanta for two of Ted Turner's biggest television channels, CNN and TNT.
This was one of the best moments in professional sports and Sager was very much a huge part of that monumental moment for the Atlanta Braves and Major League Baseball. RIP, Craig Sager.
More from FanSided
This article originally appeared on
---
---