NASCAR Cup Series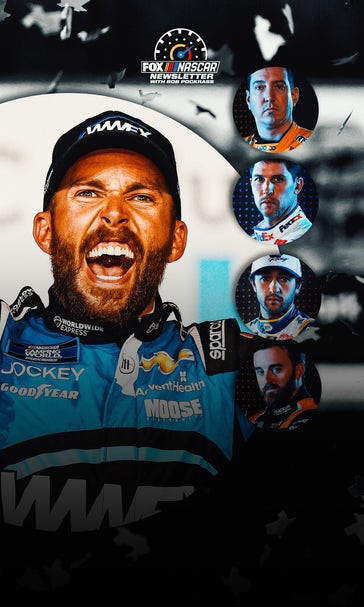 NASCAR Cup Series
Has Ross Chastain made too many enemies to win a Cup title?
September 1
By Bob Pockrass
FOX Sports NASCAR Writer
Kyle Busch used the word "Chastained" when he was involved in a wreck last month that he thought Ross Chastain caused.
When a driver has a term coined with his name to reflect his unflattering reputation, it likely isn't a good thing. But then again, how bad can words be? 
Chastain will find out over the next 10 weeks. The next 10 races could mark the time of his life as his first NASCAR Cup Series playoff experience. It also could be reckoning of whether past mistakes will haunt him.
The Team Trackhouse driver — who earned his first two career Cup victories this year, in his second season of Cup racing with a competitive organization — admits he is excited and nervous heading into the playoffs. 
"It's not about the speed or our cars. It's more about how many people my mistakes can ripple effect into in Trackhouse and Chevrolet," Chastain said. "The opportunity in front of us, I've just never had this.
"I've leaned on a lot of people that know a lot more about all this than me. ... It's those conversations that kind of put me at ease of, it's going to be an experience, right? And that's the biggest thing. I'm just going to try to go experience these 10 weeks, just like I've been all year."
Chastain's experience this year has been one of highs and lows. Just a little over a year ago, he didn't know if he would have a 2022 Cup ride. Trackhouse owner Justin Marks had bought Chip Ganassi Racing, and Chastain wasn't sure whether the team would keep him on board. 
Marks then committed to Chastain for two years, wanting to make sure Chastain didn't feel the need to race as if his job were on the line. Chastain, having driven for part-time teams and underfunded teams, was viewed at the time as a talented driver, but he felt pressure to prove himself every lap.
Now, driving more competitive equipment, Chastain has found himself battling with the stars of the sport more often. At times, he has put his car in a position that results in wrecks or spins, ruining other drivers' days. 
Denny Hamlin, Chase Elliott, Martin Truex Jr., Busch and Austin Dillon are among those who were furious with Chastain at times during the 2022 season.
And when it comes to the playoffs, such rivalries can cost a driver a shot at a championship.
Can Chastain compete for the title with so many drivers upset with him? Does he have a shot to advance through the playoffs and make it to the season finale at Phoenix? Or has he made too many enemies? Will those drivers who felt wronged by him let him win a championship?
"You need to give and take to win a championship," said Busch, a two-time Cup champion. "Will he get [the] benefit of the doubt in situations when it comes to time-on-the-line, coming to the end of the playoffs and going to Phoenix?
"Absolutely not. No way. No chance. ... I don't think people are paying him back yet because they're waiting for the right time."
Kyle Busch on Chastain: 'I don't think people are paying him back yet because they are waiting for the right time.'
Kyle Larson won the championship last year, and he admits he was nervous racing around Christopher Bell, with whom he had a short feud earlier in the year.
"Thankfully, only having to worry about one person during the playoffs was nice," Larson said. "But I did worry about it. ... Ross has, like, a two-page list of guys, it seems like.
"It's the Cup Series. I feel like, you've seen in the past, people will make life pretty tough on you."
Think about last year, when Kevin Harvick tried to take Chase Elliott out in the elimination race at Charlotte, three weeks after Harvick thought Elliott cost him a win at Bristol. The strategy eventually backfired, as Elliott was able to continue and Harvick crashed out of the race.
Chastain knows the talk about whether other drivers will take away his shot at the championship is out there. But he isn't reading up on it.
"I know that there's stuff being said because I get the questions, but only whenever you ask me here," Chastain said minutes before practice a couple of weeks ago at Watkins Glen.
"And I walk out in the next minute now here and go drive the car."
Chastain knows his aggressiveness earned him two wins and 14 top-10 finishes. He finished sixth in the regular-season point standings and starts the playoffs ranked third overall, 13 points above the current cutoff.
The 29-year-old has consistently shown speed in a year when many drivers have been inconsistent.
"He's had probably the fastest car most weekends, and him and his team and his pit crew have all done a really good job," Larson said. "So in my opinion, if they didn't have people mad at them, I think they'd be the championship favorite.
"But it'll be interesting to see and follow along with. I can't imagine, with everybody that seems to be upset with him, that it will be an easy playoff for him."
Marks thinks playoff drivers have enough to worry about with going fast and earning the finishes they need that they won't focus on taking their frustrations out on Chastain.
"I don't worry that there's going to be any kind of real problem for us because everybody has a lot to lose, everybody's trying to win their own championship here," he said.
"I think the last thing anybody wants to do is get distracted from that ultimate goal, put themselves in a position where they sacrifice their own run to win a championship. So I don't anticipate it. I think he'll be raced hard. I don't anticipate there being any real problem."
Marks also said he talked with seven-time Cup champion Jimmie Johnson, who raised the ire of teammate Jeff Gordon and others when he started having success.
Marks believes Chastain has already gotten a taste of what racing in the playoffs will be like, as Hamlin pinched him into the wall while they were battling at Pocono, a race where Chastain's car ended up on the wrecker, and Hamlin's car ended up in victory lane (though Hamlin's car was later disqualified).
"Ross is obviously going through a learning curve, as all these guys that come on to the scene and are fast right away do," Marks said.
"He's learning, and he had something big taken away from him at Pocono, and he gets raced hard right now, and he's adapting to that, and he's figuring that out."
Drivers often do figure it out. But not necessarily quickly.
Larson said Brad Keselowski had a reputation as an over-aggressive driver early in his career, but he doesn't have that reputation now.
"Ross has had a lot of success being aggressive, and I think the way that the Next Gen cars are and the way the sport really racing in all forms has progressed, you have to have that aggression," Larson said.
"But maybe to a point — and I know a lot of the times, it's been mistakes and stuff — but ... I think it's good. His aggression is good. But in a 10-race playoff? Maybe not."
Perhaps Chastain has reason to be both excited and nervous.
"I am really excited, and when I do think about it, I do get nervous, and then I just tell myself to go about my day right now," he said of his emotions entering the playoffs. "We're going to be in there, and this is my first time, this is Trackhouse's first time, so most of the people on our team, it's their first time winning races with this many top-5s, top-10s, this much contention and speed for wins.
"And that's going to roll into 10 races here to finish out the season."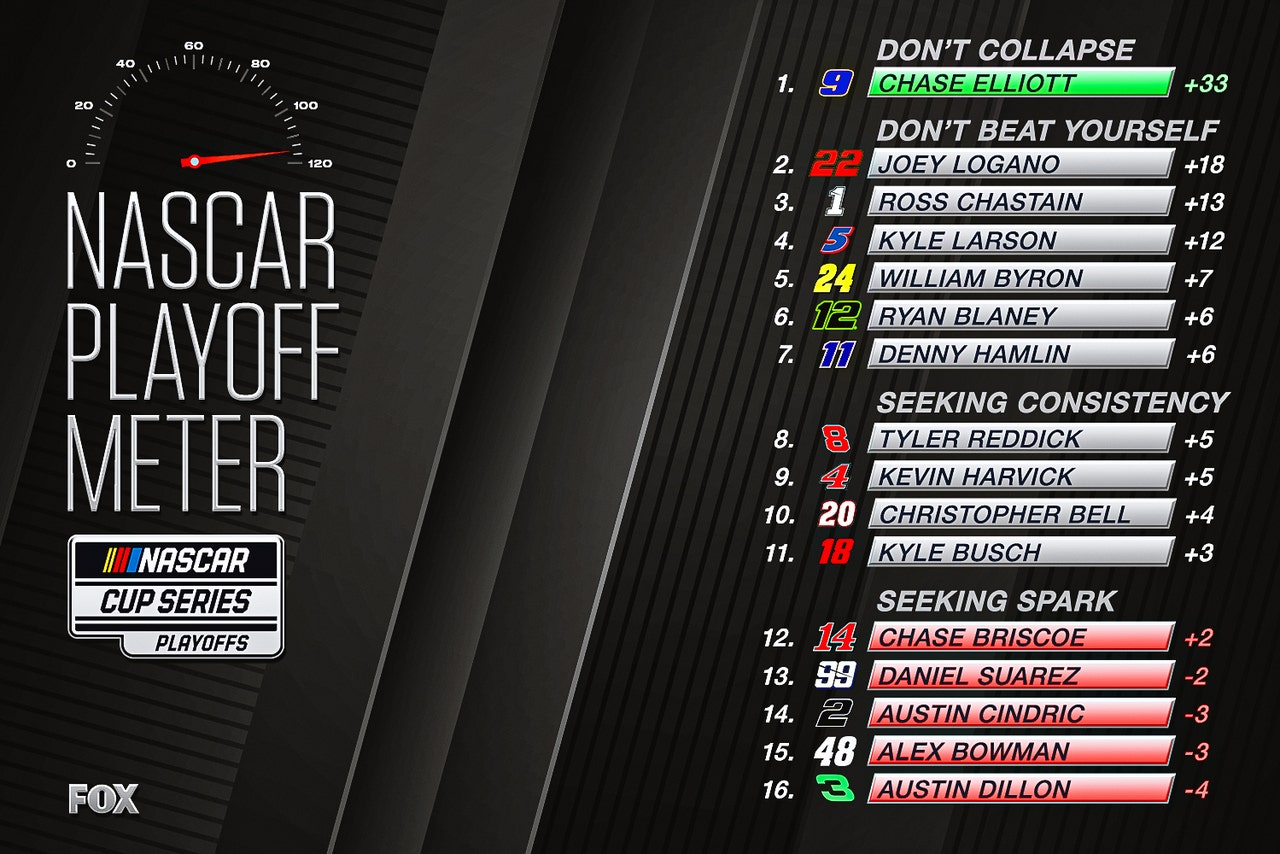 Looking for more NASCAR content? Sign up for the FOX Sports NASCAR Newsletter with Bob Pockrass!
What to watch for 
The previous race at Darlington saw 10 drivers fail to finish because of accidents, and that didn't include the contact on the next-to-last lap.
Joey Logano punted William Byron from the lead for the win as he retaliated for what he thought was a move on which Byron pinched him into the wall to take the lead on the restart with 26 laps to go. 
Considering that this is the opening race of the playoffs, don't expect things to be any less rough. NASCAR has brought the same tire as in May, so there shouldn't be much change as far as grip and wear.
That said, there always is tire wear on the abrasive Darlington surface. Teams will have 13 sets of tires for the event. If there are more than 12 cautions — the spring race had nine cautions over a 400-mile event — or it appears there could be more than 12 cautions, teams might have to choose whether to take tires. 
At Darlington, that could be the difference between holding on for a good finish and trying to pass as many cars on older tires as quickly as possible.
Thinking out loud
NASCAR running the final 20 laps to complete the Daytona race after a delay of more than three hours brings up a topic that often comes up during playoff time.
Should NASCAR have a rule that playoff races must be run to completion? Or at least run more than halfway if it rains?
With so much on the line and potential controversy over the crash when the rain started, it appeared that NASCAR was determined to finish the race at Daytona if at all possible.
But what if it couldn't? Is it fair to the competition to not have a full race? Then again, is it fair to have a rule in which they could bring everyone back the next day to finish a race with only a handful of laps left?
Some would say the rules shouldn't change in the playoffs. But if NASCAR had a rule that 75% of the regular-season finale and playoff races must be completed for it to be an official race, it might be easier to stomach when a race is called early.
Granted, that wouldn't have changed the situation at Daytona; the race was stopped after 87% of the race was completed. But at least going into the event, drivers would've had more time to work their way to the front without worrying about rain or lightning ending their playoff hopes.
Video spotlight
Here's the FOX Sports Digital piece looking back at Brad Keselowski's championship (already 10 years ago!) and maybe telling you something you didn't know about him. Hope you enjoy it!
They said it
"I know we have a championship-caliber team. We proved that last year, and we just have to do it again." — Kyle Larson
Bob Pockrass covers NASCAR for FOX Sports. He has spent decades covering motorsports, including the past 30 Daytona 500s, with stints at ESPN, Sporting News, NASCAR Scene magazine and The (Daytona Beach) News-Journal. Follow him on Twitter @bobpockrass, and sign up for the FOX Sports NASCAR Newsletter with Bob Pockrass.
---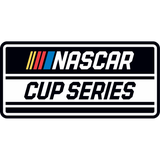 Get more from NASCAR Cup Series
Follow your favorites to get information about games, news and more
---
---